You might not like it but seeing your companion deal with Husky fat could be the result of how you raise it. As a dog owner, you do a lot to help keep your dog healthy and well. From regular trips to the veterinarian to giving them regular time outside to stay active and burn off energy, the steps you take help to keep your dog healthy. You'll get them the food that gives them strength and helps them grow. You'll groom them and give them baths to protect their skin health.
But sometimes, your dog might just not be as healthy as what you'd desire for them. Whether out of not caring for them as well as you should or some other reason, dogs have the potential to become overweight and have a little bit of extra substance to them that may healthy for them. With large dogs, such as the Siberian Husky, weight issues can be either very minor or lead to more severe struggles with their mobility and overall wellness.
Having a little extra girth to them can make them stronger, or it can make them slower than their normal running speed when they didn't have that extra weight. A Husky's weight can be an important part of determining their overall health status. As with most dogs, it can be fairly easy to see whether or not your dog is struggling with weight issues. And when assessing your dog's health, it's vital to understand what could be a leading cause for your Husky's weight gain.
If that weight gain becomes too excessive, it could lead to chronic issues affecting several areas of the body. As you care for your Husky, you want to ensure you provide the best home and living environment for them to thrive. To help you encourage your Husky to be at their recommended weight, here we share some reasons why your dog may be fat, as well as some practical steps you can take to keep your dog healthy and happy every day.
Before scrolling down this guide, we think these articles might be of use to you: Best Dog Food To Build Muscle and Tips For Choosing a Good Dog Food.
Why Is My Husky So Fat?
Huskies have a typical weight range that is considered to be at a healthy number. Typically, male Huskies have a healthy weight range that stretches between 44 to 60 pounds, with their height between 21 to 24 inches tall. Similarly, female Huskies have a healthy weight range that stretches between 35 to 51 pounds with their height range between 20 to 22 inches tall. This size also can fit well with their playful and outgoing personality. As is the case with people who find themselves overweight or struggling with their weight, there is rarely one single cause that contributes to weight issues. Rather, it's most often a combination of different factors that culminate in an unhealthy puppy.
Here are a few of those common reasons why you're dealing with Husky fat:
1. Poor Diet
Perhaps one of the most common reasons for a Husky's weight gain is not having a healthy diet. Typically, dogs have a stomach and digestive system that may be much more sensitive and restrictive of foods than people's. They also don't need to consume the same amount of calories that a human does. Sometimes, these poor eating habits can be because of the habits of feeding your dog. When you leave a bowl of food out for them for the entire day, they are free to help themselves to food whenever they please.
While this can ensure that they won't go hungry, it may also cause them to gain significant weight. Without discipline, your dog just may expect to eat whenever they are bored, tired, or just need something to do. Another factor of a poor diet that can cause weight gain may just be eating too much human food. Your Husky may love eating those leftover burger patties and strips of bacon. That doesn't mean that they should be eating that kind of food.
Heavy meats and other processed food like that contain a high amount of fat. That saturated fat can lead to negative effects on your dog's arteries and other internal organs. If your dog consumes a lot of scraps and meats from your table, it may be a key contributing factor to their weight gain. Relatedly, the types of food your dog eats can also influence the amount of weight your dog can gain.
Just as the case with humans, if your dog consumes too many carbohydrates, weight gain may result. Especially when that energy can't be burned off through exercise, that build-up of carbohydrates can result in added weight around their stomach. Make sure your dog gets a balanced diet of all important food groups, including proteins, healthy fats, and yes, carbohydrates.
Dog Food Recommendations: Best Air-Dried Dog Food and Best Dog Food With Vitamins and Minerals.
2. Lack of Exercise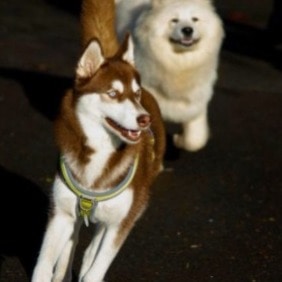 Another very common reason for your Husky's fattiness is a lack of exercise. As Huskies are very active and energetic dogs, they need access to regular exercise for both their physical and mental health. When they can't burn off their food through activity, they may be subject to weight gain.
Dog Exercising Equipment Recommendations: Best Dog Playpen For Hardwood Floors and Best Weighted Vest For Dogs.
3. Hypothyroidism
In addition to the go-to diet and exercise reasons, weight gain may also be a result of other medical concerns that you may or may not be already aware of. For example, hypothyroidism is a somewhat common condition for Huskies that can also lead to occasional weight gain. Hypothyroidism can affect the metabolism of your Husky, making them process and burn off food much slower. In addition to weight gain, hypothyroidism can also come with symptoms like increased heart rate, vomiting, excessive water consumption, and other related issues. This condition makes the food and activity levels your dog engages in irrelevant. As the issue is based on metabolic behavior, they'll still end up gaining weight.
4. Aging
Related to hypothyroidism and the slowing of the metabolism, aging can also be a contributing factor in weight gain. As a dog ages, its metabolism naturally slows down. As a dog's metabolism slows, they can't burn off their energy as quickly, which can lead to weight gain.
5. Bloating
Your Husky may also be bloated, which also can make your dog appear fatter than he actually is. This also may be related to any sort of water retention that your dog experiences. Sometimes, bloating and water retention are a natural part of life to deal with. However, it may also be due to some other sort of disease or medical condition that may be worth looking into. Diseases like Cushing's disease can make your dog appear fat.
How To Improve Your Husky's Health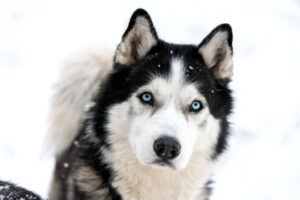 While there are some factors that affect your dog's health that is just unavoidable, there are some practical steps you can take to help support your dog's overall health and well-being. One of the easiest ways to help life your dog live healthily is by feeding them well and giving them regular access to exercise. As diet and activity level are some of the key factors in preserving your dog's health and overall weight, monitoring their habits and ensuring they engage in healthy practices can support their health both now and in the future.
1. Healthy Diets
When it comes to the food that they put in their bodies, you can be selective on what you share with them. You may choose to feed them only healthy, natural, and wholesome ingredients. These components give them a balanced diet and provide them the vitamins and nutrients that they need to live well. Whether you choose to make your own dog food or buy wholesome packaged kibble, feeding them healthy foods, and limiting human food, can help prevent and resolve weight gain for your Husky.
Healthy Dog Food Recommendations: Spot & Tango – Healthy Dog Food and Chippin Review – Dog Treat & Food Benefits.
2. Stay Active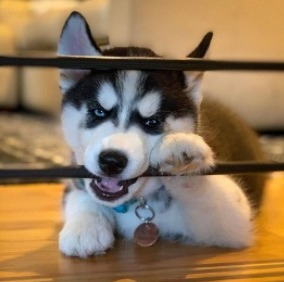 One of the many perks about having a dog is that it can keep you moving and active. Support both the health of yourself and your dog by providing regular opportunities for exercise. Go for a walk daily or start out with a game of chase or fetch. Keeping them active can help boost their metabolism and keep them healthy and strong. Huskies are known for being very active and energetic. Therefore, they'll have a need and desire to get outside, run around, and enjoy life. To keep them at a healthy range, be sure to help them stay consistent with their activity levels. Mix up the activities, too to add some diversity and to keep them entertained.
3. Watch for Other Medical Concerns
If your dog is regularly active and eats healthy with wholesome ingredients, it's worth being intentional about monitoring their health. While this should be the case for your dog in any environment, it can be especially important when you notice significant weight gain for your dog.
Health-Related Dog Info: Signs That Your Dog With Diabetes is Dying.
Conclusion For "Reasons For My Unwanted Husky Fat"
You do a lot to take care of your dog. To help them live a long, healthy life, make sure that they can thrive at a healthy weight range. Your Husky's weight range can be a strong indication of the overall well-being of your dog. By providing proper nutrition, access to regular exercise, and careful watch of their overall health. As your dog remains at a healthy weight, your Husky can end up living a long and healthy life.
For more informational content from our team at WeLoveDoodles if "Reasons For My Unwanted Husky Fat" helps you:
To learn more about your Husky fat or skinny in size, watch "Is Your Husky Too Skinny" from Think Husky down below: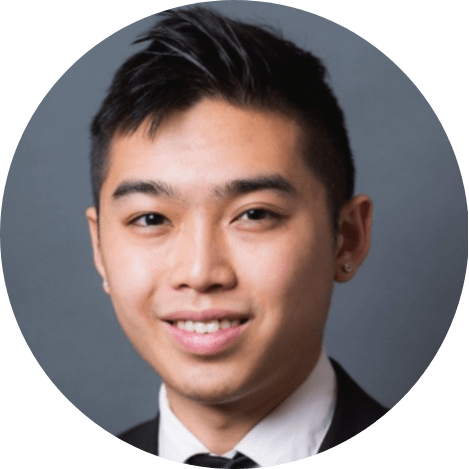 Andy is a full-time animal rescuer and owner of a toy doodle. When he's not saving dogs, Andy is one of our core writers and editors. He has been writing about dogs for over a decade. Andy joined our team because he believes that words are powerful tools that can change a dog's life for the better.
Why Trust We Love Doodles?
At We Love Doodles, we're a team of writers, veterinarians, and puppy trainers that love dogs. Our team of qualified experts researches and provides reliable information on a wide range of dog topics. Our reviews are based on customer feedback, hands-on testing, and in-depth analysis. We are fully transparent and honest to our community of dog owners and future owners.