This guide will help you learn how to stop your dog from eating everything. Dogs love to eat different foods, especially meat or anything else they can get their paws on. However, dogs don't always do the best job of telling the difference between food and something they can't eat, so what do you do with a dog eating everything?
Your dog may try to eat feces, chocolate, grapes, or other dangerous items. Naturally, you'll want your dog to stop, so understand what they shouldn't eat and how to get a puppy or dog to stop eating everything they come across.
Before you scroll down this guide, "How To Stop Your Dog From Eating Everything," you can check out these other guides from our team at We Love Doodles: How to Keep Labradoodle From Matting and How to Sell Puppies On Craigslist.
Why Do Dogs Eat Things They Shouldn't Eat?
As you see your dog eating everything, you may find them eating strange things they shouldn't put in their mouths. For example, you may find your dog eating poop, grass, and even dead animals based on the situation.
We naturally look at poop and realize it isn't food, so why do dogs sometimes view poop or other poop as food? Some dogs do it because the food doesn't fully digest, so they think it's food instead of feces.
Dogs may also eat poop to counteract territory marking. For example, since other animals may use the bathroom nearby, your dog may eat the feces to remove the scent and replace it with their marking.
Dogs may eat grass or dead animals because they mistake them for food. Since dogs are omnivores, they sometimes view certain things as food when they shouldn't. They usually go off of smell and instinct, so they'll eat something without realizing the consequences.
The same applies to the food they should avoid. For example, your dog may catch a smell of something and like it, such as chocolate. Chocolate can harm dogs and even lead to death, so they can't always recognize the dangers of such foods.
More Dog-Related Guides: Why Does My Dog Eat Only At Night and Why is My Dog Eating Grass Frantically?
What Food Should Your Dog Avoid?
While people know dogs shouldn't eat chocolate, feces, and dead animals, they may not know about other foods that can harm dogs.
So if your dog eats everything, have them avoid these foods at all costs and the usual offenders:
Grapes, raisins, and currants
Cinnamon, onions, garlic, and chives
Raw meat and eggs
Fried, fatty, and moldy foods
Salty foods
Macadamia nuts
Ice cream
Each of these foods poses a danger to dogs for different reasons. For example, dogs can get salmonella, so they must avoid raw meat and eggs. Always cook the meat and the eggs all the way through before giving them to your dog.
Dogs also don't react well to different fruits and everyday items we eat, such as grapes, cinnamon, and onions. Their systems can't properly digest them so they may face kidney and heart issues.
Dogs can quickly dehydrate, so you'll want to avoid salty foods for your companion. Macadamia nuts remain a dangerous food that attacks the nervous system, so keep them away from your dog.
As for ice cream, many dogs have lactose intolerance, so they can't handle it. Fried and fatty foods can lead to pancreas issues, while moldy food can make your dog sick. If you can't figure out if your dog can eat something, play it safe or ask a veterinarian.
More Dog-Related Guides: How Much Should a Goldendoodle Puppy Eat and Can Dogs Eat Rice Krispies?
The Dangers of Eating Unsafe Foods
Your dog can face different dangerous situations if they eat certain items. Ensure you understand what dogs shouldn't eat, so they don't run into hazardous problems.
While you'll identify other things your dog shouldn't eat, start with these to keep them safe:
Getting a tapeworm
Developing diarrhea
Facing life-threatening side effects
If your dog eats rodents or feces, it could get a tapeworm. Tapeworms are parasites that stay in your dog's stomach and eat food while causing discomfort. If that happens, you'll need to seek medication from your veterinarian to get rid of the tapeworm.
Your dog may also develop the runs if they eat something wrong. Whether your dog faces diarrhea depends on its stomach since smaller dogs may have more issues with digestion.
If your dog has diarrhea, you should watch them and let them go outside when possible. Doing so will minimize accidents in your house, so you don't have to clean them constantly.
You may notice other side effects your dog can face, such as constant pain, whining, and anything else indicating an issue. In addition, your dog will start to exhibit strange behavior, so if you become worried, you must take additional steps to protect your furry friend.
More Dog-Related Guides: Best Soft Food For Older Dogs with Few Teeth and Best Dog Food For IBD.
What to Do if Your Dog Eats Something Dangerous?
No one wants their dogs to eat anything dangerous, but you must know the right course of action if anything happens.
Doing so will help you protect your furry friend while addressing any concerns:
Keep your dog close
Contact your veterinarian
Go to emergency care when necessary
Your dog may eat something you don't recognize or that might not be dangerous. For example, your dog could eat some grass outside or a piece of food that falls on the floor. If your dog eats something, but you don't notice any immediate danger, keep an eye on your dog.
See if they start to act lethargic or do anything out of the ordinary. If you think your dog might be endangered, you should consider more options to protect them. You should contact your veterinarian if your dog develops problems like vomiting, fast breathing, and fevers.
Let them know the situation and explain how your dog acts so that you can seek the proper treatment. Your vet may ask you to go to emergency care based on the situation.
For example, if they think your dog may need immediate attention, they'll tell you to go and explain it to urgent care. Quickly search for urgent care for pets online, so you arrive at the correct location. Ensure you do your best to act sooner rather than later to keep your dog safe.
More Dog-Related Guides: Best Puppy Dog Food For Corgis and Best Dog Food For Firm Stools.
When Do Puppies Stop Eating Everything?
How long puppies eat everything depends on their personalities. Some dogs may grow out of it after a year or so, while others may never grow out of it. However, most dogs eventually learn to stop eating poop, but they may go for other things as they age.
For example, your dog may stop eating feces within a few months, but they keep trying to eat other things around the yard. It all depends on your puppy, so it may take longer to get past the eating everything phase.
Some may even struggle to stop eating different things until you properly train them. They may not realize the danger of the food until you teach them to stay away from it. Many dogs struggle to make connections with situations.
For example, they may eat something terrible but don't realize their stomach pains or bowel issues connect to eating those foods since they ate them hours ago.
Instead of expecting them to stop, you must focus on getting them to stop. Luckily, you have multiple approaches to get your dog to stop, even if they don't get past the eating everything phase.
More Dog-Related Guides: Best Dog Food For Cushing's Disease and Best Dog Food For a Cockapoo.
How to Stop Dogs From Eating Everything?
If you plan to get your dog to stop eating everything, you must focus on what you can do to get them to stop.
You can start with some crucial points to keep your dog safe from dangerous food:
Use bitter spray
Be vigilant and mindful
Train your dog
You should use the bitter spray if your dog likes to chew on furniture or items around the house. You can find non-toxic spray designed for dogs that tastes bad. If you put them on objects your dog tends to chew or eat, they'll naturally stop to avoid the taste.
Your dog may try to eat things while outside, so ensure you watch out for such foods. For example, if you have mushrooms growing in the woods near your home, keep your dog away from them. Doing so involves knowing what they may eat so that you can avoid it.
It would be best if you also looked for dead animals, feces, or anything else your dog may eat. Pay attention to your dog during any walks and see if they sniff a single spot for too long. If they do, they may find something they want to eat.
Even if you remain vigilant, you'll have moments where your dog finds something before you do. You must train them to avoid such dangers if you want them to remain safe. Not only will the training teach them to stay away, but to listen to your commands.
More Dog-Related Guides: Best Freeze-Dried Dog Food and Best Air-Dried Dog Food.
Training Solutions for Dogs Who Eat Everything
However training a dog might sound easy, but you have to put effort into the process. If your dog eats everything, ensure you focus on training solutions to get your dog to listen. As you do, you'll make things easier for yourself while protecting your dog.
Start With Commands
You have to start the training process by teaching them commands. Dogs will learn to associate your words with specific actions, so you must prepare them accordingly. If your dog eats everything, you should teach them the stay-and-drop commands.
Stay has them stay by your side or not move. The stay command can work wonders while outside since they won't go after animals. Drop works well if you want to get your dog to stop carrying food.
For example, if they have something in their mouth, the drop command can get them to get rid of it so they don't eat the item. Pick whatever words work for you. For example, you can use stop instead of stay, let go instead of drop, or anything else you prefer.
Train Them as Puppies
Dogs have an easier time learning if you train them as puppies. While you can train and teach older dogs, they haven't established habits as puppies. Some dogs will form habits making it harder to train them, so start while you have dogs at a young age.
You can set rules, including what they can and can't eat. But remember to stick with the training and remain consistent, so you don't confuse your puppy.
Doing so will also help them pick up on the rules faster and learn what they can't eat. Remember to incorporate plenty of treats as positive reinforcement during the training process.
Don't Punish Your Dog
Some people think they can punish dogs if they do something wrong, but you should never punish your dog during training. Punishing your dog will make them upset and fearful rather than understanding and willing to learn.
For example, if you have a dog eating everything, you shouldn't get mad at them or yell. Instead, teach your dog commands to move away from the item and reward them when they listen.
Since dogs don't always connect why you got angry to their actions, they won't understand why you punished them. They'll link it to good behavior if you focus on treats rather than punishments.
Hire a Trainer
Some people don't have the time to train their dogs. Others find it difficult and don't know how to go about it. If you face this situation, you should look into trainers to see if they can assist you with your dog training.
If you have a dog eating everything, you should mention your concerns to the trainer. Explain that you want your dog to stop eating certain items since you want to keep your furry friend safe.
If the trainer understands your concerns, they can train your dog accordingly. Always attend the training when possible so you learn the commands and help your dog learn obedience and safety.
More Dog-Related Guides: What Human Food Can I Feed My Diabetic Dog and Why Does My Dog Push His Food with His Nose?
Conclusion For "How to Stop Your Dog From Eating Everything"
Dogs who eat everything can lead to problems and severe consequences depending on what they get. To protect your dog, you must train them, help them avoid dangerous foods, and stick with them.
As you work with your dog and keep them safe, they'll learn to listen through your training. Make sure to remain consistent and work alongside your dog, so you can give your furry friend delicious food they can enjoy.
If you find this guide, "How To Stop Your Dog From Eating Everything," helpful, check out these other dog guides created by our team at We Love Doodles:
You can learn more ways to stop your dog from eating everything by watching "How Do I Stop My Dog From Eating Everything" down below: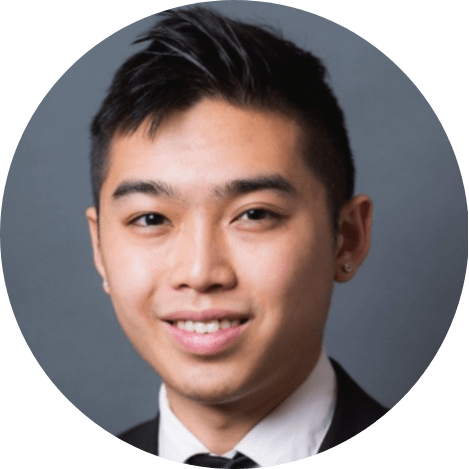 Andy is a full-time animal rescuer and owner of a toy doodle. When he's not saving dogs, Andy is one of our core writers and editors. He has been writing about dogs for over a decade. Andy joined our team because he believes that words are powerful tools that can change a dog's life for the better.
Why Trust We Love Doodles?
At We Love Doodles, we're a team of writers, veterinarians, and puppy trainers that love dogs. Our team of qualified experts researches and provides reliable information on a wide range of dog topics. Our reviews are based on customer feedback, hands-on testing, and in-depth analysis. We are fully transparent and honest to our community of dog owners and future owners.