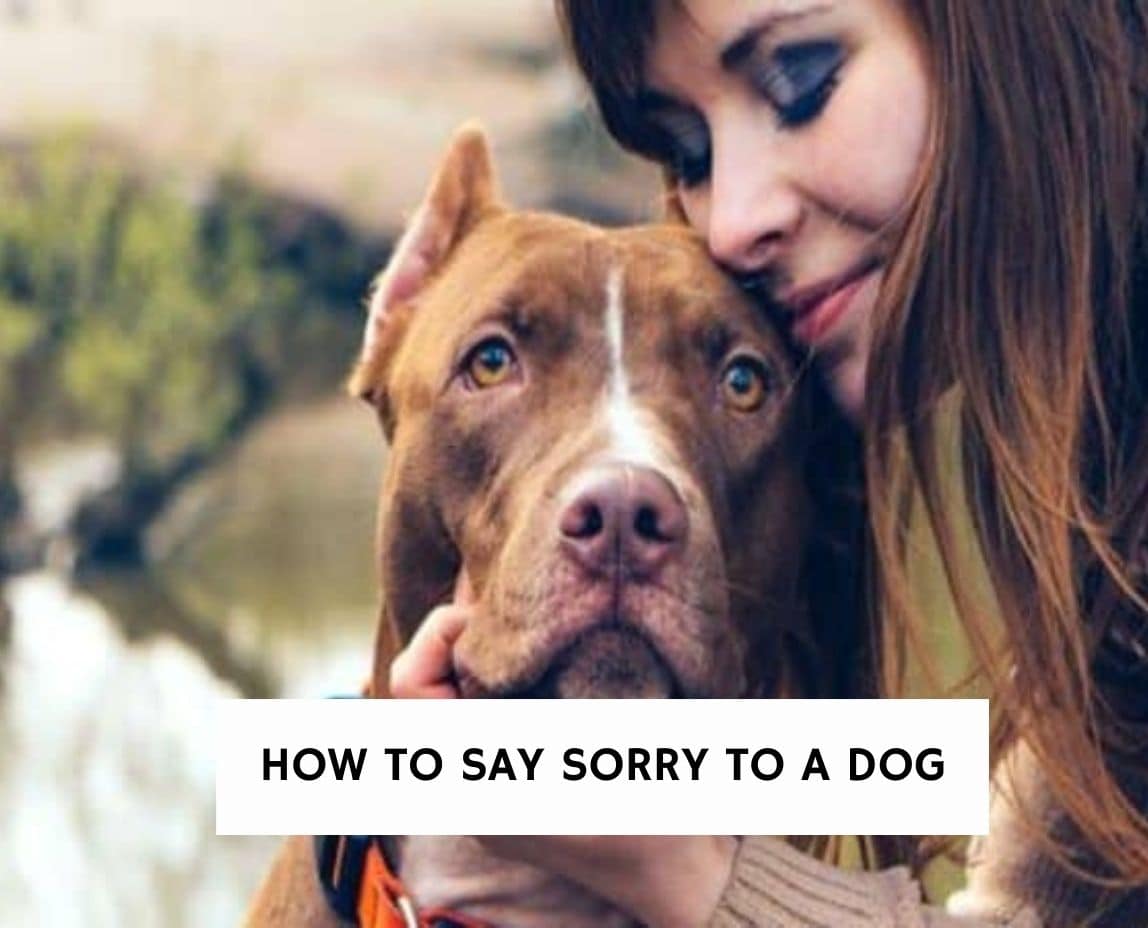 If you love animals (and don't most of the good guys?), you've probably done something to your dog you'd like to apologize for. Maybe you stepped on or tripped over them accidentally. Do you want to know how to say "I'm sorry" to your dog? Will they understand it if you do?
There's no cut-and-dry answer to these questions, but I knew I'd be doing a disservice to you and the people I work with if I didn't share what I know to be facts. Not conjecture or opinion, but the real deal.
Here's the story: We here at We Love Doodles like to stay neutral as writers and editors. To give you the facts only after extensive research and leaving ourselves, and our opinions, out of it.
But this blog is different. When I found out about the subject matter, I knew what I had to do — share my knowledge about it because well, I'm an expert.
I was the founder/director of an animal sanctuary for 12 years, where we rescued homeless and abused animals, rehabilitated them, and found them forever homes.
I've been an animal rescuer my entire life and have always had them around me. I also enjoyed teaching a class on how to care for your dog to middle school students for a year.
I absolutely adore knowing dogs the way I do. Our bond becomes even deeper with this level of understanding.
Now let's jump into the minds of our devoted canines.
Dog Psychology 101
We know a lot less than everything there is to know about dogs and their emotions.
Some of the things we do know about them or in other words, this stuff's been proven:
We know they're sentient. (They feel.)
We know they feel pain physically and emotionally.
We know they rely on their senses to live in their world.
We know their capability to love deeply.
We know they're generally trained (there are always exceptions) to be aggressive or standoffish or jumpy or skittish or another of many unwanted behaviors.
We know their loyalty quotient is off the charts.
These attributes lay the groundwork for their ability to realize when we're sorry.
But feeling bitterness, wanting revenge, and holding a grudge are three examples of things dogs don't do. We know they don't because it's not in their body language, which is how they talk. It's just not in their makeup to feel those things.
Those are human behaviors/feelings, but those four-legged, adorable, furry things? They're dogs. And animals and people are different (I say out loud to remind myself!).
Every dog is unique emotionally, intelligently, and psychologically. We're not supposed to be on the same wavelength. If we were, they'd be able to talk!
How do I say I'm sorry to my dog?

It depends on the animal, but here are some tried-and-true ways to let them know, "Oops, my bad."
Treat it for what it is – a minor accident. Keep a calm demeanor, quickly say what you'd like, i.e., "I'm sorry big guy," (because that's what comes naturally to us and they'll read it), pet him, and move on. No feelings hurt, no mixed messages sent.
Don't say anything at all. Just go over, look in his eyes, and give him a rub on his favorite spot.
Tell him, "Good boy" and keep it at that.
Getting the idea? Keeping it low-key is the plan. Don't make it a presentation or get dramatic.
I wouldn't even break out the treats, even though I'm a big fan of them, since that would be like throwing a party every time they do anything right. It could even be confusing.
Keep your volume low and your body relaxed as you speak to them in a confident tone. Leave pity out of it, which is something they don't comprehend.
Pro tip: Try to put a period at the end of every sentence when you talk to them instead of a question mark. Not only may they not understand a question, but they're also pretty clear about a command or a statement. They know, or they should know, where their position stands in the pack.
How can my dog tell I'm sorry?
1. I'm sure you're familiar with a dog's ability to read body language and listen to your tone of voice for signals of what you're feeling. That's their language! We speak and they watch and listen which pretty much proves they're smarter than us. But that's another blog.
I want you to try something. Watch TV with it muted and try to identify what you think a person is feeling by decoding their body language. You pick up on things pretty quickly. That's how dogs live and they're masters at it.
2. They smell us! They know who we've been with when we return from somewhere. They know what medicines we take. They can sniff out cancer for goodness sake.
Bloodhounds have been known to stick to a trail for more than 100 miles, do you think they can't smell "NOT HAPPY" when we're feeling apologetic right under their nose?
3. They sense us. They recognize if we're suddenly hunched over to walk towards them while we're saying, "I'm sorry" and talking like a 3-year-old. Like they can smell fear, stress, anxiety, excitement, etc. in us, they can sense it as well.
In general, they know when we feel bad about something that happened.
How do I stop stepping on my dog?
I've been around many hundreds of dogs in my lifetime and have rarely stepped on one. I do trip over them occasionally and that's when I pull out the apology.
Dogs are conditioned by humans. If we claim our space and they learn to give it to you when you're with them. Plus, being tripped over usually isn't a comfortable experience, so the sharp ones learn quickly to give you your room.
When I feed the four dogs I have now, they know to back off from me. I've trained them to stay a few feet out of my space since I'm trying to get them fed. Sure, every now and then one of them gets too excited and hovers, but all I have to do is snap, and they retreat again.
If you haven't been able to do that with your dog yet, positive reinforcement training, you might look into getting a trainer if that's possible. Ask your vet if they could refer someone. Or take Scooby to Petsmart and ask an associate for tips. (They're freakishly smart about animal behavior.)
Get specific. Tell whomever you go to that you want to learn how to create physical boundaries and emotional ones, if necessary, between you and your dog.
I've seen 7 out of 10 dogs respond with a lick, usually accompanied by some sort of smile after I've apologized, but I've also seen the other three out of ten who had been horribly abused and would run away or cower if they were tripped over.
Those dogs have been conditioned to be afraid if something startles them or seems off, which an accidental step on the tail might do. These sweet animals will need to be reconditioned to be able to live without fear before they can start to focus on new commands and having the ability to read someone.
So never expect a certain response from them. You're letting your dog know you're sorry and want nothing in return.
They're just not going to get that it was unintentional or be able to decipher the human concept of an apology. They have their own way of looking at things, but they do get the gist.
If they can be complex things like loyal, brave, and selfless, they can certainly have their own understanding of an apology.
We look at it like if they don't feel exactly the way we do when we say, "I'm sorry," then they must not have a clue how we're feeling. That's looking at an issue in black or white but with dogs, there's a lot of living in the gray we need to learn from them.
Now that you know about the psyche of a dog and that they understand more than we think they do, use the knowledge to motivate you to watch and listen to them more.
And when you're sorry for something you've done to Spunky, just let it out… Say you're sorry. You just might be surprised at their reaction.
You will also like:
Vinise Weeks is a hands-on, passionate, and creative writer who loves dogs. She has two fur babies named Miu Miu and Toto that she loves taking care of. In her spare time, she loves helping people and making the word a better place.