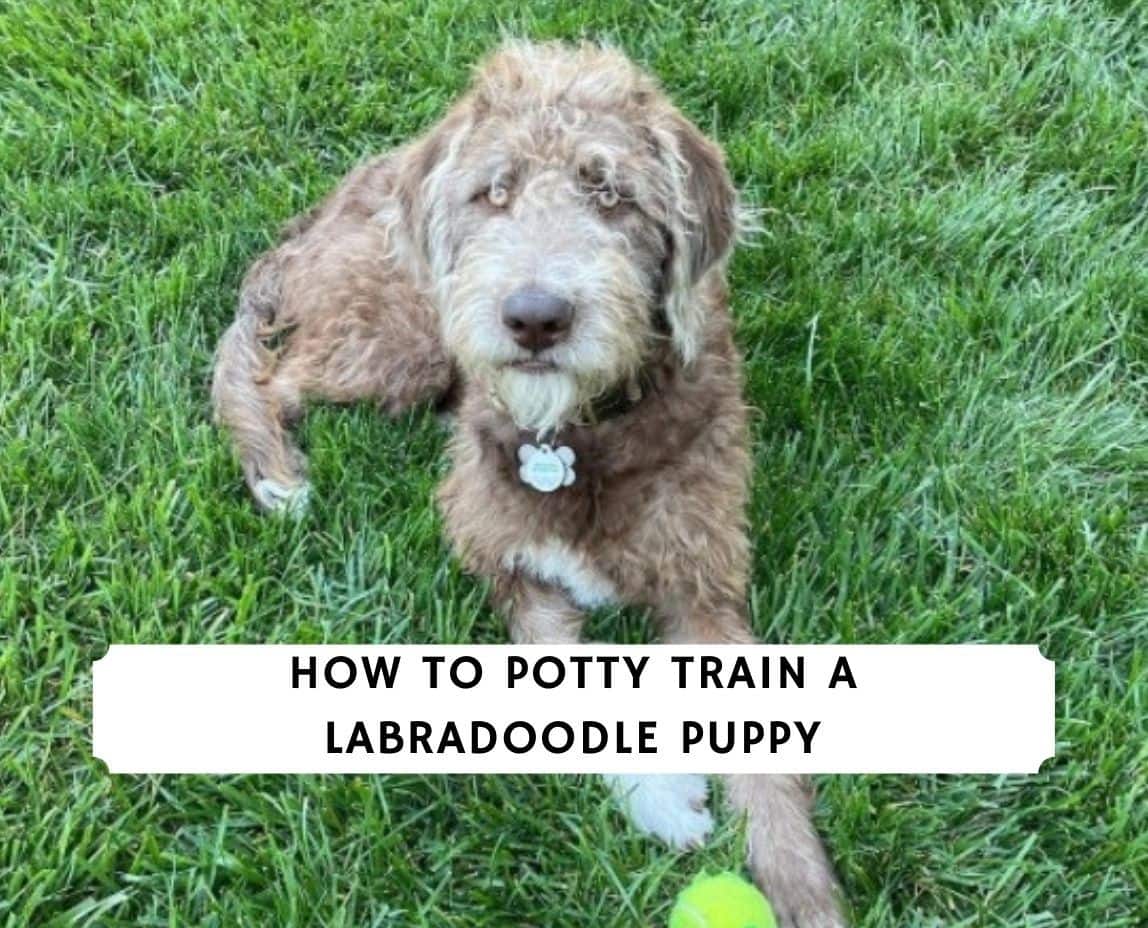 If you're learning how to potty train a Labradoodle puppy, then we have several questions for you. Are you in the market for a Labradoodle puppy but are worried about it making a mess in your house? Maybe you are a new Labradoodle owner with little experience with potty training? If these feelings sound familiar, you have nothing to worry about. There are many easy strategies that you can implement to potty train your Labradoodle. You won't have to worry about potty accidents for very long as these tips and tricks are proven to work.
Before scrolling down "How To Potty Train a Labradoodle Puppy," you can get started in advance with our recommendations: Best Indoor Dog Potty System and Best Dog Litter Box.
Are Labradoodles Easy to Train?
Training is absolutely essential for all breeds of dogs to ensure proper behavior. With specific tips and tricks in mind, training can be fun and easy for all breeds. However, if you have a Labradoodle, the job may be even easier for you. Labradoodles are a hybrid mix of Labrador Retriever and Poodle. Both of these parent breeds are extremely intelligent, making Labradoodles one of the smartest breeds around. They also have excellent temperaments and love to please their owners. Therefore, generally speaking, Labradoodles are an easy breed to train.
How Long Does It Take to Potty Train a Labradoodle Puppy?
When potty training your new Labradoodle puppy, you must be patient. The most significant barrier to puppies' success with potty training is that they have tiny bladders. When your puppy has an accident in the house, it really isn't its fault; it really cannot hold it in. However, it should take your Labradoodle puppy about 4-5 months to gain complete control of its bladder. By this age, your puppy will be larger in size, and so will its bladder.
Labradoodle Questions: When is a Labradoodle Full Grown and Do Labradoodles Shed?
Signs Your Dog Needs a Potty Break
The first step to practical potty training is recognizing when your puppy has to go to the bathroom. There are some common behaviors dogs exhibit when they need to go the bathroom. Watching for these signs will ensure you catch your dog before it commits the act in the house, allowing you to show it the proper place to use the bathroom.
1. Sniffing
If you find your dog sniffing around the house more than usual, it may be looking for a place to use the bathroom. Dogs naturally sniff the ground before they pee or poop. This is because they are trying to find the best place to leave their odor behind. When your dog starts sniffing the ground, it means it's getting ready to go to the bathroom.
2. Whining
Puppies may whine to get your attention. Young puppies do not bark, so think of whining as their way of communicating. However, keep in mind that really young puppies won't show this sign because they don't have control over their bladder or bowels yet. As your puppy gets older, it will begin to control its bodily functions better. Therefore, it can start to warn you when it needs to go outside. If you find your dog whining, it may be telling you it needs to go to the bathroom. It may also be experiencing discomfort because its bladder is full, causing it to begin whining.
3. Turning in Circles
If you see your dog turning circles, you should get its attention immediately. Dogs turn in circles before going to the bathroom due to instincts. In the wild, dogs would turn in circles to check for predators before they relieved themselves. Dogs also often do this while outdoors to ensure that the spot they have chosen is clean. Therefore, if your dog starts turning circles inside, it is a pretty good sign it is about to have an accident.
4. Barking
In older dogs, barking can be a sign your dog needs to go to the bathroom. Puppies may not know to communicate in this way yet, but if your dog is a few months old, it may be trying to tell you it needs to go out. This behavior becomes more prominent as your dog gains control over its bladder and bowels, so don't expect your newborn puppy to warn you in this way.
Related Article: What To Do If Male Dog Leaves Odorless Wet Spot and How Often Do Puppies Poop?
Ways To Potty Train a Labradoodle Puppy
Now that you know what signs to look for when potty training your dog, you can move onto the essential strategies for potty training.  Using the techniques below will help you with potty training your new puppy. All that's required for these to work is a positive attitude (and maybe a few treats)!
1. Vigilance
What most people struggle with when potty training their dog is finding ample amounts of uninterrupted time. Vigilance is essential when potty training. For the first few days (and even longer if possible), your puppy will need to be supervised constantly. You can't train your dog to use the bathroom outside if you don't catch it in the act. You need to catch your puppy doing the bad behavior to properly redirect it to the correct behavior. Therefore, you have to be constantly vigilant. When your dog begins exhibiting signs of needing to go to the bathroom, you can take it straight outside. This ensures your dog forms a connection between the urge to go to the bathroom and going outside.
2. Scheduling
Scheduling is one of the most effective strategies for potty training your Labradoodle. As soon as you bring your puppy home, you should begin forming a schedule. This schedule should include sleeping, eating, and bathroom breaks. As your dog matures, it will start to understand what place and times are appropriate for these behaviors. This is especially important with potty training because you can align bathroom scheduling with meal times. Usually, dogs will need to use the bathroom after eating or drinking, so ensure you schedule a bathroom break afterward!
3. Praise
Dogs, especially Labradoodles, want to please their owners, and negativity can actually make training harder. The best way to train a Labradoodle is to sing its praises when it does something good! Therefore, when your Labradoodle puppy goes to the door or indicates that it needs to go potty, praise it! It will begin to associate that positive experience with going outside and continue with that good behavior. At a young age, you may even give your puppy a small treat for going to the bathroom outside; however, do not make these treats a habit.
You should not yell at your dog if it has an accident in the house; simply redirect your dog to the proper behavior. Do not ever rub your dog's nose in its excrement. This technique is not effective (and it's just plain to mean). These behaviors may even perpetuate the problem as they can make dogs anxious or scared, causing them to have more frequent accidents.
4. Practice
Another thing to keep in mind when potty training your Labradoodle puppy is the importance of practice. The more times you bring your puppy outside when it begins to show signs of going to the bathroom, the more it will become used to going out for this behavior. This conditioned response requires practice to be effective. Remember to have patience, as this takes time, but it will all work out in the end.
Additionally, regardless of your puppy's age and training level, it will eventually have to go to the bathroom if you leave it alone for too long. To train your puppy to remain alone for extended periods, you must be prepared to find a few surprises the first few times you return. The longer you leave the dog home alone and the more practice it has, the better it will become at holding its bodily functions in. That being said, very young dogs and very old dogs have accidents, so be patient with your Labradoodle puppy; sometimes, they just can't hold it in.
Labradoodle Questions: When Do Labradoodles Stop Growing and Do Labradoodles Smell Bad And Stinky?
Supplies For Potty Training a Labradoodle Puppy
Now that you know how to train your Labradoodle puppy, you may need to stock up on some essential supplies to help you with this process.
Crate: Crates are practical tools while potty training as they prevent your dog from roaming your house. Dogs will naturally avoid soiling their den. When you put your dog in its crate, it will already have the inclination to avoid going to the bathroom in it. (Best Indestructible Dog Crate Pads)
Cleaning Supplies: Stain and odor removers work wonders during potty training. Dogs that smell the scent of their excrement in the house will sometimes continue to have accidents in the same place because they think it is the designated spot. A good cleaner will kill odors, preventing this problem (and will be much more pleasant for you)!
Bells: Some people train their dog to ring a bell when it needs to go outside. This bell can be attached to a door, so you know that it is time to go outside when the bell rings.
Pee Pads: Pee pads can be a lifesaver for people with puppies. As mentioned, puppies do not know how to regulate their bodily functions yet, so accidents are inevitable. Pee pads will make accidents a little less messy and help prevent the smell from staying in your house.
If you don't have a Labradoodle yet and you're ready to bring home a companion, check out:
Conclusion For "How To Potty Train a Labradoodle Puppy"
For some people, training a Labradoodle isn't easy. However, there are ways to ease the process. When your Labradoodle is still at its puppy phase, training is crucial because it hasn't developed any bad habits yet. It's best if you train your companion at a young age because it'll be much easier. Since Labradoodles are intelligent, training it is less hard than other breeds.
For more potty-training tips, check out:
To learn more about training your Labradoodle, watch "Steps To House Training Your Labradoodle Puppy" from Van Isle Doodles down below: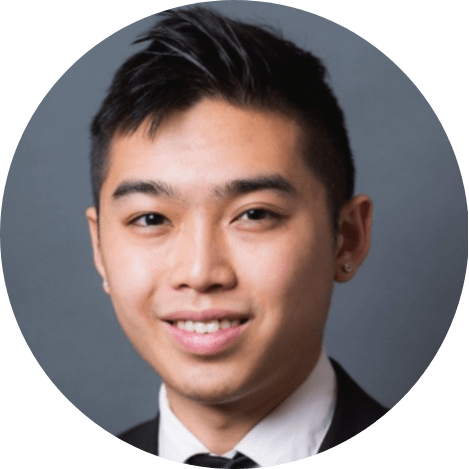 Andy is a full-time animal rescuer and owner of a toy doodle. When he's not saving dogs, Andy is one of our core writers and editors. He has been writing about dogs for over a decade. Andy joined our team because he believes that words are powerful tools that can change a dog's life for the better.
Why Trust We Love Doodles?
At We Love Doodles, we're a team of writers, veterinarians, and puppy trainers that love dogs. Our team of qualified experts researches and provides reliable information on a wide range of dog topics. Our reviews are based on customer feedback, hands-on testing, and in-depth analysis. We are fully transparent and honest to our community of dog owners and future owners.