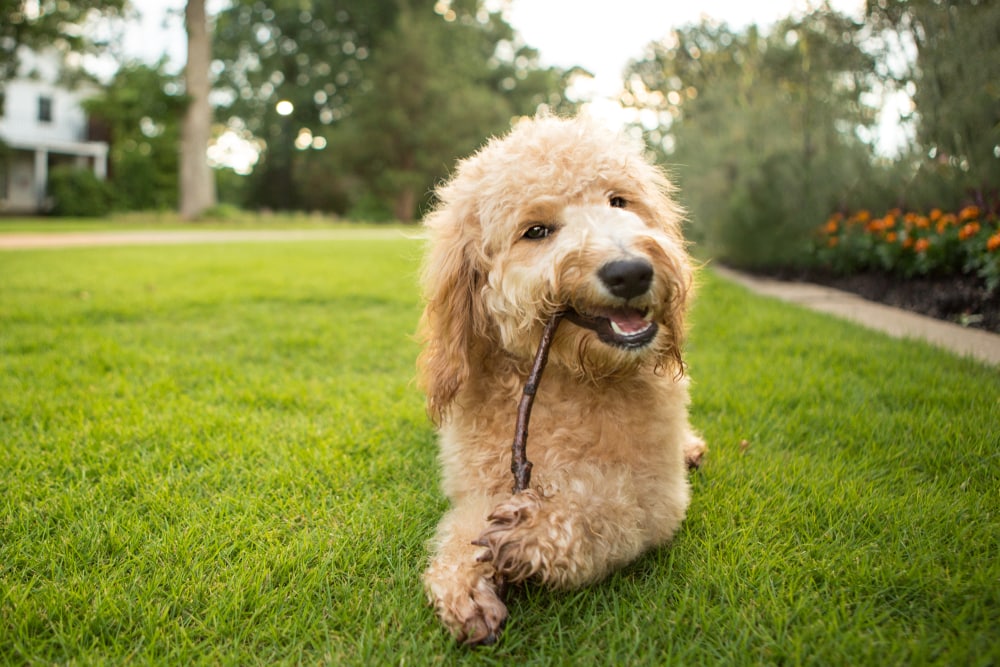 Cushing's disease is caused when a dog's adrenal glands produce excess amounts of a hormone called cortisol. Under normal circumstances, cortisol helps a dog in the regulation of its bodily functions, metabolism, and immune system when it is stressed. However, when the hormone gets produced in excessive amounts, it affects the immune system adversely. That causes a myriad of health-related problems. 
Types of Cushing's Disease
There are two types of Cushing's disease found in dogs.
A tumor in the Pituitary gland is the cause of Cushing's syndrome in more than 80% of dogs that get diagnosed with the disease. 

Adrenal glands are tiny glands present above the two kidneys. A tumor on the surface of one of the glands can cause overproduction of cortisol.

Other than these, Cushing's disease can also be caused by the overuse of medicines that contain steroids. It is called Iatrogenic Cushing's syndrome.
Treating Cushing's disease depends on the severity and peculiarity of each case. It can be done by diet modification, supplementation, medication or even surgery. For milder stages of the disease, many vets also advise a holistic option, such as an adrenal support product for dogs. Alternative approaches such as herbs and CBD oil have gained popularity in the last few years to provide adrenal support to doodles suffering from the disease. These options help a dog maintain hormonal balance and provide long term success. Vets recommend these alternative adrenal support remedies during the milder stages of the disease, as well as a supplement during regular medication. 
Some breeds are more prone to Cushing's disease, such as terriers, poodles, boxers, and dachshunds. Since Goldendoodles are a mix of golden retrievers and poodles, there is a high probability that your Goldendoodle pup might get Cushing's disease. There is no certainty about what triggers the disease. Symptoms of Cushing's disease are also quite similar to a lot of other ailments. That makes it tricky for vets to diagnose the illness accurately. Therefore breeds like Goldendoodle must always get monitored for Cushing's syndrome. 
Symptoms
Cushing's disease is commonly found in middle-aged and old dogs, so that is when you must start to monitor your Goldendoodle for symptoms. The symptoms are usually difficult to spot in the beginning. The signs you must notice are:
Your Goldendoodle seems to be always thirsty. 

There is a sudden increase or decrease in appetite.

A tendency to urinate often. Indoor dogs might not be able to control themselves and have accidents.

Excessive loss of fur.

Weight gain and potbelly.

Always seems tired and inactive.

Gets skin infections frequently.

Out of breath often, even without physical exertion.
Diagnosis
If your Goldendoodle is suffering from Cushing's disease, diagnosis can be a bit tricky. There is no full-proof method of diagnosing the illness. Instead, a few tests get conducted, and other ailments get ruled out. At first, the vet will take samples of blood and urine. There would be tests conducted to determine the presence of alkaline phosphatase. If the results are positive, the vet will conduct hormone screening tests, such as:
ACTH stimulation – ACTH is a hormone that triggers the production of cortisol in your Goldendoodle's adrenal glands. The doctor will inject ACTH hormones in your dog and examine samples of blood before and after the injection. The amount of cortisol will be measured to determine if it is abnormally high.

Low dose dexamethasone suppression test (LDDS) –

Dexamethasone

is a man-made version of cortisol. Your Goldendoodle will get injected with a low dose of it, and blood samples will get examined to check how the body responds. If the cortisol levels do not drop even after a few hours of the injection, your doodle might be different from Cushing's disease.
If these tests show signs of Cushing's disease, the vet will probably conduct an ultrasound examination of your Goldendoodle. The ultrasound will reveal the presence of a tumor on the pituitary or adrenal glands. 
Treatment
If your Goldendoodle has a tumor growing on his adrenal glands, the vet would recommend surgery. Surgeries are not always a foolproof cure for Cushing's disease. Your doodle might still have the illness if the effects of the tumor have spread to other parts of its body. If there is a tumor present on the pituitary gland, surgery might not be an option. In that case, the doctor will prescribe medicines. A Goldendoodle suffering from Cushing's disease can live a normal and healthy life on medications.
But most medicines prescribed can have side effects, and at times these side effects are worse than the disease itself. Your doodle would need regular blood tests and checkups to ensure that the medicines are working. That is why many vets are suggesting holistic ways of treating Cushing's disease.
The most important thing for pet parents is to watch their Goldendoodle for signs and symptoms so that the disease can get diagnosed as early as possible. They must work with their vets to ensure that their doodle lives a happy life.