When your dog isn't feeling her best, you want to do everything you can to make her comfortable and well again. A pancreatitis diagnosis is no exception. This condition can be painful for dogs and, if left untreated, can be fatal to your pup. Obviously, you'll want to do everything you can to comfort a dog with pancreatitis.
In this guide, we'll look at the causes and symptoms of pancreatitis, then will discuss how you can help your dog if she's been diagnosed. Of course, pancreatitis is a condition that should be closely monitored by a veterinarian. Seek a vet's attention immediately if you suspect your pup has pancreatitis.
Before you scroll down this guide, "How to Comfort a Dog with Pancreatitis," check out: How to Cook Chicken for a Dog (2023) and How Much Robitussin for Dogs? (2023).
What Does the Pancreas Do?
To begin exploring pancreatitis, we'll need to understand the organ affected by the condition: the pancreas. This organ plays a vital role in how your dog digests food and helps its body regulate insulin.
Enzymes and hormones produced by the pancreas help your dog stay healthy. Lipase breaks down fat, amylase breaks down starches, and protease breaks down protein as well as helps protect your dog from certain bacteria.
In addition to enzymes, your dog's pancreas produces hormones. You've likely heard of insulin, which helps a body use sugars correctly. Gastrin is another hormone present in the pancreas that directs the production of stomach acids. Finally, amylin helps your dog know when he's full and tells his body when the stomach should be emptied.
As you can see, the pancreas is extremely important. Unfortunately, sometimes things can go wrong. There are a few conditions that affect your dog's pancreas, including diabetes, cysts, cancer, and the subject of today's guide, pancreatitis.
What Is Pancreatitis?
Pancreatitis is an inflammation of the pancreas that can threaten your dog's life. We feel that it's critical to know that this is not a condition that can be treated with natural medication unless prescribed by a vet, and "waiting it out" is not an option.
If you suspect your dog has pancreatitis, call your vet immediately. Taking a "do-it-yourself" approach to medical care for your dog can be fatal.
There's no particular breed that's genetically predisposed to pancreatitis; it can affect any dog at any time, just as it can affect any human. However, there are certain risk factors you should be aware of.
Risk factors for inflammation of the pancreas include:
Reflux
A reaction to medications, prescribed or otherwise
Physical trauma, such as abuse or even surgery
A hormonal imbalance
Eating unhealthy foods and non-food items
Obesity
Old age
If your dog has any of these risk factors, please seek a veterinarian's care. Not only will your dog be at risk for pancreatitis, but she may be affected by a number of other related disorders.
So, what does pancreatitis do to your dog? Well, in the most severe cases, it can cause the pancreas to begin to digest itself. As you may have assumed, this is extremely dangerous and will require urgent care and treatment. Even in the mildest cases of pancreatitis, your dog can experience extreme discomfort caused by a number of other symptoms.
These symptoms include:
Vomiting and/or diarrhea
Fever
Dehydration
Lethargy
Abdominal pain
Decreased appetite
Dogs that suffer from severe pancreatitis may even go into shock and collapse.
While not always the case, your dog may "tell" you he's having an attack. You'll notice his bottom in the air and his front legs and head outstretched in front of him.
How Is Pancreatitis Diagnosed?
If you notice any of the above symptoms, please contact your vet. If there's a veterinary urgent care in your area, it's worth the cost to bring your dog in, as this condition can be painful to your dog. Of course, you're already wondering how to comfort a dog with pancreatitis, and your vet can help prescribe medications and give you tips to keep your dog comfortable.
Once you arrive at the vet, your dog will be tested. You'll be asked to consent to a blood draw, an ultrasound, and, sometimes, an X-ray. These tests can help confirm pancreatitis, but they can also help diagnose any other underlying conditions your pup may have.
In addition to this more extensive lab testing, scientists have developed a quick test that can be conducted for your dog called the SPEC-CPL test. This diagnostic will help assess your dog's pancreatic health and determine whether further investigation is warranted.
Treatment of Dogs with Pancreatitis
Once your dog has been diagnosed with pancreatitis, it's time to determine the next steps. First, your vet will likely prescribe medication to alleviate the pain. This is one of the easiest ways to help comfort a dog with pancreatitis.
If your dog is suffering from nausea and vomiting, there are drugs called antiemetics that can help. This can help prevent your dog from vomiting and will settle the bellyache your dog is experiencing.
In some cases, your dog may have an infection. Usually, this occurs in dogs with severe (acute) pancreatitis. Antibiotics could be administered to treat your dog, but this is usually only done when tissue death is detected or when other organs are affected.
Antiemetics and antibiotics are just treatments for symptoms. While they will help comfort a dog with pancreatitis, your vet will also want to treat the condition at its root. To do this, your pup will likely be placed on a special, low-fat diet.
Your veterinary team may even ask that you allow your dog to fast (no food) for a day or so. Don't worry — your dog will be fine. In fact, fasting may help alleviate pain, and in some cases, your dog will be given nutrients through an IV drip.
Your dog may be hospitalized for several days as his pancreatitis is treated. This can be upsetting, but rest assured that your dog will be made as comfortable as possible. Inpatient care is sometimes necessary for your dog's health as it will allow your vet to keep a close watch on your dog's progress. If feeding tubes are needed, an overnight stay makes nutrient replenishment easier.
How Much Will Pancreatitis Treatment Cost?
When your dog is diagnosed with pancreatitis, you'll want to know how to comfort them, and going to the vet is likely your first course of action.
Once your dog undergoes treatment, however, it's normal to worry about the costs you'll incur while your dog is in veterinary care. After all, you want your dog to achieve the best possible outcome but medical bills can be quite spendy.
In short, the cost of your dog's care will depend on the severity of its pancreatitis. Panels (blood work and other testing) can cost as much as $100 each. Ultrasounds and X-rays can cost between $250 and $350. And the cost of urinalysis is negligible at around $30, but these costs certainly do add up.
The total cost for an inpatient visit to treat pancreatitis will average between $1,500 and $2,000 in most cases. This is if you're able to diagnose the condition early and no other (pricier) procedures must be performed. Surgery, as you know, will raise the total cost of care, and endoscopies and other exploratory procedures will raise that bill, too.
Finally, pancreatitis can lead to diabetes and other conditions. You'll want to account for the long-term costs of treatment for these disorders when you determine the total cost to treat a dog with pancreatitis.
In some instances, you may be able to rely on pet insurance. However, most insurance companies will require that pancreatitis is not a pre-existing condition. Speak with your underwriter or agent for details.
How to Comfort a Dog with Pancreatitis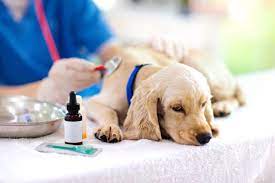 As you may recall, pancreatitis can exhibit itself through a wide array of symptoms. Your dog may be vomiting or have diarrhea. She may be lethargic or experiencing a lack of appetite. In extreme cases, she may even go into shock or collapse.
You want to comfort your dog with pancreatitis, but the care you'll provide to your dog will depend upon the symptoms. If your dog is vomiting, ensure that she has plenty of water. Please take away her food bowl until you speak with a vet; the phone call should be made as soon as you notice a problem.
Allow your pup to rest if she wants to. Continue short walks outside to use the bathroom, but otherwise, you'll want to let your dog be your guide. You can sometimes tell that your pup is experiencing pain by the position she takes. Remember that your dog may assume a "praying" or "bowing" position if she's hurting. Let her find a position that's comfortable for her while you wait for your vet appointment.
Some dogs will want to be held while others will want to be left alone. Remember that, though your dog is your friend, at the end of the day she is an animal. Approaching her or touching her while she's in pain may cause her to snap, wince, or even bite you. Follow your dog's lead when deciding how much attention to give.
Once you've visited the veterinarian it will be easier to comfort a dog with pancreatitis. Anti-nausea medication and pain relievers will assist greatly, and your dog can relax a bit while she recovers.
Pancreatitis in Dogs: Prognosis
When your vet tells you that your pup has pancreatitis, you'll want to know the prognosis for his health. As with all illnesses, early detection is best and your dog's chance of healthy recovery will greatly improve if you bring her to the vet right away.
Dogs who only have a mild case of pancreatitis have an excellent prognosis. Follow your vet's instructions to the letter and your pup will be on the mend in no time. If left untreated, though, pancreatitis can be severe. In addition, there are long-term side effects that can be caused by the condition.
If your dog's condition isn't addressed, it can lead to hemorrhagic pancreatitis. This can be fatal. Sepsis and organ failure in dogs with severe pancreatitis are not uncommon, so we can't stress it enough — treat your dog promptly.
Long-term effects of pancreatitis exist, too. Your dog may develop a blood sugar imbalance or diabetes. Liver damage may occur as a result of a pancreatic disorder, and bile duct blockage can also occur in dogs with severe pancreatitis.
Generally speaking, a dog will have a mild case of pancreatitis and the prognosis is excellent. Be aware, however, that more serious — even life-threatening — disorders can result from the condition, particularly if it's left untreated for a long period of time.
Frequently Asked Questions
How long does pancreatitis pain last in dogs?
Pancreatitis recovery can take two to four days on the mild end, while harsher cases can require one to two weeks of recovery time.
What aggravates pancreatitis in dogs?
Certain human foods, like grasp and raisins, can be bad for a dog's kidney and, in turn, pancreatitis.
Do most dogs survive pancreatitis?
The mortality rate for pancreatitis in dogs can be on the high end, but most mild cases have a good outlook if treated early and aggressively enough, leading to a full recovery.
Conclusion for "How to Comfort a Dog with Pancreatitis"
Pancreatitis can be a serious health condition in dogs. While in some instances the condition can be quite mild, it's critical to your dog's short- and long-term health to diagnose the condition as soon as possible. Appropriate measures can be taken to treat your dog's disease and improve her quality of life.
Of course, you'll want to know how to comfort a dog with pancreatitis, too. Your vet can guide you through recommended options to make your pup as comfy as possible while recovering. The vet will also likely prescribe medications to alleviate the nausea and pain your dog may be experiencing.
The most reliable way to comfort a dog with pancreatitis is to follow your dog's lead. After your visit to the vet, simply allow your dog space if she needs it. With proper care, your dog has an excellent chance of making a full recovery to excellent health.
For more how-to guides related to "How to Comfort a Dog with Pancreatitis," check out:
Learn more about dog health by watching "7 TIPS to CARE for Your DOG'S HEALTH 🐶💚" down below:
Garrett loves animals and is a huge advocate for all Doodle dog breeds. He owns his own Goldendoodle named Kona. In addition, he volunteers at the Humane Society of Silicon Valley, where he fosters dogs and helps animals. Garrett enjoys writing about Doodles and believes that dogs can teach humans more about how to live than humans can teach a dog.
Why Trust We Love Doodles?
At We Love Doodles, we're a team of writers, veterinarians, and puppy trainers that love dogs. Our team of qualified experts researches and provides reliable information on a wide range of dog topics. Our reviews are based on customer feedback, hands-on testing, and in-depth analysis. We are fully transparent and honest to our community of dog owners and future owners.