Are you a new dog owner wondering how to choose the right cage size for your dog? You've come to the right place if you're unclear about which factors matter most.
No matter how your dog enters your life — as a young puppy, a young adult, or an aged senior — we know dog kennels serve various purposes.
A few considerations must be addressed when choosing the proper size dog cage:
What use do you have for the dog crate?
Based on height, weight, breed, and age, what crate size is ideal for your dog?
How to gauge your dog's size for the appropriate cage?
Which dog cages are best?
Keep reading for the full details about how to choose the right dog cage size.
Before you scroll down to this guide, "How to Choose the Right Dog Cage Size," check out: Dog in Crate 20 Hours a Day: What You Should Know! (2023) and Can Two Dogs Share a Crate? (2023)
What Is a Dog Crate?
A dog crate, often known as a dog cage, is a lightweight container that dog owners may use to properly kennel their canine friend for brief intervals.
The phrases "crate" and "kennel" are sometimes used interchangeably, although the latter refers to a bigger, more durable construction with additional area for a dog to move around.
A cage may be used to educate your dog not to chew on your belongings, take them to the vet, or provide them with a secure hiding spot when visitors are over.
Since it promotes bladder and bowel control, crate training a dog is a crucial step in helping young pups learn to use the bathroom. Also, by repeating this practice, young puppies learn to see their cages as cozy, secure residences.
Crate manufacturers provide a variety of models. Foldable wire dog cages, metal dog crates, plastic crates, and soft-sided crates are some of the most popular varieties.
You may get crates with one door, two doors, or even three doors, as well as crates designed to seem like furniture (often an end table) to match your existing interior design scheme. To make your dog even more comfortable, some crates even include a mat or dog bed built right inside.
What Is the Purpose of the Dog Crate?
Dog cages are an investment in the welfare of your dog. The materials, sizes, and styles of crates are diverse. You should think about how you'll utilize the dog kennel before selecting one.
For instance, your goal can be to assist your dog with:
A Feeling of Safety
Your dog may relax and sleep safely in a crate. Whether a dog is ill, hurt, or elderly, they can utilize their cages as safe havens to rest and heal.
Added Training
Potty training your dog in a crate is one way to utilize it for training. Since they don't want to spoil their container, dogs in crates often wait until the proper time and location to go potty.
Safe Motor and Air Travel
Moving with a trained dog will be a lot easier than one who is not. In other situations, such as during air travel or road trips, crates might be useful.
An Emergency Situation
You can swiftly and simply transfer your pet in the terrible event of an emergency, such as a fire, without depending on dog cues. As new puppy owners, it might be crucial to avoid introducing your dog to a crate in an emergency. Instead, it ought to represent a secure location.
House Training
Dog cages are useful for potty training since most dogs prefer not to urinate in their sleeping spaces, which motivates them to hold their bladders. A crate is useful for dogs that are fearful or destructive because it gives them a private, secure space to recuperate.
Animals naturally seek out a tiny, concealed area to rest away from predators, where their backs are shielded and there is little to watch out for. Crates provide your dog with a safe and secure area to recover from an accident or surgery since recovery requires that your dog stay somewhat motionless.
Whatever your purpose for utilizing a dog cage or kennel, it is strongly advised that you learn how to choose the right size and get your puppy acclimated to one as soon as possible. Not every dog is going to feel comfortable in a crate, but having one on hand is sometimes necessary in case of an emergency.
Keep in mind that an emergency is not the time to expose your dog to a cage or kennel for the first time, whether it's for evacuation and safe travel or for healing from an accident. It should indicate a welcoming, safe location rather than a frightening one.
What Crate Size is Best for Your Dog?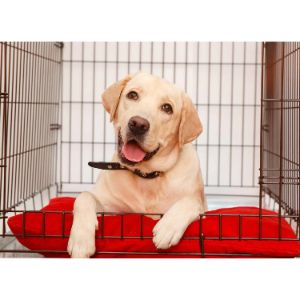 Thinking "bigger is better" when purchasing a box is among the most common errors individuals make. That's not the way to go!
A cage that is too spacious can encourage your dog to use a portion of it as a bathroom, while a crate that is too tiny might make your dog feel cramped and unable to sit, stand, or lie down securely.
Your dog should be able to turn around easily, stand up without bumping their heads, and rest on their side with their paws extended in the cage.
If you adhere to the guidelines provided, however, you will require a differently sized crate for a puppy as it matures into an adolescent and another size for an adult.
This could soon become costly, so allow us to offer you some money-saving advice: Look for a crate with a built-in divider that can be moved as your puppy grows in the cage.
There are divisions among several dog crate brands. A detachable panel known as a divider may be placed inside the cage to restrict the area to better fit your dog.
As important as crates are, you must also make sure that your dog can fit comfortably inside them.
Six Sizes of Dog Crates
The ideal crate varies depending on the size and breed of your dog. Below is a list of the dog breeds that can fit in each size of crate, along with a breakdown of the various crates' sizes.
Extra-Small Dog Cage
This crate accommodates dogs with a length between 18 and 22 inches and a minimum weight of 10 pounds. This cage size is suitable for small breeds, including the Chihuahua, Maltese, Papillon, Pomeranian, Shih Tzu, and Yorkshire Terrier.
Little Dog Cage
This crate size is appropriate for dogs weighing between 10 and 25 pounds and measuring between 24 and 30 inches in length.
The Bichon Frise, Boston Terrier, Cavalier King Charles Spaniel, Dachshund, Jack Russell Terrier, Lhasa Apso, Miniature Poodle, Miniature Schnauzer, and Pug are among the dog breeds that commonly fall within this size and weight category.
Medium Dog Cage
A medium crate is designed for dogs that are around 30 inches long and weigh between 25 and 40 pounds. The Beagle, Cocker Spaniel, French Bulldog, Shetland Sheepdog, Tibetan Terrier, and Welsh Corgi are among the medium-sized breeds that may use this dog cage.
Large Dog Cage
A large crate is best for dogs that are between 36 and 70 inches long and weigh between 40 and 70 pounds. The American Pit Bull Terrier, Basset Hound, Border Collie, Chinese Shar-Pei, Goldendoodle, English Setter, and Siberian Husky are just a few of the large dog breeds that might benefit from a large dog crate.
Extra-Large Dog Cage
Extra-large crates are designed to hold dogs that are between 70 and 90 pounds in weight and are around 42 inches long. Breeds including the Boxer, Labrador Retriever, German Shepherd, Golden Retriever, Greyhound, Irish Setter, and Rhodesian Ridgeback fare well in this crate size.
XXL Dog Cage
Dogs up to 48 inches long and weighing 90 pounds or more can fit in an XXL crate. The Bernese Mountain Dog, Great Dane, Mastiff, Rottweiler, and Saint Bernard are among the larger dog breeds that should need this robust style of cage.
How to Measure Your Dog to Get the Appropriate Crate Size
The size of your dog is the most important factor to take into account when selecting the right cage. The only way to discover the correct fit is to be aware of your dog's length, height, and breadth.
These are a few of the most crucial factors to remember:
To Determine Length
Your dog's length may be determined by measuring them from the point of their snout to the tip of their tail. Next, whether you have a small or medium breed or a large or extra-large breed, add 2′′ and 4′′, respectively, to that dimension.
To Determine Height
Ensure that your dog is seated. If your dog has floppy ears, measure their height from the ground to the top of their head. You must take a measurement from the floor to the tips of their ears if they have upright ears. Next, add 1″.
To Determine Width
You should measure the broadest part of your dog's chest. Next, add 4″.
It won't matter whether you add an extra inch or two, but if you start removing an inch or two of the required space, your dog could not feel comfortable. Hence, your dog's comfort must come first when deciding on the appropriate dog cage size.
How Large Should a Dog Crate Be?
After you have your dog's dimensions, use these practical suggestions to choose an appropriate-sized dog cage.
Provide Space for Mobility
Your dog doesn't require a large amount of extra crate area to play about, unlike a kennel (which serves as a playpen).
It shouldn't be too small because they still need enough space to feel comfortable. Your dog should have just enough room in the cage to stand up, turn around, and lie down without feeling crowded.
Size Up for Pups
If you have a larger crate and are potty training a puppy, your dog will be able to relieve himself on one side while still sleeping on the other.
Take Your Dog's Adult Size into Account
Always choose a crate size that corresponds to an adult dog's size. Invest in a crate divider panel to temporarily reduce the crate's internal area if you're crate training a new puppy.
Getting Your Dog Used to a Crate
Knowing which crate is ideal for your dog is vital, but it's just as critical — if not more so — to train your dog to feel at ease in the crate you want to use. Your dog must view the crate as a pleasant place to be in order to be properly trained. Hence, the goal is to have your dog associate the crate with positive things.
You'll need the following things for crate training:
Treats
A clicker
A treat pouch
Now follow the tips below:
If you're employing a plastic crate, remove the top before you begin marking and rewarding the dog for being in it.
Mark and reward your dog whenever he enters that area.
Give your dog a jackpot treat if they lie down.
After that, you can quickly close and open the door. Eventually, you may close the door for a longer amount of time.
Play some games to relax after the activity!
The Different Kinds of Dog Cages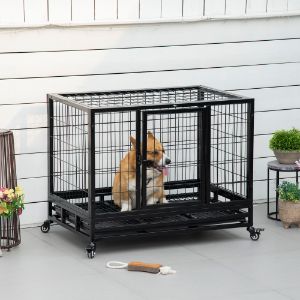 Your budget, your dog's chewing propensity, and the purpose for which you intend to utilize the crate will all influence the kind of crate you select. Also, you should pick a box that is simple to put together and disassemble and is secure enough to prevent an escape.
Plastic Dog Cages
Plastic dog cages are useful indoors and may be used to transport dogs when they travel. Use them while driving or flying (select a dog crate that is suitable for your dog's size and weight and is permitted by the airline). The best part is that plastic crates are simple to clean.
Metal Dog Cages
The finest dog cages for dogs who like to gnaw through various materials are made of metal. These crates are the most durable you can get, have decent air circulation, and allow for good vision, but they aren't the most attractive.
These cage-like boxes are made prettier and more private for your dog thanks to fabric covers.
Wooden Dog Cages
The most beautiful and expensive alternative is often wooden dog cages. The majority also double as furniture pieces, like end tables, to complement your design and provide stable support for your dog.
Remember that they need to be put together, are heavier than other kinds of dog cages, and are more difficult to clean.
Fabric Dog Cages
If your dog is a tiny breed and won't gnaw on it, fabric dog cages are a cost-effective option. Many of these soft crates serve as canine travel carriers, just like plastic crates do, but they are more difficult to clean in the event of an accident.
They are portable, simple to put together, and usually recline for storage.
Frequently Asked Questions
Should you put a bed in a dog crate?
Your dog may be more comfortable with a bed or pad in their crate, but they aren't required. If your dog is struggling with destructive behaviors or accidents, don't feel bad about keeping the crate bare for easier cleanups. The most important thing is knowing how to choose the right dog cage size.
Should you cover a dog crate with a blanket?
While a blanket shielding the crate from outside distractions can help your dog feel more secure, do not fully cover the crate or else you'll restrict the airflow.
Where should you put a dog crate?
When finding a spot for your dog crate, watch out for areas near direct sunlight, a fireplace, or a heater. On the flip side, avoid cold zones. You'll want the space to be a comfortable and consistent not-too-hot, not-too-cold temperature, which can vary based on the time of year.
Conclusion for "How to Choose the Right Dog Cage Size"
And there you are. We covered all the important considerations you should consider when finding the right dog cage size. It's important that you get the right one because your dog needs to feel comfortable and safe.
If you find this guide, "How to Choose the Right Dog Cage Size," helpful, try these topics:
You can learn more about choosing the right dog crate size by watching "Dog Crate Sizes: How to Size a Dog Crate for a Perfect Fit" down below:
Garrett loves animals and is a huge advocate for all Doodle dog breeds. He owns his own Goldendoodle named Kona. In addition, he volunteers at the Humane Society of Silicon Valley, where he fosters dogs and helps animals. Garrett enjoys writing about Doodles and believes that dogs can teach humans more about how to live than humans can teach a dog.
Why Trust We Love Doodles?
At We Love Doodles, we're a team of writers, veterinarians, and puppy trainers that love dogs. Our team of qualified experts researches and provides reliable information on a wide range of dog topics. Our reviews are based on customer feedback, hands-on testing, and in-depth analysis. We are fully transparent and honest to our community of dog owners and future owners.