In this guide, our team at We Love Doodles will teach you how to calm a dog in heat. But first – here's what you need to know. The estrus cycle in female dogs brings minor discomfort and abnormal behavior due to the release of hormones. For owners who breed dogs, having a non-spayed female is mandatory, but when females come into heat, it can sometimes be hard to calm them down.
What steps can you take to determine how to calm a dog in heat? The best way to calm a dog in heat is to provide constant reassurance and attention to the dog. Make sure the dog receives plenty of exercise. Furthermore, ensure that your dog wears a diaper or pinned cloth to stop random bleeding from the estrus cycle.
When a female dog is in heat, it is important to provide her with extra care and a dynamic daily routine. This guide will look at the female dog estrus cycle and how often female dogs go into and stay in the heat. Since female dogs can become distressed during this time, we will also look at how to calm a dog in heat.
Before you scroll down to a more in-depth answer to this guide, "How to Calm a Dog in Heat," you can check out these other similar guides from our team at We Love Doodles: Best Diapers For Dogs in Heat and Can a Dog Get Pregnant When Not in Heat?
An Overview of The Female Dog Estrus Cycle
When a female dog is in heat, this is known as the estrus cycle, and this cycle signifies that a female dog can now become pregnant. For breeders, this is the time to mate a female dog with an appropriate male. If you do not want to expect a litter of puppies, a non-breeding female dog should be spayed.
The estrus cycle has a few different stages and a few different signs to alert you when your dog is now in the heat cycle:
Signs of Estrus
Vaginal discharge. Once your dog is in heat, she will randomly bleed from her vagina. This is not to be confused with possible UTI issues–which are similar–but the blood will be spotty. The blood will also progress from rich, bright red to a watery pink throughout the cycle.
Marking. Both males and female dogs mark occasionally, but when a female is in heat, she will mark her territory constantly outdoors. Increased marking signifies estrus if you have not seen vaginal discharge. Females in heat may also mark in the house, which is a sure sign of estrus.
Presence of male dogs. Once a female is in estrus and marks her territory, males from close and far away will roam around your home. A female dog's urine contains pheromones that alert males that she is in heat.
Erratic behavior. A female dog in heat may seem cross, mildly aggressive, and restless. She may pant excessively even at rest and back and forth to go outdoors without needing to go to the bathroom. It is always a good idea to give female dogs in heat plenty of space and not to crowd them.
Excessive humping. Contrary to popular belief, female dogs do hump and mount. But if a female is constantly exhibiting this behavior, this is a sign that she is now in estrus or approaching this cycle.
These are the most common signs of a female dog in heat. The most surefire way to tell if a female is in heat is if she starts ovulating. But how often can you expect this to occur?
How Often Do Female Dogs Go Into Heat?
A female dog typically goes into heat every 6 months. She can become pregnant in either of these bi-annual cycles or during both cycles. Female dogs first reach estrus once they transition into the young adult stage. Smaller breeds can first come into heat in as little as 4 months, with medium-sized breeds first reaching estrus at around the 6-month mark.
Larger breeds can take as long as 1 to 2 years before a female first reaches estrus. It is typically not advisable to allow a female to become pregnant in her first estrus cycle. Her eggs need time to mature, as does she.
More Dog Guides: How Long Does It Take For a Dog to Gain Weight and How Fast Does Dog Hair Grow?
How Long Do Dogs Stay in Heat?
Although estrus occurs twice per year, the actual length of the cycle is relatively short. Although times can vary greatly by breed and age, the estrus cycle lasts anywhere from 10 to 15 days. If a female has not mated after this period, she will slowly but surely start to return to normal.
Many breeders typically choose only to allow a female to become pregnant during 1 of her 2 yearly cycles. Again, everything is variable. Some females can stay in heat for as long as 3 weeks. Once vaginal discharge stops and her mood and temperament improve, you can assume that her cycle has passed.
Why Does My Dog Act Strange When She Is In Heat?
Once a female dog is in heat, her demeanor and behavior will almost always change. Much of this has to do with hormonal imbalances and instincts taking over. Stress is perhaps the biggest detriment to a female dog in heat. Noises, sudden movements, and crowding are some things that will make a female dog panic.
Erratic behaviors are usually most pronounced during the first stage of estrus, known as proestrus. In this stage, a female's vagina will swell, and her hormones are in absolute haywire. Her entire daily routine becomes off-balance, and she may eat less and growl or even snap at her owners.
Around the mid-way point of estrus, a female will start to pace to go outdoors constantly. She is ready to mate and complete the cycle. Towards the end of estrus, whether a female has become pregnant, she will still seem a bit 'off,' but she will start to act normal again.
Ways to Calm a Dog Down in Heat
No matter the phase of estrus, there are many things you can do to calm a dog in heat. Let's take a look at how you can help.
Increase her baths: Due to vaginal discharge and increased hormonal fluctuations, a female in heat will display a peculiar odor. You can help to mask this smell by bathing her every day or once every 3 days. This refreshing renewal can also help to improve her mood and keep her more stable and less agitated.
Ramp up the exercise for your dog: A female dog will become very restless during mid-estrus. You can help tire her and release some of this stress by increasing her walks or outdoor playtime. Although she may not be very playful, you can run with her and encourage her to expel as much energy as possible. Try 3 to 4 walks per day instead of just 1 or 2.
Provide padding for your dog: Whether you use a diaper or pin a piece of fabric around her vagina, you can help stop her bleeding everywhere. This will ensure your home isn't covered in discharge and give your dog a sense of security. If your dog doesn't take to this, skip this step, as it will only add unneeded stress to an already stressed-out dog.
Allow your dog to have the proper rest: Dogs already sleep quite a bit, but during estrus, female dogs may need extra sleep to put their mind at ease. Make sure your dog has clean bedding and a quiet resting area.
You should provide additional support and affection for your dog: Support and affection are important daily, but a dog in heat will need extra care. Make sure to pet, hug, makeover, brush, and play with your dog more than usual when she is in heat. This goes a long way in improving a female dog's mood and reducing the stress of the situation.
You should make sure that your dog's environment is calm and quiet: Because her hormones are out of whack, loud noises, lots of commotion, and constant mental stimulation will stress out a dog in heat. You do not need to modify your life completely but turn the television and music down, encourage children to play in another room, and resist bothering your dog when resting. You can also play calm, meditative music in the background and reduce the lighting where she is. Estrus is a time of constant stress for a female dog, so ensuring that she has a calm environment is perhaps the most important way to calm a dog in heat.
Conclusion For "How to Calm a Dog in Heat"
In summary, there are many ways you can help calm a dog in heat. The estrus cycle can last as long as 3 weeks, depending on breed, so be prepared for that. Although you will likely be alarmed with your dog's first estrus cycle, this is a natural, bi-annual occurrence.
It is important to ensure your dog has a calm and somewhat quiet environment while in heat. You can use padding or a cloth pinned to your dog's reproductive area to capture blood or discharge. Above all else, provide your dog with love and emotional support during a difficult time for her.
If you find this guide, "How to Calm a Dog in Heat," helpful, check out these other dog guides:
You can learn more about what to do when your dog is in heat by watching "How to Calm a Dog in Heat: Top 5 Tips to Help Your Dog Stay Calm and Happy During Heat" down below: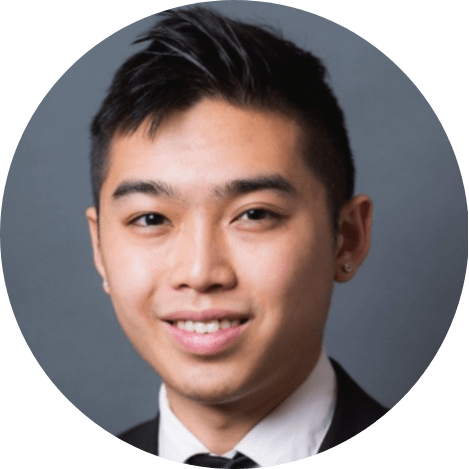 Andy is a full-time animal rescuer and owner of a toy doodle. When he's not saving dogs, Andy is one of our core writers and editors. He has been writing about dogs for over a decade. Andy joined our team because he believes that words are powerful tools that can change a dog's life for the better.
Why Trust We Love Doodles?
At We Love Doodles, we're a team of writers, veterinarians, and puppy trainers that love dogs. Our team of qualified experts researches and provides reliable information on a wide range of dog topics. Our reviews are based on customer feedback, hands-on testing, and in-depth analysis. We are fully transparent and honest to our community of dog owners and future owners.