When you talk about professional dog training or simply dog training in general, a topic or two about shock collars tend to emerge. When you think "shock", it tends to drift towards safety, as there's a lot to be said about the damages caused by these collars. Surprisingly, a great chunk of these problems come simply from how tight you place the collar.
So, how tight should a shock collar be? As a general rule of thumb, if you should be able to fit two fingers between the collar and the neck. This rule applies to a regular collar too, but there are more things to consider when it comes to shock collar training. We will go more in-depth on how tight a shock collar should be based on your dog's size, age, prongs, and fur length.
Before scrolling down this list, you might like: Best Training Collar for Stubborn Dogs!
Factors that Contribute to How tight a Shock Collar Should be on a Dog
Dog Size, Age, and Breed
This is the first because plenty of factors come from these three things. Size is obvious, as it dictates how much of the collar length is needed. On the extreme side, you may find it difficult to fit a shock collar on a Mini Pinscher or a Chihuahua because even at 6-12 months of age, their neck sizes are quite small and it may end up being an issue with the electronic collar receiver's size rather than the length of the collar itself. On the other hand, it will be much, much easier to fit training collars to larger breeds. Unless, you happen to have a hulking Karelian Bear Dog, which could push the notches to the very edge.
As for age, it only matters when you're trimming the collar strap. Some dog breeds can grow explosively around 4-6 months, so in case you're using the collar on a 6-month large breed dog, remember to leave a few good inches before you trim.
Available Prongs
The prongs are the metal contact points attached to the receiver that transmits the electricity to either vibrate or shock a dog. They can be made of aluminum or titanium and any stainless alloy in between. Some collars come with two or even three differently sized prongs. Others have silicon sleeves for comfort that may affect the overall electric strength, which isn't a bad thing.
Some people think using the shorter one is ideal because the long ones can cause more pressure on the skin compared to the longer ones. This is true, but there's a reason why it's in different lengths.
Fur Length and Density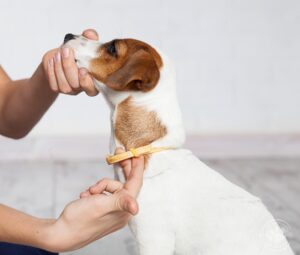 This is the reason behind the longer prongs. Going back to our Karelian Bear Dog, adults have fur so fluffy and dense, you can hardly feel the skin underneath. To touch the skin with the prongs, you need to comb the hair a bit and use the longest ones. Hair is also a great electric insulator, blocking the electricity, but becomes a great conductor if wet, which could cause the electricity to spread, increasing the sensation.
You'll likely not have a bear hunting dog with you, but you may have a long-haired dog, so using longer prongs is worth the extra pressure.
Optimal Position in a Dog's Neck
The proper placement is a debated topic among pet owners and trainers alike, with most evidence being anecdotal. The debates are Up vs Down and Side vs Throat.
The first one is whether you should put the collar up, close to the dog's chin, or somewhere lower, like in the middle. A dog's neck is likely thinner close to the skull compared to the area close to the body. With that said, placing the shock collar on the top part means it won't move downwards when your dog moves about. If you do place it any lower, the collar may move upwards when your dog lowers their neck, among other doggy things they do. Points go to placing it closer to the skull in this debate.
Now the other one is where to position the receiver. The better answer here is it's dependent on the breed. Some dogs like the American Bulldog or Bloodhound tend to have loose skin around their neck. These folds of skin around the throat will cause intermittent contact points if your dog moves around too much, so positioning them on the side is better. Otherwise, placing it on the throat is alright because you'll have gravity to help it stay in place.
Things That can Loosen a Training Collar
Apart from the given factors, certain things can and will loosen any type of collar. Sometimes, placing it slightly tighter can benefit you in the long run due to these actions:
We don't mean your dog relieving themselves, at least not just that. Dogs will bolt, bark, scamper, and shake and it would be harsh to stop them from doing so. These actions are enough to slowly nudge a collar into another position if it's not tight enough, or is placed lower on their necks. Sometimes, a dog's naturally loose skin can shift the receiver when they shake. If you notice these, consider tightening the collar a tiny bit more, but maintain the two-finger rule.
This mainly affects dogs with long hair. Their hair can trap water, causing mild slipperiness. This is not a big issue, but if the collar is a bit loose than usual, it could lead to uneven contact points.
It's inevitable that at some point, the buckles will loosen and the collar strap's material will give way. If you've been using the collar for a while, check the collar now and then for damage.
Dangers of a Loose Collar or Otherwise?
So, what happens when a collar's loose or too tight? What's the big deal? For loose collars, the greater issue is uneven contact points. This results in less electricity going to the skin, prompting you to use higher shock levels to get that minimum reaction from your dog. When the prongs do make proper contact, they'll get a bigger shock than intended hurting their skin and morale.
As for a tight dog collar, the problems come not from the tightness itself, unless it's tight enough to choke your dog. Problems occur when you keep the collar on for too long in one position. Anywhere under 8 hours is alright, combined with hourly rotation, where you should change the area where the receiver presses. Placing it on too tight and for too long in one place can cause pressure sores, and if left unchecked, can turn into wounds. These can often look like burn marks, leading others to believe their dog was "burned" by the receiver.
Conclusion for How tight should a shock collar be?
We've come a long way when it comes to training equipment and methods. Collars became far safer and more efficient, and training methods have been refined to consider a dog's mental health. What didn't change, however, is the amount of responsibility needed. If anything, we have bigger responsibilities now after we've discovered new things. It doesn't mean that things will be harder, just that we need to always be mindful, respectful, and observant, like with anything life throws at us.
You will also like:
Garrett loves animals and is a huge advocate for all Doodle dog breeds. He owns his own Goldendoodle named Kona. In addition, he volunteers at the Humane Society of Silicon Valley, where he fosters dogs and helps animals. Garrett enjoys writing about Doodles and believes that dogs can teach humans more about how to live than humans can teach a dog.
Why Trust We Love Doodles?
At We Love Doodles, we're a team of writers, veterinarians, and puppy trainers that love dogs. Our team of qualified experts researches and provides reliable information on a wide range of dog topics. Our reviews are based on customer feedback, hands-on testing, and in-depth analysis. We are fully transparent and honest to our community of dog owners and future owners.