Neutering has become a very common procedure in the process of owning a dog. Unless you are a breeder, it's recommended for a variety of reasons. If you are considering neutering your dog or have just gone through with this procedure, you may be familiar with the dreaded "cone of shame" dogs wear in the days or weeks following their surgery.
You might be wondering: how long should I keep the cone on? What is the cone even for? What other things should I expect from my pup? Don't worry! We understand this can be a scary or worrying time in your pet's life. We're here to guide you through everything you need to know.
Today we're going to explore this procedure including its benefits, helpful tips, and what to expect.
Before scrolling down this guide, "How Long To Keep a Cone On a Dog After Neutering," check out these articles: The 6 Best Escape-Proof Dog Collars! (2023) and 5 Best E-Collar For Large Dogs! (2023).
History of Spaying And Neutering
As you learn more information regarding this popular procedure, you might find yourself wondering just exactly how this process became so common. Today we consider this procedure responsible, but years ago, neutering was either unheard of, unsafe, or considered cruel.
As years went on and veterinarian medicine was able to advance, dogs and cats became more popular as pets — but there was no technology to prevent unwanted pet breeding. This led to a population explosion that unfortunately ended with many pets in shelters or on the streets.
In the 1930s, the technology needed to keep the pet population under control was available and accessible to the average family, but it was still uncommon. During the Great Depression, this was not an expense the average family could afford.
Fast forward to the 1970s, when neutering the family pet really ramps up to become more accepted and encouraged. From that point forward, shelters and various rescue groups campaigned for awareness on the issue, which aided in this topic becoming a household discussion. In 1972, the ASPCA made a declaration to require sterilization for all adopted animals.
Through these efforts, the euthanasia rate has decreased by 90% since 1950. Although there are still cases of unwanted animals in our society, neutering our pets has made a large impact on these numbers.
Benefits of Spaying And Neutering Your Pet
On top of keeping the population of unwanted animals that could potentially end up homeless at bay, there are also some health and behavioral benefits of spaying or neutering your pet.
Spaying Benefits (For Female Animals):
Helps prevent health conditions such as uterine infections and breast tumors, which can be malignant in most dogs and cats.
Your spayed female pet won't go into heat. If you are unfamiliar with this occurrence, it is an effort to earn a mate and reproduce. Each cycle varies but has a similar timeline to a human woman's menstrual cycle, lasting about four to five days every three weeks during the breeding season. During this time, you can notice your female cat or dog howl and urinate more frequently.
Spaying your female pet before her first heat is the best protection from these diseases and occurrences. In dogs, this can be around six to nine months of age. In cats, it can be done as early as eight weeks.
Neutering Benefits (For Male Animals):
Just as spaying your female pet prevents cancers of the reproductive organs, neutering your male pet prevents testicular cancer and varying prostate conditions.
It is well known that neutering your male pet may lead to fewer behavior issues. Unneutered dogs and cats can be known to mark their territory by urinating in the home or other unwanted areas, this can be avoided through neutering.
Additionally, you can avoid the unwanted behavior that some dogs act on which is mounting. Whether it's other dogs, humans, or objects, this behavior can be embarrassing.
Just like females, the average male neutering procedure occurs at six to nine months of age. In cats, it can be done as early as eight weeks. The earlier you neuter your male dog, the better chance there is of eliminating aggressive or unwanted behaviors.
What to Expect After Neutering or Spaying Your Pet
We have now covered the history and benefits of neutering and spaying your beloved pet. Whether it's a cat or a dog, you can see the importance of this procedure, but that doesn't always clear up worries about this major surgery.
You may not know that this procedure requires anesthesia and a lengthy healing process. Stitches are required and are the main reason for the extreme care needed during healing. Otherwise, your dog could rip them or become infected.
During that healing time, your pet might be confused or unaware of what is going on with their body, so it's imperative to be extra attentive to their needs. As the owner of a pet, it's your duty to ensure their safety and well-being.
With that being said, there are quite a few things that could go wrong during this healing period, so let's break down what to expect in the first 24 hours, first week, and weeks to follow.
The First 24 Hours After Neutering
The first 24 hours after you bring home your baby after this daunting surgery can be, understandably, stressful. In most cases, your dog will receive pain medications in their system as well as cycling the anesthesia through their body. This can be disorienting for even a human, let alone a dog.
With this in mind, you're sure to encounter some interesting behaviors from your dog that may not fit its normal personality. Rest assured, this is typical. For example, your normally energetic, playful, and happy companion may come off as lethargic, depressed, and without an appetite.
Days And Weeks After Neutering
At this point, you might start to worry about this experience. You're not alone! Of course, this can be scary. Try to remember our initial discussion regarding the history and benefits of neutering your dog.
Now that we have covered what you can expect during the first 24 hours following your pet's procedure, let's get into what to expect during the next few days including how long to keep the cone on, how to keep your pet comfortable, and how long your pet will be in pain.
Your dog will most likely take about three days following the surgery to return to their normal personality.
This is also the same time that your dog will be in pain, which has a direct correlation with their mood. Of course, all dogs are different so this may take longer for some. Although, it is important to note that if this persists past one week, it is best to reach out to your vet.
After the three-day mark, your dog will most likely return to their happy and fun-loving self. At this time, you may be ready to let them run free and go back to their usual activities of running, fetching, jumping, etc. Unfortunately, this is a big no.
For the next two weeks, your pet will need to take it easy in order to keep those stitches intact and doing their job.
In addition to making sure your dog does not participate in any physical activity that could damage their stitches, you'll also need to keep them in a cone or Elizabethan collar. You've seen this before. It's a plastic sheet that wraps around a dog's neck and extends past its snout, making it impossible for them to reach the wound.
Much to your dog's dismay, it needs to wear this cone for the next 10-14 days.
The purpose of the cone is to keep your pup from reaching the stitches. As the stitches heal, your pet will want to lick, scratch, or investigate their new wound. This is not allowed due to the possibility of tearing the stitches or infecting the area, both of which are dangerous to your dog's health and should be avoided at all costs.
Ways to Make Your Pet More Comfortable During Healing
We bet you're a sucker for puppy dog eyes and a sad face — us too. But during this time, you need to stay strong when keeping your dog's cone on for the full healing period, usually 10 to 14 days or until your follow-up visit to the vet's office. This can be one of the biggest mistakes a pet owner can make.
Dogs will whine, bark, and cry to communicate their hate for wearing the cone. If you have a puppy that likes to take matters into its own hands, you might find them attempting an escape from the collar. You may be feeling guilty. Let's explore some options to make your pet as comfortable and cared for as possible for the next two weeks.
First, let's address sleeping with the cone. Although modern collars are flexible and squishy, it still might be a struggle to get comfy at night.
With this in mind, you have a few options. It's a good idea to make sure your pet's sleeping arrangements are as comfortable as possible. That could mean extra cushions in their crate, blankets on their bed, or letting them sleep in bed with you. Proper rest is key during the healing process.
Next, we can move on to helping your dog while they're awake. With this cone, they may have a hard time seeing, walking, or sniffing. It's important to be attentive and guide your dog as they learn to maneuver with this contraption.
This might include guiding them with your voice on where to go, teaching them to walk with their head up so that the cone doesn't drag on the ground, and assisting them with stairs or any similar activity.
To increase your pet's quality of life during these two weeks, you can also grant them some cone-free time. This could be during mealtime or perhaps as they take a nap on the couch with you. If you do partake, keep a close eye on your dog.
It is pertinent that you always keep an eye on your pet and are in close enough range to stop them from licking, scratching, or biting the wound while they have access.
Frequently Asked Questions
How long should the cone stay on after my dog is spayed or neutered?
It typically takes 10 to 14 days for recovery, but make sure to check with your vet. The cone should stay on until your dog is fully healed and the vet removes your dog's sutures or staples.
Should my dog sleep with their cone?
It may look uncomfortable to us, but dog cones are designed to be worn during sleep.
What happens if my dog licks its incision?
Constant licking will lead to inflammation, infection, and potentially cause the incision site to reopen.
Conclusion for "How Long to Keep a Cone on a Dog After Neutering?"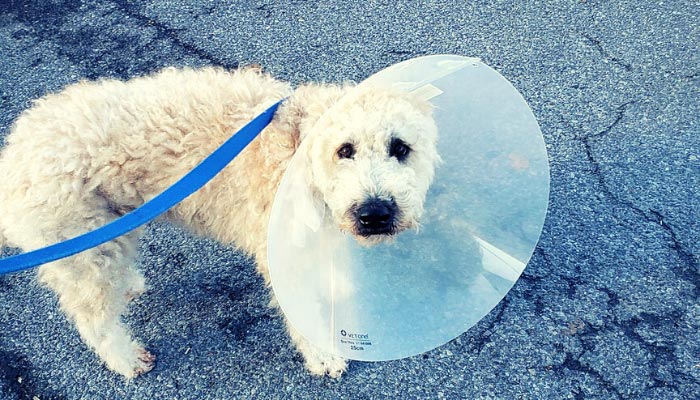 Through this article, we have learned a great deal about the common procedure of spaying and neutering our pets. Before, you might have found yourself with many questions surrounding the history, purpose, and benefits of this daunting process.
To summarize, we covered that neutering became popular in the 1970s and has since decreased euthanization and homeless animal rates. It also decreases your pet's chances of developing certain cancers and bad behaviors.
While your pet is healing, it's important to keep them comfortable while also making sure their stitches are safe. Your best bet is a cone, and your dog should wear one for the duration of their two-week healing process.
We hope you found this article helpful as a resource to ease your mind about neutering and recovery.
If you enjoyed this guide, "How Long to Keep a Cone on a Dog After Neutering," you might also like:
You can learn more about cones by watching "Dog Cone Care Tips" down below:
Garrett loves animals and is a huge advocate for all Doodle dog breeds. He owns his own Goldendoodle named Kona. In addition, he volunteers at the Humane Society of Silicon Valley, where he fosters dogs and helps animals. Garrett enjoys writing about Doodles and believes that dogs can teach humans more about how to live than humans can teach a dog.
Why Trust We Love Doodles?
At We Love Doodles, we're a team of writers, veterinarians, and puppy trainers that love dogs. Our team of qualified experts researches and provides reliable information on a wide range of dog topics. Our reviews are based on customer feedback, hands-on testing, and in-depth analysis. We are fully transparent and honest to our community of dog owners and future owners.