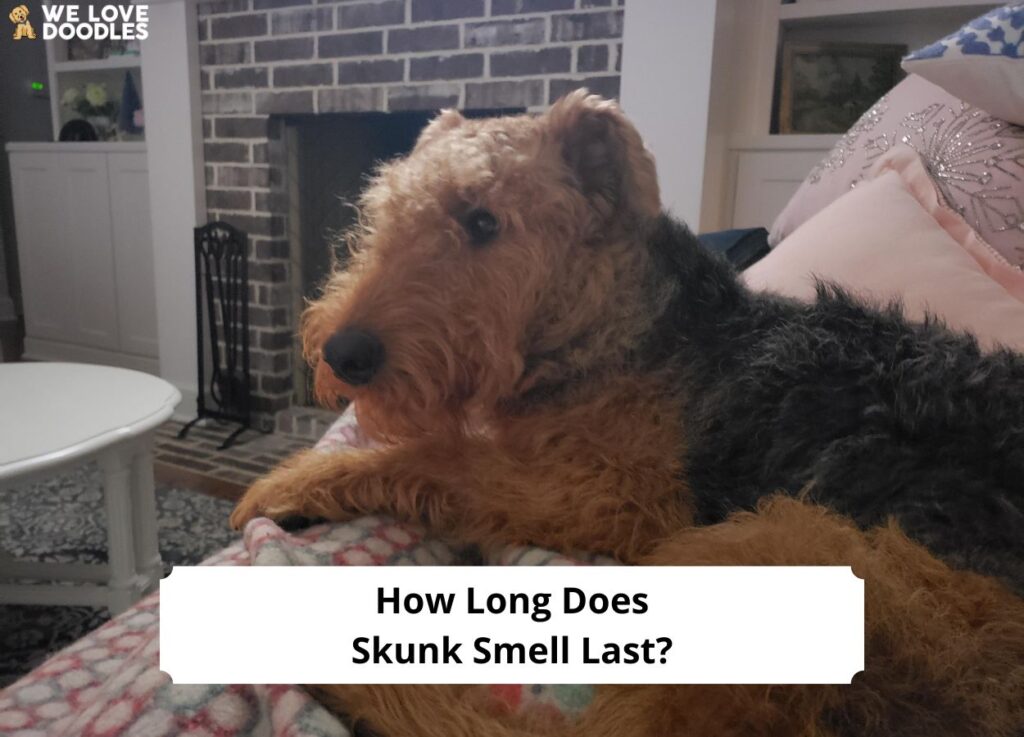 During mid-spring, female skunks give birth to their litter, prompting them to venture out of their dens in search of a mate. However, skunks may unintentionally wander into your backyard, leading to encounters with your dog and the subsequent release of their dreaded odor. So, how long does a skunk smell last on a dog?
Dealing with the persistent skunk smell can be challenging, leaving you wondering how long it will last and how to eliminate it from your furniture and clothes. While skunk odor can range from 14 days to three weeks, there are effective methods beyond the popular belief of using tomato juice.
Before reading this guide, "How Long Does Skunk Smell Last," check out: Why Does My Dog's Pee Smell Like Skunk? How to Treat It! (2023) and Why Do Dogs Smell After Going Outside? (2023).
Skunk Spray — What Is It?
Skunks possess specialized sacs connected to their anus through a tiny duct, which enables them to release a yellow oil-like substance when they feel alarmed or threatened. The glands within these sacs produce the infamous foul-smelling skunk odor, composed of seven sulfur and thioacetate-based compounds.
When the skunk odor combines with water and humidity, the presence of thioacetate can contribute to its lingering persistence over an extended duration.
The range of skunk spray can extend from three to several meters (approximately ten to 22 feet), but skunks typically exhibit warning signs before spraying. When you encounter a skunk and notice behaviors such as lifting its tail above its head, stomping its feet, or hissing, it indicates that they feel threatened, and it's best to give them space.
Skunks do not desire to spray you or your dog. It takes approximately ten days for their glands to regenerate fully, leaving them more vulnerable to potential predators during this period.
Where Do Skunks Live?
Skunks are adaptable creatures in various habitats, including open farmland, valleys, grasslands, and wooded areas. They can take shelter in almost any suitable space that can accommodate their size, such as under rocks, in abandoned dens, beneath decks, and under porches, among other places.
While skunks do not hibernate, they are less active during winter months. However, they become more active once February arrives, as it is their mating season.
In terms of diet, skunks have a diverse food selection that changes depending on the season. They consume various things, including mice, insects, and even garbage left at the end of driveways on garbage collection days.
Was Your Pet Skunked?
As you release your dog into the backyard, a sudden commotion catches your attention, accompanied by a pungent skunk smell. Instantly, you are both anxious to eliminate the odor and concerned about where your dog encountered the spray.
If your dog gets sprayed in the face, it may experience temporary blindness and discomfort in the eyes, but there should be no lasting damage. However, it's essential to be vigilant for any signs of excessive scratching or biting of the skin, as this could indicate further irritation.
After your dog has encountered a skunk, it is crucial to prioritize your safety by wearing rubber gloves. Additionally, prepare the same mixture as mentioned earlier.
An alternative to dish soap is baby shampoo, as it tends to be more gentle on your dog's fur. White vinegar can also be effective if you prefer to avoid peroxide. However, it's essential to be cautious and ensure the mixture does not come into contact with your dog's eyes.
Additionally, it is crucial to keep the mix from sitting on their fur for a maximum of a few minutes. After rinsing, use a regular shampoo and conditioner, giving your dog another thorough wash.
How Long Does the Smell Last?
The lingering odor of skunk spray can persist for two weeks to 14 to 21 days. Combining baking soda and vinegar or peroxide eliminates the smell from your clothes, furniture, hair, or dog fur.
While various skunk shampoo products are available, washing with the mixture above can further neutralize the potent odor. Following this, a thorough rinse using regular shampoo and conditioner is best.
Will the skunk smell go away on its own?
Skunk odor will eventually fade but can linger for an extended period if not adequately addressed. The distinctive smell of skunk spray is due to volatile compounds that can adhere to surfaces, including your dog's fur. These compounds are released over time and can persist for several weeks if left untreated.
It's best to take active steps to remove the skunk odor to expedite the process and minimize the duration of the smell. The longer you wait, the longer it may take for the smell to dissipate naturally.
Using the de-skunking solution and following the steps I mentioned earlier, you can effectively neutralize and remove the skunk odor from your dog's fur. Promptly bathing your dog and thoroughly cleaning any items that came into contact with the skunk spray will help speed up the odor removal process.
Remember that the intensity of the skunk odor can vary depending on various factors, such as the concentration of the spray, your dog's fur type, and how quickly you address the issue. Taking proactive measures will significantly reduce the time it takes for the smell to go away.
Frequently Asked Questions
How do I get the lingering skunk smell off my dog?
Dealing with skunk odor on your dog can be challenging, but you can take steps to remove the smell. Here's a guide to help you through the process:

Act quickly

The sooner you address the skunk odor, the better. Try to clean your dog as soon as possible after encountering the skunk.

Please keep your dog outside

It's essential to keep your dog outside or in an area where the smell won't spread throughout your home.

Wear protective clothing

Before handling your dog, wear gloves, old clothes, and eye protection to prevent direct contact with the skunk spray.

Check for injuries

Examine your dog for any signs of damage or irritation caused by the skunk spray. If you notice any wounds or your dog seems in pain, consult a veterinarian.

Prepare a de-skunking solution

Mix the following ingredients in an open container or bucket:

1 quart (950 ml) of 3% hydrogen peroxide
1/4 cup (60 ml) of baking soda
One teaspoon (5 ml) of liquid dish soap (preferably mild)

Bathe your dog

Take your dog to an outdoor bathing area, preferably using a hose or a large tub. Avoid using your indoor bathtub or shower to prevent the skunk odor from spreading. Wet your dog thoroughly with water, avoiding the face initially.

Apply the de-skunking solution to your dog's fur, working it into a lather. Be sure to cover the affected areas thoroughly, paying extra attention to areas where the skunk spray is heavy. Leave the solution on your dog's fur for about five to 10 minutes to allow it to neutralize the skunk odor.

Rinse your dog's coat thoroughly with water, ensuring all solution traces are gone.

Repeat if necessary

If the skunk odor persists, you may need to repeat the bathing process. For powerful aromas, consider using a commercial skunk odor removal product specifically designed for pets.

Dry your dog

After bathing, gently towel dry your dog or use a blow dryer on a low setting. Be cautious with the blow dryer to avoid causing any discomfort to your dog's skin.

Clean your dog's belongings

Wash any items that came into contact with the skunk odor, such as bedding, collars, leashes, or toys, using a mixture of vinegar and water or an enzyme-based pet odor remover.

Consider professional grooming

If the skunk odor persists despite your best efforts, you should take your dog to a professional groomer with experience dealing with skunk encounters.

Remember, prevention is critical, so take precautions to keep your dog away from skunks in the future. That can include keeping your yard well-lit, securing trash cans, and supervising your dog when outdoors.
How long does a skunk smell last on a dog if treated?
If you promptly and appropriately treat your dog for skunk odor, the duration of the smell will significantly decline. However, it's important to note that the exact time can vary depending on several factors, including the concentration of the skunk spray, the effectiveness of the treatment, and your dog's characteristics.

With thorough cleaning and de-skunking measures, the skunk smell on a dog can typically dissipate within a few days to a couple of weeks. Most of the odor should diminish within the first few days after treatment, but some residual scents may linger longer.

Consistency in following the de-skunking process will increase the chances of eliminating the smell in a shorter time frame, including bathing your dog with the appropriate solution and ensuring all areas get the treatment.

Suppose the skunk odor persists despite your efforts. In that case, it's advisable to consult a professional groomer or veterinarian for further assistance, as they may be able to provide additional guidance or treatments to help eliminate the smell more effectively.
How many times should I bathe my dog after skunk spray?
In most cases, a single thorough bath using the de-skunking solution should be sufficient to remove the skunk odor from your dog. However, depending on the intensity of the smell and the effectiveness of the initial bath, you may need to bathe your dog a second time.

If, after the first bath, you can still detect a noticeable skunk odor, you can repeat the bathing process using the de-skunking solution. Follow the instructions, including leaving the solution on your dog's fur for a few minutes before rinsing thoroughly.

It's essential to avoid over-bathing your dog, as excessive bathing can strip their skin of natural oils and potentially cause skin irritation. Therefore, limit the number of baths to what is necessary to eliminate the skunk odor.

If the skunk smell persists even after a second bath, consider seeking assistance from a professional groomer or veterinarian for further guidance and potential alternative solutions.
Conclusion for "How Long Does Skunk Smell Last

"
Dealing with the lingering skunk smell can be challenging, but it's essential to handle the situation promptly and effectively. Skunk spray, produced by specialized glands, consists of sulfur and thioacetate-based compounds contributing to its potent and persistent odor.
Skunks typically exhibit warning signs before spraying, and giving them space when they feel threatened is best. Skunks can be found in various habitats and have a diverse diet. If your pet gets skunked, acting quickly and following the proper steps to remove the smell is crucial.
The duration of skunk odor can range from two weeks to several weeks, but thorough cleaning with baking soda and vinegar or peroxide can help neutralize the smell. It's essential to be cautious and seek professional assistance if needed.
Remember to prioritize prevention to avoid future skunk encounters and keep your dog safe.
For questions similar to this guide, "How Long Does Skunk Smell Last," check out:
Learn more by watching "Remove Skunk Smell From Dog- Using Household Products – Professional Dog Training Tips" down below:
Garrett loves animals and is a huge advocate for all Doodle dog breeds. He owns his own Goldendoodle named Kona. In addition, he volunteers at the Humane Society of Silicon Valley, where he fosters dogs and helps animals. Garrett enjoys writing about Doodles and believes that dogs can teach humans more about how to live than humans can teach a dog.
Why Trust We Love Doodles?
At We Love Doodles, we're a team of writers, veterinarians, and puppy trainers that love dogs. Our team of qualified experts researches and provides reliable information on a wide range of dog topics. Our reviews are based on customer feedback, hands-on testing, and in-depth analysis. We are fully transparent and honest to our community of dog owners and future owners.