Sheepadoodles are a mix between Poodles and Old English Sheepdogs known for their very social personalities and high levels of intelligence. They are notoriously playful and gentle with both other dogs and children. Given that they are such a lovable breed, it is perfectly valid to find yourself wondering how long your Sheepadoodle will be in your life.
Different factors can affect your Sheepadoodle's lifespan that you should consider when committing to taking care of one. There are also illnesses specific to the breed that you should know beforehand.
Read on to find out how long a Sheepadoodle can live up to. As well as typical health issues for the breed and other factors that may impact their life expectancy.
Other articles you would like: How Much Does a Sheepadoodle Cost? and 150+ Sheepadoodle Dog Names.
What Is The Average Sheepadoodle Lifespan?
This active mixed breed has an average lifespan of 12 to 15 years. This is a long time for a medium to large-sized dog. Micro and mini Sheepadoodles can be expected to live slightly longer due to their smaller size. The life expectancy of micro and mini Sheepadoodles tends to be 13 to 16 years.
To ensure that your Sheepadoodle lives to its life expectancy, many different factors will affect their lifespan that you need to consider while caring for your dog.
Related Article: Sheepadoodle Lifespan
Factors That Affect A Sheepadoodle's Lifespan
Just as with any other dog, a Sheepadoodle's lifespan is dependent on whether or not the dog is in prime health. Their health relies on a few key components.
Reliable Breeders
Breeding plays a critical part in your Sheepadoodle's health. How a dog is bred will determine its genetic composition, and various genetic mutations may affect its long-term health. When considering a Sheepadoodle as your next dog, make sure to look into breeders beforehand to ensure that your Sheepadoodle puppy is coming from a reputable source.
Access to Veterinary Care
Pet insurance is a factor to heavily consider before owning a Sheepadoodle. Physical illness and accidents are hard to avoid for anybody, not just dogs. The more reason why it is critical to have reliable health care.
It is also necessary to regularly bring your Sheepadoodle to the vet for a check-up. This will allow the veterinarian to catch any issues and get them under control before they spiral into something bigger.
Exercise
Sheepadoodles are a very active breed, so it is important for both their physical and mental well-being that they are getting plenty of exercise in their daily lives. If a Sheepadoodle does not get the high amount of exercise that the breed requires, they are more prone to develop harmful diseases of both the mind and body that could deal a blow to their life expectancy.
Once your Sheepadoodle is grown, you should make sure that they get at least half an hour of physical activity every day to keep them healthy. It is important to talk to your vet in the event that your dog has physical limitations that prevent them from being able to exercise, such as joint issues and hip dysplasia which Sheepadoodles are often prone to.
Nutrition
As is the case with any pet, you should ensure that your Sheepadoodle's nutritional requirements are being met. This is crucial throughout their entire life, but it is especially important that your pup is receiving adequate nutrition while they are still young and developing.
Consult your veterinarian to make sure that your Sheepadoodle is receiving the proper nutrition for the breed, as well as the right amount of food for their size. The vet may even have recommendations as to what brand of dog food you should be feeding your Sheepadoodle.
Common Health Problems For Sheepadoodles
There are several different health issues that are common for Sheepadoodles, and any of them could be lethal for your dog, or at least shorten their life expectancy. Consult your vet if you are concerned that your Sheepadoodle is developing any of the following health problems.
Bloat
"Bloat" is the common term for Gastric dilation volvusus. The condition is lethal in up to fifty percent of cases, and it is more common in Sheepadoodles than in most other breeds.
Look out for the following symptoms of bloat in your dog:
Lethargy
Stiff movement
Clear discomfort
Head hanging
Salivation
Restlessness
Vomiting/Attempts at vomiting
An enlarged and painful abdomen
Hip Dysplasia
Hip Dysplasia is another condition that often affects Sheepadoodles. Consult a veterinarian if your dog experiences the following symptoms:
Lethargy
Difficulty with movement
Limping/Abnormal gait
Stiffness
Muscle loss in the legs
If your Sheepadoodle is experiencing hip dysplasia, there may be a few bouts of physical therapy or even surgery in the future to ensure that they get well.
Addison's Disease
Addison's disease can have a holistic effect on your Sheepadoodle's health. The condition can often be difficult to diagnose because it seems to imitate other physical illnesses. Be sure to take your Sheepadoodle to the vet for regular check-ups and look out for the following symptoms:
Lethargy
Depressive behavior
Anorexia/weight loss due to a lack of appetite
Vomiting
Diarrhea
Hair loss
Irregular urination
Hair loss
Dehydration or an increase in thirst levels
Abdominal pain
Weak or irregular pulse/heart rate
Bloody stool
Low body temperature
Hypoglycemia
Abnormal hyperpigmentation on areas of the skin
Trembling
During an episode called an "Addisonian crisis," the dog will likely collapse in shock. This will require immediate medical attention. Once the crisis is resolved, your veterinarian will likely prescribe a hormonal medication to keep symptoms of Addison's disease at bay.
Joint Issues
While joint issues are not inherently a threat to a dog's life, they could deplete a Sheepadoodle's quality of life in a way that harms both their physical and mental health. The signs that a dog might be experiencing joint pain are as follows:
Lethargy
Limping/Abnormal gait
Irritable behavior
Anorexia/weight loss due to a lack of appetite
Depressive behavior
Licking, biting, or chewing at the joints
Consult your vet if you believe that your Sheepadoodle is experiencing joint pain.
Skin Disorders
Sheepadoodles are particularly prone to skin disorders such as sebaceous adenitis. These conditions can be extremely uncomfortable for dogs and could have a serious impact on mental and physical health. Check your Sheepadoodle for the following signs of skin conditions, which are often easy to spot if you know what to look for:
Skin inflammation (acute moist dermatitis)
Skin redness
Rashes
Dandruff
Bumps or hives
Dry, flaky, or scaly patches of skin
Skin lesions
Skin sores
Lumps on the skin
Intense itching and scratching
Unusual amounts of licking
Hair loss
For any skin condition, it is best to take a trip to the veterinarian to get the issue resolved before it has a serious effect on your Sheepadoodle and their lifespan.
Signs of Aging in Sheepadoodles
Once your Sheepadoodle reaches a certain age, they will begin to develop visible signs of aging. Take note of the following signs that your dog may be entering their senior years:
Cloudy eyes/abnormal vision
Slow movements/difficult walking or moving
Fatty lipomas/lumps under the skin
Weight change
Difficulties with urination or incontinence
Sudden timidness
Restlessness or changes in sleep schedule
Excessive or unusual barking
Confused or disoriented behavior
Anxious behavior, including unusual anxiety around people or other dogs
Change in physical activity levels
Sudden repetitive habits
The veterinarian will be able to tell you whether or not your Sheepadoodle is beginning to experience symptoms of aging, and they may be able to provide the dog with accommodations to make the transition into old age more comfortable for them and manageable for you.
Conclusion for How Long Do Sheepadoodles Live?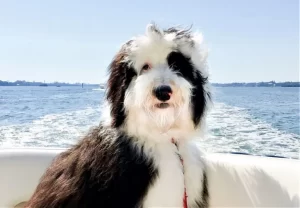 Sheepadoodles are an extremely friendly and lovable breed, and so it is natural to want to have as much time with the sweet dogs as possible.
The average Sheepadoodle life expectancy is in the range of 12 to 15 years, but that span of time tends to grow to 13 to 16 years for the smaller micro and mini Sheepadoodles. However, this life expectancy is reliant on the guarantee that the Sheepadoodle's caretaker is doing a thorough job at maintaining their health.
Reputable breeders, veterinary care, meeting exercise requirements, and proper nutrition are all important factors to consider when attempting to extend a Sheepadoodle's life expectancy.
It is also key to look out for symptoms of the diseases that are common in this particular breed, such as bloat, hip dysplasia, Addison's disease, joint pain, and skin disorders. If any symptoms are apparent, seek immediate medical care.
Make sure that you schedule regular check-ups and talk to the vet about all of the steps that you can take to keep your Sheepadoodle's health in tip-top shape. Your pup will thank you for doing everything possible to make certain that they are mentally and physically fit. As a result, you may just get to spend more time with them as they live long and healthy lives.
Other articles you would like:
Garrett loves animals and is a huge advocate for all Doodle dog breeds. He owns his own Goldendoodle named Kona. In addition, he volunteers at the Humane Society of Silicon Valley, where he fosters dogs and helps animals. Garrett enjoys writing about Doodles and believes that dogs can teach humans more about how to live than humans can teach a dog.
Why Trust We Love Doodles?
At We Love Doodles, we're a team of writers, veterinarians, and puppy trainers that love dogs. Our team of qualified experts researches and provides reliable information on a wide range of dog topics. Our reviews are based on customer feedback, hands-on testing, and in-depth analysis. We are fully transparent and honest to our community of dog owners and future owners.