Labradoodles are one of the most popular breeds in North America and their popularity continues to grow as people realize just how awesome these dogs are. They are beautiful dogs with easy-going personalities and hypoallergenic coats.
One question that we see a lot is how long do Labradoodles live? While many factors could affect their lifespan, Labradoodles tend to live somewhere between 10 and 15+ years. We have some helpful health and life information if you are considering a Labradoodle to add to your home.
Other articles you would like: Labradoodle Dog Breed Guide and Are Labradoodle Hypoallergenic?
How Do you Determine How Long a Labradoodle will Live?
The Labradoodle started being bred in about the 1980s in North America. These dogs are lovely family pets with outgoing personalities. There is not a ton of health issues to worry about which will reduce their lifespan. However, we can take a look at the parent dogs to get a good understand of how long a Labradoodle will live.
The Labradoodle comes from the Labrador Retriever and Poodle dog breeds. Labrador Retrievers tend to live for about 10 to 12 years while Poodles tend to live 12 to 15+ years. In general, larger dogs tend to live shorter lives than smaller dogs.
We know that a Labradoodle will typically not be as large of a dog breed as a Labrador Retriever unless they bred with a Standard Poodle. Since Labradoodles are a medium-sized dog breed, it's safe to say that on average they will live between 10 and 15+ years.
However, there can be a lot of various factors that can lead to their overall lifespans and we will cover some of these in this guide.
Fitness & Training Habits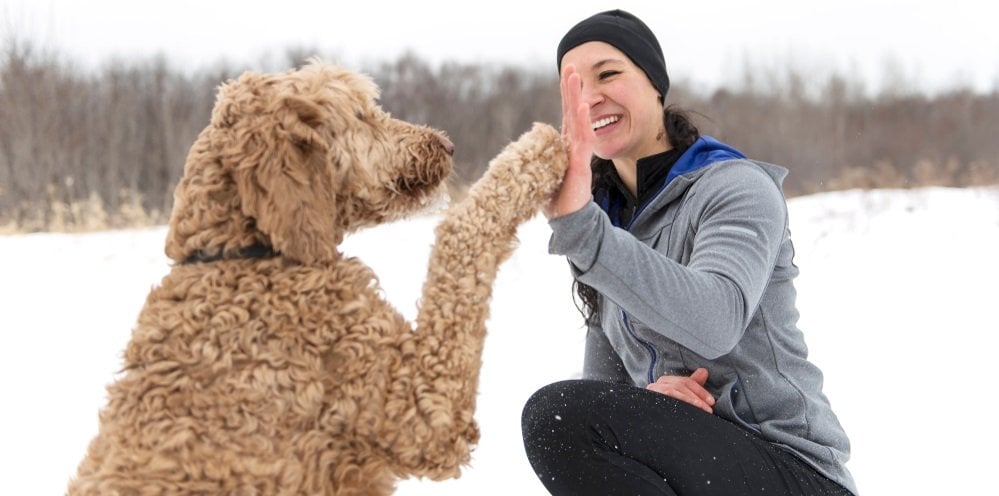 Dogs need training and exercise just like humans do. The health of your Labradoodle and their lifespan could depend on the fitness habits that are incorporated during their life.
You can incorporate daily exercise into your Labradoodles routine. This should include things like walks and playtime, but it could also include time playing outside in the backyard as well. These dogs are very active by nature and they need to be able to spend some time running and playing to keep their health in the best shape.
Having the right amount of physical activity can make a difference in their lifespan. Exercise is important for them not just for fitness reasons but also just to keep them entertained so they don't cause trouble with boredom.
A Proper Diet
Another important factor of maintaining a long and healthy life for your Labradoodle is to feed them properly. On average, overweight dogs tend to live 2.5 less than healthy dogs. This makes a big difference in a Labradoodle's lifespan.
Related: Best Dog Food for a Labradoodle
We recommend a balanced diet and not free-feeding your dog. You should feed them at regular mealtimes and be consistent with feeding times. Measure out their food to avoid overeating and ending up with an overweight Labradoodle.
If you change foods or try new foods, be sure to monitor your Labradoodle closely to ensure they don't have a bad reaction to the food. A balanced diet is important. You don't necessarily have to use a grain-free dog food but you should look for natural ingredients and stick to wholesome grains in the food. Labradoodles can tend to be sensitive to food allergies and also have skin sensitivities that are directly related to foods. Be sure to monitor for symptoms like itching and licking their paws.
Try to choose dog foods that don't contain things like wheat, corn, soy, or other fillers. You also will want to try to avoid preservatives and additives that simply don't have any nutritional value. Food sensitivities are common among Labradoodles so you will need to monitor your dog and determine whether they have a reaction.
You want to look for things that promote good health, healthy weight, and provide important minerals and nutrients including valuable protein, fiber, fruits and vegetables, and more. Remember that your dog's nutrition comes almost solely from the food they eat so choose wisely and monitor for any negative reactions from food.
Proper Health Care & Grooming
The life expectancy of your Labradoodle may be affected by proper grooming and health care. These things can cause illnesses and discomfort that will age your dog if not taken care of. For example, Labradoodles are prone to ear infections. The hair around their ears can lead to infections if it is not cleaned and trimmed regularly.
In addition, dental care, exercise, and grooming can make quite a difference in your Labradoodles life. We recommend that you practice regular grooming, brushing, and trimming. Brushing your Labradoodle on a daily basis is highly recommend to avoid matted fur or tangles which provides discomfort to your dog.
You will want to stay on top of routine veterinarian care as well. Labradoodles can sometimes be prone to elbow or hip dysplasia so do your best to research the parents and monitor for these symptoms so you can treat them if needed.
Aging Signs to Look For in a Labradoodle
Your Labradoodle is inevitably going to age. You simply can't avoid that, just as humans can't avoid it either. There are some things you can watch for that may be signs that your Labradoodle is aging and may need extra care.
Here are some noticeable signs of aging that you can look for in an aging Labradoodle:
Bleeding gums or bleeding noses, also known as Von Willebrand's disease. This is not necessarily common but it could happen to your Labradoodle and should be monitored if it does.
Progressive Retinal Atrophy or PRA is another aging ailment that Labradoodles can experience. This is a progressive deterioration of the retina, which is part of the eye. This can lead to blindness over time and affect a Labradoodles life expectancy.
Hip Dysplasia is one of the most common health struggles with Labradoodles since they are a larger breed. This is a genetic disorder and you can often predict whether your puppy may experience it by knowing about the health of the parents. Hip Dysplasia will affect how long your Labradoodle lives.
Conclusion for How Long do Labradoodles Live?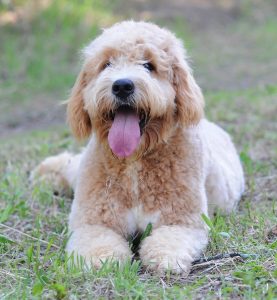 Overall, your Labradoodle should live a long and healthy life of 10+ years. You can be proactive by being familiar with health issues they could possibly face. Your Labradoodle will rely on you to keep them as healthy as possible throughout their lifetime.
Other articles you would like:
Garrett loves animals and is a huge advocate for all Doodle dog breeds. He owns his own Goldendoodle named Kona. In addition, he volunteers at the Humane Society of Silicon Valley, where he fosters dogs and helps animals. Garrett enjoys writing about Doodles and believes that dogs can teach humans more about how to live than humans can teach a dog.
Why Trust We Love Doodles?
At We Love Doodles, we're a team of writers, veterinarians, and puppy trainers that love dogs. Our team of qualified experts researches and provides reliable information on a wide range of dog topics. Our reviews are based on customer feedback, hands-on testing, and in-depth analysis. We are fully transparent and honest to our community of dog owners and future owners.