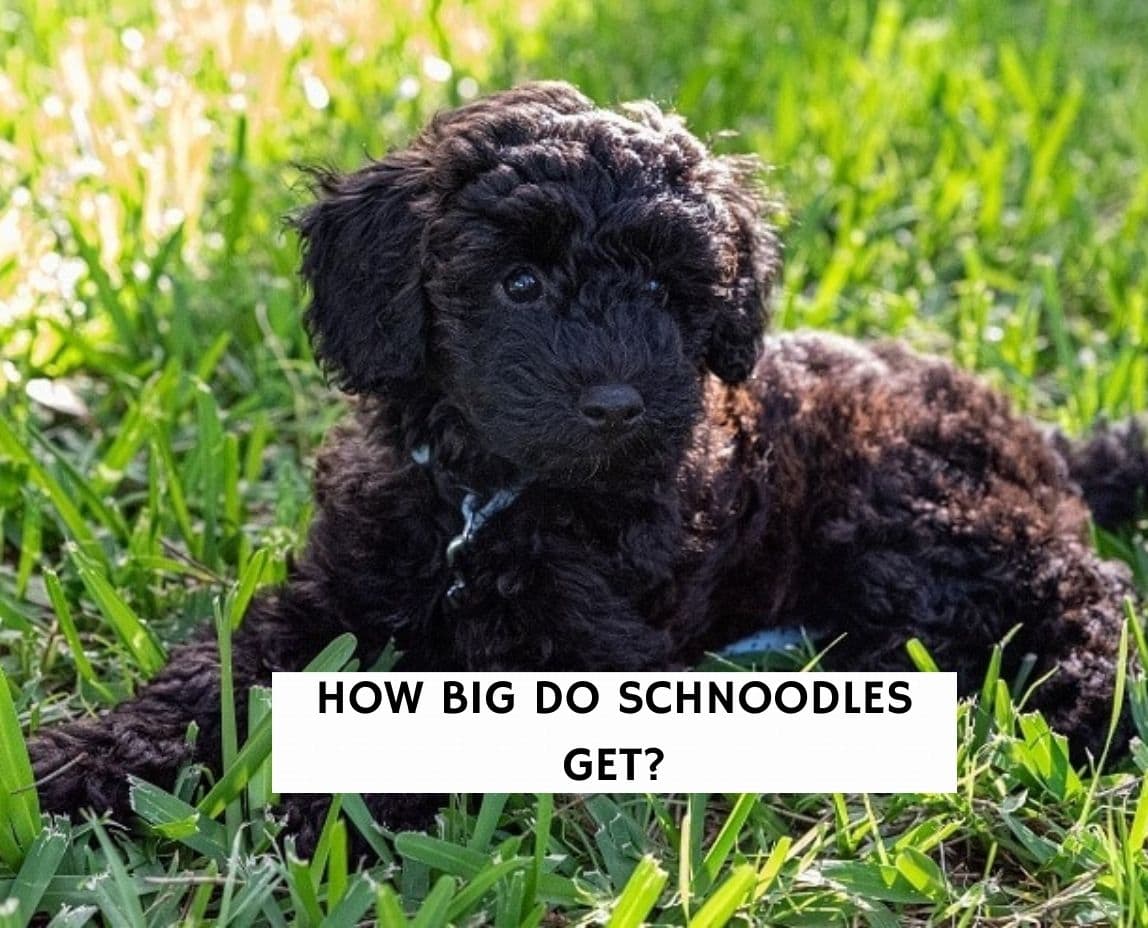 Mixed between the Schnauzer and the Poodle breed, you would probably wonder out of curiosity: "How big do Schnoodles get?" Of course, Schnoodles are a joy to own, but if you're a new Schnoodle puppy parent, you might be wondering—how big do Schnoodles get?
Unfortunately, the answer isn't as straightforward as many other breeds. The good news is that if you know who your Schnoodle's parents are, you can get a rough idea of what size they'll get. 
However, if you find a Schnoodle puppy on the side of the road or adopt one, you're going to have to practice patience—there's no telling how small or large it'll be as an adult.
Before scrolling down this guide, "How Big Do Schnoodles Get," check out these related topics: How Big Do Cavapoos Get and How Big Do Cockapoos Get?
Understanding a Schnoodle's Size
We'll cover the genetic reason for varying-sized Schnoodles shortly. However, if you're on the brink of buying a Schnoodle puppy and need to know how big it'll get right away, there are three general size ranges that the Schnoodle falls under.
Standard Schnoodle Size
The standard Schnoodle is the largest of its breed. It ranges from 15 to 27 inches and can be anywhere from 30 to 75 pounds—what a range. Your standard Schnoodle will have the largest breeds in its blood—a half-giant Schnauzer and a half standard Poodle.
Mini Schnoodle Size
People understandably get confused with the term "mini" since this is a medium-size breed for Poodles and the smallest breed for Schnauzers. But when it comes to Schnoodles, the word "mini" refers to a medium-size dog.
Mini Schnoodles range from 12 to 15 inches in height and weigh 13 to 20 pounds. They're the result of a standard Schnauzer mixing with a mini Poodle. 
Toy Schnoodle Size
Toy Schnoodles reach a mere 10 to 12 inches in height and weigh only six to ten pounds. As you probably guessed, this breed originates from a mini Schnauzer mating with a toy Poodle.
Based on this Schnoodle height and weight ranges, you can see some overlap, particularly with the height. Therefore, if you bring home a toy Schnoodle, it could end up growing into the size of a small mini Schnoodle, and vice versa. 
Related: When is a Schnoodle Full Grown?
Reason Schnoodles Don't Grow to a Set Size
Schnoodles are a dog breed that involves a mix of one Schnauzer parent and one Poodle parent. While this crossbreed produces an adorable, loving dog, the problem is that there are three different sizes within the Schnauzer and Poodle breeds. They are as follows.
Schnauzer Dog Sizes:
Poodle Dog Sizes:
As you saw above, breeding a giant Schnauzer with a standard Poodle will result in a larger Schnoodle than breeding a Mini Schnauzer and Toy Poodle.
Related: How Long Do Schnoodles Live?
Schnoodle Generational Size Differences
If the variations we've already discussed feel like enough of a reason for you to scratch your head over how big your Schnoodle might get, there's another factor to consider—your puppy's generation and the size of its Poodle and Schnauzer descendants. 
Breeders created rather scientific names to identify the generation of a Schnoodle. As a result, knowing your Schnoodle's generation will help you determine how big it may get. Examples of these sizes include:
F1:

The first generation of a Schnoodle. Your puppy will have half Schnauzer and half Poodle, so it's a matter of knowing the size of its parents to determine how large your Schnauzer might grow.

F1B:

An F1 Schnauzer that's mixed with Poodle. Therefore, three-quarters of it will be a Poodle, only one-quarter Schnauzer. You'll need to know the type of Poodle to determine approximately how big your Schnoodle will get.

F2:

Puppies produced from two F1 Schnoodles. They'll maintain their 50% Schnauzer and 50% Poodle blood. However, their size will vary depending on the size of their Schnauzer and Poodle parents and grandparents.
As a general rule, F1 Schnoodles cost more because they're first-generation, and people prize them for being purer.  
How Genetics Influence a Schnoodle Size
We've all heard comments about a child being born to parents with entirely different hair or eye color and people joking how they couldn't be a product of that parent. Well, the same can happen with Schnoodles.
Genetics don't always follow what shows up on paper, and your puppy may grow into an adult that varies in size from what you and your breeder expected. 
The reason is that within their three size categories, Schnauzers run larger than Poodles. Therefore, if your Schnoodle's genes decided to inherit more of its Schnauzer parent, it could run on the large side. 
How Do I Know My Schnoodle Stopped Growing?
If you're holding your breath about how large your Schnoodle will get or how small it will stay, the good news is that you can let out what is hopefully a sigh of relief after a certain period. That said, the amount of time it'll take your Schnoodle to grow depends on its size category. The breakdown looks like this:
Standard Schnoodle:

12 to 15 months to reach its full size.

Mini Schnoodle:

8 to 12 months to reach its full size.

Toy Schnoodle:

6 to 8 months to reach its full size.
Puppies grow at a fast rate during their first weeks of life. Therefore, by the time they reach four months, you can estimate approximately 40% more growth remaining. As you can imagine, it's more challenging to determine how much your adult Schnoodle will end up weighing.
However, you should make sure your Schnoodle gets plenty of exercises and that you give it a balanced diet according to your veterinarian's recommendations to help it achieve a healthy weight.
Conclusion For "How Big Do Schnoodles Get"
If you want to bring a Schnoodle puppy home and prefer it to remain within a specific size, you must work with a breeder. Not only will high-quality breeders have information about the puppy's parents, but they'll also know the background of how large or small the Schnauzers and Poodles run in the parents' bloodlines.
Finally, if you happen to bring home a Schnoodle you found on the side of the street, the chances are high that it will be on the small side; breeders tend to favor using mini Schnauzers and toy Poodles for breeding since they're in such high demand.
If this article, "How Big Do Schnoodles Get," helped you, then these like:
You can learn more about the Schnoodle and its sizes by watching "Schnoodle Dogs 101 – 10 Facts About Schnoodles Designer Dogs" down below: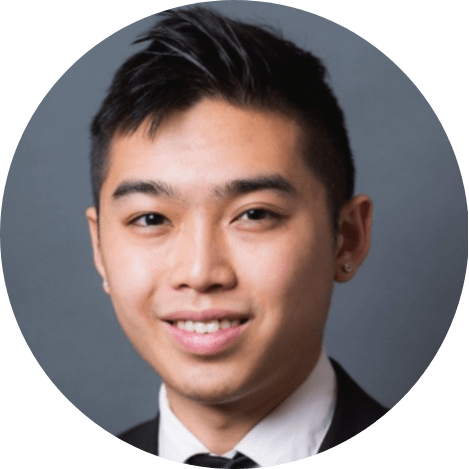 Andy is a full-time animal rescuer and owner of a toy doodle. When he's not saving dogs, Andy is one of our core writers and editors. He has been writing about dogs for over a decade. Andy joined our team because he believes that words are powerful tools that can change a dog's life for the better.
Why Trust We Love Doodles?
At We Love Doodles, we're a team of writers, veterinarians, and puppy trainers that love dogs. Our team of qualified experts researches and provides reliable information on a wide range of dog topics. Our reviews are based on customer feedback, hands-on testing, and in-depth analysis. We are fully transparent and honest to our community of dog owners and future owners.