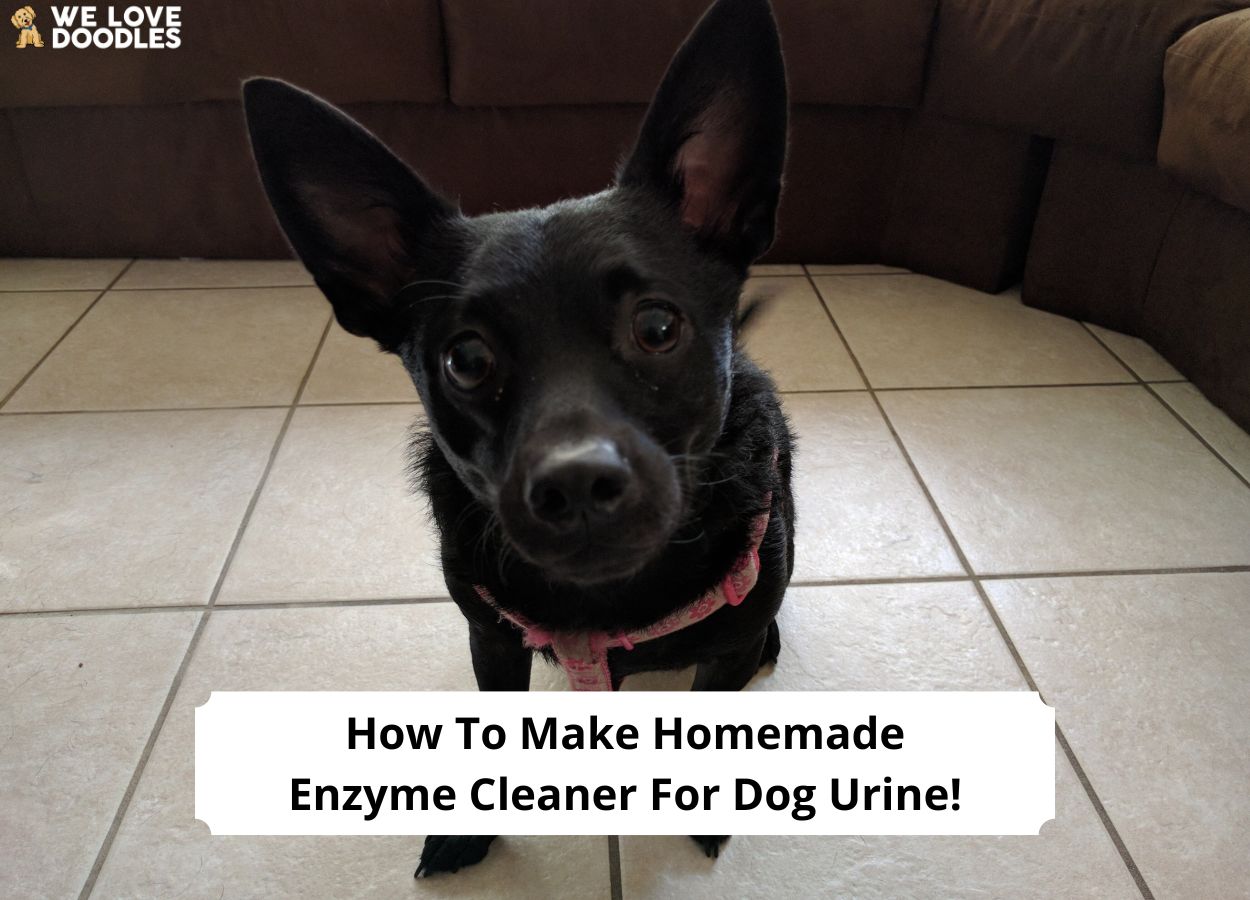 Puppies possess an irresistible charm with their cuteness, cuddliness, and playful nature. However, they have a knack for chewing on shoes and furniture, knocking over garbage cans, and leaving their mark on carpets, upholstery, and hardwood floors. So, how to make a homemade enzyme cleaner for dog urine?
While eliminating pet stains may appear daunting, a simple solution is a homemade enzyme cleaner designed for dog urine. Dealing with pet feces is one thing, but removing urine stains caused by dogs or cats is an entirely different challenge.
These stains contain stubborn uric acid crystals that are notoriously difficult to eliminate. Even if the appearance of pet urine suggests it's gone, the lingering odor remains. Therefore, an enzymatic cleaner is essential to eliminate cat and dog urine stains successfully.
Before reading this guide, "How to Make Homemade Enzyme Cleaner for Dog Urine," check out: The 7 Best Pee Pad Holders for Dogs! (2023) and Why Is My Six-Month-Old Puppy Peeing in the House Again? (2023).
Four DIY Homemade Enzyme Cleaners for Dog Urine
Hydrogen Peroxide and Dishwashing Liquid
Another widely available and effective household disinfectant is 3% hydrogen peroxide when faced with stubborn stains and odors. For a powerful cleaning solution, follow this recipe:
Mix four tablespoons of 3% hydrogen peroxide.
Add two tablespoons of warm water.
A few drops of dish soap in a spray bottle.
White Vinegar and Baking Soda
When it comes to stubborn urine stains, a great approach is to harness the combined power of white vinegar and baking soda. These everyday household items tackle stains and odors, making them particularly effective for addressing pet urine stains on carpets and rugs.
To begin, start by blotting up any excess liquid using paper towels. Then, spray a mixture of white vinegar and water onto the affected area.
Next, generously sprinkle baking soda over the vinegar solution.
Allow the mixture to sit and dry.
Once dry, vacuum the baking soda, and you'll be amazed at the results.
White Vinegar and Water With Essential Oils
For an added touch of freshness, you can create your DIY solution. Combine white vinegar, water, and a few drops of essential oil, such as lavender, rosemary, or a blend of oils. This recipe follows the same process as the standard white vinegar and water solution, adding 12 to 24 drops of essential oil.
However, it's essential to note that some essential oils, including ylang-ylang, peppermint, tea tree, and citrus oils, can be toxic to pets if ingested or applied to their skin. Therefore, if you opt for this recipe, keeping your pets away from the cleaning area is crucial to ensure their safety.
White Vinegar and Water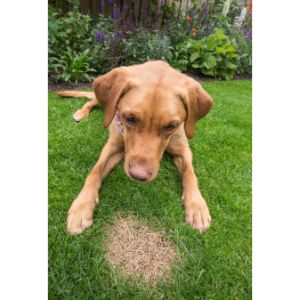 If you are searching for a hassle-free cleaning solution, look no further than this simple homemade enzyme cleaner that requires white vinegar and water.
White vinegar, with its acidic properties, is highly effective in cutting through dirt, grease, buildup, and watermarks, eliminating odors, and removing stains from objects around your home.
Mix equal water and vinegar in a spray bottle to create this cleaner. However, it's important to note that using white vinegar on hardwood floors may damage the finish, so it's advisable to proceed cautiously.
If you're concerned but still want to use vinegar, you can try diluting it further by adding more water. Additionally, it's an excellent practice to spot-test an inconspicuous area first to observe its effects before applying the cleaner more extensively.
Frequently Asked Questions
What enzyme breaks down dog urine?
There is no specific enzyme that breaks down dog urine. However, there are enzymes and products in the market designed to break down the components of urine, including uric acid, a significant part of human and animal urine.

Enzyme-based cleaners and products that contain urease or urea-degrading enzymes can help break down uric acid crystals and eliminate the odor associated with urine. These products break down the uric acid into carbon dioxide and ammonia, which are more easily evaporated or rinsed away.

It's important to note that proper cleaning and removal of dog urine should involve more than just enzymatic products. Blotting fresh urine with paper towels is recommended, as cleaning the area with a mild detergent or specialized urine cleaner and thoroughly rinsing the area to remove any remaining residue.

If you have concerns about cleaning up dog urine, it's always a good idea to consult a veterinarian or professional cleaner for advice tailored to your situation.
Can I make my enzymatic cleaner?
Yes, you can make your enzymatic cleaner using common household ingredients. Here's a simple recipe to create an enzymatic cleaner:

Ingredients

Two cups of water
One tablespoon of liquid dish soap
One tablespoon of baking soda
1/2 cup of hydrogen peroxide (3% solution)
1/4 cup of white vinegar
Optional: a few drops of essential oil for fragrance (e.g., lavender, lemon)

Instruction

Combine the water and liquid dish soap in a spray bottle or a mixing bowl. Stir gently to mix well.
Add the baking soda to the mixture and stir until it dissolves.
Gradually pour in the hydrogen peroxide and white vinegar, stirring the mixture.
If desired, add a few drops of essential oil for a pleasant scent and additional antibacterial properties.
Once you mix all the ingredients well, transfer the solution to a spray bottle for convenient use.

To use the enzymatic cleaner, follow these steps:

Blot up any fresh urine with paper towels or absorbent cloths.
Spray the enzymatic cleaner generously onto the affected area.
Allow the cleaner to sit for 10 to 15 minutes to allow the enzymes to break down the urine compounds.
Blot the area again with dry cloths or paper towels to remove the cleaner and any dissolved urine residue.
If necessary, repeat the process for stubborn stains or strong odors.

Remember that homemade enzymatic cleaners may not be as potent as commercially available ones. Therefore, it's always a good idea to first test the cleaner on a small, inconspicuous area to ensure it does not cause discoloration or damage.
Is vinegar an enzymatic cleaner for dog urine?
No, vinegar is not an enzymatic cleaner for dog urine. Vinegar is acidic and can help neutralize urine odor, but it does not contain enzymes that specifically target and break down the components of urine.

You can use vinegar as a natural cleaner for general purposes, including removing some stains and odors. When applied to dog urine, vinegar can help temporarily reduce the smell. However, it may not be as effective as enzymatic cleaners that contain specific enzymes designed to break down uric acid and other components of urine.

A specialized enzymatic cleaner containing enzymes like urease or urea-degrading is best for dealing with a urine stain or odor. These enzymatic cleaners are best for breaking down the components of urine, eliminating the smell, and helping remove the stain.

While vinegar can have some cleaning properties, it may not eliminate the odor and could lead to lingering smells if not thoroughly cleaned. A dedicated enzymatic cleaner designed for pet urine is generally more effective in dealing with dog urine stains and odors.
Will vinegar stop dogs from peeing in the same spot?
Vinegar can help deter dogs from urinating in the same spot, as dogs generally dislike the strong smell of vinegar. However, it's important to note that vinegar may not be effective for all dogs, and its effectiveness can vary depending on the individual dog and its preferences.

To use vinegar as a deterrent, follow these steps:

Clean the affected area

Before using vinegar, thoroughly clean the site where the dog has urinated. Use an enzymatic cleaner specifically designed for pet urine to remove any lingering scent that may attract the dog.

Dilute vinegar

Mix equal vinegar and water in a spray bottle. For example, you can use one cup of vinegar and one cup of water.

Spray the area

Spray the diluted vinegar solution onto the places you want to discourage the dog from urinating. The pungent smell of vinegar may help deter the dog from returning to that spot.

Remembering that vinegar is not a foolproof solution and may only work for some dogs is essential. For example, certain dogs may be more persistent or have different preferences. Additionally, using vinegar on certain surfaces or materials may cause damage, so always test it on a small, inconspicuous area first.

To effectively address the issue of a dog urinating in the same spot, it's also crucial to identify and address the underlying cause. For example, dogs may repeatedly urinate in a specific area due to behavioral issues, medical conditions, marking behavior, or incomplete cleaning.

Consulting with a veterinarian or a professional dog trainer can help address the root cause and provide guidance on preventing the behavior effectively.
Conclusion for "How to Make Homemade Enzyme Cleaner for Dog Urine"
While puppies bring joy and playfulness to our lives, they also come with responsibilities, including dealing with accidents and stains caused by urine. Homemade enzymatic cleaners can be a simple and effective solution for eliminating dog urine stains and odors.
While vinegar alone is not an enzymatic cleaner, it can be used as a deterrent to prevent dogs from urinating in the same spot due to its strong smell. However, its effectiveness may vary among individual dogs.
Creating your enzymatic cleaner using ingredients like hydrogen peroxide, dish soap, baking soda, white vinegar, and water can be an affordable and practical option. However, it's essential to test any homemade cleaner in a small area and consult professionals for specific advice.
Remember, addressing the underlying cause of repeated accidents is crucial, and consulting with a veterinarian or dog trainer can provide further guidance. With the right approach and cleaner, you can maintain a clean and fresh environment while enjoying the companionship of your furry friend.
If you find this guide, "How to Make Homemade Enzyme Cleaner for Dog Urine," helpful, check out:
Learn more by watching "How to Remove PET URINE ODOR From Carpet Using Enzymes" down below:
Garrett loves animals and is a huge advocate for all Doodle dog breeds. He owns his own Goldendoodle named Kona. In addition, he volunteers at the Humane Society of Silicon Valley, where he fosters dogs and helps animals. Garrett enjoys writing about Doodles and believes that dogs can teach humans more about how to live than humans can teach a dog.
Why Trust We Love Doodles?
At We Love Doodles, we're a team of writers, veterinarians, and puppy trainers that love dogs. Our team of qualified experts researches and provides reliable information on a wide range of dog topics. Our reviews are based on customer feedback, hands-on testing, and in-depth analysis. We are fully transparent and honest to our community of dog owners and future owners.