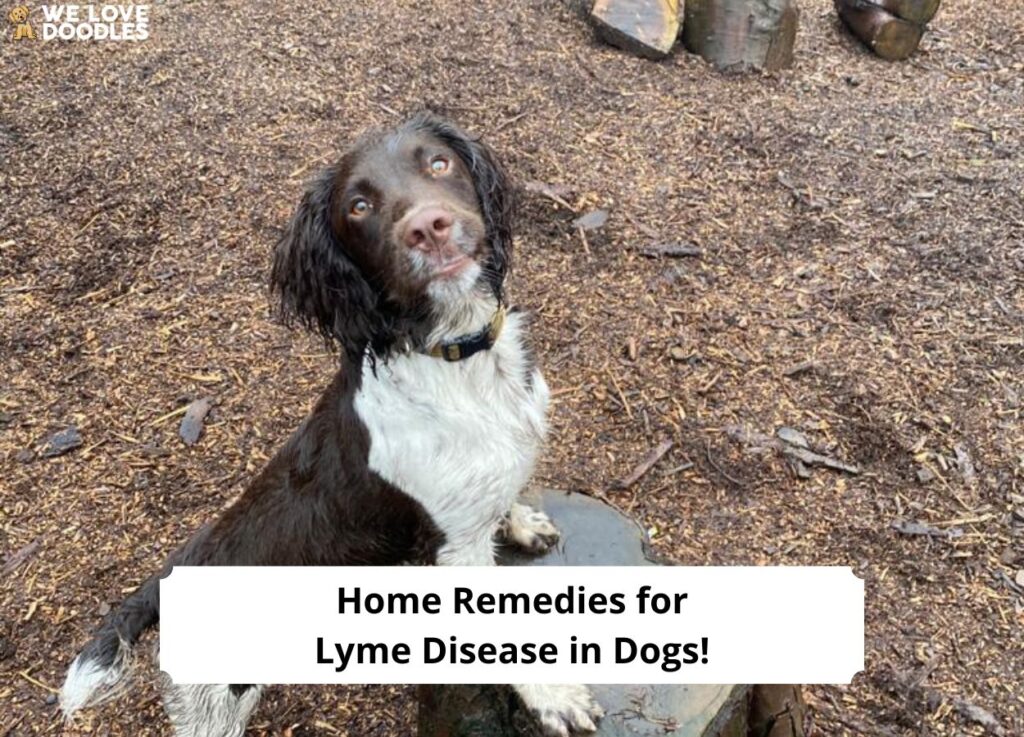 Lyme disease is a condition that affects many dogs all over the United States, but there are many home remedies for Lyme disease in dogs. And if you've ever taken care of a sick dog, you understand how difficult it is to watch them go through an illness.
If your dog has been diagnosed with Lyme disease, try giving them some supplements and changing their diet and lifestyle. You can also try feeding them some herbal remedies, like cat's claw, Japanese knotweed root, and over-the-counter supplements to help their body manage systems and stay healthy.
Each remedy brings its own benefits, but be selective when feeding your dog new things. Try one at a time to test for allergies, improvements, and decline in your dog's health as you go. Read below for more information on these home remedies.
Before reading this guide, "Home Remedies for Lyme Disease in Dogs," check out: Dog Stomach Bloat and Home Remedies and How to Tell the Difference Between a Black Fly vs Tick Bite on a Dog.
What is Lyme Disease?
Lyme disease is a prevalent infection among dogs. It is caused by the bacterium Borrelia burgdorferi. Tick bites are responsible for its transmission.
As ticks are very minute and their bites, which can happen anywhere on the body, are typically painless, you might not realize if your dog has been bitten right away. Lyme disease can only be contracted if a tick has been attached for at least 24 hours.
After a tick bite, symptoms of Lyme disease frequently appear 3–30 days later. In the days and weeks following a bite, many dogs develop flu-like symptoms. In its early stages, Lyme disease can be characterized by the following signs and symptoms:
Chills

Fatigue

Fever

Headache

Pain in the joints and muscles

Bullseye-shaped rash.

Lymph node swelling
If it goes untreated, the symptoms may progress, leading to conditions such as Bell's palsy (facial paralysis), severe headaches, muscular, joint, and tendon pain, cardiac (heart) problems, and neurological abnormalities.
Antibiotic treatment for two to three weeks is usually sufficient to control and cure Lyme disease. A longer course of antibiotics may be necessary to cure the infection, based on the severity of the symptoms and how long it took for you to seek medical attention after the bite.
Where Can You Find Ticks?
Ticks that carry Lyme disease are most common in areas with high grass, dense brushes, marshes, and woods, where they can easily jump onto your dog as they pass. Once a tick has fed on a dog for 24 to 48 hours, it will be able to spread the disease.
Initially identified in 1975 after a cluster of cases was found in the town of Lyme, Connecticut, Lyme disease is difficult to diagnose and has long-lasting effects for both dogs and humans.
Lyme disease is prevalent across the country, although the likelihood of contracting it varies from state to state. The Pacific Coast, the Upper Midwest, and the Northeast account for more than 95% of all reported cases, but this number is in constant flux due to changes in deforestation, migratory deer, and bird populations.
In recent years, there has been an increase in the number of reported cases in Northern California and elsewhere on the West Coast. Dogs infected with Lyme disease are most common in southern Ontario and southern Manitoba, Canada. Southern Quebec and the Maritime Provinces indicate a lower annual incidence.
How to Remove a Tick from Your Dog
You should schedule an emergency visit to the vet as soon as possible if the tick is still stuck to your dog's skin and the clinic has an opening. If you can't obtain an appointment with your vet right away, you should try to get rid of the tick on your own.
To get rid of it, use tweezers with fine tips and pick it off the dog as close to the skin as you can. The disease is transmitted through the tick's head, so it is essential to remove it from there.
Time is of the essence when it comes to Lyme disease transmission, and it takes a tick 24 hours to transmit the disease, so make sure you work on removing it as soon as you see it.
Take a photograph of the tick before removing it so that you can show it to your veterinarian. After removal, place the tick in a plastic bag with a zip-lock closure. The only way your vet can tell what diseases a tick may spread is if they can identify the species.
Home Remedies for Lyme Disease in Dogs
In this section, we'll discuss the various home remedies used to treat Lyme disease in dogs.
Supplements
Supplements are sometimes the first line of defense when it comes to home remedies because they are readily available. There is a wide selection of supplements with minimal risk of negative effects accessible online and at natural health food stores.
Some dog owners have reported seeing improvements by using supplements containing:
Magnesium

Grape Seed extract

Vitamin B-complex

Omega 3 fatty acids (fish oil, olive oil, chia seeds)

Probiotics

Mushroom extract

Turmeric

Olive leaf

Vitamin C

Coenzyme Q10
Lifestyle and Dietary Adjustments
Vitamins and minerals that are commonly found in supplements are also included in many common foods. Treatment for Lyme disease often includes alterations to a dog's diet.
Dogs who suffer from arthritic symptoms such as joint pain, stiffness in the neck, and other inflammatory symptoms may greatly benefit from adopting an anti-inflammatory diet.
An effective diet for Lyme disease may include the following:
Foods high in healthy fats, including almonds and extra-virgin olive oil

Fresh fruits and vegetables

Fish like sardines, tuna, and salmon

Legumes and beans,

Foods high in fiber
Japanese Knotweed Root
The Japanese knotweed root, also known as Polygonum cuspidatum, is the herb that is considered to be the most useful home remedy to treat Lyme disease in dogs. Although there are numerous potential pathways for inflammation in the body, the root of this plant only targets those that Lyme bacteria have already set in motion.
It will lessen inflammation, which in turn will alleviate many of the symptoms. The plant is also an excellent synergist, meaning that it enhances the effects of other medicines when used together.
In most cases, high doses of Japanese knotweed are safe because it is a food-grade herb. Get the root in bulk, grind it up (in a Vitamix or blender), and sprinkle it on your pet's food. We recommend feeding it twice daily, preferably in the morning and evening.
Three tablespoons twice a day might be a good starting point for many dogs, but check your pet's body weight to determine how much Japanese knotweed to give them. Another advantage that comes with using this plant is you can usually go out and gather the root yourself if you live on the East Coast, as it is invasive in practically all Lyme endemic locations.
Tiger Claw
The cat's claw, also known as Uncaria tomentosa, is the second most important herb to treat Lyme disease. This herb will strengthen your dog's immunity by bolstering their defenses against a specific pathogen.
As with the knotweed, we recommend powdering the bulk herb and feeding it in the same quantity. There are no reported harmful side effects of eating cat's claw, even in rather large quantities.
Glucosamine Sulfate
The third most important home remedy for Lyme disease in dogs on our list is an herb called glucosamine sulfate. It's a natural ingredient that's commonly found in dog treats since it helps with joint pain. Although it helps reduce pain and inflammation, its ability to help restore and protect cartilage is the main reason why it's so impressive.
The powdered form is available and, once again, seems like it would be ideal for canines. If you buy it for animals instead of people, you may stock up on it at low prices. In addition to glucosamine, chondroitin, and MSM, collagen is also available in powdered form.
All of these are useful as well. To begin, feed two tablespoons to your dog twice a day. For most dogs, these three measures will eliminate Lyme and its associated symptoms.
Ledum
According to a few veterinarians, Ledum at 1M potency has been very effective in treating hundreds of dogs for Lyme disease. It is probably best to have some homeopathic medicines on hand and take advantage of them for your pet because these treatments are not only very safe but also generally very affordable.
Astragalus
According to studies on the onset of Lyme disease, the infection and its consequences worsen in dogs whose immune systems are already compromised. In addition, there is a correlation between a healthy immune system, a positive outcome, and a reduced severity of infection.
Astragalus (Astragalus membranaceus) is a potent immune-boosting herb that has been used for centuries in China. It is one of the best home remedies for Lyme disease in dogs because it increases the specific immune markers that are needed to maintain a minimal or nonexistent infection.
People who live in areas where Lyme disease is prevalent should consider feeding it throughout the entire year. It's safe to consume in large quantities because it's an herb of food-grade quality. We recommend including it in your dog's food three times per day, with a tablespoon each time.
Due to the complexity of the infection, the herb can worsen symptoms in some dogs with chronic Lyme disease. Ideally, it would be used preventatively, and only if the Lyme infection was diagnosed within the past two years.
Teasel
Teasel (Dipsacus spp.) is an excellent remedy for inflammation in the joints. If your dog is experiencing severe arthritis due to Lyme disease, make sure to try this herb. Plus, it's a risk-free herb to use. The powder should be taken orally, ideally with a meal twice a day.
Echinacea
Echinacea is an effective immune system enhancer. If taken at the first sign of a Lyme illness, it can assist the body's defenses to get a leg up and hopefully beat the disease.
Milk Thistle
Milk thistle aids in the detoxification process by protecting and strengthening the liver, which is responsible for processing and eliminating harmful substances.
The body of a dog that is being treated for Lyme disease will need to break down a large amount of toxins produced when the spirochetes that caused the infection are killed.
The liver's job is to process anything the body takes in, and if the dog is on antibiotics, that includes the chemicals in the medications. It's not hard to picture how this would affect the liver's ability to function.
Milk thistle, when given to a dog at a time when the liver is already working harder than usual, can be of enormous help in maintaining liver function and shielding the liver from damage.
Do Dogs Need Testing for Lyme Disease?
It may take several weeks for antibodies to develop. If you get your dog tested for Lyme disease before the antibodies have had a chance to develop, the results may come back negative, even if your pet is infected.
If your dog is infected with the disease and is tested again four to six weeks later, the test results should come back positive.
Just because your dog tests positive for antibodies doesn't mean they have the disease, so do your research before deciding to have them tested. That just means they were exposed at some point in their lives, and their immune system responded.
The lack of reliable diagnostics for detecting the infecting bacteria in your dog's body makes it difficult to assess the significance of positive test results. Whether or not they warrant worry depends on several things, including whether or not your veterinarian thinks your dog is exhibiting signs of Lyme disease.
Your veterinarian should make the final decision regarding whether or not to test for Lyme disease and what to do if the results are positive.
If you or your loved ones are worried about how long the testing process will take, you should know that Lyme disease cannot be transmitted to humans from dogs. The Ixodes tick is the most common carrier of the disease in humans and dogs alike.
If you're waiting for results, you can still start some of these home remedies for Lyme disease in dogs. Some of these boost their immune system, while others help with joint pain. They are great for your dog's overall health, and can't hurt as long as your dog isn't allergic.
FAQs
How can I treat my dog with Lyme disease naturally?
Japanese knotweed root, cat's claw, Ledum, astragalus, teasel, echinacea, milk thistle, and Omega-3 fatty acids, are a few of the home remedies for Lyme disease in dogs. Use a combination of herbs and supplements that support your dog's immune system, joint health, and reduce inflammation. Be sure ahead of time that the herbs you feed your dog won't have negative interactions with each other, and start your dog on one at a time so you can monitor for allergic reactions.

Echinacea, cat's claw, and astragalus are immune-boosting herbs. Astragalus is known for boosting the immune system with specific immune markers that work specifically against Lyme disease, but this is best used as a preventative and isn't great for long-term treatment of a dog's Lyme disease. Omega-3 fatty acids and glucosamine assist with joint health while your dog is sick, but they don't manage joint pain. Milk thistle protects the liver while it is processing other medications.
Can dogs naturally fight off Lyme disease?
Dogs fighting off Lyme disease naturally and without antibiotics is a controversial subject. There is growing evidence that some dogs may be able to fight off Lyme disease, and even have Lyme without showing symptoms. However, Lyme disease is hard on a dog's body. It can damage the kidneys, nervous system, and the heart. If left untreated, Lyme disease can lead to kidney failure and become fatal. Lyme disease is also very taxing and causes severe joint pain, so if your dog is showing symptoms, it's best to work with a veterinarian to manage the disease and the symptoms.

In addition to their own immune system, there are some herbs and dietary supplements that can help dogs fight off Lyme disease naturally. Astragalus is a great preventive because it supports the immune system, but isn't a good long-term treatment for Lyme disease. Echinacea and cat's claw support the immune system, while milk thistle will protect the liver. Omega-3 fatty acids and glucosamine support joint health while your dog is sick, but they don't manage the pain.
Can you save a dog with Lyme disease?
Lyme disease in dogs is treated with antibiotics and pain medication, and their outlook is good as long as Lyme disease is treated early. If the dog isn't showing symptoms of Lyme disease, they are typically monitored instead of given a rigorous treatment plan. However, if they are diagnosed with Lyme nephritis, their outlook is not good. They will likely need more rigorous treatment in a veterinary hospital, and even with intervention, many don't survive.

After your dog recovers, help your dog recover by offering home remedies, such as herbs and supplements that assist their joints, liver, and immune system while they recover.
Conclusion

For "Home Remedies for Lyme Disease in Dogs"
So, now that you know the various home remedies for Lyme disease in dogs, you can feel confident in your dog's ability to ward off this disease effectively. Continue your research on each home remedy, possible side effects, and how they might interact with each other.
Start one home remedy at a time to help your dog so you can monitor their health for improvements or allergies. In time, you can build a regiment for your dog that will help them through their illness.
If, however, you find that your dog is not getting better or his symptoms are progressing, it's important to take them to the vet immediately.
If you find this guide, "Home Remedies for Lyme Disease in Dogs," helpful, check out:
Learn more by watching "Treating a Dog with Lyme Disease" down below:
Garrett loves animals and is a huge advocate for all Doodle dog breeds. He owns his own Goldendoodle named Kona. In addition, he volunteers at the Humane Society of Silicon Valley, where he fosters dogs and helps animals. Garrett enjoys writing about Doodles and believes that dogs can teach humans more about how to live than humans can teach a dog.
Why Trust We Love Doodles?
At We Love Doodles, we're a team of writers, veterinarians, and puppy trainers that love dogs. Our team of qualified experts researches and provides reliable information on a wide range of dog topics. Our reviews are based on customer feedback, hands-on testing, and in-depth analysis. We are fully transparent and honest to our community of dog owners and future owners.