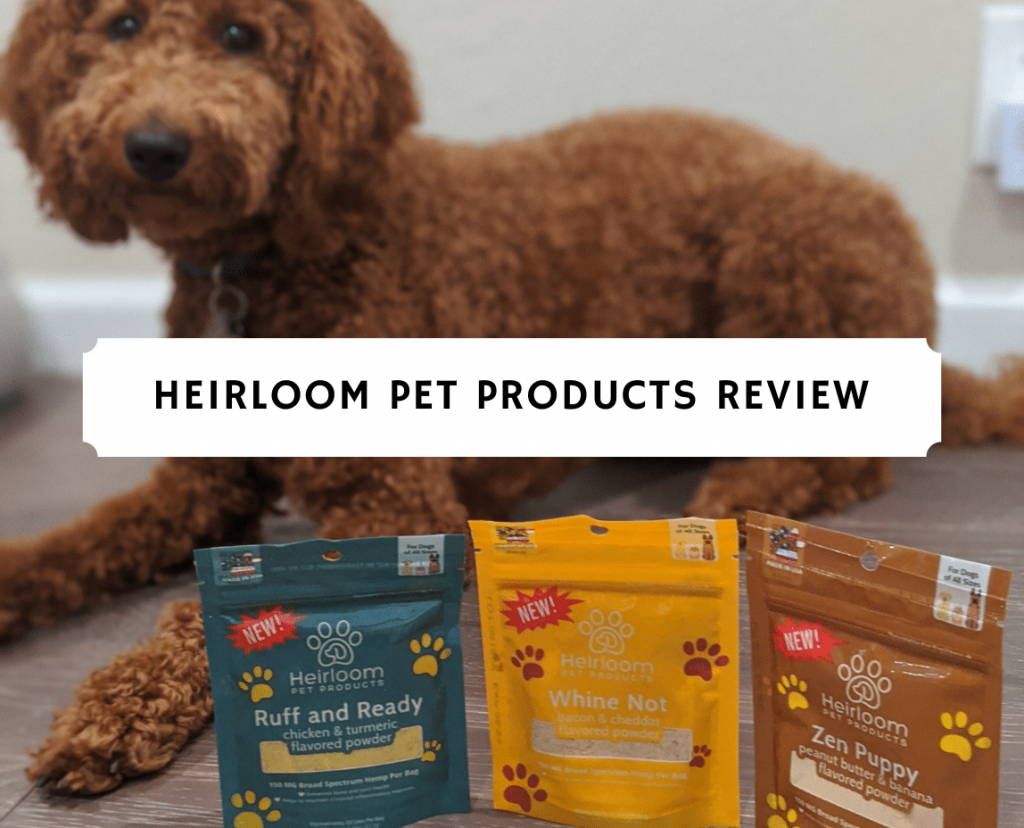 Heirloom Pet Products is a company devoted to providing health and wellness solutions for pets. The team is highly-devoted to caring for pets using hemp-based products.
You will find that they care deeply about the quality of items they offer and work hard to bring the very best solutions to your pet's life.
In this article, we will be covering Heirloom pet products in an in-depth review. We will discuss the company, their products, and just what they have to offer in full detail. We're excited to dig in and share more about Heirloom Pet Products.
Overall, we would highly recommend trying Heirloom Pet Products. We tried out three of their products on our Goldendoodle and noticed significant results. First, we tried it prior to grooming and nail grinding in which we noticed less anxiety. Second, we used it for separation anxiety and noticed better than usual results. With all the added health benefits, it's definitely worth a try.
What is Heirloom Pets?
Heirloom Pets takes a company founded by pet lovers who actually own pets. They took that care, passion, and love for pets and used it to create wellness solutions for pets. These solutions include CBD and hemp products.
While hemp and CBD treatment is not necessarily new, when used for pets it hasn't always been a quick or simple approach. It could take excessive time to work and be challenging to administer. Heirloom Pets wanted something better.
The Founders of Heirloom Pets have extensive backgrounds in both science and technology and they were able to use this to their advantage. Their discovery after much studying was to use water-soluble hemp.
Water-soluble hemp is much easier for the pet's body to absorb so that it can work as it was intended to, and quickly.
The company has a team dedicated to advisement, veterinarian support, and pet food expertise. This entire team has input in everything that is created, alongside the original founders.
Everything used in Heirloom pet products is considered to be GMP-certified (good manufacturing practices) as well as SQF-certified (safe quality food) at level 2.
The original founders of the team at Heirloom Pets are Jason Lysak (CEO) and Brandi DeLancey (Chief Marketing Officer). They both have diverse backgrounds that touch things like sales and technology on one spectrum while also being avid animal lovers and having the ability to market their knowledge and products well.
The company also believes in giving back as much they can. They use eco-friendly processes and dip into community-based programs in every way they can.
Benefits of Heirloom Pets Hemp
CBD and hemp products have recently become very popular for humans and the same is true for pets. Many of the benefits that we as humans experience translate to the pet world as well and there are a lot of incredible health benefits to the use of hemp and hemp-based products.
There has always been a misunderstanding that using hemp products will get a person (or animal in this case) high but that's not actually the case. Hemp and CBD-related products can be made without THC. It is the THC that causes psychedelic properties. Without those, it is just a pure plant product.
So what are the benefits of hemp?
Hemp provides your dog with omega fatty acids, including Omega-3 and Omega-6. These omegas themselves have a lot of health benefits that you simply can't argue with.
Here are some of the benefits of hemp.
Boosted cardiovascular functionality
Hip and joint health, including comfort, arthritis, flexibility, and more
Healthy skin, shiny and soft coats
Less anxiety
Includes Gamma-Linolenic Acid
Supports healthy weight and digestion
Cellular health
Immune system functionality
Packed with minerals, vitamins, and proteins
Ingredients and How it Works
Heirloom Pet Products uses water-soluble broad-spectrum hemp. The hemp is completely free of THC, which is what can cause psychoactive activity or a "high" feeling. This form, using water-soluble, allows the pet's body to receive maximum benefit.
Why did they choose water-soluble? If you look at the science, dogs and cats have bodies that are a minimum of 60% water. Cats tend to be 60-70% and dogs are even higher at 80% water in their bodies.
Water is the largest resource in our bodies so it makes sense that a water-soluble product will improve bioavailability. The products are hand-crafted and have only the best ingredients, including organic hemp.
Here are some of the products that Heirloom Pet Products offers.
Whine not bacon & cheddar flavored powder
Ruff and Ready chicken & turmeric flavored powder
Zen Puppy peanut butter & banana flavored powder
Road trip sticks
The primary active ingredient in all of these is broad-spectrum hemp. Each product additionally contains some ingredients to develop and flavor the powder. For example, the White Not powder has potato flour, bacon, potato starch, cheese powder, bacon fat, and citric acid.
As you can see, there is nothing concerning in those ingredients. Remember that they are both SQF and GMP-certified.
The instructions are simple and fully laid out on the product package. There are specific measurements of how much powder you may use, depending on the size of your dog. The powder can be used for every size of dog and measured out for the appropriate size.
You can give your dog this powder during or after a mealtime. You simply want to shake it well before you use it to be sure everything is mixed together in the powder.
These products are effective from the use of Nano-cannabinoids. This makes them far easier to absorb and it improves the bioavailability of the hemp. Water-soluble hemp is effective because of this process and the rapid release administration means low dosage and quick onset.
Tips for Feeding Your Dog Hemp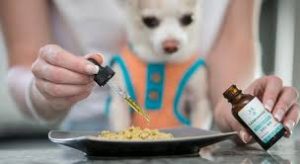 Hemp seeds and hemp oils have long been a popular method of hemp for dogs. Administering these can be challenging. Not every dog takes them willingly, even when there is nothing wrong with the flavor.
That's where this powder can be helpful. First things first, you will want to be mindful of the dosage recommendations and how often you can give your dog hemp. Stay within safe dosages and administration for the health benefit of your dog.
Sometimes adding hemp, in whatever form you might use, is easiest done by adding it to their food or even a treat. For oils, it has been found that you can rub oil on their inner ear and allow the oil to absorb through their skin.
The good news is that most animals will take it willingly as they don't mind the flavor. If your dog is more picky, try the ear with oils or simply add it to a treat or their food with other hemp products.
Side Effects of Using Hemp for Pets
As with just about anything, there are potential side effects to giving your pet hemp. Even though the side effects are not overly concerning for the most part, you should be aware of the possibilities.
On a side note, the studies used to determine the safety of hemp on dogs and cats are still pretty light. There is more research to be done but thus far, the results have been positive.
The primary concern lies with the dosage. Be mindful of the dosage and not overusing hemp for your pet.
The side effects that have been noted in any case are mild. Here are those.
Diarrhea
Increased liver enzymes
Mild licking (cats)
Head shaking (cats only)
Drowsiness
Low blood pressure
Dry mouth symptoms
Reduced metabolism
In most cases, these side effects only occur if your pet has had too much hemp or if they are initially adjusting to the hemp in their bodies.
Verdict for Heirloom Pet Products: We Really Like These Products!
In conclusion, Heirloom Pet Products offers a really great product to try out for your pet. They have endless benefits that support your pet from head to tail. These benefits cover their coats as well as internal well-being.
Additionally, there are very few noted side effects so it's well worth the try. These products are heavily backed by the proper resources that tell us everything was designed for a purpose. 
Garrett loves animals and is a huge advocate for all Doodle dog breeds. He owns his own Goldendoodle named Kona. In addition, he volunteers at the Humane Society of Silicon Valley, where he fosters dogs and helps animals. Garrett enjoys writing about Doodles and believes that dogs can teach humans more about how to live than humans can teach a dog.
Why Trust We Love Doodles?
At We Love Doodles, we're a team of writers, veterinarians, and puppy trainers that love dogs. Our team of qualified experts researches and provides reliable information on a wide range of dog topics. Our reviews are based on customer feedback, hands-on testing, and in-depth analysis. We are fully transparent and honest to our community of dog owners and future owners.