Whether you're preparing for a dog-themed Halloween party or you're thinking up some delightfully punny dog costume ideas, we have you covered with all the hilarity you'll require to make the night a truly special one.
Dog Halloween jokes fuse adorability with the frights of the season, making a good time for everyone. We also have some great Holloween dog puns!
Dog Halloween Puns and Jokes
Did you hear about the dog burglar on 12th street? It's scary stuff, but we're sure the police are going to Retriever.
What happens when a vampire bites a dog? The dog becomes a bloodhound.
"I hear there's a new canine apocalypse cult in town." "Really?" "They say it's going to rain cats and dogs."
"I answered the door for some Trick or Treat-ers, but my dog was terrified of them."
"Oh no! Why is that?" "They were dressed as veterinarians."
"Evidently the city hired a scary new dog catcher."
"Why would they do that?" "I don't know. But he dresses up like Elvis and goes around singing 'You ain't nothing but a pound dog' while he captures strays."
Happy Howloween! It's going to be a terrier-fying evening!
"Are you going to take your dog to the new dog horror movie?" "They make dog horror movies now?" "Evidently! It's called 'Vacuum on Elm Street.'"
"Did you hear about the person terrier-izing the city center?" No! What happened?" "His name was Jack Russell."
They've had this area locked down for years. Some of the most vicious police members out there used to paw-trol here.
"When we went to Yellowstone, we found a mysterious bone." "Really?" "It was crazy. We had to give it to a Bark Ranger to find out what was going on."
"What did the evil nurse say to the trapped dog?" "I have no idea, what?" "I'll pooch you up nicely."
"Did you hear about the big art heist from the doggie day care?" "No, I didn't! What happened?" "They stole a really expensive piece of art."  "Dang, that's sad." "It was a Golden Doodle."
"They say there's a dog vigilante in town." "No way, really?" "Yes! No one can tell who it is – they're totally in-corg-nito."
There's a new horror movie that explores the story of scientists who create a terrifying fusion of dogs and rats. It's called Night of the Lab-rat-or.
Check out for more: Funny Smiling Dog Memes! and Dog-Gone Good Dog Valentine's Day Puns!
Dog Halloween Party Ideas
Whenever you infuse something with dogs, it gets better. And if you're looking to have a Halloween party that heavily features dog puns, there are so many different ways you can accomplish that goal.
First, you can print or write these puns out and paste them throughout your party's venue. You can put them on walls, on tables, on drinks – anywhere you like! If you go in this direction, try to make a mix of easy-to-find and hard-to-find items. That will give a sense of discovery and excitement to when people happen upon the hard-to-find ones!
You can also give one joke out to each attendee, either by handing them out at the beginning or by pasting them on the bottom of plates or cups. That way, the puns are a conversation starter everyone has on hand. Even if two people don't know each other at all, they can easily strike up a conversation by asking each other "what joke do you have?".
You can take that concept to the next level by splitting up your jokes and punchlines, putting them on small pieces of paper, and dividing them into two bowls (one for jokes, one for punchlines). Then you can give each attendee one of each, and have a small prize available for the first person to find both the joke that matches their punchline and the punchline that matches their joke.
If all that sounds like too much work, you can just print off small versions of each joke (with its punchline) and put them all into a big bowl. Attendees can then come up and grab a joke if they want to, but you don't need to go through the administrative work of distributing them.
No matter what you and your pooch do to celebrate the spooky season, make sure you have a banner proudly stating, "Happy Howl-oween!" somewhere at the party.
Punny Dog Costumes
If, on the other hand, you're looking for a punny costume for your dog, we also have you covered there! Take a look at these puns and our accompanying costume ideas.
Betty Crocker-Spaniel – You can make this one work in a lot of different ways. One possibility is to make a big red spoon using cardboard and red spray paint, then use a dog harness to attach it to your pet. Alternatively, you can give them a small hat (perhaps attached to their leash) with a paper-mache cake on top.
Bark Obama – This one is a bit easier – all you need is a dog suit! You can sometimes find them online, though it can be challenging to find the right size. However, even though getting your pup fitted for a suit may not be in the cards, there are a lot of different ways to make this costume happen.
If you have a child's tie around, you can easily repurpose that into a dog tie, and then use a strip of white cloth to impersonate a white shirt.
Labro-thor – For this, you just need something you can use as a red cape! Though if you want extra credit, you can always add in a dog shirt decorated like a breastplate. To go even further, you can dress up as Mjolnir (Thor's weapon) by wearing brown clothing and making a hammer-head mask.
William Shakes-paw – Considering dogs are not typically known for writing verses in iambic pentameter, this costume might be a tough one. There are three major components to Shakespeare's distinctive appearance in the public consciousness: his mustache, his hair, and his white ruffled collar. For the hair, you can try to find a dog wig that fits your pup's head and at least vaguely resembles Shakespeare's receding curls. The white collar might be the easiest – you can do anything from a section of an old sheet to a real ruffled collar here. Finding a way to get a mustache to stick on your dog will be a real challenge. But some temporary fur dye could do the trick there!
Lab-rodor – This works best if you have a labrador, but that isn't necessary. Here, you can simply figure out whatever version of a white coat works best for your dog's body, and you're pretty much good to go! If you like, you can also try to find some glasses that don't bother your pup too much.
Sherlock Bones – A deerstalker hat goes a long way for this costume. Since that's the defining characteristic of the classic character, you can probably just stick with it. But if you want to go further, you can find a small magnifying glass to attach to your pet's leash. You could also lean into the "bones" part of the name by making sure your dog has a bone at the party.
Conclusion for Halloween Dog Puns
There are so many different ways you can spice up an evening using the magic of spooky dog puns and jokes. Dogs are a gift – they're like concentrated joy in a four-legged, furry package. And anyway you can bring dogs into an evening, whether in the abstract at a dog Halloween party, or by involving your own dog in the fun with a dog costume, is bound to pay off.
Happy Howl-oween!
You will also like: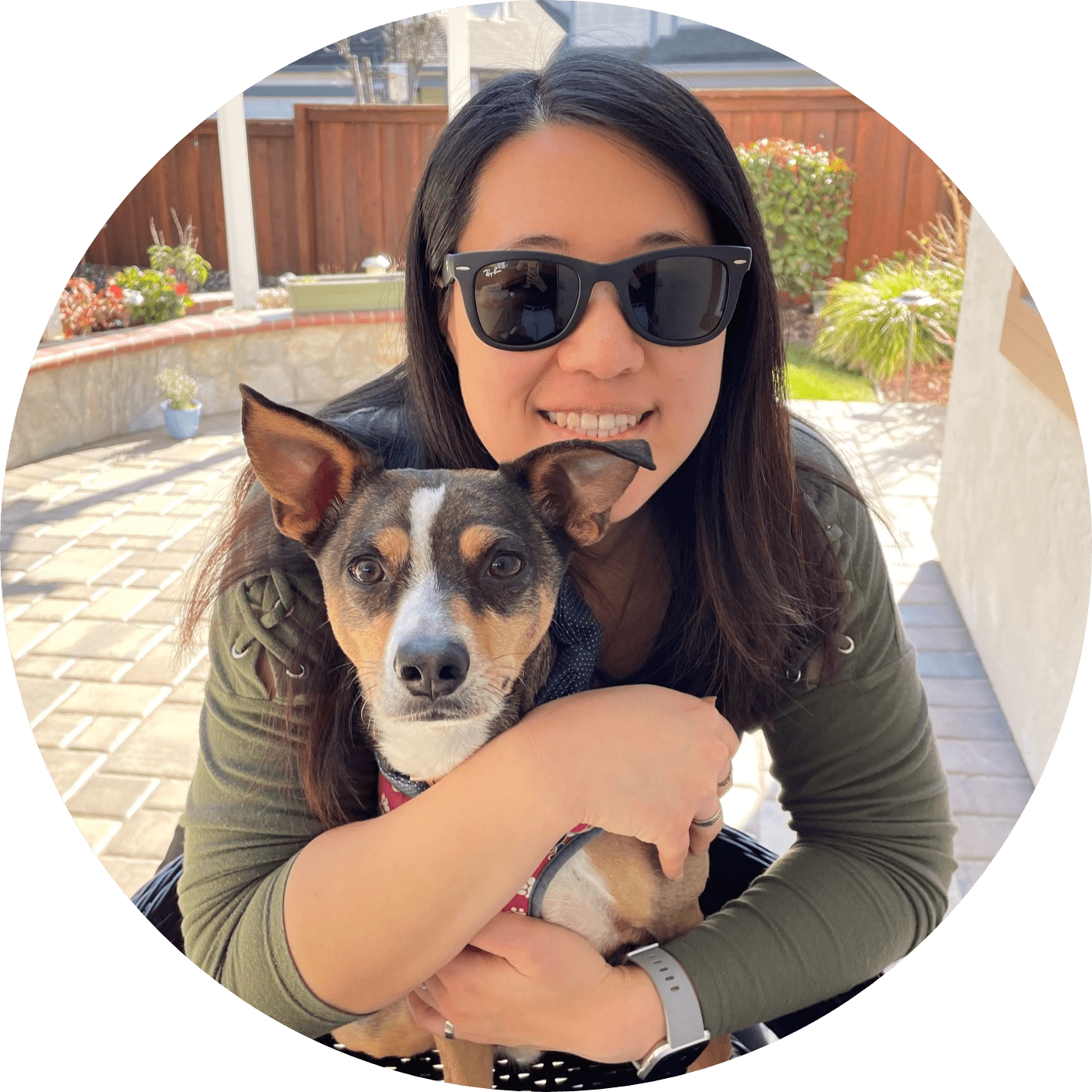 Dr. Sabrina Kong graduated from the Royal Veterinary College in England in 2016 and has been working at a small animal clinic in Northern California since then. She grew up in the Bay Area and got her bachelor's degree from Cal Poly San Luis Obispo. She also became a Certified Canine Rehabilitation Practitioner through a program at the University of Tennessee.
When she isn't in the clinic taking care of her four-legged patients, she enjoys traveling and trying new foods with her friends and her three-legged dog, Apollo. She adopted Apollo from her clinic when he was a puppy with numerous health issues. Dr. Kong truly cares about taking care of animals.