A slicker brush is an excellent tool to use on dogs with long hair or dual textures through their coats.
However, they consist of wire bristles that can be sharp and potentially even harm your dog when you don't use the brush the correct way. 
No one wants to hurt their dog, which is why it's important for you to know the proper way  of using a slicker brush before you attempt to groom your dog.
Using the incorrect method could leave your dog feeling sore after being poked and scratched with wire bristles for an hour. 
Below is a step-by-step guide on how to properly use your slicker brush.
You will find your own pain-free technique as you get more comfortable using the brush on your dog, but this is a good beginners guide to ensure that you and your dog remain as comfortable and happy as possible during the grooming session. 
The slicker brush we recommend:
Sale
We Love Doodles Slicker Brush
✅ ELIMINATE TANGLES, KNOTS & MATS - Our dog brush for long haired dogs makes quick work of messy fur to have your puppy feeling their best. Dog brush for Goldendoodle friends works best as a dog brush for matted hair & a dog brush for shedding.
✅ PROFESSIONAL QUALITY DOG GROOMING - A brush that stands above a traditional small slicker brush for dogs our slicker brush for Goldendoodles is designed to easily work through dense & long coats. The ergonomic handle on our slicker brush for small dogs gives you a pet cleaner slicker brush that is easy on your hand & wrist.
Steps on how to use a slicker brush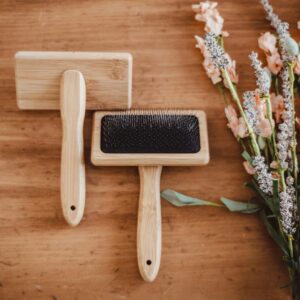 1. Prepare the coat
Whenever grooming your dog, prepping their coat is always important.
Applying a small amount of dog detangling spray or leave-in conditioner will help you work your way through their fur much easier than if you were to brush it dry.
Make sure all products you're using are dog-friendly. 
2. Start with the slicker brush
Take small sections of your dog's coat and brush them with the slicker brush, keeping the brush face level with their skin.
Start from their legs upwards to avoid missing any sections. 
3. Encounter tangles or matts
You'll be able to tell if you encounter a tangle or matt because the brush will be much more reluctant to carry on through the fur.
If you find one, work on them slowly, carefully, and softly with the slicker brush until it is all out. 
Don't rush this process as you might rip the hair or hurt your dog. Be patient as this might take some time to completely remove the knot. 
4. Brush again
Repeat these steps, working on every matt or tangle that you find until you have brushed your dog's entire body and legs. 
5. Advanced action
If you find matts that you cannot work out with your slicker brush, you might have to consider shaving or cutting them out.
This will leave your dog feeling more comfortable, although they might have an uneven coat for a few months. 
6. Brushing delicate areas
Delicate areas on your dog include the face, paws, tail, and stomach. Go over these areas very slowly and gently so that you don't cause unnecessary harm by pulling at any knots. 
7. Reward your dog!
Once you're happy that the grooming process is complete, reward your dog with a treat and clean the brush, ready for the next time you need it. 
Related Articles: Best Dog Brush for Goldendoodles and Best Slicker Brush for Dogs
How do you maintain a slicker brush?
Ensuring that your slicker brush is clean before every grooming session can reduce the likelihood of skin infections in your dog, as well as keeping the brush as effective as possible. 
To maintain your brush, you must first remove all of the hair from the bristles after every grooming session. This can be annoying as the bristles are so compact and close together, which is why we suggest a self-cleaning slicker brush. 
Next, create an antibacterial solution from water and pet shampoo or vinegar. Dip the brush in this solution and leave it for 5 to 30 minutes before removing and rinsing it. This will remove any germs and bacteria while loosening up any smaller pieces of pet dander or dirt between the bristles. 
Spray a stronger disinfectant all over the bristles to remove as many bacteria and germs as possible. This will keep the brush completely clean and avoid putting any of these particles back into your dog's coat the next time you groom them. 
Leave the slicker brush to dry completely on a towel with the bristles pointed down. This will allow any liquid to drain out of the handle and brush face, eliminating the potential for mold growth.
Once you have left your brush to dry completely, store it in a dry and warm place to help eradicate any risk of germs or mold from growing. It's also recommended that you keep the brush away from dogs who like to chew, as the bristles could be dangerous to their gums. 
Repeat this process of cleaning your brush every week after each grooming session to keep it as effective as the first time you used it. If you groom your dog only a few times a month you might clean them less than this, but be wary of the potential of bacteria and germ build-up. 
Related Article: Best Brush for Long Hair Dogs
How often should I use a slicker brush on my dog?
The frequency of your slicker brush usage will depend on your dog and their coat. For example, Poodles will need to be brushed every two days, or even every day if their coats are particularly curly! 
Curly coats are very easily tangled and therefore need constant attention to avoid matts from forming. For this reason, they need to be brushed much more often than a dog who has short hair, or one that has straight or wavy hair. 
Slicker brushes should not be used on dogs with short hair as they don't experience that many tangles and therefore don't need a heavy-duty brush to remove them. So, if you have a short-haired dog, you won't need to use this type of brush at all. 
Wavy-haired dogs will need to be brushed more often than straight-haired dogs, although they won't need to be groomed as often as curly-haired dogs. 
Overall, you should be able to tell how often your dog needs a slicker brush grooming. Start with once every two days, and if you find that no tangles are forming by the second grooming, reduce it to every three days. 
Continue doing this until you find the best number of days for you and your dog. Bear in mind that they might need to be groomed more frequently during the summer due to shedding. 
Garrett loves animals and is a huge advocate for all Doodle dog breeds. He owns his own Goldendoodle named Kona. In addition, he volunteers at the Humane Society of Silicon Valley, where he fosters dogs and helps animals. Garrett enjoys writing about Doodles and believes that dogs can teach humans more about how to live than humans can teach a dog.
Why Trust We Love Doodles?
At We Love Doodles, we're a team of writers, veterinarians, and puppy trainers that love dogs. Our team of qualified experts researches and provides reliable information on a wide range of dog topics. Our reviews are based on customer feedback, hands-on testing, and in-depth analysis. We are fully transparent and honest to our community of dog owners and future owners.