If you're looking for a dog-grooming tool that can provide a seamless experience, then you've come to the right place. As we'll cover in this review, the GoPets Dematting Comb is ideal for long-haired dogs.
Websites like Amazon often have reviews that are in-depth and, for the most part, objective. The GoPets Dematting Comb has a high review rating of up to 4.4 out of 5 stars, and most customers are positive about it. In addition, the product received 5 stars in 71% of the reviews.
Before we talk more about this amazing product, let's look at the importance of getting a dematting comb for your fur baby.
Before you read this review, "GoPets Dematting Comb Review," check out: The 5 Best Dematting Brush for Dogs! (2023) and The 6 Best Flea Brush for Dogs! (2023).
Why Get a Dematting Comb? What Makes a Good Tool?
Isn't it a great feeling when you first welcome a dog into your home? But as you'll quickly discover, all that pet hair doesn't remain in one place. Lack of proper care for a dog's coat can result in untidy and matted hair. Your dog may become so irritated that they attempt to remove the knots, making matters worse.
A little preventive care goes a long way. Regularly using a dematting tool is the best thing you can do, particularly for dogs with dense coats that might not show signs of issues until they're too severe.
The majority of mat-removing tools resemble hand-held rakes, and therefore they really cut through your dog's hair using bladed edges on each tine's bottom edge. But don't worry — if they're made appropriately, the tines will often be bent, preventing the blades from ever touching your dog's skin.
In reality, the areas that do make contact are frequently rounded, giving the illusion of a massage. At least, that's the concept. You should look for a hair removal tool with blades that are at least as long as the hair on your dog. Otherwise, your pet will suffer pulling as you maneuver through those snarls. Large dogs, specifically those with an undercoat, benefit most from blades with a broader set.
Smaller dogs are better suited for blades with closer spacing. If you're taking care of several dogs, certain tools' blades may be changed to accommodate various hair lengths. The material also matters. A stainless steel hair remover could be more expensive up front, but it will be worthwhile in the long term.
Dog hair is greasy, much like ours, and over time, it can reduce the efficiency of subpar blades. Additionally, you should clean that hair removal tool after each usage. In light of this, be sure to get a tool that is simple to maintain.
GoPets Dematting Comb Review
The GoPets Dematting Comb performs just as it should. When it comes to brushing, the double-sided comb gives the appropriate degree of flexibility. The thorough penetration of the comb bristles into your dog's topcoat and undercoat ensures that no knots or mats are left over while still being gentle.
The brush eliminates dander, filth, and loose hair in addition to being perfect for cats and dogs with all different types of hair texture.
With the protective tips on the brush tines, the comb also provides a pleasant rubdown that helps calm dogs that are normally nervous during grooming sessions and increases blood circulation.
One of the comb's best features is its lower-density side (the dematting rake), which has 12 blades to tackle mats and tangles that are particularly difficult to remove. Removing the toughest mats takes some time and skill, but once you master the method, it works flawlessly.
Advantages of the GoPets Dematting Comb
First off, the GoPets Dematting Comb does a superb job by effectively targeting the hair's roots.
From the roots up, the hair becomes thinner. It serves several purposes and is perfect for pets with long hair. Sure, you may use it as a dematting comb. But it may also be used for de-shedding or as an undercoat comb.
Disadvantages of the GoPets Dematting Comb
The gel layer is intended to be comfortable, however, it can also be annoying. As you use it, your dog's fur tends to gather, so you have to constantly clean it off.
Additionally, the gel will spill out if your dog chews it in distress. Furthermore, this instrument tends to slide over any little patches of matted fur that are near the skin.
GoPets Dematting Comb Features
The GoPets Dematting Comb also functions brilliantly as an undercoat comb and a deshedding rake. So, it's a great idea to use it for deshedding and detangling and then using it as an undercoat comb.
For difficult-to-remove mats and tangles, just use the side with reduced density as a dematting rake. Then, for quicker results and to limit shedding, use the other side as a detangler, deshedding tool, or undercoat rake. It is a wonderful present for a dog owner or a wonderful asset for every pet groomer.
Pleasant Grooming Experience
The strong teeth of the brush prevents hairs from being pulled, and the rounded tips make it safer to use on delicate skin while brushing the undercoat. It is a distinctive dog and cat brush because of the non-slip silicone gel-filled handle, which adapts to your grip no matter how you handle it.
Replaceable Blades
The GoPets Dematting Comb has blades that are made to self-sharpen as you use it. If the blades become too worn, the manufacturer will change the comb. Customers will need to email GoPets Customer Care for more information on how to submit a claim.
Sharp Blades
Although not razor sharp, the blades are nonetheless pretty sharp. To check for safety, you can touch the blades with your fingertips; you'll find that there are no issues.
Eliminates Mats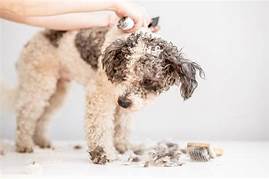 The comb contains curved, sharp-edged teeth that, given the seriousness of the mat, may either easily pull through or cut through it without causing unpleasant tugging.
Suitable for Most Breeds
Although the comb may technically be used on dogs of numerous breeds, it works best on dogs with longer hair that tends to tangle, mat, and shed. A bristle dog brush is preferable for short-haired dogs like Labs or Pugs. Similar to dogs, cats with longer hair may also use this tool.
Saves Time
When grooming at home, this comb is more effective. After washing your dog, you can the GoPets Dematting Comb to quickly brush his hair.
Compared to using inferior combs and brushes, which take 20 to 25 minutes, the procedure takes 15 minutes to remove all of the tangles. When using conventional equipment, owners typically give up to wait for the groomer.
Convenient Handle
One of this comb's greatest characteristics is the handle. You can hold onto the handle with ease while you maneuver through your dog's little knots thanks to the comfortable silicone gel filling. The combing process is smoother and more effective because of its simplicity.
Maxpower Planet vs. GoPets Dematting Comb as a Pet Grooming Brush
There are other companies using the double-sided brush technique besides GoPets. However, it is one of the more expensive choices at roughly $30, perhaps because of its promise of expert quality.
The Maxpower Planet Pet Grooming Brush is an alternative brush with comparable characteristics at almost half the price. But compared to the GoPets Dematting Comb, this rival product is a step down.
It has two sides in the same way. While the deshedding brush side has 17 teeth for eliminating stray hairs and extra fur, the dematting brush side contains nine teeth for cutting through mats and tangles. (There are 12 and 23, respectively, in the GoPets tool.)
The plush gel handle is missing from the Maxpower brush. If you want to brush our pets' fur for over 30 minutes, a comfortable handle is essential — especially when grooming large dogs. It features a non-slip rubber grip rather than a soft gel handle, which is less opulent.
Maxpower's brush, like the GoPets comb, features rounded ends to prevent the teeth from grazing or irritating the skin, and the slightly sharpened safety blades make cutting through mats simple.
Top Customer Reviews
"My baby got a makeover with a touch!"
Got the brush today and on the very first attempt using it on my cat's bad mats I had to struggle with for months, they were almost all GONE!
Literally I took it out of the packaging and half the problem was solved in seconds. I have a short-haired Tabby mixed with some breed that has super shiny luxurious coat, so her matted spots were extremely unusual and very tough to deal with.
I never bathed my cats or cut their nails because I just can't bear the thought of them feeling any discomfort coming from me.
The matted hair problem very unusual and I suspect resulted from small and extremely agile slender Abby sneaking into some place where she wasn't supposed to be and getting gluey stuff on her back in the process.
The clumps stubbornly didn't want to get off of her healthy fur as the new hair grew, so I had to do something about it knowing that I probably will be bit and scratched all over if I have to brush her.
Today was my FIRST EVER GROOMING ATTEMPT since Abby became an adult: she is the most spoiled kitty ever that would not tolerate even the slightest bit of pain or discomfort without completely freaking out and biting me.
But she didn't even notice how I removed half of those matted clumps until it started to pull on her toughest knot a bit so she immediately let me know.
Knowing how low her tolerance to pain is, I was shocked that her reaction was just a questioning look and that she stopped purring at one point — that's instead of the blood bath I had been expecting!
July 10, 2022
"A great de-matting comb and seller was excellent"
This dematting comb came promptly. Seller was excellent. We recently adopted two cats, siblings, one with long hair. He had a few mats on his belly/armpits. The long hair was my main reservation about adopting these two adult cats.
This comb came highly recommended. Before it came, I was nervously anticipating the possibility of snipping mats out of the cat's coat. (I sometimes worry in advance.) Well, the good news is that the long haired kitty loves to be brushed.
And the small mats on his belly resolved without a struggle. I would recommend this comb, which is a bit of an investment, without reservation.
November 19, 2022
"GAME CHANGER"
This brush has increased my ability to control my two long-haired cats' shedding tenfold. I used to use this other brush that looks like a hairbrush with the array of metal prongs with little plastic beads on the end, and that thing worked alright, but I swear, this thing is just magical at deshedding my cats.
I usually start by using the 10-teeth side and it's pretty good for working out small tangles before they're full-on mattings. Then I switch to the 23-teeth side to finish the deshedding, and I get a full hairball off of each of my fur balls every day.
Frequently Asked Questions
Do dematting combs work?
Dematting combs work well on mats and tangles, but they are a better match for long-haired dogs. On the other hand, short-haired dogs benefit more from a bristle-style brush.
Is a dematting comb good for dogs?
Dematting combs are safe for dogs' skin and will help stay on top of mats and tangles before they worsen, causing skin infections.
How often should you use a dematting comb?
Long-hair breeds will benefit most from a dematting comb. Aim to brush your dog several times per week to keep mats and tangles at bay.
Conclusion for "GoPets Dematting Comb Review"
From what we've witnessed so far, it's clear that the GoPets Dematting Comb has the best mat-removal results to date. If you're looking for a great grooming tool to add to your supply, then this is it.
It'll save you a ton of trips to the groomer as well.
If you find this review, "GoPets Dematting Comb Review," helpful, check out:
Learn more by watching "Dematting tool by GoPets Review" down below:
Garrett loves animals and is a huge advocate for all Doodle dog breeds. He owns his own Goldendoodle named Kona. In addition, he volunteers at the Humane Society of Silicon Valley, where he fosters dogs and helps animals. Garrett enjoys writing about Doodles and believes that dogs can teach humans more about how to live than humans can teach a dog.
Why Trust We Love Doodles?
At We Love Doodles, we're a team of writers, veterinarians, and puppy trainers that love dogs. Our team of qualified experts researches and provides reliable information on a wide range of dog topics. Our reviews are based on customer feedback, hands-on testing, and in-depth analysis. We are fully transparent and honest to our community of dog owners and future owners.