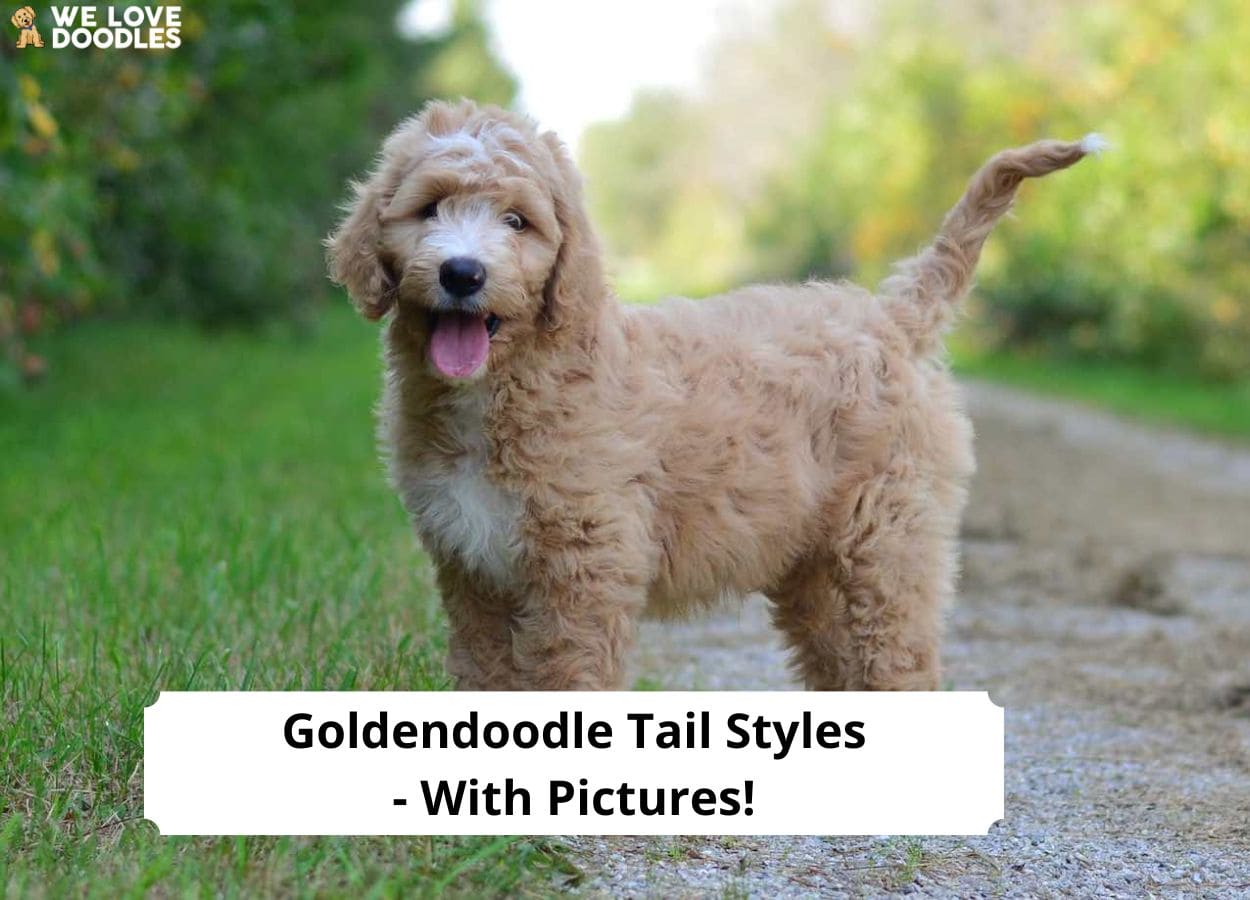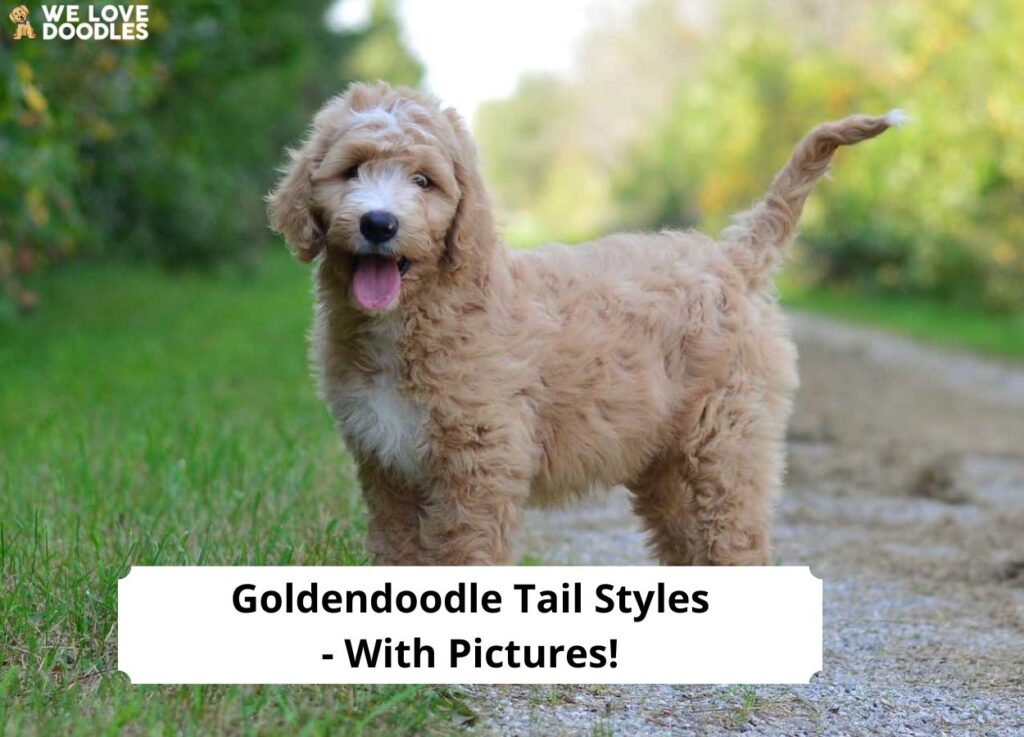 Are you studying up on Goldendoodles before adopting one? Good for you! Goldendoodles are adorable dogs with curly, colorful coats. They even have fun Goldendoodle tail styles! An essential part of owning a Goldendoodle is grooming every inch of its fur, including its tail.
Owners might not think of the tail right away, but they will when their dog's tail constantly brings in dirt, leaves, bugs, and dog poo from outside. Grooming your dog's tail and the rest of its body is key to keeping its fur (and your home) presentable, clean, and healthy.
Read on to learn more about the different Goldendoodle tail styles, including docked tails, tail haircuts, and everything else!
Before you scroll down this guide, "Goldendoodle Tail Styles," you can check out these other helpful Goldendoodle guides: Goldendoodle Grooming Guide and How Often Should You Groom a Goldendoodle?.
Goldendoodle Tail
Tails are vital in managing the dog's movement, so all Goldendoodles are born with one. The tail makes it easier for dogs to walk, swim, and do other activities because it assists with balance. Not to mention, dog tails are pretty cute too!
Based on its pedigree, Goldendoodle tails can vary based on a puppy's parents. So, tails may be curlier or wavier depending on how far down a puppy is from the original Poodle and Golden Retriever pairing.
Goldendoodle With a Docked Tail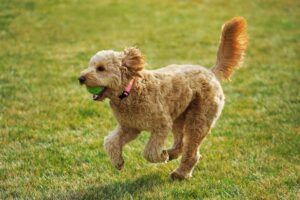 In some circumstances, an owner may want to request that their Goldendoodle or mini Goldendoodle's tail be amputated ("docked"). There are a few different reasons why this procedure might be required or requested:
A tumor on the tail
The tail has been severely injured and is unlikely to heal
To prevent fecal soiling (if the hair is long enough, waste can become stuck after a dog does its business)
An infection in the tail
To alleviate skin infections
The dog's health would be better off with a tail removal
Outside of this list, there are very few reasons for this surgery. Docking a dog's tail is often considered unnecessary and inhumane. While it usually takes place early in life or as an adult in the event of an emergency, it can be painful and considered cruel.
A veterinarian will offer their opinion in one of those above circumstances. They may refuse to perform the procedure for reasons outside of those listed above.
Do Goldendoodles and Mini Goldendoodles Have Curly Tails?
Goldendoodles typically have curly tails. The number of curls depends on each dog's genetics and pedigree. Goldendoodles directly from a Golden Retriever and Poodle are likely to have curlier hair than Goldendoodles with other Goldendoodles as parents.
Some tails are wavier, kinkier, or just plain curly. It all boils down to parentage. Grooming also has an impact on appearance.
Do Goldendoodles Have Docked Tails?
Unlike other breeds that are naturally born with them, Goldendoodles do not have docked tails. An owner or breeder can request a licensed veterinarian to perform this surgery, though the vet may refuse if it is not to improve the dog's health.
Goldendoodle Tail Styles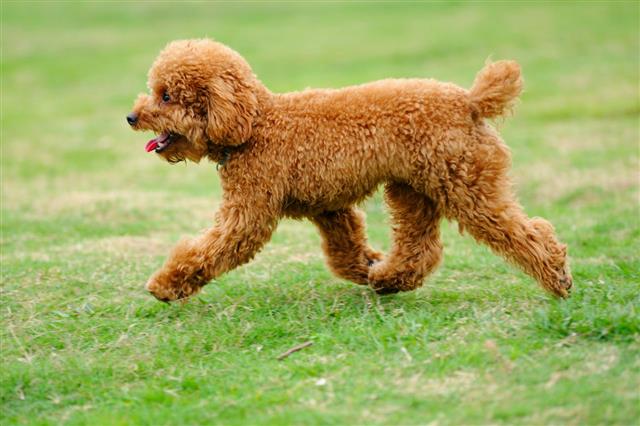 When grooming your Goldendoodle, make sure you remember the tail! Because the fur on a tail can be long and curly, it makes it prone to snagging on things, which is why owners often have to pick out leaves or other items from their dogs' bottoms.
In most cases, your groomer will trim a Goldendood's hair in certain areas, including those closest to its bottom. They might also ask which style you prefer. There are a few different styles that you can request your groomer to do.
While shaving and some professional grooming are necessary to keep your Goldendoodle's coat clean and easy to maintain, that doesn't mean its hair needs to be completely shaved. These styles for Goldendoodle bodies and tails are practical and oh-so-adorable at the same time!
Kennel Cut
One possible style for your Goldendoodle is the kennel cut. It's one of the more traditional grooming techniques and can be used on any dog breed. This cut is favorable for the summer months because it makes a dog's coat lighter and eliminates at-home grooming.
A Goldendoodle tail with a kennel cut will be trimmed down but left a little fluffy at the end.
Puppy Cut (Teddy Bear Cut)
The puppy cut is popular regardless of whether your dog is still a puppy. The puppy cut is sometimes referred to as the Teddy Bear Cut since the technique makes a dog look just like a teddy bear!
This haircut is an excellent option for owners that want to keep as much fur on their dogs as possible. The puppy cut style is simultaneously practical and attractive – it will eliminate mats and knots without completely getting rid of your dog's current look. Making everyday at-home grooming easier is another additional plus!
Unlike the kennel cut or full shave style, the puppy cut doesn't leave a Goldendoodle's body and tail bare. It's just short enough to prevent any matting or tangles and keeps a fair amount of coat on for warmth. It still looks cute, too, of course!
Poodle Cut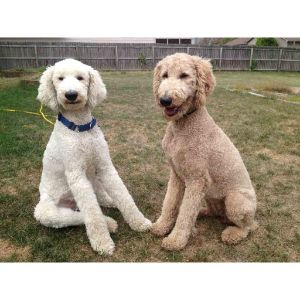 A Poodle cut for a Goldendoodle honors its Poodle lineage. For this hairstyle, the coat is shaved down around the face, belly, back, and sides. Groomers leave the tail a little longer at the top, similar to a real Poodle's tail hairdo!
This cut leaves your pup's coat easy to maintain. The Goldendoodle tail will be no different, either – still cute, but with no extra upkeep, so no more picking leaves, sticks, and bugs!
And, as always, you can ask the groomer to do a different style with the tail if you'd like.
Lamb Cut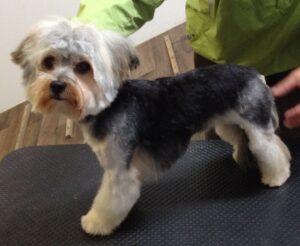 This adorable haircut transforms your Goldendoodle puppy into a lamb, where most of its body except for the legs is shaved. The extra hair on the legs gives a puffier, rounder, plush look, similar to lamb legs!
You can customize your Goldendoodle's tail style here as well. Ask the groomer to fully cut the fur down or keep it a little fluffy to match the puffy lamb legs. It's up to you!
Lion Cut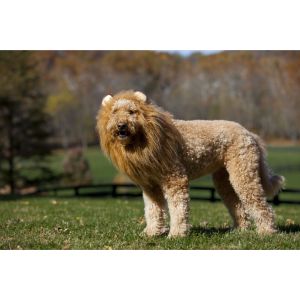 A lion cut is an entertaining hairdo, and it's exactly as it sounds! Your groomer will transform your lovable teddy-bear Goldendoodle into a lion.
In this style, the coat is cut short on most of the body, except around the neck and down on the lower chest, enough to mimic a classic lion's mane. This is a perfect and humorous cut for a last-minute Halloween costume – or any time you'd like!
Best of all, the tail style for a lion cut is a pom tail, just like real lion tails!
Full Shave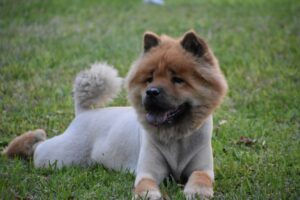 Sometimes a full shave is inevitable. It's undoubtedly the most common haircut for a dog because it's easiest to start fresh if the coat can't be saved.
A full shave grooming addresses your dog's entire body, including its undercarriage, tummy, legs, ears, head, and tail. Your puppy might even be unrecognizable by the end, especially if the coat is past the point of no return.
In this situation, the tail would be shaved down to match the rest of the body. However, owners can always request a different hairstyle be done.
Frequently Asked Questions
What should a Goldendoodle tail look like?
There is no one standard appearance for a Goldendoodle tail. Depending on how far away a Goldendoodle is from its Golden and Poodle parents, the fur on its tail may be wavy, curly, or flat. Goldendoodles are not born with docked tails.
Can you trim a Goldendoodles tail?
You can trim and style a Goldendoodle's tail in various style options! Just talk to your groomer, and they'll give you different cuts to choose from.
What is the best cut for a Goldendoodle?
The best cut for your Goldendoodle is whichever one you think best fits its personality and lifestyle. The most popular haircut for Goldendoodles is the Kennel cut.
Goldendoodle Tail Styles: Which Will You Choose?
Goldendoodles are adorable, loveable dogs known for their beautiful, curly coats. Grooming and maintenance are essential tasks in owning these animals. And remember that grooming extends to their cute and furry Goldendoodle tail styles, too!
Some owners may decide to dock their Goldendoodle's tail because of a health concern, but in most cases, a tail is a necessary part of your dog's anatomy. And, when styled correctly, they look so darn cute too!
When it comes to grooming, owners may fret that the only option is to shave their dog completely. But there are styles available that will maintain your dog's coat and keep it looking adorable. The many Goldendoodle tail styles outlined above will keep your Goldendoodle's coat and tail looking as spiffy as ever!
If you find this guide, "Goldendoodle Tail Styles," helpful, you can check out these other Goldendoodle guides:
For more tips and tricks on grooming a Goldendoodle, you can learn more by watching "Grooming a Large Goldendoodle – Professional Tips" down below:
Garrett loves animals and is a huge advocate for all Doodle dog breeds. He owns his own Goldendoodle named Kona. In addition, he volunteers at the Humane Society of Silicon Valley, where he fosters dogs and helps animals. Garrett enjoys writing about Doodles and believes that dogs can teach humans more about how to live than humans can teach a dog.
Why Trust We Love Doodles?
At We Love Doodles, we're a team of writers, veterinarians, and puppy trainers that love dogs. Our team of qualified experts researches and provides reliable information on a wide range of dog topics. Our reviews are based on customer feedback, hands-on testing, and in-depth analysis. We are fully transparent and honest to our community of dog owners and future owners.