Does your home seem too empty without a dog to keep you company? If so, then you've come to the right place. This article will discuss how you can easily find Golden Retriever puppies for sale under $500.
They're America's favorite family pets due to their outgoing, loyal, affectionate temperament. Not only are these dogs eager to please, but they can also be easily trained and are gentle with children. However, while all these qualities may make up your ideal pet, Golden Retrievers are not a low-maintenance breed.
Golden Retrievers need sufficient mental and physical exercise to maintain good health and certainly do not appreciate being left alone for long periods. Therefore, you must ensure that a Golden Retriever will make the right pet for you before bringing it home.
A Golden Retriever purchased from a quality breeder costs around $1,000 and $3,500. So, it's understandable if you want to welcome a Goldie into your family without spending a fortune.
To help you out, we've created a list of sources where you might find an affordable Golden Retriever puppy. Let's look at the sources, the factors you must consider before purchasing, and a few handy tips.
Before you scroll down this guide, check out: 4 Best Golden Retriever Breeders in the United States! (2023) and 7 Best Golden Retriever Rescues! (2023).
Is a Low-Cost Puppy Right for You? What to Consider Before Getting $500 Puppies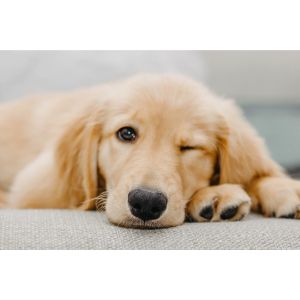 Here are a few things to consider before getting a low-cost puppy:
1. The Cost of Owning a Dog
Owning a dog involves committing your finances and time. Your responsibilities toward your puppy will include making sure they are well-fed, groomed, sheltered, and regularly exercised.
These responsibilities can cost a dog owner up to $3,470 a year. So, while bringing a low-cost puppy home will save money, you'll still be spending a significant amount on your Golden Retriever.
Since the dog will become a part of your family, their daily living expenses will come from your pocket. And in case your dog falls sick and requires ongoing vet care or specific procedures such as surgery, the ownership costs are likely to be higher.
2. Health and Temperament of the Puppy
Another factor to consider before getting a low-cost puppy is the health and temperament of the puppy you're adopting. After all, a healthy puppy is a happy puppy.
Scams are a common phenomenon whenever you're adopting a low-cost puppy. Most people that give out puppies for lower prices or for free tend to do so due to the puppies having health issues or genetic disorders. So, ask the dog owner why they're selling their dog at a lower price.
3. Consider Adoption
Adopting a low-cost puppy may come with certain risks. However, it's always better to adopt rather than shop whenever you bring a puppy home. Not only will it save you from paying a hefty amount to breeders, but you will also be getting a puppy that is likely already trained.
Moreover, by adopting a puppy, you will be saving it from homelessness and providing it with a life of love and security — an opportunity it may otherwise miss.
Ways to Get Golden Retriever Puppies Under $500
Here are some ways you can get Golden Retriever puppies for $500 or less:
1. Adopt from a Rescue or Shelter Organization
As we always say, adopting a dog is better than purchasing one. Not only is it more affordable for many, but it can also be a smooth and quick process.
Adopting a puppy from a dog rescue or animal shelter is arguably the best way to get a low-cost puppy without the risk of scams. Most organizations are completely transparent about the health, mental well-being, and behavior of the puppies they give up for adoption. Therefore, you're less likely to run into unpleasant hidden surprises.
What's more, dog rescue and welfare agencies spend considerable resources on rehabilitating rescued dogs. Hence, most of their dogs are well-trained and well-socialized. Moreover, the dogs also have had spaying/neutering surgery, dewormings, vaccinations, and microchipping.
To take advantage of these benefits, visit the sites of local shelters and charitable organizations. Most support online adoption. There are many breed-specific rescues in most major US cities, and you will be able to adopt Golden Retriever puppies for $500 in no time.
In addition, keep an eye out for free events at your local rescue or shelters. You can even call your local shelter and inquire whether they're adopting puppies that may fit your budget.
2. Check Online Classified Ads and Online Agencies – Lancaster Puppies
Another excellent option you can consider if you're looking for low-cost puppies is checking online classifieds and stores that advertise the adoption of affordable puppies, such as Lancaster Puppies.
Lancaster Puppies is an online source that helps puppies find their permanent homes where they can spend their lives in a safe and comfortable environment. It advertises puppies for sale in states such as New York, Ohio, Indiana, Florida, and Texas.
Lancaster Puppies does not breed puppies. The website only provides a platform for breeders to advertise puppies so people can find their ideal pets through a reliable source. To find your perfect Golden Retriever puppy, open the website and browse through the list of active listings.
To find an affordable puppy, select the "Under $500" option on the site. If you find a Golden Retriever you'd be interested in adopting, click for further information about the dog's health, temperament, and more. You can also find the seller's contact information on the page.
You can contact the seller to discuss any queries about the dog you want to adopt. Ask important questions such as whether the puppy has been vaccinated, de-wormed, and received regular vet check-ups. A meet-and-greet should also be on the table before adoption.
Lancaster Puppies Details:
3. Ask Your Local Vet or Friends and Family
Another option worth trying is asking local vets in your area if they know anyone interested in giving away their puppies or selling them for a lower price.
Vets treat hundreds of animals daily while remaining in contact with several dog owners, rescues, and shelters. So, there's a high chance your local vet will be able to provide you with some options that will help you find a low-cost puppy.
Moreover, if any of your friends or family have recently adopted a dog, you can also discuss your interest in adopting a puppy and inquire about where they got their puppy from and how much they had to pay.
4. Browse Social Media for Low-Cost Puppies
Social media is another one of our picks for finding Golden Retriever puppies for sale under $500. Several breeders, rescues, and dog enthusiasts use social media to sell puppies or give them away for free.
Facebook groups are an excellent source to connect with people rehoming or selling puppies online. Countless groups on Facebook are dedicated to helping people connect with puppies that will not cost them a fortune and offer their companionship for life.
Most of these people give out their puppies for a lower price due to having litters they cannot manage or afford to keep or if they're unable to look after them due to personal reasons.
Here are some Facebook groups we recommend checking out if you're interested in finding yourself some-cost puppies:
Dogs and Puppies for Rehoming and Adoption
Dogs and Puppies for Rehoming and Adoption is a Facebook group created in 2022. The group aims to connect dog sellers and breeders interested in giving away their puppies for adoption or rehoming with interested buyers.
The group has 47K members who actively post about puppies they might want to buy or give away. You can post in the group and inform the members about your interest in adopting Golden Retrievers.
The group admins also recommend contacting them directly about your interest in adopting puppies to avoid scams. The admins can also connect you with legitimate breeders selling Golden Retriever puppies.
Dogs and Puppies for Rehoming and Adoption Details:
How to Choose $500 Golden Retriever Puppies
Scams and risks are not uncommon when getting a low-cost puppy. Therefore, precaution is necessary to ensure you get a happy and healthy puppy and avoid problems.
Some tips we recommend when choosing a low-cost Golden Retriever puppy include:
Ask the right questions: Ask the seller whether or not the dog they're adopting is up-to-date on vaccinations, de-wormed, and spayed/neutered. Moreover, do not forget to ask them why they're selling their puppy at a lower price than average or giving it away for free.
Be aware of any health issues: Low-cost or free puppies may have potential health issues. However, there's no guarantee that a puppy bought directly from a breeder will remain healthy for its entire lifespan. In any case, you must be prepared for any health issues the dog may possess and have the necessary expenses to get them the required treatment.
Be patient and don't rush: In-depth research is the key to finding the right puppy. So, do not rush and take your time. As long as you're getting the right puppy in the end, it should not matter how many options you must go through to find it yourself.
Frequently Asked Questions
What is the best price for a Golden Retriever puppy?
If you want a puppy with a health guarantee from a reputable Golden Retriever breeder, you can expect to pay $1,500. Rescues and shelters are a much more affordable source.
Are two Golden Retrievers better than one?
A social breed like the Golden Retriever can do really well with a partner, so many owners decide to get a second dog.
What are the three types of Golden Retrievers?
Aside from coat differences like light and dark golden, there are American, Canadian, and English Golden Retrievers.
Conclusion for "Where Can You Find Golden Retriever Puppies for Sale Under $500"
There are countless sources available to help you find Golden Retriever puppies for sale under $500. However, it's important to remember a healthy puppy is a happy puppy. Therefore, one should never compromise the health of their puppies; otherwise, you will have to prepare yourself for countless vet visits and the hefty costs associated with them.
So, do your research, ask the right questions, and be patient when bringing a puppy home.
If you find this guide, "Where Can You Find Golden Retriever Puppies for Sale Under $500," helpful, check out:
Before you bring home a Golden Retriever puppy, learn more by watching "What to Know About Golden Retrievers – Top 10 Facts" down below:
Garrett loves animals and is a huge advocate for all Doodle dog breeds. He owns his own Goldendoodle named Kona. In addition, he volunteers at the Humane Society of Silicon Valley, where he fosters dogs and helps animals. Garrett enjoys writing about Doodles and believes that dogs can teach humans more about how to live than humans can teach a dog.
Why Trust We Love Doodles?
At We Love Doodles, we're a team of writers, veterinarians, and puppy trainers that love dogs. Our team of qualified experts researches and provides reliable information on a wide range of dog topics. Our reviews are based on customer feedback, hands-on testing, and in-depth analysis. We are fully transparent and honest to our community of dog owners and future owners.