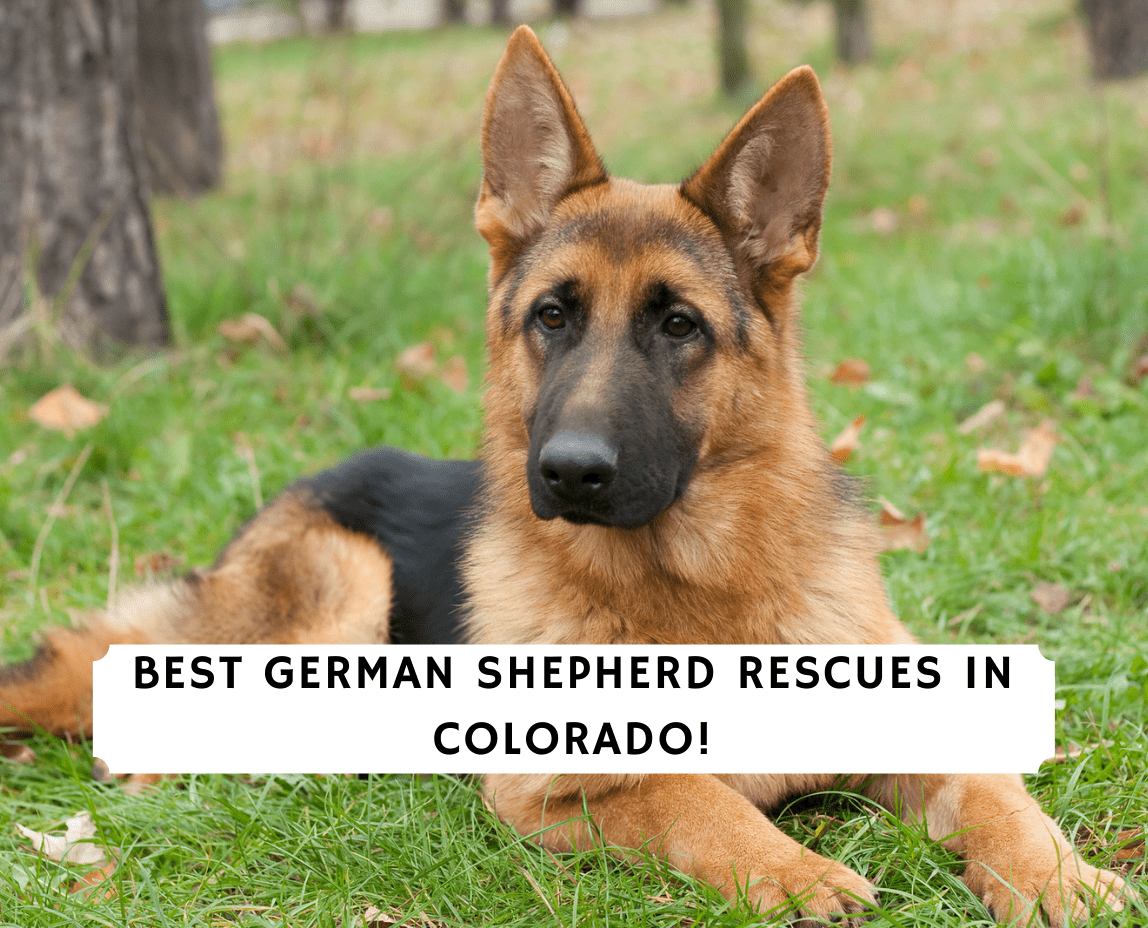 Whether you're confident in adopting a German Shepherd or have just discovered this amazing dog breed, a rescue organization can be a great way to go about adopting your new family companion. As you search for German Shepherd rescues in Colorado, be intentional about asking important questions and getting to know the values and team behind their work. Ultimately, both you and your adopted German Shepherd want to be happy together.
To help you get started on your search for the right German Shepherd rescue in Colorado, we have a quick list of some of the best rescues in Colorado. You'll find a brief description of the dog rescue, what they offer and their contact information if you're interested in learning more.
Other articles you would like: Golden Retriever Rescues in Colorado and Doodle Rescues in Colorado.
1. Front Range German Shepherd Rescue Colorado
As a dog rescue affiliated with the American German Shepherd Rescue Association, this adoption organization is dedicated to transforming the lives of dogs with intention and care. As a small team of volunteers and community members, those at Front Range German Shepherds Colorado have committed their resources to serve the health and wellness needs of dogs and bringing them opportunities to be welcomed into a new home.
While some dogs end up homeless for whatever reason, other dogs that come into Front Range are surrendered over by their owners. This process empowers dogs to not be left by themselves when they are unable to be cared for. Instead, the team at Front Range German Shepherds can work on finding them a new home to be loved and cared for.
Beyond adopting a German Shepherd rescue from their shelter, you can also get involved through volunteering. They rely on volunteers for opportunities like fostering, dog walking, transporting, or helping with special events.
Families who are interested in adopting a German Shepherd from Front Range can start with an application. This form ensures that you and your family are in a good position to take care of a dog. They'll consider your veterinary access and other references to ensure a good match for you and your German Shepherd.
As many dogs are placed in foster care prior to adoption, you can get to know the types of dogs available. However, your application must be approved prior to reviewing their German Shepherd rescues in Colorado. Having your information ready as you apply can help speed up the application process.
As you prepare to welcome a dog into your home, you can also browse their list of available dogs and see which one catches your eye. Their "Meet and Greet" events also provide opportunities for you to meet the volunteers and the specific dogs you're interested in adopting. Moreover, they provide helpful information about the dog and other things you'd like to know about raising a German Shepherd, whether it's a dog or still in the puppy stages.
German Shepherd Rescue Details
Location: Denver, CO 80209
Email: Gs44@aol.com
2. Snow Capped Shepherd Rescue Colorado
With a focus on caring for German Shepherds and White German Shepherds, the mission of Snow Capped Shepherd Rescue is to rescue, rehabilitate, and provide opportunities for adoption. With an overflow of dogs due to improper spay and neuter practices, the team at Snow Capped Shepherd rescue uses their operation to provide a temporary solution for dogs without homes. As shelters and humane societies are often overwhelmed by the number of dogs they take in, this rescue location seeks to meet the needs of dogs in the community, especially German Shepherd rescues in Colorado.
In addition, they partner with Camp Bow Wow to help provide foster care homes that are full of love and care as these German Shepherds are awaiting their new families. To become an adoptive family, you can also get involved by fostering dogs who are awaiting families and sharing donations. You can also shop at their fun store filled with products for both you and your new dog. You can also volunteer to be involved in administrative tasks and events.
Families that are interested in adopting a German Shepherd from Snow Capped Shepherd Rescue can begin the process with an application. On this application, you'll share some basic information as well as what you're looking for in a dog. Expressing some elements of your lifestyle will also help the team place you with a dog that's just right for you.
German Shepherd Rescue Details
Location: PO Box 270981, Littleton, Colorado 80127
Email: WGSRescue@hotmail.com
Phone: (303) 973-7277
3. German Shepherd Rescue of the Rockies
As a non-profit organization, the team at German Shepherd Rescue of the Rockies is dedicated to rescuing and caring for abandoned dogs. They help them transition from being homeless to being cared for in foster care to being welcomed into a new home with a forever family. With each adoption, the team is intentional about finding the right dog for the right family. The process is carefully screened and vetted to ensure the fit is perfect.
Starting in 2011, the team opened its doors to the shelter and began transforming the lives of dogs and families through rescues. Families who are interested in adopting can begin the process with an application. Unlike typical German Shepherd rescues in Colorado, the adoption process is through a foster home-based system. You can find a dog you're interested in by browsing their available dogs online. Once you find one that steals your heart, you can set up a "Meet & Greet" session so you can get to know the dog before adopting.
Since this German Shepherd shelter relies on the involvement of foster homes, volunteers are essential to the operation. Beyond being an adoptive family, you can also get involved by becoming a foster home and helping dogs make that transition from being homeless to being welcomed into a loving family.
German Shepherd Rescue Details
Location: P.O. BOX 1356, Fort Morgan, CO, 80701-1356
What is a German Shepherd Rescue in Colorado?
With so much to love about a German Shepherd, it may be a surprise that there are some German Shepherd rescue puppies in Colorado who are left alone to fend for themselves. Whether they've experienced some sort of traumatic experience or were not taken care of by their previous owners, these German Shepherds are abandoned and in need of help.
A rescue shelter welcomes in German Shepherds to rehabilitate and provide a loving home for them. These rescue German Shepherds for adoption often provide needed medical care to help them get back on their feet and back to enjoying their fun and active lifestyles.
A German Shepherd rescue organization in Colorado specializes in the care of the breed. The majority of these rescues are non-profit organizations, relying on the help and support of the community and volunteers to continue rescuing and transforming the lives of dogs.
Not only are German Shepherds rescued, but families that are interested in welcoming a new puppy or dog into their home are also provided new opportunities. When visiting a breeder isn't an option or the preferred method, families can feel good about adopting from a rescue that saves a dog's life.
More Information About German Shepherds in Colorado
As a large and strong dog, the German Shepherd can make a great companion pet when properly trained. Their confident, loyal character and courageous personality makes them one of the most popular dog breeds in the world.
With this confident character also comes with an innate desire to protect his or her family and people. Their intelligence makes them easily trainable and helpful in all sorts of situations.
The German Shepherd has a classic soft coat with both an outer and undercoat. Their soft fur requires only occasional bathing and brushing, making them easy to take care of. While they do tend to shed occasionally during specific seasons, a slight increase in maintenance can help. Their frame gives them a height between 22-26 inches tall and a weight between 5-70 pounds.
As a lively and active dog, German Shepherds enjoy staying active and seek to please their family. As part of the herding family, they are intentional about their work and involvement in caring for their people. This personality is one of the reasons why the German Shepherd is involved in police and military work.
Conclusion for German Shepherd Rescues in Colorado

German Shepherds are beautiful dogs known for being loyal, active, and dedicated to protecting their families and caretakers. Rather than spending thousands at a breeder, consider saving a dog's life by adopting your new friend through a rescue in the Colorado area. Not only will you add a new furry friend into your home, but you'll also provide love, care, and a supportive home for a dog in need.
Using German Shepherd rescues like those listed here, investigate a location that's right for you and your family's needs. With dogs in need, you can move through your adoption process quickly and get on to welcoming your home to your new companion.
Garrett loves animals and is a huge advocate for all Doodle dog breeds. He owns his own Goldendoodle named Kona. In addition, he volunteers at the Humane Society of Silicon Valley, where he fosters dogs and helps animals. Garrett enjoys writing about Doodles and believes that dogs can teach humans more about how to live than humans can teach a dog.
Why Trust We Love Doodles?
At We Love Doodles, we're a team of writers, veterinarians, and puppy trainers that love dogs. Our team of qualified experts researches and provides reliable information on a wide range of dog topics. Our reviews are based on customer feedback, hands-on testing, and in-depth analysis. We are fully transparent and honest to our community of dog owners and future owners.