If you're searching for the friendliest dog breeds, then you've come to the right place. When choosing a dog for adoption, there are many things to consider. Of course, looks, health, and price play significant roles, but one of the most important traits to look for is friendliness.
If you are a person who has a lot of visitors or who takes your dog out a lot, it needs to be well-behaved and friendly. Below you will find a list of the friendliest dog breeds. When looking at this list, it is essential to remember that dogs are greatly influenced by their environment and genetics.
Therefore, these dogs are known for having friendly temperaments. However, they can become unfriendly without proper training and socialization. Generally speaking; however, these breeds naturally tend to be friendlier than the average dog.
Before scrolling down this list of friendliest dog breeds, check out our other dog lists that we think you might like: Healthiest Dog Breeds That Don't Shed and Cutest Dog Breeds.
1. Golden Retriever
To start our list, we have the quintessential good dog. So it should come as no surprise that Golden Retrievers are considered one of the friendliest dog breeds around. These dogs love enjoying time with everyone.
From people to other animals, chances are your Golden Retriever will have a great time socializing. The friendly nature of a Golden Retriever can be attributed to a couple of common traits that these dogs possess.
First, Golden Retrievers are incredibly eager to please. These dogs are happy when they see others happy, making them a friendly and people-pleasing breed. In addition to this eagerness-to-please, this calmness allows Golden Retrievers to enter new situations and socialize with new people without getting stressed or nervous.
These feelings usually cause dogs to get uncomfortable and defensive, which Golden Retrievers do not typically do. Therefore, their even temper and love for others make Golden Retrievers one of the friendliest dog breeds in history.
Find a Golden Retriever Breeder: Best Golden Retriever Breeders in the United States.
2. Labrador Retriever
Another notoriously friendly dog breed is the Labrador Retriever. Sometimes mistaken for the Golden Retriever, Labradors are different in many ways. However, their temperament is very similar to Golden Retrievers regarding friendliness.
Labrador Retrievers are extremely friendly dogs. They are happy to approach and play with anyone. These dogs are known for their high energy levels. So, they are happiest when enjoying playtime, regardless of who that playtime is with. Labrador Retrievers love interacting with other animals and humans of all ages.
Therefore, Labradors make great family dogs. However, Labrador Retrievers may come off as slightly overwhelming because of their high activity level. Yet, despite this high energy, these dogs are friendly. They have a hard time containing their excitement at times.
Find a Labrador Retriever Breeder: Best Labrador Breeders in the United States.
3. Samoyed
If you have ever seen a Samoyed, it should come as no surprise that these dogs have made it onto our list. Samoyeds are an extremely friendly dog breed that does not just act friendly but also looks friendly.
This is primarily due to their beautiful smiles. That's right when Samoyeds are relaxed, they naturally smile. This is because of their history in cold climates. This smiling expression developed because it prevented icicles from forming from their mouths.
However, this smile has now transformed into a welcoming invitation for people to come and play with these dogs. Their origins in cold climates affect another aspect of Samoyed personalities: their devotion to their family.
Samoyeds are so attached to their family it often results in separation anxiety. This makes it hard to leave these dogs alone. This loyalty and affection come from their ancestors' days spent cuddling up in tents with humans for warmth.
The friendly appearance of Samoyeds is not a facade. These dogs are great with adults, children, and other animals, making them an excellent choice for families. Not only are these dogs friendly with their own family, but they are also great with strangers.
Find a Samoyed Breeder: Best Samoyed Breeders in the United States.
4. Beagle
Did you know that Snoopy is a Beagle? Now that you do, it shouldn't surprise you that these dogs are friendly. Beagles are known for their love of people. So, regardless of whether you are family or a stranger, Beagles will be interested in making friends with you.
Beagles are incredibly devoted and affectionate dogs. However, this can lead to other problems like separation anxiety. Your Beagle loves spending time with you so much it will become very upset when you leave.
This leads to the infamous Beagle howling that we all know but don't love. However, you can't blame your dog for this. It is just his way of expressing that he misses you. Many people assume that because Beagles have such an intense bark, they must have an intense bite.
However, this is not the case. Beagles are so friendly with friends and strangers alike that they will stop barking if it means they are getting attention. Therefore, you should never rely on your Beagle to guard your house. Your Beagle is more likely to make friends than face a foe.
Find a Beagle Breeder: Best Beagle Breeders in the United States.
5. Staffordshire Bull Terrier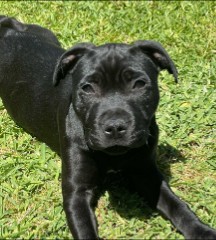 Although they get a bad wrap, Staffordshire Bull Terriers, also known as Staffies, is one of the friendliest dog breeds. Falling into the Pit Bull category, Staffies are affectionate and loving with their friends and family.
Although they were initially bred to be fighters, these dogs have developed into loving companions over the years. Staffies, along with many other Bulldog and Terrier mixes, were often trained to fight because of their solid bodies and jaws.
However, these dogs have naturally affectionate temperaments. Therefore, when you remove a Staffy from a bad situation, it will become one of the most loving dogs you'll ever meet.
Despite their bad reputation, these dogs have been, and continue to be, one of the most family-friendly breeds. Staffies are notoriously good with children because of their patience and gentleness.
This child-friendly personality has earned these dogs the appropriate nickname of "nanny dogs." However, it is essential to remember that children should always be supervised with a dog. This rule applies to all dog breeds, not just Staffies. This protects both the children and the dog from accidental harm.
Recommendations: Best Muzzles For Pitbulls.
6. Cavalier King Charles Spaniel
Originally bred to warm laps, Cavalier King Charles Spaniels have been friendly dogs from the very beginning. These dogs are exceedingly loving and affectionate with their immediate family while being polite and open to strangers.
The small size and gentle nature of Cavalier King Charles Spaniels also make these dogs a great addition to families with small children. However, it is essential to ensure that children return this gentleness as they can accidentally injure the Cavalier if not careful with them.
Cavalier King Charles Spaniels are naturally eager to please. So, they are susceptible to the feelings of those around them, resulting in their friendly nature.
These dogs also have impressively high intelligence. So, they train quickly and easily, leaving you with a well-behaved dog. This combination of training and genuine adoration for others makes Cavalier King Charles Spaniels extremely friendly dogs.
Find a Cocker Spaniel Breeder: Best Cavalier King Charles Spaniel Breeders in the United States.
7. Pembroke Welsh Corgi
Another friendly dog breed is the Pembroke Welsh Corgi. These little pups are friendly and outgoing. This wonderful personality, combined with their adorable appearances, have made Corgis one of the most popular dog breeds in modern society.
Corgis have outgoing personalities that often make them the center of attention. Luckily, Pembroke Welsh Corgis are also friendly with friends and family, so they love the attention.
They are devoted to their loved ones and enjoy spending time with them. Corgis are also very good with other animals. So, regardless of whether you have a dog already, a Corgi is sure to become one of the pack quickly. However, Corgis can sometimes be a little leary of strangers at first.
But, they warm up extremely quickly, resulting in quick and easy interactions. After this initial introduction, a Corgi will be your new best friend. This is common with most dogs, but early socialization will result in a Corgi who is not bothered by strangers.
Find a Corgi Breeder: Best Pembroke Welsh Corgi Breeder in the United States.
8. Border Collie
Border Collies are known for their high energy and their people-oriented personality. These dogs are affectionate and loyal to their family. They can be slightly reserved around strangers at first, but your Border Collie will greet their new friend like their oldest after the first meeting.
The one thing to note about Border Collies is that sometimes they do not mix well with other animals. This has nothing to do with unfriendliness and everything to do with their origins.
These dogs were raised to herd farm animals. Therefore, your Border Collie may see other animals as a target for herding. This may result in animals getting annoyed or angry with your Border Collie.
Finally, Border Collies are great with children. However, they can get excited because they are active and impulsive dogs. This usually entails chasing, herding, and jumping on the children.
This is not typically done negatively but playfully rather. However, this can still be dangerous for small children, so these dogs are best paired with older children.
Find a Border Collie Breeder: Best Border Collie Breeders in the United States.
9. Boxer
Boxers are another one of the friendliest dog breeds. These dogs are loving, outgoing, and high-energy. So, they may seem overwhelming to some people. However, Boxers are natural entertainers and love playing with people.
So, although their size and energy may seem scary at first, Boxers are typically just looking for a playmate. These dogs are also highly affectionate with their family.
Whether it is kids or adults, Boxers love their family members unconditionally. Boxers love running and playing with children. However, training your Boxer to be gentle while playing is crucial. Otherwise, it may play too roughly with smaller children.
This is not because Boxers are malicious in any way. This is because they get too excited and do not know their strength. Boxers love playing with anyone ready and willing to play. Therefore, Boxers are one of the friendliest dog breeds around.
Find a Boxer Breeder: Best Boxer Breeders in the United States.
10. Poodle
Last on the list of the friendliest dog breeds is the Poodle. Despite their reputation as stuck-up princesses, Poodles are amicable and loving dogs. In addition, poodles are patient and gentle, making them great with children.
Poodles are loyal and will be dedicated to their family unconditionally. In addition, poodles are extraordinarily people-focused, so they love doing activities with their family.
There are also many different sizes of Poodles available, so depending on your children's age and your family's exercise habits, there is a Poodle for you. These dogs are also exceedingly intelligent, making them super easy to train.
Therefore, socializing and training a Poodle is quick and results in the best behavior around family and strangers. Many people even breed Poodles with other dog breeds to create more dogs with these beautiful temperaments.
Often Poodles are bred with the other dogs on our list, resulting in dogs with even better dispositions than their original parent breeds. These dogs include Goldendoodles, Labradoodles, and Cavapoos.
Find a Poodle Breeder: Best Toy Poodle Breeders in the United States.
Conclusion For The "Friendliest Dog Breeds"
As you can see, there are many friendly dog breeds to choose from. The friendliest dog breeds are on this list. However, many other dogs have the potential to be just as lovely as these.
When teaching your dog to be friendly, it is crucial to focus on early socialization. Patient and consistent training and socialization will result in a friendly and loving dog.
If you enjoyed this list of the friendliest dog breeds, you might also enjoy:
Learn more about friendly dog breeds by watching "Top 10 Friendly Dog Breeds" down below: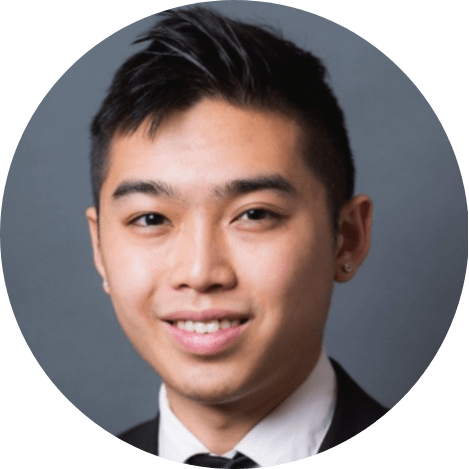 Andy is a full-time animal rescuer and owner of a toy doodle. When he's not saving dogs, Andy is one of our core writers and editors. He has been writing about dogs for over a decade. Andy joined our team because he believes that words are powerful tools that can change a dog's life for the better.
Why Trust We Love Doodles?
At We Love Doodles, we're a team of writers, veterinarians, and puppy trainers that love dogs. Our team of qualified experts researches and provides reliable information on a wide range of dog topics. Our reviews are based on customer feedback, hands-on testing, and in-depth analysis. We are fully transparent and honest to our community of dog owners and future owners.