One of the major issues with designing a children's bedroom is adding personality and life to the room. A child's room must be colorful, lively, and customized to fit their age and preference. Even though the budget can be a contributing factor to the designing plan, it can be managed and taken care of, espndtouches, and it is possible to prepare the perfect playful room that their kids can enjoy. Read on to learn about the expert tips that are useful for creating a customized, functional, and themed bedroom for kids.
Favorite Animal Theme
Designing your children's bedroom to have their favorite animal theme will be fun for them. If you have a pet dog, your kids probably love it so much and spend a lot of time with it. Decorating the room with dog-themed rugs that have amazing illustrations that look cute, a couple of paintings to hang on the walls with special drawings that have dogs in them, preferably ones that look like your pet. The beds should have stenciled patterns on the bed's base or headboard, spray-painting dog figures on them. The manufacturers and designers at VisionBedding suggest that even the bedding, quilts, sheets, and pillowcases can be custom-made to match the room's theme. Ordering a couple of dog-themed bedding will add the personalized touch that your kids will love snuggling into, matching with the rest of the dog-related decorations in the room. Consider adding little ornaments and accessories like a dog clock, a puppy night light, and dog-head decals. 
A Little Twist in Space
Consider telling your kids the story about the first dog that orbited the earth in the 50s. It can be an excellent idea for a bedtime story before sleeping and it will be even better if the room has a space theme. Decorate the walls by sticking some beautiful glow-in-the-dark stars, place a toy telescope by the window, and hang some spaceship toys on the ceiling fan or by the door. Get a stencil and spray paint a dog wearing a spacesuit on the closet or bed frames, display a cartoonish picture of a dog traveling in a spaceship, and add some dog-head decals wearing space helmets. Consider painting one side of a wall black, and brush little dots of blue paint on several sides to look like a backdrop of a galaxy far far away. Try drawing small constellations that look like dogs as well.  
Wild West Theme
If your kids love cowboys, then they will enjoy staying in a Wild West-themed room. Incorporating your pet dog in the designs will be a great idea too. You can Photoshop some pictures of your dog wearing cowboy hats and print them. Buy some cowboy-themed picture frames and then hang the pictures on the wall. Be creative with the bed and install bull horns on the bed frame, but make sure that the tip is childproofed for safety purposes. Another idea is to have a custom-made DIY bed that looks like a carriage. If the bed is wooden, try engraving a cowboy hat, more dogs wearing cowboy hats, or a couple of cowboys herding cattle with a dog helping them. The room walls can have brown and red colors, but maybe spray paint the ceiling to look like the cloudy blue skies of the Wild West. Consider adding more ornaments like hanging cowboy hats, embroidered portraits of dogs that look like cowboys, and hat decals. 
Fictional Character Themes
You can design your room to have a fictional dog character theme. They will love a Snoopy or Pluto theme in the room, having different illustrations to hang on the wall, several plushie toys, and a Pluto or Snoopy carpet. It will be easy to order beddings with Pluto or Snoopy on them, making your kids feel comfortable and safe at night knowing that their favorite character is with them. Night lamps and small ornaments that look like either of these fun dogs can be an excellent idea too. You can have some custom-made pillows with the character's print, and having a couple of embroidered portraits of the characters on the walls can look cute.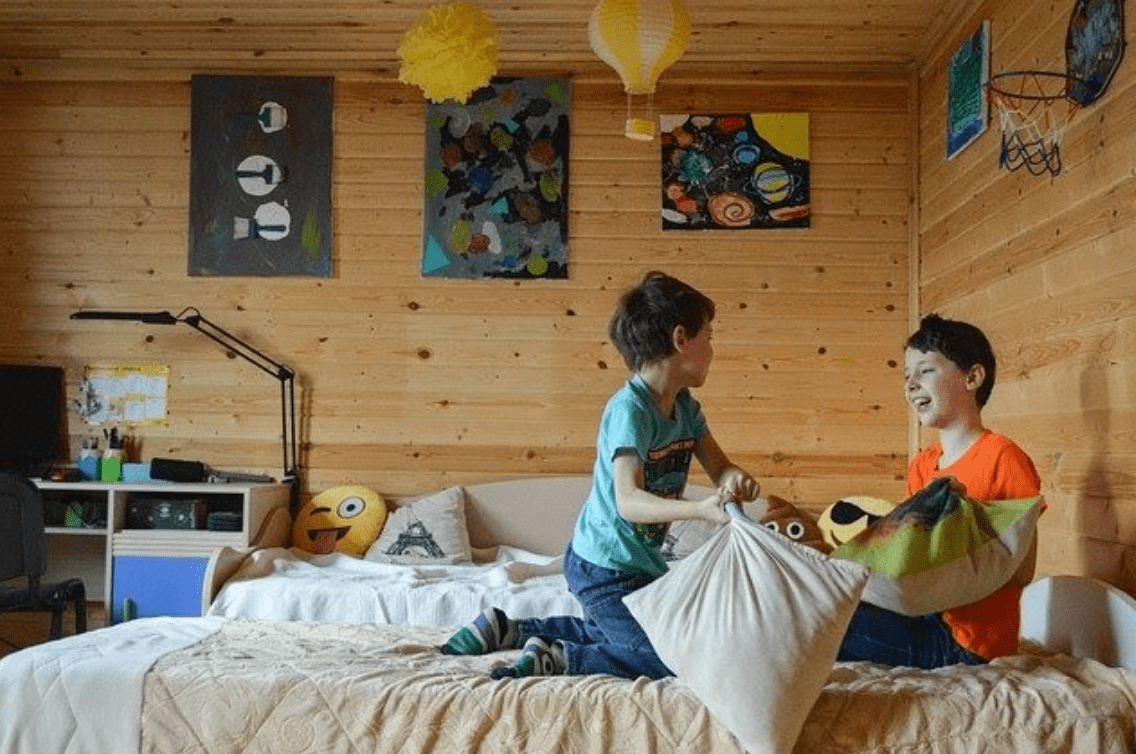 Important Things to Consider
Parents need to consider some important things when they're adding personalized touches to their children's bedroom. Designing customized bedrooms can be very fun, especially if the kids get involved. However, parents can't forget about functionality, and they must show some restraint with their designs. The room is for sleeping and relaxing, but add a corner with desks and chairs for when they do their homework or study. Consider investing in some multifunctional furniture pieces that can still be used when your kids grow up. Add a corner with a bookshelf that can convert into a mounted table. 
Don't be afraid to experiment with DIY projects if you have the time and passion for it. Most ideas can be easy to make and it will be cheaper than hiring a decorator or contractor to build them for you. Add a pet dog bed in a corner or near the children's bed so their furry friend can keep them company at night. Try to be a little practical and don't overdo it with the accessories, ornaments, or toys to prevent clutter in the room. It will also be a problem whenever it's time to clean up. Encourage your children to put things back in their place and clean up after themselves to keep the room theme clear and attractive.
Every child is special and unique when it comes to their habits, preferences, and passion. Preparing a bedroom that captures the essence of personality will always work well because the last thing you need is a dull room that they never want to stay in. If you find yourself stuck or unable to come up with ideas, encourage your kids to be involved with the planning process with you. It can be a great way to bond and spend more time together. Consider hiring an interior decorator and contractor that has experience in children's bedrooms to ensure great results.