This guide will teach you the differences between the Double Doodle vs. Labradoodle. Here's what you need to know. There are many different types of Doodle breeds anymore. You can find about anything mixed with a Poodle and make it a designer breed. Labradoodles and Goldendoodles are probably some of the most popular Doodles, but there are many others.
Of course, then you have the trifecta. The Double Doodle puts two Doodles together, so you get a Double Doodle. It's like hitting the jackpot. But is this breed just as good as its counterparts? Is there anything that makes it better? Let's look at this Double Doodle vs. Labradoodle roundup and find out more.
Before you scroll down to a more in-depth comparison between these two dog breeds (Double Doodle vs. Labradoodle), you can check out these other guides created by our team at We Love Doodles: Australian Labradoodle vs. Labradoodle and Australian Labradoodle vs. Aussiedoodle.
Double Doodle
The Double Doodle is a hybrid designer dog, just like the Labradoodle. The biggest difference is that the Double Doodle comprises three different breeds of dogs. How does that work exactly? The Double Doodle is a Goldendoodle and a Labradoodle bred together.
That means they have Golden Retriever, Labrador, and Poodle combined. They are two parts Poodle, one part lab, and one part golden. In the mix, you get all of the positive attributes from all three of those breeds. The result is something beautiful, intelligent, and oh so fun.
You won't find a huge difference in size or appearance. Double Doodles might be slightly smaller than their parent counterparts. It just depends. These dogs are easygoing and intelligent. They have a lot to offer you. Let's take a look at the details.
Size, Color, and Coat
Doubles Doodles fall into the category of a medium to large breed. When fully grown, they will weigh between 40 and 70 pounds and likely grow to approximately 24 inches tall. Males are larger than females, which is pretty typical. You find that Double Doodles are sometimes slightly smaller than Goldendoodles or Labradoodles.
This comes from the Labradoodle being slightly smaller. The nice things are they tend to be healthy dogs, as long as the parents are healthy and they will live a nice, long life with you. The breed is fairly new. If you think that Labradoodles have only been around for about 30 years, it tells you this one has been around even less.
As far as colors go, Double Doodles can be any color. You can find solid colors like reds, creams, browns, blacks, and more. However, with the Double Doodle, you might also find coats that have interesting color combinations. They could be dual-colored or tri-colored and have quite a unique look.
On top of their unique colors, the coats are also unique. You blend Goldendoodles and Labradoodles, and the coat can be a mixture. You might find long, straight hair, long wavy hair, or curly hair. You could also have a mixture of hair textures. Regardless of your appearance, the coat is usually very pretty and lustrous.
Related: What is a Doodle Dog?
Temperaments
Goldendoodle and Labradoodle are easygoing dogs, and they share that with the Double Doodle. Double Doodles are loyal, slightly goofy, and very easygoing. As long as they can follow you, they will do just about anything and go on any adventure you request. The dogs are happy-go-lucky.
They make friends with everyone, but they also recognize threats. They get along with other animals and people of all ages. They play well and will be the most affectionate and lovable pets ever. They are incredibly smart, and you see that in their behavior. Double Doodles are friends with everyone. They are gentle and reliable pets and love being with their families.
Related: Friendliest Dog Breeds with Images.
Training & Exercise
Double Doodles do require some exercise. They need physical activity to wear out some energy. It is recommended that they get at least 60-90 minutes of physical stimulation every day. This means playing fetch, going on walks, and even playing outside with other pets. These dogs are intelligent, so they also need mental stimulation.
When they get bored, they are more likely to misbehave, usually just because they want to entertain themselves. However, you won't have issues if you switch up toys and keep them occupied. The Double Doodle trains well. They are smart, and you can see that reflected in their training. They do best with positive reinforcement and encouragement.
They want to please you, so they will work to make that happen even more if you're reacting positively and cheering them on. They don't do as well with discipline or anger. It scares them but makes them anxious because they want to please you. Instead of acting how you want, they might act out more because they are confused about the next right move to get back in your good graces.
Related: Best Dog Bells For Potty Training.
Life & Health
Double Doodles will live healthy and happy lives for the most part. They have an average lifespan of about 15 years, which is longer than Labradoodles. They rarely have any major health issues, but it is always a possibility. The most likely health issues you will run into are things like hip dysplasia, elbow dysplasia, and possible arthritis. The best way to be proactive is to ensure the parents were health tested and that the puppies were genetically tested.
This way, you can know if they will likely have these issues. Some Double Doodles also have cataracts, eye diseases, and heart ailments. Plan for routine grooming but be mindful not to over-bathe your Double Doodles. They need gentle shampoos; once every 4-6 weeks is sufficient for bathing. They must be brushed daily to keep their coats from getting matted and tangled up.
Labradoodles
The Labradoodle is a designer dog. It's also a hybrid but only from two breeds, unlike the Double Doodle's three breeds. These dogs are Poodles and Labrador retrievers bred together. They are beautiful dogs that have awesome personalities. They have quickly become among the most popular dogs worldwide and make great companions.
Labradoodles first appeared in the 1950s but didn't become popular until about 1989. Since then, they have taken off. They are loyal and lovable and certainly have that goofy disposition that labs are known for. Let's take a closer look at the breed overall.
Related: What is an English Labradoodle?
Size, Color, & Coat
Labradoodles are medium to large dogs. They are slightly smaller than Goldendoodles but can still be fairly large. Their size is consistent with the Double Doodle. Labradoodles tend to grow to only about 21-23 inches tall. They also will typically weigh anywhere from 40-65 pounds.
As with most breeds, males grow larger than females, but it won't be a huge differentiation. Females are towards the lower to middle end of these ranges, while males are towards the middle to higher ranges. Labradoodle coats tend to be single colors. They can be white, brown, red, black, yellow, or cream. However, they are not always just a single color.
It's quite possible to find some dual-colored coats too. It depends quite a bit on the parents. Regarding the texture of their coats, you can get quite the mixture, just like Double Doodles. Labradors have shorter hair that isn't thick. It can be slightly longer, but it's not fluffy. Poodles typically have very curly hair. The result is usually long waves or curls.
Related: What You Need to Know About Labradoodle Coat Changes.
Temperaments
Labradoodles are very smart and active dogs. They like to be with you but are generally always happy and playful. They are also very loyal. Once you bring them into your family, they become part of it and want to be close to the people they love. They have plenty of energy to go around and are always happy-go-lucky.
They have great temperaments and typically get along with other people and animals. They love everyone but can also sense a threat and will protect their people as needed. They socialize well, but it doesn't hurt to make sure you give them social time. Take them out to walk, take them to dog parks, and subject them to other pets in the home. It's great for their development, and will be the best of buds.
Related: Are Labradoodles Good with Kids?
Training & Exercise
Labradoodles need a good amount of exercise. They are bundles of energy, so they need an outlet for that energy to avoid getting into trouble. Give them plenty of time to play and be silly to get the energy out. They love to run and play, so if you have a yard or space they can run, that is ideal. Spend time playing with them and exercising them as well. This breed needs at least 60 minutes of physical activity daily, and more is even better.
They are smart, so they like to be challenged with activities. You could set up mazes or obstacle courses, and they will love it. As far as training, they are eager to please. They respond well to positive reinforcement, and that's the best way to train Labradoodles. They typically will train very quickly and will be your biggest fan if you treat them right.
Related: How to Potty Train a Labradoodle Puppy.
Life & Health
Labradoodles and Double Doodles have similar health factors. This breed is more susceptible to hip dysplasia and elbow dysplasia. That seems to be the most common health factor they must worry about. This can often be genetically passed through the line, so try to choose a breeder with health testing.
It won't always prevent it, but it makes you aware. The lifespan of the Labradoodle is about 12-15 years, which is a pretty good life for dogs. This breed could also be prone to ear infections and epilepsy, so you will want to keep a close eye on their health to be proactive and prepared in case of problems.
Labradoodles can also sometimes have skin sensitivity, so be sure not to bathe them too much. They have tons of hair, so you must brush them almost daily. This will help reduce tangles and mattes in their coats.
Conclusion For "Double Doodle vs. Labradoodle"
Double Doodles and Labradoodles have a lot of great similarities. The Double Doodle is just an extension of the Labradoodle since it is part Labradoodle. Both breeds are loving and loyal and also very smart.
Both breeds are energetic and playful, with just a touch of goofiness. The biggest difference you will find between these two breeds is their names. They are also incredibly similar, and you might not even be able to tell the difference.
If you find this dog breed comparison guide, "Double Doodle vs. Labradoodle," helpful, you can check out these other comparisons from our team at We Love Doodles:
The Double Doodle and Labradoodle aren't the only Poodle mixes. You can learn more about these other Poodle mixes by watching "18 Poodle Mix Breeds That Will Melt Your Heart" down below: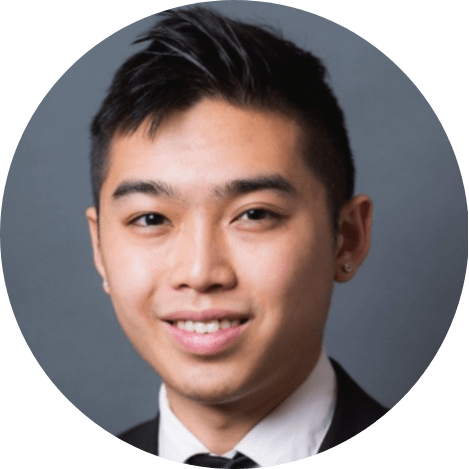 Andy is a full-time animal rescuer and owner of a toy doodle. When he's not saving dogs, Andy is one of our core writers and editors. He has been writing about dogs for over a decade. Andy joined our team because he believes that words are powerful tools that can change a dog's life for the better.
Why Trust We Love Doodles?
At We Love Doodles, we're a team of writers, veterinarians, and puppy trainers that love dogs. Our team of qualified experts researches and provides reliable information on a wide range of dog topics. Our reviews are based on customer feedback, hands-on testing, and in-depth analysis. We are fully transparent and honest to our community of dog owners and future owners.