Dogs love to eat just about anything they can get their paws on. It's not uncommon to find your dog going through your pantry in search of some savory snacks, like Fritos. But can dogs eat Fritos?
Fritos are a dangerous food for dogs, mainly because of their high sodium content. The high cholesterol and fats in these corn chips don't help their case either. Therefore, it's best to keep your dog away from these snacks and offer some dog-safe alternatives.
Keep reading below as we describe some of the health risks associated with Fritos.
Before you read this guide, "Can Dogs Eat Fritos," check out: Can Dogs Eat Hot Chips? (2023) and Can Dogs Eat Goldfish Crackers? (2023).
About Fritos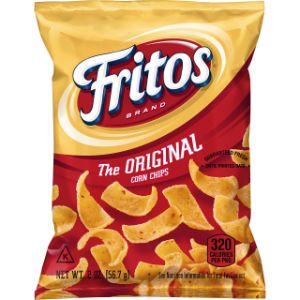 Fritos are a type of junk food that is formed into small, paper-thin, and crisp pieces using cornmeal as the primary ingredient. They are most frequently eaten by people in the form of a snack, an appetizer, or along with various sauces and dips.
Can Dogs Eat Fritos?
In terms of the components that go into their creation, these corn chips frequently include salt, oil, and different flavors that are harmful to dogs. For instance, excessive consumption of salt by dogs can be hazardous to their health and lead to symptoms such as dehydration, vomiting, diarrhea, and even death in the most severe cases.
These corn chips aren't just bad for humans; they can give our dogs stomach aches and even pancreatitis from the oils and seasonings used in their manufacture.
We should give serious thought to the safety of feeding our pets human food. The potential hazards of corn chips make it crucial to determine if they are safe for dogs to eat. When it comes to providing for the nutritional needs of our dogs, we should always err on the side of caution.
Do some research and talk to a pet nutritionist or veterinarian before giving your dog any human food. This will help ensure that your dog stays healthy and can help guarantee that your four-legged companion continues to enjoy good health and happy life.
Why Can't Dogs Eat Fritos
Even though Fritos look like a fine treat for your dog, they actually have many ingredients that make them less than ideal.
Sodium
Your dog's health may suffer from the high sodium content of Fritos. Your dog will be able to handle some sodium in his diet, but excessive amounts can raise blood pressure and raise heart disease risks.
According to the National Academy of Sciences and the National Research Council of the United States Board on Agriculture and Natural Resources, a 33-pound dog shouldn't consume more than 100 milligrams of salt per day.
However, a single ounce of Fritos might contain as much as 170 milligrams of salt. Therefore, major health concerns, including sodium poisoning, are likely to arise if your dog consumes a whole bag of Fritos.
Calories
Your dog may also gain weight if you feed him Fritos. The USDA estimates that a single ounce of Fritos has roughly 10 calories. On the other hand, most dogs require somewhere between 25 and 30 calories per pound in order to stay at a healthy weight.
So if your dog is not very active, feeding him a large quantity of Frito chips will still leave him with a significant calorie surplus.
Fats
Dogs can safely consume corn in moderation, but the oils used to fry the chips can have dangerous fats and calorie counts. Some of the lipids may be particularly high in saturated and trans fats, which have been linked to an elevated risk of cardiovascular disease in dogs.
The Harvard Health Publication warns that trans fats are detrimental to your dog's health because they raise LDL cholesterol while lowering HDL levels and may also induce inflammation.
Possible Health Risks of Fritos
The following are some possible health risks of Fritos when consumed by dogs.
Cardiac Issues
You know that high levels of cholesterol are dangerous for people. The same is true for your canine companions. Fritos undergo a lengthy deep-frying process, during which they absorb a great deal of oil. Even after frying, the chips retain their crispiness thanks to an additional coating of oily substances.
These corn chips consist of a lot of cholesterol, which can accumulate in your dog's body and eventually prevent blood from reaching its heart.
Obesity
The high-calorie content of most processed foods could quickly add extra pounds to your dog. Keep in mind that many breeds are predisposed to obesity and that feeding them a bag of Fritos can quickly lead to a dangerously high-calorie intake.
Allergic Reactions
Fritos seasonings like onion and garlic powder might trigger allergic reactions in some dogs. You can never know if your dog has an allergy to something until you feed it something like Fritos.
Therefore, giving dogs food that has been demonstrated to be safe and nutritious is the best idea.
Digestive Problems
Dogs' stomachs are more sensitive than people's, and some of the substances in Fritos can be harmful to their health.
The oils and fats used to make Fritos can also be hard for dogs to digest, leading to tummy troubles including vomiting and diarrhea. It is our duty as pet guardians to give careful consideration to the diets we provide for our animal companions.
Sodium Poisoning
High quantities of salt and other toxic ingredients in chips can be dangerous for pets. Dehydration and excessive thirst are serious health risks for any dog, but especially for senior dogs and smaller breeds.
An excess of salt in a dog's diet can also cause problems with the animal's central nervous system and muscle control. Every living creature relies on cells to function, and the cytoplasm is the fluid in the center of every cell where the majority of cellular processes take place. Osmosis is the process through which molecules enter and exit the cytoplasm.
The cytoplasmic movement of salt is important for a wide variety of cellular processes. However, when a dog consumes excessive amounts of sodium, which is the primary offender in this scenario, the extra salt makes its way into the cells and begins to destroy their functionality.
The cytoplasm responds to a surge in sodium by forcing the excess salt out of the cell in liquid form, along with some other helpful chemicals; this causes the cell to shrink and lose some of its vitality.
Sodium toxicity in dogs can cause incontinence, kidney damage, inappropriate fluid accumulation, and even death.
Most cases of salt poisoning in dogs are treatable by giving them large quantities of freshwater to drink, which dilutes the salt and flushes it out of the system via urination. You should give your dog plenty of water after it has eaten a salty snack like Fritos.
Seizures
The enlargement of the brain causes seizures. When a dog takes too much salt, it causes irritation to its throat, which causes it to become dehydrated and causes its brain to swell. Excessive water consumption and absorption in the brain due to dehydration cause brain swelling.
Choking and Obstruction
The possibility of choking or gastrointestinal obstruction is another vital factor to think about. Chips have a crunch and often shatter into sharp little bits. These pieces can cause choking or, if consumed, block your dog's esophagus, stomach, or intestines.
This may lead to irritation or pain, or possibly necessitate medical attention. This is a terrifying scenario that we should avoid at all costs.
Healthier Alternatives to Fritos
The American Heart Association recommends swapping out fried corn chips for low-fat potato chips, ideally unsalted varieties. Low-fat potato chips are a great choice if you want to treat Fido to a bag of chips.
But where can one find potato chips that are low in fat? Try your hand at baking. Baking them at home allows you to control the amount of salt and fat used. By the end of the process, you'll have a nutritious treat for your dog.
Dogs can benefit from eating corn, potato, or tortilla chips because they are rich in protein, fiber, vitamins, and minerals if they are devoid of salt and fat.
Popcorn without butter or salt is another tasty option. Popcorn, especially plain air-popped popcorn, is a great source of carbohydrates and fiber for your dog.
Dog biscuits are available with a variety of health benefits, such as easing joint discomfort, promoting healthy skin and coat, reducing plaque and tartar buildup on teeth, and more.
Can Dogs Eat Fritos Chili Cheese Chips?
If Fritos in their original form are terrible for dogs, you can bet that flavors like Honey BBQ and Chili Cheese will be even worse. The high quantities of salt in these derivative flavors are the first thing that stands out.
One serving of Flavor Twists has 200 milligrams of sodium, while one serving of Chili Cheese Fritos has 270 milligrams of salt. These Fritos variations can pose a greater risk of salt intoxication because they contain significantly more sodium than regular corn chips.
Frequently Asked Questions
Can dogs eat corn tortilla chips?
It's okay if your dog eats a few tortilla chips, but anything more than that is a risk due to the salt.
What kind of chips can dogs eat?
Chips with less salt are better for dogs, but even then, fats and oils are not healthy for them.
Can dogs have bread?
Plain bread can be okay for dogs in moderation, but some dogs will suffer from allergies.
Conclusion

for "Can Dogs Eat Fritos"
It is important to remember that a healthy dog diet consists of both conventional dog food and customized treats. The market is stocked with dog-friendly goodies that are developed to fulfill your canine's nutritional requirements, making them an ideal choice for movie night snacking.
The well-being and joy of your dog should be your primary priority, so let's make sure they don't get those tasty chips.
If you find this guide, "Can Dogs Eat Fritos," helpful, check out:
Learn more by watching "Veterinary Nutritionist Explains Raw Dog Food Diet and Much More" down below:
Garrett loves animals and is a huge advocate for all Doodle dog breeds. He owns his own Goldendoodle named Kona. In addition, he volunteers at the Humane Society of Silicon Valley, where he fosters dogs and helps animals. Garrett enjoys writing about Doodles and believes that dogs can teach humans more about how to live than humans can teach a dog.
Why Trust We Love Doodles?
At We Love Doodles, we're a team of writers, veterinarians, and puppy trainers that love dogs. Our team of qualified experts researches and provides reliable information on a wide range of dog topics. Our reviews are based on customer feedback, hands-on testing, and in-depth analysis. We are fully transparent and honest to our community of dog owners and future owners.