Dogs have been around for a long time, which is why they're considered man's best friend. Today, there are a variety of breeds that start with every letter of the alphabet. Still, you may be wondering what dog breeds start with the unique letter P.
Dog breeds that start with the letter P include Pappilon, Parson Russell Terrier, Pekingese, Pembroke Welsh Corgi, Perro de Presa Canario, Petit Basset Griffon Vendéen, Peruvian Inca Orchid, Plott, Pharaoh Hound, and many more.
Keep reading for more in-depth coverage of these breeds.
Before you read this list of dog breeds that start with the letter P, check out: 9 Scrunchy-Faced Dog Breeds! (2023) and Dog Breeds That Attach to One Person (2023).
Dog Breeds That Start With P
Below is a list of dog breeds that start with the letter P.
Papillon
The Continental Toy Spaniel is another name for the Papillon, which comes from the French word for butterfly. The dog starts to develop butterfly ears when the hair grows over its head.
Their eyes are perfectly spherical and, from a distance, appear to be black. The small muzzle and round head make for an adorable combination.
The Papillon has a single, relatively lengthy coat. Yet, Papillon's coat is quite effective in retaining body heat. This dog requires regular grooming to maintain a healthy coat. The Papillon is a free-spirited dog who prefers to do things on his terms. They can reach 11 inches and weigh 10 pounds.
Parson Russell Terrier
The Parson Russell Terrier is a breed known for its enduring character. In honor of the Reverend John "Jack" Russell, this breed is sometimes known as the Jack Russell Terrier.
Refusing to follow their terms may lead to a rift in your relationship. If you can convince them to do something, they will do their best to help you. Although devoted, the behavior of a Parson Russell Terrier depends on the dog's current state of mind.
The dog has almond-shaped eyes that seem to take in their entire surroundings. When they stare at you, they have an inquisitive expression. The ears on the sides of a Parson Russell Terrier's head look like buttons. The adult Parson Russell Terrier can reach 14 inches and 17 pounds.
Pekingese
The Pekingese comes from China, and its sense of pride is unparalleled. The luxurious hair that covers this breed's body gives it an air of sophisticated nobility.
The only parts of the body without long hair are the black nose and the dark brown, spherical eyes. The long coat conceals everything else. Grooming is essential for their appearance.
The Pekingese is easily annoyed and requires careful handling. This is a breed of dog that values personal space and will respect your need for it, too. They have a maximum height of nine inches and a weight of 14 pounds.
Pembroke Welsh Corgi
The Pembroke Welsh Corgi is a breed of miniature dog that belongs to the herding family. They are small dogs, reaching a maximum height of 12 inches. They have a relatively large trunk for their size. When compared to other breeds, the Corgi stands out for its distinct appearance.
It may be difficult to find them if they are wandering through long grass, but you can take comfort in the fact that they will not travel far from home. Their heads resemble those of foxes, and their ears, though not large, are set on the sides of their heads.
This dog has its roots in Great Britain and is a fan favorite of Queen Elizabeth II. This breed is also known as the PWC and the Pem. While it's a small dog, the Pembroke Welsh Corgi can weigh up to 30 pounds.
Perro de Presa Canario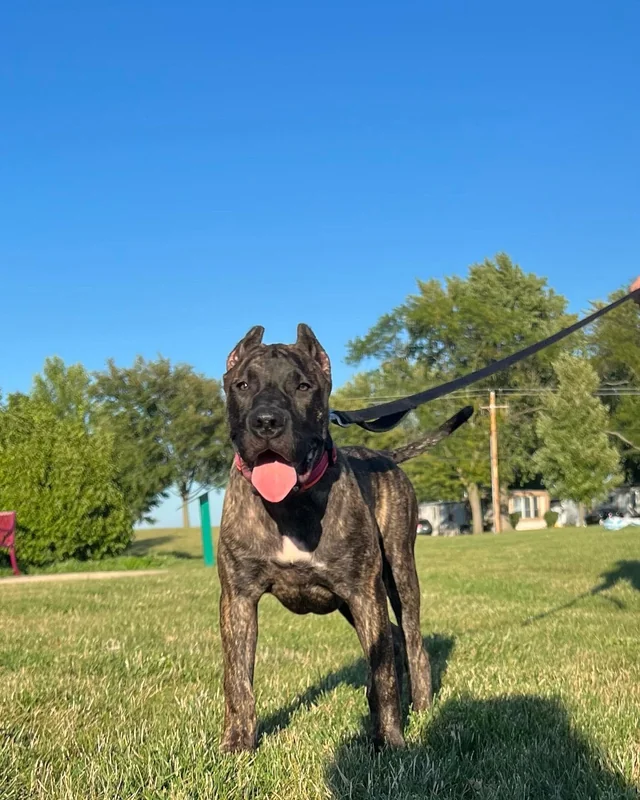 The Perro de Presa Canario may be the perfect dog for you if you're looking for a peaceful and self-assured companion. The Perro de Presa Canario is a huge dog with an attractive profile. This dog first gained notoriety for its deep, booming bark. This species is intelligent and independent.
You can count on this breed to bark at and scare away unwanted visitors. They are, however, a breed that is quick to become friends with those their owners accept as friends. The average adult Perro de Presa Canario weighs around 110 pounds and measures between 24 and 26 inches.
Peruvian Inca Orchid
There are typically three standard sizes available for the Peruvian Inca Orchid. The sizes range from small to medium-sized to large. The coat is mainly hairless and comes in a variety of colors. The Peruvian Inca Orchid should be groomed often to ensure it stays calm, clean, and content.
These dogs have strong bodies, are quick on their feet, and have sharp minds. When enjoying fun and playing games outside, its intelligence plays a big role in the tricks that it plays on its owners.
The large Peruvian Inca Orchid may grow to a height of 26 inches and a weight of 55 pounds. Even the smallest type can weigh up to 18 pounds and stand up to 16 inches tall.
Petit Basset Griffon Vendéen
The Petit Basset Griffon Vendéen is a French breed belonging to the hound family. Due to their distinctive coat, Petit Basset Griffon Vendéens are easy to recognize. The dog's entire body is covered in a coarse coat that serves as insulation. They are short dogs with strong legs.
These dogs are notoriously difficult to housebreak and train because of their headstrong nature. They tend to think for themselves and make up their minds quickly.
You cannot force a Petit Basset Griffon Vendéen to do something. But if this dog is content, they reward their owners with extreme levels of devotion. They are social creatures that thrive in groups. The average height for a Petit Basset Griffon Vendéen is 15 inches.
Pharaoh Hound
The Pharaoh Hound is a rare and beautiful breed. Their physique tends to be extremely muscular and flexible for hunting. They have deep historical ties with the Egyptians due to their shared origins in Egypt.
This dog is prone to catching colds because of where it comes from, so keep that in mind. In the winter, they shouldn't be allowed outside unless they have a jacket.
The alertness of this dog is reflected in its ears. When perked up, these ears can pick up sounds that you might otherwise miss. The Pharaoh Hound has a powerful bark that can frighten away any predator. This breed is also highly trainable because of its intelligence.
Pharaoh Hounds have a height of 25 inches and can weigh up to 55 pounds.
Plott Hound
The Plott Hound is happiest when it is in the company of its owner or other canine friends. You might have just found the ideal breed in these placid and obedient dogs. This breed doesn't waste any chances it gets to eat. Like other dogs, the Plott Hound thrives on regular playtime.
You must schedule daily time for outside play with them. The maximum size for the Plott Hound is 75 pounds, and its maximum height is 27 inches.
Pointer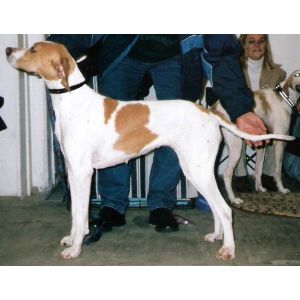 The Pointer is ideally suited for speedy activities. This breed of dog is intelligent, attentive, and ready to take on any challenge. While the Pointer may have originated in Germany, it is now more commonly associated with the United States. Their physique is suited for quick, agile movement.
Their short, lustrous coat is greasy to the touch. They have rod-shaped tails that hang off their bodies. The dog can reach a height of 25 inches. The maximum weight for a Pointer is 60 pounds.
Pointers make wonderful pets for families, but they do require regular exercise. Open pastures with plenty of room to roam are ideal for them.
Polish Lowland Sheepdog
The Polish Lowland Sheepdog is a multi-talented herding dog with Polish roots that has gained worldwide recognition. Sometimes people will refer to this dog as a PON. The acronym was derived from their full name, "Polski Owczarek Nizinny."
This double-coated breed is bold and has an untidy appearance. The rough outer coat is to blame for their shagginess. The dog enjoys physical activity and is rather energetic. One interesting fact about these dogs is that they have a voracious appetite.
They have thick, luxurious coats. The color of the coat will most frequently be brown, black, white, or gray. The average Polish Lowland Sheepdog weighs around 50 pounds and is up to 20 inches tall.
Pomeranian
The Pomeranian is one of the tiniest Spitz breeds. This dog is around 12 inches tall and weighs seven pounds. They may be short, but they pack a powerful punch. This dog's IQ is far above average. This shows that a dog's brain size need not be proportional to its physical dimensions.
This kind of dog tends to be quite protective of its human family. He is a pro when it comes to mingling with other species, including cats and humans. Because of its compact size, the Pomeranian dog is an ideal pet for people who frequently travel.
The dog's lively nature allows it to maintain its activity level even when left alone. The Pomeranian is not the kind of dog to hold its tongue. When frustrated, Pomeranians may bark incessantly and loudly.
Poodle
The Poodle goes by many names, including Pudelhund and Caniche. They're a dog breed with German ancestry. The torso, tail, and head of this breed are heavily adorned with fur.
The breed has been recognized as one of the most intelligent dog breeds. As a result, training sessions with this dog will go quickly. Teaching your Poodle to listen and obey your directions from an early age produces the best results. He won't be able to pick up these commands when he's older.
The Poodle's coat requires frequent grooming to keep it looking good and smelling fresh. The Poodle was first developed to be a water dog. As a result, they are naturally gifted swimmers. The Poodle could potentially weigh up to 70 pounds and stand at a height of 22 inches when fully grown.
Porcelaine
The Porcelaine dog originates in France. The animal's porcelain-like white skin inspired the name. This high-spirited, mischievous dog is surprisingly simple to train. They become bored easily and need constant stimulation.
The Porcelaine dog is also good with kids and forms strong bonds with his or her human family. This breed is popular in part because it does not bark unless necessary.
The Porcelaine needs regular grooming. Nail clipping, teeth brushing, and regular baths maintain the health and beauty of this dog. The maximum weight for a Porcelaine dog is 62 pounds, and its maximum height is 23 inches.
Portuguese Podengo
The Portuguese Podengo is a hound dog whose roots trace back to Portugal. There are three distinct sizes within this breed: Pequeno, Médio, and Grande.
The coat of the Portuguese Podengo might be one of two styles. The two types are a silky short coat and a coarse long coat. The long-haired Portuguese Podengo is the result of decades of selective breeding. The Podengo's protective nature means it makes a respectable guard dog.
The Portuguese Podengo is not only an intelligent and versatile dog, but it is also quite athletic. Even if you put up a fence around your yard, they will easily breach it. They have a strong build, and their heads are formed like wedges.
Their perked-up ears allow them to pick up sounds from far away, and they are always on the lookout. This dog has a maximum height of 12 inches and weighs 13 pounds.
Portuguese Pointer
The Portuguese Pointer is a fantastic hunting and sporting dog. The name "Perdigueiro Português" refers to the same lovable breed of dog. Their signature calm and kind expressions are a warm welcome to all they meet. When running, they rely on the long, thin tail for balance.
Despite lacking an undercoat, the Portuguese Pointer's short coat takes on subtle shades of red and yellow. This dog's natural curiosity compels them to seek out novel experiences. The short coat should make grooming a breeze.
Examine the teeth, fingernails, and ears every time you groom. The average Portuguese Pointer weighs 40 pounds, whereas the maximum weight is 60 pounds.
Portuguese Sheepdog
The Portuguese Sheepdog is a herding dog of average size. Because of its similarity to monkeys, this breed is often called a "monkey dog."
The coat of this dog can be any of several different colors, including yellowish-red, chestnut, gray, fawn, wolf-like, and blackish. The coat of a Portuguese Sheepdog is notable for its long hair. This gives them a shaggy appearance while keeping them soft to the touch.
When on duty, this dog is a master over even the most stubborn animals, and it keeps predators away from the herd. The Portuguese Sheepdog is a reliable guard dog and a versatile companion.
You are sure to find a loving housemate among these dogs. The Portuguese Sheepdog can weigh up to 60 pounds and reach a height of up to 22 inches.
Portuguese Water Dog
The Portuguese Water Dog is a fascinating working dog with a long and interesting history. In the past, fishermen relied on this dog. This dog was utilized for a variety of tasks, including drawing nets, retrieving lost nets, and even carrying equipment.
The dog's webbed feet are a result of its close affinity with water and contribute to its exceptional swimming abilities.
It can have a black, white, brown, or black-and-white coat. The Portuguese water dog has an advantage over other breeds in that it does not shed and is hypoallergenic. The average height of a Portuguese water dog is 22 inches, and its maximum weight is 50 pounds.
Pudelpointer
A Pudelpointer is a reliable gun dog that has stood the test of time. These dogs have been put through a battery of endurance tests and have aced each one.
The Pudelpointer can reach speeds of up to 30 miles per hour, making it an excellent chaser. A healthy and content Pudelpointer needs plenty of exercise. Activities like swimming and hiking are great options.
Domesticated Pudelpointers usually exhibit good manners and devotion. They have a thick undercoat to complement their dense, rough outer coat. Grooming your Pudelpointer regularly is essential for optimal performance. Pudelpointers can be up to 26 inches tall and weigh 70 pounds.
Pug
The Pug is unique among dog breeds in that its face and body are naturally wrinkled. Their fur is quite short and soft. As such, the Pug needs grooming regularly.
Infections can spread more quickly on wrinkles, so it's important to check up on them frequently. Without adequate hygiene, this dog's wrinkles could harbor potentially lethal bacteria.
The standard rule is that a clean Pug is a healthy Pug. The breed is wonderful, especially for households with young children. The Pug is docile and anxious to please its owner.
The maximum weight for a Pug is 18 pounds, and its maximum height is 13 inches.
Puli
The Hungarian Puli is a common name for this breed, which originated in that country. This breed of dog belongs to the herding family.
While black is the most common color for this coat, it has been known to come in white, cream, and even gray. The Puli is the only dog with true dreadlocks. The distinctive coat grows like a rope.
The Puli is an energetic, highly agile dog. When it comes to physical activity, the breed excels. The Puli has a maximum height of 17 inches and a maximum weight of 35 pounds.
Pumi
The Pumi is a great option if you're looking for a dog with a curly coat. They're stylishly shaggy in their skin. The Pumi is a little dog that exudes an air of unruffled calm. They are also known by other names, including the Hungarian Pumi and the Herding Terrier.
This breed has become a symbol of bravery and quickness. The dog's attractiveness stems in large part from its dark, medium-sized eyes. Pumis are considered loyal to their own families and close acquaintances. They have been known to reach 19 inches and weigh 29 pounds.
Pyrenean Mastiff
The Spanish dog, the Pyrenean Mastiff, is a brave, intelligent pet who adores time spent in nature. They can protect the people, animals, and children under their care.
This dog, on the other hand, is well-known for being docile, peaceful, and quiet. The Pyrenean Mastiff's coat is quite stunning. Maintaining the double coat will involve more than just an occasional bath.
The Pyrenean Mastiff is a working dog and, as such, needs regular exercise. The Pyrenean Mastiff's mood plummets when it is bored. The best way to ensure this dog's contentment is to take it for walks and generally have it move about the house.
A full-grown Pyrenean Mastiff can weigh up to 240 pounds and stand up to 31 inches tall.
Pyrenean Shepherd
Last on our list of dog breeds that start with P, the Pyrenean Shepherd is a medium-sized herding dog whose ancestry can be traced back to the border regions of France and Spain in the Pyrenees Mountains. They're called "Pastor de Los Pirineos" in Spanish and "Berger des Pyrénées" in French.
You can choose between a smooth-faced or rough-faced version of this dog. The rough-faced variety is easily distinguished from the smooth-faced one because of the larger hairs surrounding its muzzle.
This dog requires extensive exercise due to its boundless enthusiasm. Getting them outside, where they can use up all that boundless energy, is the best option.
The maximum height for a Pyrenean Shepherd is 21 inches, and its weight can reach 30 pounds.
Frequently Asked Questions
What terrier dog starts with P?
One example of a terrier starting with P is the Patterdale Terrier.
What farm dog starts with P?
In France, there is a livestock guardian and farm dog named Patou. You might also know this breed as the Pyrenean Mountain Dog.
What kind of dog has big ears and starts with P?
The Papillon has iconic fluffed-up ears.
Conclusion for "Dog Breeds That Start With P"
So, there you go. In this article, we compiled a list of dog breeds that start with the letter P.
This list is quite diverse, with each dog having its own characteristics. It can be helpful to know about all the breeds that are available before you begin searching for your next dog.
For more guides similar to this list of dog breeds that start with the letter P, check out:
Learn more by watching "18 Cutest Crossbreed Dogs You'll Fall In Love With" down below:
Garrett loves animals and is a huge advocate for all Doodle dog breeds. He owns his own Goldendoodle named Kona. In addition, he volunteers at the Humane Society of Silicon Valley, where he fosters dogs and helps animals. Garrett enjoys writing about Doodles and believes that dogs can teach humans more about how to live than humans can teach a dog.
Why Trust We Love Doodles?
At We Love Doodles, we're a team of writers, veterinarians, and puppy trainers that love dogs. Our team of qualified experts researches and provides reliable information on a wide range of dog topics. Our reviews are based on customer feedback, hands-on testing, and in-depth analysis. We are fully transparent and honest to our community of dog owners and future owners.