There has been an increase in the number of dog breeds in response to the huge demand for different types of dogs. As such, it's important to keep yourself up-to-date to find out which one suits you best. What are some dog breeds that start with N?
Dog breeds that start with the letter N include the Neapolitan Mastiff, Newfoundland, Newfypoo, Norfolk Terrier, Norrbottenspets, Northern Inuit Dog, Norwegian Buhund, New Guinea Singing Dog, Nova Scotia Duck Tolling Retriever, and more.
Keep reading below to find out more about these dog breeds and others that start with N.
Before you read this list of dog breeds that start with the letter N, check out: 5 Best Medium Non-Shedding Dog Breeds! (2023) and 11 Healthiest Dog Breeds That Don't Shed! (2023).
Dog Breeds That Start With N
In this section, we've compiled a list of dog breeds that start with the letter N.
Neapolitan Mastiff
This massive breed has been around since the early Roman era, when they served as guard dogs, catch dogs, combat dogs, and even gladiators for the legions and commoners alike.
The Neapolitan Mastiffs were popular all over the Italian peninsula. They were almost certainly bred and refined to give off a menacing appearance meant to deter potential enemies.
In the late 1940s, Piero Scanziani first set the standard for this massive breed, which helped propel it into the international limelight.
The large and versatile Neapolitan Mastiff has been present in a wide range of historical eras. While the saggy, wrinkled puppy may look slow and ungainly, in reality, it is rather bold and speedy. They adore cuddling up on people's laps, but they have trouble accepting that they're no longer as tiny as they were when they were pups.
Newfoundland
Originally from the Canadian province that shares its name, the Newfoundland (or Newfie for short) is a highly skilled working guard dog. Its webbed feet and thick hair make it a perfect rescue dog, and early settlers in Newfoundland bred it specifically for this purpose.
The Great Pyrenees, Portuguese Water Dog, Leonberger, and St. Bernard are only a few of the imported breeds that may have been used in the breeding process.
Two distinct breeds emerged from these efforts: the Labrador Retriever, descended from the Lesser St. John's Dog, and the Newfoundland, descended from the Greater St. John's Dog.
By the 17th century, Newfoundland was already known for most of its physical and personality traits, including its broad head, huge snout, hefty frame, drooping ears, and skin surrounding its face.
Newfypoo
A Newfoundland and a Standard Poodle are the two breeds that were used in the breeding of the designer dog known as the Newfypoo. It has a height and weight range of 20 to 28 inches and 150 pounds, respectively.
This breed didn't appear until the early 2000s, and it presumably originated in the United States. The International Designer Canine Association did not begin recording the development of this breed until 2009.
They enjoy their profession and would appreciate a swim after watching over your family and property. It's hard to find a kinder, more loving large animal than this one.
The Newfypoo is not just an intelligent and capable guard dog, but also a large, affectionate animal. They're people-oriented and want to make a good impression. Experts in dog breeding and rescue organizations typically approve of this dog for the majority of households.
Norfolk Terrier
The history of these dogs began in England in the 1880s. Frank Jones, a dog owner from Britain, raised these terriers specifically to chase rodents and canines away from their burrows.
The dog's tenacity and bravery made this an easy (and rather straightforward) job. Sometimes these terriers would compete in athletic events where the winner would be determined by how quickly he or she could exterminate an entire rat colony from a burrow.
The Norfolk Terrier is a devoted and loving pet with boundless enthusiasm for life. The terrier breed is known for its independent spirit and relentless determination. These dogs are devoted to their human families and are always up for an active game of fetch or walking.
A Norfolk Terrier may be content to lounge on the couch next to its owner, but it won't remain put for long. As a member of the terrier breed, this dog can't wait to start its next digging project. This dog has boundless amounts of energy and thrives on playtime.
Norrbottenspets
The Norrbottenspets is also known in English under the name Norrbotten Spitz or Nordic Spitz. These beautiful canines got their name from the Swedish province of Norrbotten, which was where they first appeared. The more general name, Nordic Spitz, reflects the fact that they are also indigenous to the Lappland region of Finland.
They have compelling personalities and physical appearances. They're distinguished by short, thick locks and large, pointed ears. The spots of color on their normally white coats might be red or yellow.
Northern Inuit Dog
The appearance of wolves in Northern Inuit dogs was achieved by breeding domesticated dogs with wolf-like characteristics, such as the Siberian Husky, the German Shepherd, and the Alaskan Malamute. Despite their wolf-like appearance, Northern Inuit dogs have good characteristics that are usually linked with domesticated dogs.
A loving home could benefit from having an Inuit Dog. They have a strong sense of duty and are always cheerful. This breed requires an experienced owner due to the difficulty first-time owners may have in training them.
Norwegian Buhund
The word "buhund" is derived from two separate Norwegian words, which are combined to form the name. The word "bu" usually indicates a small house or hut where a shepherd lives and works, whereas the word "hund" means dog.
Originally from Norway's shores, the Norwegian Buhund is a versatile herding and farming dog that has historical ties to the Vikings. It has an elongated muzzle, a coiled tail, straight ears, and a square frame.
Fur is often black or wheaten with a black mask on the face or white markings across the remainder of the body, and the dog has a heavy double coat consisting of a dense outer coat and soft, wooly underneath.
The head and the front of the legs have the least amount of fur in comparison to the rest of the body, particularly on the neck, chest, and thighs.
This particular kind of northern cold-weather working breed with thick fur is known as a Spitz, which comes from an old German word that means "pointed." Both the Icelandic Sheepdog and the Jamthund can trace their ancestry back to the Norse.
There is genetic evidence that the dog has been around since at least 900 AD. The earliest known Buhund was discovered in a Viking burial dating to that era. It wasn't until the early 1600s, nevertheless, that this breed began to be recognized as something distinct from other Norwegian herding dogs.
Norwegian Elkhound
The Norwegian Elkhound is an ancient dog breed, potentially dating back hundreds of years or more. The Vikings relied on them as both hunting companions and watchdogs. Despite the name, this breed is a Spitz, not a hound.
When translated literally, "elg" denotes moose, and "hund" denotes "dog" in Norwegian. Although they were useful for elk hunting, moose hunting was much more popular. They have a sense of smell that allows them to locate prey from nearly a mile away.
These canine companions are quick on their feet, perceptive, and eager to explore the world with their families. They're great at guard duty and a lot of fun to have in the house. Additionally, as members of the Hound family, they were popular Viking hunting partners.
These canines are always up for a new experience. They are loyal to their masters but fiercely autonomous. The dogs have a longer life expectancy and are great for family outings. There are no hybrid versions of this breed, however, you can choose from a variety of different colors, including black or silver.
Norwegian Lundehund
While hunting, the Norwegian Lundehund can easily maneuver through tight spaces thanks to its elastic body and neck. Its shoulder joints are so fluid that it may spread its forelegs wide when climbing a rocky slope. Additionally, this breed can seal off its ear canals, protecting them from dust and moisture. It can move its ears.
This breed may be one of the most peculiar in the world, even though it is extremely rare and poorly known — it can be found at the end of the AKC's popularity ranking.
Unfortunately, multiple viral pandemics in the middle of the twentieth century nearly wiped out this dog. Breeders took great efforts to save this breed from an estimated population of only six dogs, but it is still extremely rare in Europe and the United States.
Norwich Terrier
Small in size yet big in character, the Norwich Terrier is an adorable companion. They are bright, active, and can be defiant at times. In the late 19th century, this breed was developed in the countryside of East Anglia, England.
Bred specifically to eradicate mice from a dwelling or outbuilding, these dogs have an insatiable appetite for their prey. Fox hunting groups require this breed of terrier to be more social than the typical terrier.
They share the Terrier family tree with the Norfolk Terrier and are therefore very similar to it. These feisty little dogs are devoted to their human families. If you have kids, a well-socialized Norwich Terrier is a great companion.
Nova Scotia Duck Tolling Retriever
The Toller, or Nova Scotia Duck Tolling Retriever, was developed specifically to retrieve ducks and geese. The breed got its name from the tolling characteristic it displays when hunting.
The hunter hides out in a blind as his dog runs and plays by the water's side during the tolling. When the geese and ducks come closer to investigate, the hunter summons the dog back and fires. The dog then goes and gets the ducks.
Because of this unique trait, the Toller stands apart from other retrievers that just bring back the game for the hunter. The Toller is a decoy that attracts real waterfowl. The Toller's actions are reminiscent of those of foxes, which also hunt in teams near the water's edge.
New Guinea Singing Dog
Most people will never bring a New Guinea Singing Dog into their homes as a pet due to its strong relationship with wild dogs. That said, it's possible to socialize it to the point where it's friendly toward humans and even develops attachments to its owners.
The New Guinea Singing Dog, also known as Hallstrom's Dog, gets its name from the unique and beautiful sound of its howl, which rises quickly in pitch and reaches extremely high decibel levels at the conclusion. NGSDs are the epitome of vivacity and alertness.
They use all of their senses, including taste, to continually investigate their surroundings. Because of the amazing adaptability of their bodies, they can squeeze through spaces barely larger than their heads. When they smell food, their powerful hunting instincts may override any instructions they've received.
Frequently Asked Questions
What is another name for the Neapolitan Mastiff?
Neapolitan Mastiffs are also known as Mastino, Mastino Napoletano, or Neo for short.
Are Newfoundlands indoor or outdoor dogs?
Like most other dog breeds that can do well outdoors, Newfoundlands are still the safest, healthiest, and happiest while living indoors.
How much does a Nova Scotia Duck Tolling Retriever cost?
Purebred Nova Scotia Duck Tolling Retriever puppies can cost around $2,500, with prices varying depending on the individual breeder, pedigree, coat, gender, location and other factors.
Conclusion for "Dog Breeds That Start With N"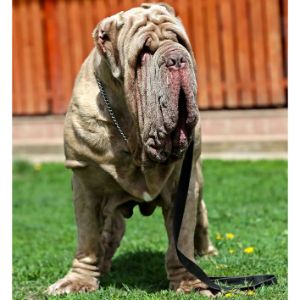 Dogs have been the most popular pets all around the world. As such, many different types of dog breeds exist today. If you'd like to research breeds, it might be helpful to divide them by letter. We hope you'll find our list of dog breeds that start with the letter N useful.
For guides similar to this list of dog breeds that start with the letter N, check out:
Learn more by watching "THE Most DANGEROUS DOGS In The World" down below:
Garrett loves animals and is a huge advocate for all Doodle dog breeds. He owns his own Goldendoodle named Kona. In addition, he volunteers at the Humane Society of Silicon Valley, where he fosters dogs and helps animals. Garrett enjoys writing about Doodles and believes that dogs can teach humans more about how to live than humans can teach a dog.
Why Trust We Love Doodles?
At We Love Doodles, we're a team of writers, veterinarians, and puppy trainers that love dogs. Our team of qualified experts researches and provides reliable information on a wide range of dog topics. Our reviews are based on customer feedback, hands-on testing, and in-depth analysis. We are fully transparent and honest to our community of dog owners and future owners.