With so many different dog breeds in the world today, you might feel overwhelmed by the options available during adoption. You're probably wondering what dog breeds start with different letters of the alphabet, including the letter F.
Dog breeds that start with the letter F include the Feist, Field Spaniel, Fila Brasileiro, Finnish Lapphund, Finnish Spitz, Formosan Mountain Dog, French Bulldog, Fox Terrier, Frengle, and Frenchton.
Keep reading for a list of other dog breeds that start with the letter F.
Before you read this list of dog breeds that start with the letter F, check out: Dog Breeds With Black Spots – Top 7 Breeds! (2023) and 10 Friendliest Dog Breeds with Images! (2023).
Dog Breeds That Start With F
Below are some of the dog breeds that start with the letter F.
Feist
The Feist's fierce personality may have inspired the adjective feisty. The Feist dog breed originated as a hunting dog in the American South in the 18th century. The extinct English words fice and fyst, meaning "to break wind," are likely where the name of this breed got its start.
Although the exact history of this breed of dog is shrouded in mystery, there are several popular theories.
It has been speculated that it is descended from both the Smooth Fox Terrier and the extinct English White Terrier. Some of these dogs were later crossed with Greyhounds, Whippets, and Beagles. New dog breeds emerged from the Feist, including the Rat Terrier and the Teddy Roosevelt Terrier.
The Feist was originally designed for ground-based hunting of small animals such as squirrels and rodents. Because of its continued employment in this role, the Feist does not need to comply with the stringent physical requirements show dogs need.
The powerful build and wedge-shaped head are the only consistent features of this breed; its ears and tails vary widely. Although most of these dogs have short coats, the specific pattern of white and brown markings varies from dog to dog.
Field Spaniel
The late 1800s saw a rise in the popularity of dog shows in England, prompting the development of many new dog breeds. The Field Spaniel is a hybrid of three different types of spaniels: the Cocker, the English Springer, and the Sussex. These dogs did well in dog shows and were also superb hunting companions.
Despite its rapid rise to fame, the breed suffered as a result of attempts to improve the Field Spaniel for the sake of the dog show business. This resulted in a decline in demand, and the species was nearly lost.
It was in the 1960s that breeders began working with the original Field Spaniel lineages, which included dogs like the Sussex, Cocker, and English Springer Spaniel, to help revive the breed.
These dogs are especially suited for domestic life. They have a great attitude toward kids and are both clever and amusing. They also have a soft side and are quite kind.
Fila Brasileiro
The Fila Brasileiro is a breed native to Brazil and is somewhat rare. It is a huge dog and is also referred to as the Brazilian Mastiff and the Brazilian Molosser. When slavery was legal in Brazil, its purpose was to track down and capture fugitive slaves.
In addition to its usage in the military, this breed has also been put to work as a cow dog, guard dog, tracking dog, and athletic game-catching dog on ranches and plantations, respectively.
It's not just a working or hunting dog; it's also a unique companion, thanks to its remarkable tracking abilities, intellect, and courage, as well as its devoted, friendly, gentle, and protective demeanor.
Finnish Lapphund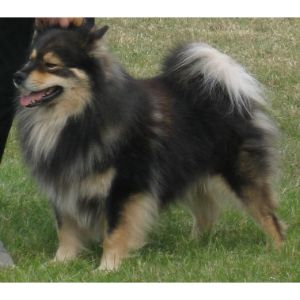 The Sami tribes of Scandinavia's northern Lapland region developed the Finnish Lapphund hundreds of years ago as a hunting and herding dog. Bones found in this region date back to around 7,000 years ago.
These canines accompanied nomadic people as they hunted reindeer across the country. Eventually, when the Sami stopped being nomadic, that's when they started using Lapphunds for herding.
Due to their long history of living with their families, "Lappies" develop a deep and devoted bond with the people who care for them. They are shy around strangers yet wonderful with kids and families. They make great watchdogs because of their propensity to bark.
Finnish Spitz
The ancestors of modern Finnish Spitzes are thought to be the spitz dogs that arrived in Finland from central Russia around three thousand years ago. They were developed specifically for hunting purposes and are excellent partners, especially when tracking large animals like elk.
A Finnish man, Hugo Roos, was concerned that the breed was losing its purity as a result of mixing with other hunting dogs. Over 30 years, he was able to perfect the breed as we know it today, which descended from his initial dogs.
Flat-Coated Retriever
Flat-Coated Retrievers, who can be either black or liver in color, are a large dog breed that makes a wonderful family pet that gets along well with kids. They exude happiness at all times and have been given the title "Peter Pan" of the dog species.
They were first developed as gundogs in England in the middle of the 19th century when the sport of bird hunting was becoming increasingly popular and an intelligent retriever was in high demand.
Flat-Coated Retrievers were developed to recover game from both land and water, making them unique among dog breeds. The Collie, Water Spaniel, and St. John's Water Dog were used as breeding stock to create these retrievers.
Formosan Mountain Dog
The Formosan Mountain Dog, also known as the Taiwan Dog, is a "primitive" breed. Throughout history, it has served as a hunter, security dog, rescue dog, and companion, among other responsibilities. Although this breed was most likely a semi-wild dog that roamed freely throughout the Taiwanese countryside, its owners frequently kept it as a companion and guard dog during hunts for boar and other game.
In the 1970s, efforts were made to standardize the breed. Given that it had previously been crossed with German Shepherds and other breeds in the years following the end of Japanese occupation in World War II, this proved to be an arduous task.
This mixed heritage can still be found in many dogs today. This breed has been recognized in the American Kennel Club's Foundation Stock Service as of 2017. This service helps promising new dog breeds get complete recognition by the AKC.
Despite its similarities to other "primitive" breeds, the Formosan Mountain Dog stands out in several ways. It has a triangular head and ears, a thick, curved tail that reaches over its back, and an athletic build. Its coat is typically black, white, yellow-brown, and brindle, and it is oily and silky to the touch.
Fox Terrier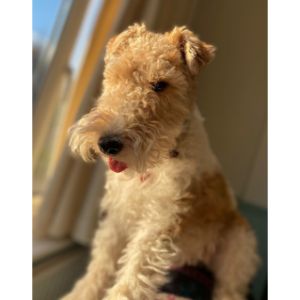 The first Fox Terriers appeared among the wealthy landowners of 19th-century England when they participated in fox hunts. Fox Terriers are active and determined because they were bred to chase rodents, even if that meant burrowing underground. They come in three varieties: toy, wire, and smooth.
They look different on the outside, yet their profiles, personalities, and instinctive habits are all very similar. This English breed, which matures at a maximum of 18 pounds and 15 inches in height, is just the right size for the house while also being sturdy enough to thrive in the great outdoors.
Before 1870, all terriers in England were brown and black with wire hair, and the Fox Terrier did not emerge until after that year.
The legend goes that in the early 1800s, Colonel Thornton created a breed with partially white fur. Some have proposed that he mix with other dog breeds, such as Beagles, Pointers, and Bulldogs. It's believed that three of the colonel's dogs are the progenitors of the white-haired terriers.
French Bulldog
A medium-sized, non-sporting dog, the French Bulldog is known for its distinctive "bat ears." The skull of these dogs is flat between the ears, as opposed to being rounded like most dogs.
Muscular but compact, this kind of dog is a sight to behold. They come in a wide variety of colors and patterns, the most common of which are brindle, white, blue, black, and fawn, and their coats are short. Many of them have a unique coat pattern due to a genetic condition called merle.
French Bulldog Mix
In the late 1990s, French Bulldogs started to become fashionable, and their numbers have only increased. The American Kennel Club ranks French Bulldogs as the nation's second most popular dog breed.
These dogs are sweet, smart, and well-built, and they are quite loyal to their families. The French Bulldog shares many of the characteristics of a family dog, and with training and socialization, it can even be excellent with children, strangers, and other household pets.
French Bulldog mixes are full of energy and enthusiasm. These hybrids are great for large families or busy apartment dwellers alike, provided they get plenty of exercise and mental challenges. One popular French Bulldog Mix is the Frug, a hybrid of the French Bulldog and the Pug.
Frenchton
The Frenchton, a designer dog descended from the French Bulldog and the Boston Terrier, is extremely lovable and devoted. The Frenchton is a breed known for being an excellent family pet despite its high level of activity.
They are suitable companions for city dwellers of all ages and living situations, including children, the elderly, and people living in apartments.
The original goal of breeding French Bulldogs and Boston Terriers was to create a dog with the best qualities of both breeds. However, they were also bred to eradicate respiratory difficulties as well as other health issues present in the French Bulldog.
Although its origin is a mystery, the history of its parents is well understood. The Boston Terrier is a new dog breed that originated in the United States in the late 1800s in the city of Boston, Massachusetts.
Before 1896, the origin of the French Bulldog can be traced back to England. After what is believed to have been its conception in the United States during the 1990s, the Frenchton was given official recognition by the International Designer Canine Association in the year 2009.
Frengle
The Frengle is a hybrid dog that was created by crossing a French Bulldog with a Beagle.
Although its exact point of origin cannot be determined, it's clear the Frengle inherited many of its desirable qualities from both of its purebred parents.
Frengles are social, attentive, and intelligent dogs. Since their purpose in life is to provide companionship, they thrive when they are close to their owners. In addition, they have a stellar reputation for getting along well with the whole family, including the kids and the pets.
Frequently Asked Questions
How much does a French Bulldog cost?
You can expect to pay anywhere from $1,500 to over $6,000 for a French Bulldog puppy. Part of the expense is due to the costly breeding process, and part of it is simply the breed's popularity.
Does a Fox Terrier bark a lot?
Smooth Fox Terriers are known for their heavy vocalization, including barking.
Can Finnish Lapphunds live in warm weather?
Due to their heavy double coats, Finnish Lapphunds are not meant to live in warm climates.
Conclusion for "Dog Breeds That Start With F"
Deciding which dog breed is best suited for your home can be difficult, which is why we recommend dividing them into different letters. This is why we created a comprehensive list of all the different dog breeds that start with the letter F.
We hope you found this list useful during your research.
For guides similar to this list of dog breeds that start with the letter F, check out:
Learn more by watching "10 Extinct Dog Breeds" down below:
Garrett loves animals and is a huge advocate for all Doodle dog breeds. He owns his own Goldendoodle named Kona. In addition, he volunteers at the Humane Society of Silicon Valley, where he fosters dogs and helps animals. Garrett enjoys writing about Doodles and believes that dogs can teach humans more about how to live than humans can teach a dog.
Why Trust We Love Doodles?
At We Love Doodles, we're a team of writers, veterinarians, and puppy trainers that love dogs. Our team of qualified experts researches and provides reliable information on a wide range of dog topics. Our reviews are based on customer feedback, hands-on testing, and in-depth analysis. We are fully transparent and honest to our community of dog owners and future owners.