The number of dog breeds has steadily increased in the last century. Today, there are a variety of breeds with distinctive names starting with every letter of the alphabet. As such, you may be wondering what dog breeds start with E.
Many dog breeds start with the letter E including the East Siberian Laika, East European Shepherd, Ecuadorian Hairless Dog, English Cocker Spaniel, English Foxhound, English Mastiff, and more.
Keep reading as we describe the dog breeds in-depth that start with the letter E.
Before you scroll down this list of dog breeds that start with the letter E, check out: 10 Friendliest Dog Breeds With Images! (2023) and 7 Sickle Tail Dog Breeds With Pictures! (2023).
Dog Breeds Starting with Letter E
Below are some dog breeds that start with the letter E.
East Siberian Laika
Average Height: 50 to 66 cm
Average Lifespan: 12 to 15 years
This breed is a form of Spitz and its ancestry may be traced back to indigenous dogs in Russia. The East Siberian Laika has several uses, including pulling sleds and hunting animals as small as squirrels and as large as mountain lions. The breed is named after the Russian term for barker, "Laika."
East European Shepherd
Average Height: 67 to 72 cm
Average Lifespan: 10 to 14 years
This Ukrainian breed is a descendant of the German Shepherd and is noticeably larger than its ancestor. This was done on purpose to ensure the dogs could withstand such a harsh climate.
The breed first appeared on the international stage in the 1920s. The East Siberian Laika, the Caucasian Shepherd, and the Central Asian Shepherd are a few examples of other dog breeds that contributed to the development of the East European Shepherd.
The East European Shepherd, also referred to as the Vostochno Evropeiskaya Ovcharka, or VEO, was used by the KGB for a long time as a security dog. However, the KGB was only willing to take dogs with solid black coats.
Ecuadorian Hairless Dog
Average Height: 38 to 45 cm
Average Lifespan: 12 to 14 years
The Ecuadorian Hairless Dog is related to the Peruvian Hairless Dog and the Xoloitzcuintli, making it one of only 10 hairless varieties. This dog has minimal hair and also lacks its canine premolars.
English Cocker Spaniel
Average Height: 36 to 43 cm
Average Lifespan: 12 to 15 years
A member of the Spaniel family, the Cocker Spaniel was once grouped with the Springer Spaniel until the latter half of the 20th century when it was decided that the two gun-dog breeds would be separated based on size.
The Duke and Duchess of Cambridge are devoted fans of the English Cocker Spaniel breed, and their dog Lupo has been the subject of a series of children's books written by Aby King.
Despite the loss of Lupo in November 2020, Prince William and Kate Middleton's love of dogs has carried on with the addition of another English Cocker Spaniel, a gift from Kate Middleton's brother.
English Foxhound
Average Height: 56 to 63 cm
Average Lifespan: 10 to 13 years
This scent dog, a relative of the American Foxhound, was developed in the 1600s for fox hunting and quickly became an integral part of the British upper class. Rarely do people adopt this breed as pets.
English Mastiff
Average Height: 70 to 91 cm
Average Lifespan: Six to 12 years
The English Mastiff is among the largest breeds in the world, standing at an average of 30 inches tall and weighing between 160 and 230 pounds. This ancient dog used to hunt big animals and fought at the 1415 Battle of Agincourt.
Like many other breeds, the English Mastiff population suffered during World War II — but the breed eventually recovered with assistance from American breeders.
English Setter
Average Height: 58 to 69 cm
Average Lifespan: 10 to 12 years
The English Setter first appeared between 400 and 500 years ago, sharing ancestry with the Spanish Pointer, Springer Spaniel, and Water Spaniel.
Developed to "set" when they spotted game birds, the English Setter (also known as the Lawerack, the Laverack, the Llewellin Setter, and the Old Hemlock Setter) became famous in 1938 when a dog named Daro of Maridor won the title of Best in Show at the Westminster Dog Show.
English Shepherd
Average Height: 46 to 58 cm
Average Lifespan: 12 to 15 years
This herding breed started in the United States and shares an ancestry with the Australian Shepherd, the Border Collie, and the Scotch Collie.
The English Shepherd, also known as the Farm Collie, Old Farm Collie, and American Farm Shepherd, was bred to work on farms. They were responsible for protecting and herding animals as well as killing rats.
In modern times, however, the English Shepherd has shifted into a popular pet despite once being a rare breed.
English Springer Spaniel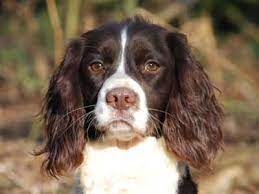 Average Height: 48 to 56 cm
Average Lifespan: 12 to 14 years
Although the Spaniel was first referenced in print in 1576, it wasn't until the turn of the 20th century that the English Springer Spaniel was recognized as a distinct breed.
The Springer Spaniel is closely related to the Welsh Springer Spaniel and the English Cocker Spaniel. Nevertheless, it was later differentiated from the Cocker Spaniel due to its bigger size.
English Springer Spaniel owners share a passion for the breed with notables like former presidents and first ladies George H.W. and Barbara Bush, whose dog Millie became a sensation through Millie's Book, and George W. Bush and Laura Bush, whose dog Spot Fetcher was the son of Millie.
English Toy Terrier (Black & Tan)
Average Height: 25 to 30 cm
Average Lifespan: 13 years
The English Toy Terrier, which is related to the Old English Black and Tan Terrier and the Manchester Terrier, got its start as a champion ratter in the 1800s. It became known as "Tiny the Wonder" among betting crowds who watched him kill 200 rats in an hour.
This toy dog, whose ancestry goes back to 16th-century England, risks extinction. Thankfully, Toy Manchester Terriers are helping to repopulate the breed.
Entlebucher Mountain Dog
Average Height: 44 to 52 cm
Average Lifespan: 11 to 15 years
This breed got its name from its Swiss home. The Entlebucher Mountain Dog originally herded livestock between the mountains and the lowlands.
The Entlebucher is the smallest of the Swiss Mountain Dogs including the Appenzeller Mountain Dog, the Bernese Mountain Dog, and the Greater Swiss Mountain Dog.
You may also hear this dog referred to as an Entlebucher Cattle Dog or an Entlebucher Sennenhund.  The American Kennel Club notes that this breed has earned the endearing nickname "The Laughing Dog" due to its cheerful personality.
Estonian Hound
Average Height: 42 to 52 cm
Average Lifespan: 12 to 15 years
This scent hound, which was given its name in honor of its place of birth, is recognized as Estonia's national dog. The Estonian Hound is also the most widely recognized dog breed in the country.
Estrela Mountain Dog
Average Height: 65 to 72 cm
Average Lifespan: 10 to 12 years
The Estrela Mountain Dog was not exported outside of Portugal until the 1970s, long after it had been discovered. Sometimes called the Portuguese Shepherd, he continues to serve in his traditional roles.
Eurasier
Average Height: 52 to 60 cm
Average Lifespan: 12 to 16 years
In 1960, the wider world discovered this German-born dog of the Spitz variety. The dog is related to the Chow Chow and the Keeshond and was later crossed with the Samoyed. Therefore, its name was chosen to reflect its mixed European and Asian heritage.
This dog (also called the Wolf-Chow) is now more commonly referred to as the Eurasian dog.
Epagneul Pont Audemer
Average Height: 50 to 58 cm
Average Lifespan: 13 years
Rarely kept as pets, these dogs are often best suited for working conditions as gun dogs and are typically water dogs. This breed was popular in the early 20th century for hunting ducks in the rain.
To save the breed from extinction, however, these dogs united with the Picardy Spaniel around 1980. This was done since the population of both breeds was falling rapidly. It's believed that they first appeared in the Pont-Audemer area of France.
Eskimo
Average Height: 15 to 19 cm
Average Lifespan: 13 to 15 years
"Eskies" is a common nickname for Eskimo dogs. They are white and fluffy and could be classified as toy, mini, or standard-sized. This breed is high in intelligence, tenderness, and playfulness. They are terrific with kids and make wonderful family pets.
This dog breed may look like it originated in the United States, but it hails from Germany. They originated from the Nordic German Spitz, which arrived in the United States with German settlers in the early 19th century.
Their name originates from anti-German sentiments prevalent in the United States during World War I. As a result, the American Eskimo Dog became the new name of choice in place of the German Spitz.
Eskipoo
Average Height: 23 to 40 cm
Average Lifespan: 10 to 13 years
An American Eskimo Dog and a European Poodle created the Eskipoo. Breeders intended for this dog, which weighs approximately 15 pounds and stands 11 inches tall, to be a cheery and outgoing member of the family.
Because most feature a double coat, you'll find that they are the perfect companions on particularly chilly winter days. Most of them have the floppy ears typical of the European Poodle.
The Eskipoo would make a wonderful addition to any family. They adore spending time with humans and will make you laugh out loud regularly with their shenanigans.
Frequently Asked Questions
What mountain dog starts with an E?
The Entlebucher starts with an E and it's the smallest type of mountain dog.
What is an Eagle Dog?
The Eagle Dog is a nickname for a cross between an American Eskimo Dog and a Beagle.
How many dog breeds are there?
The exact number of distinct dog breeds depends on which club you're following. That said, there are an estimated 340 different dog breeds.
Conclusion for "Dog Breeds That Start With E"
Whether it's a game of Name, Place, Animal, Thing, Pictionary, or another family game, you can now show off your extensive knowledge of dog breeds starting with the letter E.
Your friends and family are sure to be impressed.
For more guides similar to this list of dog breeds that start with the letter E, check out:
Learn more by watching "Dog Breeds – List of 100 Most Popular Dog Breeds in the World" down below:
Garrett loves animals and is a huge advocate for all Doodle dog breeds. He owns his own Goldendoodle named Kona. In addition, he volunteers at the Humane Society of Silicon Valley, where he fosters dogs and helps animals. Garrett enjoys writing about Doodles and believes that dogs can teach humans more about how to live than humans can teach a dog.
Why Trust We Love Doodles?
At We Love Doodles, we're a team of writers, veterinarians, and puppy trainers that love dogs. Our team of qualified experts researches and provides reliable information on a wide range of dog topics. Our reviews are based on customer feedback, hands-on testing, and in-depth analysis. We are fully transparent and honest to our community of dog owners and future owners.