Our team at We Love Doodles did our research to help you find dog breeds that look like Pandas, so you'll be in for a treat. Pandas are so cute and so fluffy. Don't you want to squeeze them, hug them, and take one home with you?
If you love the way a panda looks, you can pretty easily recreate that look and have your very own panda at home in the form of a dog. It's probably a better option than trying to raise a panda in your home.
There are several great dog breeds out there that look like pandas, and we're here to help you find out. So check out this guide and take a look at these dog breeds that look like pandas.
Before scrolling down this list of dog breeders that look like pandas, check out our other dog lists: Dog Breeds That Look Like Ewoks and Best Dog Breeds with Big Paws.
1. Chow Chow
Have you ever seen a Chow Chow? Those dogs are fluffy. You do want to hug them tight and feel their soft, fuzzy fur. If you can find yourself a black and white Chow Chow, you will be set for a dog that looks like a panda.
These dogs have been called the panda dog because they resemble a panda so closely when you get the coloring right. They are very fluffy dogs, and they are native to China.
Most of the time, when they look like a panda, they have been groomed or even dyed to resemble a panda even more. It is possible to find them with panda coloring, and their fluffiness and build also make them look like a panda in dog form.
They come in many different colors, including cream, blue, fawn, black, cinnamon, red, and black. They also might come in multiple colors. This breed has been around for a very long time.
They are a popular breed, and they have great mannerisms. They are very easy to compare to teddy bears because of their fluffy coats, which is why they can relate to a dog breed that looks like a panda.
Related: Chow Chow Poodle Mix Guide.
2. Tibetan Mastiff
The Tibetan Mastiff is probably one of the most similar dogs to a panda you will find. They are very bear-like in both their size and their features. They are another dog that has sometimes been called a panda dog.
They also come from the Asia area and have been trimmed and dyed to look more like a panda than they already do. So this dog very closely resembles a giant teddy bear, and when you find them in black and white, they can be a panda Bear Dog for you.
These dogs have also been compared to lions because they have thick fur around their neck, so they almost have a mane. These dogs have thick, furry coats and grow to be pretty significant.
They are huge and could easily be the size of the bear. They can outgrow or take on large animals, including bears, wolves, and wild felines. These dogs were initially bred to be protectors, particularly of homes and livestock in the Tibetan area.
These dogs are most commonly found in shades of bluish-gray, as well as black or red. They can resemble a bear and might make your panda creation list.
Related: Mastiff Poodle Mix Guide.
3. Maltipoo
The Maltipoo is a hybrid breed that was created using a Maltese and a small Poodle. These dogs may not look quite as much like a bear, but it is very common to have that panda bear coloring in black and white, making this a breed that looks like a panda.
While they are small and their features may be different than a bear, they are fluffy, furry, and soft. Maltipoos are very commonly bred specifically for color, and the teddy bear colorings or the mixed colorings with black and white often are more sought after and harder to find.
They also might cost more because of their popularity. These dogs are small and adorable. They resemble a panda more closely because of their colors, but they can easily have teddy bear features since they are soft and furry.
These dogs are brilliant and well-tempered. Their hair will be a cross between the long hair of a Maltese and the curly hair of a poodle. They are fun-loving and energetic and typically stay in the small size range, but this could vary depending on the poodle they are bred with.
4. Bichon Frise
The Bichon Frise is another small dog breed. They are very fluffy with curly white hair that is similar to a poodle. These are other common dogs that can look like a panda, although it might be hard to find the right coloring and shading to look like a panda indeed.
Their hair can be cut and trimmed to make them resemble a panda. Their hair grows very fast, so they stay pretty fluffy and soft overall. Bichon Frise dogs are most commonly found in white, but they can also be found in multiple colors, including black and white like a panda.
These dogs can be pretty pricy to purchase from a breeder, but that is the best way to ensure you are getting a solid, healthy dog of this breed. They are very smart dogs that are also energetic.
They are typically easy to train because they are easygoing and loyal to their family and loved ones. They do like to be spoiled and have been popular in the past with royal families in Europe, so you may recognize the breed if you follow royal family news.
5. French Bulldogs
French Bulldogs aren't fluffy. They don't have long hair, but they commonly have black and white coloring, which makes them comparable to a panda in their way.
A French bulldog has that scrunchy little face full of wrinkles and those cute little ears that stand up. They are small but mighty (mighty like a bear, mind you). These could be compared to a mini panda when you take a look at the color patterns.
It is very easy to find them in black and white color patterns as well. This one might be a bit of a stretch but let's look at the cuteness and the color patterns and go with that when we compare them to a panda.
6. Karelian Bear Dog
If you want a dog with black and white colors and resembles a bear, you should check out the Karelian Bear Dog. This is a Finnish breed that is a Bear Dog. They are used often for hunting big game, and they are fearless and free.
In Finland, these dogs are a national treasure. The Karelian Bear Dog has traditional white and black pattern colors. They are fluffy and soft to the touch.
They are incredibly smart, and they are an approved AKC breed. These dogs have fun personalities and are very active. They are also cautious and sometimes suffer from anxiety.
They can be protective, but they are always brave and loyal to those who earn their trust. You really can't go wrong with this breed, and it can easily be a breed that looks like a panda with those colors and their overall stature.
7. Siberian Husky
Next up, take a look at the Siberian Husky. This dog is traditionally black and white, although their colors can vary some. They have full fur coats, and while they are not as fluffy as a panda bear, they have attractive features and can fit into comparison with their black and white coats.
Siberian Huskies are also somewhat large dogs. The Siberian Husky is known to be super intelligent. You can easily find tons of videos out there of them talking to their humans. They love to interact, but they can also be a bit on the stubborn side.
They tend to be dogs that do what they want, which can sometimes get them in trouble. They are very loyal dogs, and they are also known to be protective.
Sometimes this might cause them to come off as aggressive, but it's not that they are mean. It's just that they go into protective mode if they feel there is a threat in any way. These dogs are rambunctious and rowdy.
They require plenty of love and attention, and they tend to shed quite a bit of hair. However, they will be your loyal companion and loving friend for as long as they are alive. This dog breed that looks like a panda is one for the books.
8. Newfoundland Dog
The Newfoundland Dog might be a bit of a stretch, but they are pretty much giant teddy bears. They tend to be predominantly black, but some of them might have some white on their coat. These dogs are giant, and they have a ton of hair.
Their teddy bear qualities make them a good option if you're looking for a breed that looks like a panda. The Newfoundland dog has a big, furry face. They have a lot of fluffy hair right around their face and ears.
They can be found in black, brown, and gray, but they also might be found in black and white, and that is your score when looking for something like a panda. These dogs are giant and lovable.
They were bred to be working dogs, so they do need room to play and adventure. They love to run, but they are also incredibly fun and well-behaved. They are so smart, and they will forever be your friend and loyal companion when you care for them right. This giant teddy bear can be a breed that looks like a panda.
9. Old English Sheepdog
Last on the list of dog breeds that look like pandas is the Old English Sheepdog. This dog is also cute and fluffy and has tons of hair. They also are almost always white and black naturally, which makes them similar to a panda in many ways. You can easily claim this dog as your breed that looks like a panda and be close enough.
Their fur is long and soft and can be groomed to fluff in around their face to make them more similar to a panda if that is what you are after. This is another herding dog, and they even have a bob-tail as pandas do.
They are social dogs with a ton of energy that you can put to good use. They need room to run and play, and they need activity and stimulation because it's in their nature. These dogs adapt quickly to any situation. They are loving and friendly and bubbly and fun. You really can't go wrong with this breed.
Related: Best Old English Sheepdog Names.
Conclusion For The "Best Dog Breeds That Look Like Pandas"
There seems to be a recent trend with people who want their dog to look like a panda. Realistically, there are very few breeds that resemble a panda. Most of the ones you see have been groomed or dyed specifically to resemble a panda.
These breeds can be compared to pandas in their ways. Be careful if you plan to dye your pet for the panda effect. It might be better to find similar colors and be creative with a different breed.
Whether you love the panda and are looking for a black and white dog, or perhaps you want something soft and fluffy like a panda bear, we've got you covered here. We hope one of these breeds that look like a panda will appeal to the style you're looking for.
For more dog lists similar to "Dog Breeds That Look Like Pandas," check out:
Here's a video of dogs appearing like pandas we think you might like. Watch "Dogs Who Look Like Pandas Are Online Hit" down below: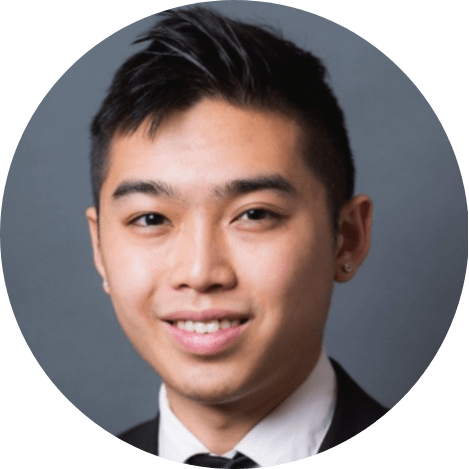 Andy is a full-time animal rescuer and owner of a toy doodle. When he's not saving dogs, Andy is one of our core writers and editors. He has been writing about dogs for over a decade. Andy joined our team because he believes that words are powerful tools that can change a dog's life for the better.
Why Trust We Love Doodles?
At We Love Doodles, we're a team of writers, veterinarians, and puppy trainers that love dogs. Our team of qualified experts researches and provides reliable information on a wide range of dog topics. Our reviews are based on customer feedback, hands-on testing, and in-depth analysis. We are fully transparent and honest to our community of dog owners and future owners.