Our team at We Love Doodles compiled this list of dog breeds that look like a fox. Foxes are so beautiful. When you see one run by, does it ever just make you want to own a fox?
While you most likely won't be able to bring a fox into your home and train it or treat it as part of the family, you probably could get a dog that looks like a fox.
There are quite a few dogs that resemble foxes, so take a few moments and check out this lineup of 9 dog breeds that look like a fox. You know –  just in case you need a fox look-alike in your home.
Before scrolling down this list of dog breeds that look like a fox, check out our other lists you might enjoy: Dog Breeds That Look Like Ewoks and Dog Breeds That Look Like Fried Chicken.
1. Finnish Spitz
The Finnish Spitz is probably the dog you will find that looks the most like a fox in comparison. They have similar coloring and are probably about the same size. Their color is also going to be pretty similar to your traditional fox.
These dogs are stunning. They are popular in Finland, which is where the breed originally heralds from. They make great hunting dogs, particularly for bird-hunting.
These dogs are very talented in hunting because they appear friendly with slow-wagging tails and know how to yodel to their prey. In addition, the Finnish Spitz breed is an amiable and outgoing dog.
They won't run and hide as your typical fox will, but they will most certainly look like a fox, and you might even be able to fool the neighbors. We mentioned they are similar in size.
A full-grown Finnish Spitz might weigh around 33 pounds and stand 20 inches tall at the shoulder. They have a complete and fluffy coat as well as ears that point up and a fluffy tail. Their tail usually does round and curl rather than flow behind them.
2. Shiba Inu
The Shiba Inu is a dog that was always bred for hunting. They are larger than foxes, but their coloring detail and the shapes of their faces are similar to that of a fox. At first glance, this dog may resemble a Husky to some that don't know any better.
They have a lot of beautiful attributes and angular faces. This breed comes from the spitz family and heralds from Japan. They are incredibly independent and stubborn. They are known for being hard to train in some cases because of their stubborn streak.
Shiba Inus are also very protective, particularly of anything they deem to be their possession, so this is something to be aware of. These dogs are protectors, but they are also loving and affectionate.
They love their families entirely and will always protect them from harm to the best of their ability. They do not prefer strangers as it makes them anxious. The dog is loyal as well.
The Shiba Inu is a medium dog with a thick double coat. The undercoat is soft and white, or cream and the outer coat is coarse and will typically include colors like red, cream, tan, or black. They weigh in at 17-23 pounds and up to 17 inches tall.
3. Icelandic Sheepdog
The Icelandic Sheepdog looks very similar to the Finnish Spitz as far as their hair, tails, and ears. They also have similar sizing and coloring. It could be challenging to tell the two breeds apart from each other and foxes.
This dog is another beautiful dog. They have long, soft hair and tend to be fluffy. They are from Iceland, hence the name Icelandic sheepdog. These dogs are herding dogs. They love to have room to run and play, and they will herd if given a chance to do so.
While the majority of these dogs are long-haired, they can be found as short-haired as well. Their features resemble the fox closely with narrow, angular faces and those pointy ears that stand upright.
These dogs are slightly larger than foxes. They might weigh up to 30 pounds and stand at 18 inches at the shoulder as well. This makes them taller and bulkier than a fox, or even the similar Finnish Spitz we shared a bit ago.
4. Akita
You're probably familiar with the Akita breed or have at least heard of the breed. This dog is another Japanese dog, and it is very similar to the Shiba Inu we discussed already. These are ornamental dogs in Japan because of their gorgeous, colorful coats.
The breed is known to signify long life, as well as health and happiness. Akita can be protective, and they also do not prefer strangers. It simply makes them anxious and makes those protective instincts kick in.
These dogs are easier to train than their cousins, the Shiba Inu. However, they are still stubborn and will undoubtedly have some challenging areas in training because they are just unpredictable.
These dogs don't do so hot with other animals either because they are protective and independent. They work best as a single pet or with a direct relative and a specific routine that sets them apart.
You will find that Akitas are fiercely loyal and will always stand up for their families. In addition, they love to be companions. These are again slightly larger than the fox but similar in size to the Shiba Inu breed.
Related: Best Akita Breeders in the United States.
5. Alaskan Klee Kai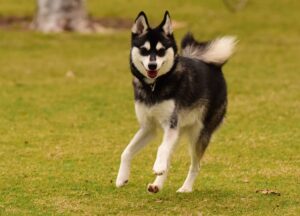 The Alaskan Klee Kai is a dog that was created. The intention was to create a dog that looked and acted like the husky but was more the size of a lap dog, and they have been popular ever since.
As of 1988, they are recognized by most kennel clubs out there. The Alaskan Klee Kai has that red, brown, and cream coloring consistent with a fox. Their looks and features are that of a Husky, as is the coarseness and fullness of their coats.
They love to play, and they are so funny and energetic. These are not quite as challenging to train as the Akita or Shiba Inu, but they tend to be stubborn and may be protective at times.
Their coats are perfect for cold climates, like Alaska. These dogs are pretty small because they are bred to be lap dogs. At the same time, they are still not tiny and will be similar to the size of a fox. Their faces tend to be slightly more rounded than a fox, but they have pointed ears on top of their head and coloring comparable to a fox.
The dogs can be found in different colors, including not foxy colors in the traditional sense. Red and white is the most similar color compared to a fox. As far as size, Alaskan Klee Kai can weigh up to 20 pounds, which is consistent with the weight of a male fox.
6. Volpino Italiano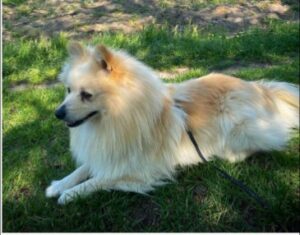 If you're looking for something that resembles an Arctic fox more closely, the Volpino Italiano is a perfect example. They are gorgeously pure white, and they have long and furry coats, much like the arctic fox.
If you place a picture of these two sides by the side, you will find they are very similar in features, size, and color. The Volpino Italiano is from the same line as the Spitz breeds. They come from Italy and are small dogs.
Interestingly enough, they are typically raised as guard dogs, so don't be fooled by their smaller sizes. In addition, when they were initially bred, the families would also have a large dog, so the Volpino would alert the large dog when an intruder was present.
These dogs went through a time where they almost died out. However, they have come back and are now popular dogs recognized by numerous kennel clubs.
They can be found in the United States, but they are most prominent in the United Kingdom, Scandinavia, and Italy. The Volpino Italiano is very similar in both size and weight to the Arctic fox specifically.
7. Pembroke Welsh Corgi
While the Corgi's features are not as symbolic of a fox as some breeds out there, this particular breed of Corgi is similar in size and color. They have similar ears as well.
The Pembroke Welsh dog is a herding dog, and while they don't' get very tall, they may weigh up to 30 pounds still at full grown. These dogs are very popular with the royals, and you may recognize them as similar to Queen Elizabeth II's beautiful pets.
That is precisely the same as the dogs we are mentioning here. What they lack in height, they make up for in personality. These dogs are willing to work and run. They love to adventure and play.
They are also very smart and extremely friendly. They can be slightly protective when needed, but they are loving and enjoyable dogs for the most part.
The Welsh Corgi is easy-going and won't be terrible to train when you start working with them. These dogs have been around for a lot of years, and they continue to become more popular. Their colors and their sizes could be comparable to a fox.
Related: Best Corgi Breeders in the United States.
8. Basenji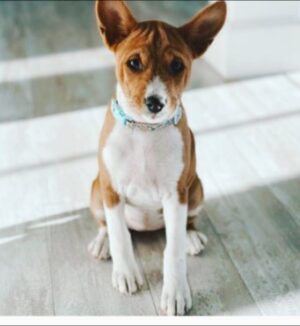 The Basenji breed is unique, but their facial characteristics and even color patterns can be similar to a fox. They don't typically have long hair or full coats, but you will find similarities in other ways with this dog.
They are known to be an ancient breed, and in fact, they have been found in Egyptian artifacts and Mesopotamian art displays. For a long time, this breed was wild, but in the 1900s, they were almost "rediscovered" and became a dog that could be a pet again.
They sometimes still have some animal characteristics that make them more similar to wild dogs, but they love and connect with people and families.
These puppies need a lot of activity, room to run, and plenty of play. They like to do their own thing and be independent, but they will be loyal and loving. They are incredibly smart, which may leave you challenged to contain them if they decide they need to run or adventure.
While their coats only resemble a fox in color and not in hair length, you will find that their faces have similar structures. They also have similar sizing to that of a fox. Basenji will grow to about 17 inches tall at the shoulder and weigh up to 24 pounds.
9. Schipperke
Last on the list of dog breeds that look like a fox is the Schipperke. The Schipperke is a black dog with a straight coat that is full and luscious. The coat is not nearly as soft as it looks, making it coarse like the fox's coat. This is not your typical fox comparison if you are looking for that red coloring, but there are red foxes with black coats.
This dog is more comparable to a fox in size as well as overall features. Their ears point up and are shaped very similarly to the fox. Their facial shape is also similar to a fox. These dogs are loyal and loving, but they are known to be barkers as well.
This is a behavior you may identify and work on with your dog if you are willing to try. They also love to run, and they have no qualms about taking off to chase a squirrel or similar animal that catches their attention.
They love to play and need plenty of love and attention. These might be slightly smaller than a fox, but overall will be comparable in weight, height, and facial features when you compare them to each other.
Conclusion For "Dog Breeds That Look Like a Fox"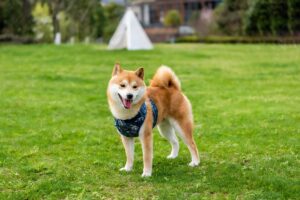 These dog breeds all have something in common with foxes. Some of them have similar color schemes, while others might be mistaken for a fox at a glance in facial features and all. If you're looking for something like a fox, you'll find some great options here.
For more articles similar to this list of dog breeds that look like a fox, you can check out:
You can learn more about this topic by watching "10 Dogs That Look Like Foxes" down below: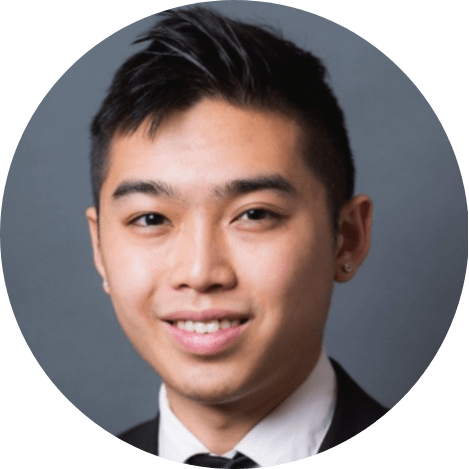 Andy is a full-time animal rescuer and owner of a toy doodle. When he's not saving dogs, Andy is one of our core writers and editors. He has been writing about dogs for over a decade. Andy joined our team because he believes that words are powerful tools that can change a dog's life for the better.
Why Trust We Love Doodles?
At We Love Doodles, we're a team of writers, veterinarians, and puppy trainers that love dogs. Our team of qualified experts researches and provides reliable information on a wide range of dog topics. Our reviews are based on customer feedback, hands-on testing, and in-depth analysis. We are fully transparent and honest to our community of dog owners and future owners.