In most cases, dogs bite each other when they feel threatened, although there are a variety of reasons why a dog bit another dog and wouldn't let go. As a result of the bite, the other dog's threat is distanced and lessened. Prior communication cues are usually ignored, so bites are rarely used as a first resort.
The majority of dogs express their need for space before biting. Small signals such as avoiding eye contact and turning his body will usually be ignored before bigger cues such as barking, growling, hard stares, or snarling are used. Because aggression carries a high risk of injury, most dogs avoid bites or full-on fights.
Most often, the owner claims the bite came "out of nowhere" — even though the dog was probably showing discomfort before the bite happened. The importance of learning to recognize the signs of anxiety and fear in dogs cannot be overstated.
Before reading this article, "My Dog Bit Another Dog and Wouldn't Let Go: Why," check out: Once a Dog Bites, Will It Bite Again? (2023) and Why Does My Dog Bite My Feet? 7 Reasons (2023).
What to Do if a Dog Bites Another Dog and Won't Let Go?
Dogs who bite other dogs cannot all be treated with the same strategy. If you've had a bite incident, it's likely best to consult a professional who can help — your veterinarian, for example, can refer you to a veterinary behaviorist or work with a trainer who uses positive reinforcement.
Professionals can determine why the dog bit and how (hopefully) to prevent the same thing from happening again by assessing the specific dog's history and the circumstances surrounding the aggressive incident.
We should, however, analyze why dogs would bite one another before discussing how to proceed after a bite.
Will My Dog Be Put Down if It Bites Another Dog?
Biting someone can lead to dogs being put down, but this rarely happens. There are usually several reasons why dogs are put down, including a history of aggression.
There is some difference between jurisdictions when it comes to the circumstances surrounding the bite. It will be taken into consideration whether the victim had a lawful right to be at the scene and whether the dog provoked the victim, even if you live in a jurisdiction with strict liability laws.
A petition for declaring your dog dangerous can be filed by animal control or the person who was bitten. Following other guidelines and muzzling your dog in public is required if this goes through.
Signs warning of vicious dogs may also need to be placed in your yard. In some jurisdictions, moving the dog away from the bite site is a requirement.
You may have to place your dog on a bite hold depending on the severity of the incident and the circumstances. Until the dog's fate is determined, animal control will seize him and hold him.
Fortunately, you can hire a lawyer at this point who will assist you in navigating the process and can, if necessary, take legal action against the dangerous dog determination or the ruling to euthanize.
Why Does a Dog Bite and Not Let Go?
In most cases, dogs bite each other when they feel threatened, although there are a variety of reasons for this. As a result of the bite, the other dog's threat is distanced and lessened. Prior communication cues are usually overlooked, meaning bites are almost always a last resort.
Before biting, most dogs communicate that they need space. In general, dogs begin by avoiding eye contact, turning away, and barking if ignored. If ignored, they will eventually escalate to growling, hard stares, and snarling. As aggression comes with a high risk of injury, most dogs will avoid bites and fights.
A dog's aggressive behavior can be influenced by certain circumstances. During walks or at the park, some dogs may get aggressive when they encounter unfamiliar dogs, while others will be friendly with familiar dogs.
Others may experience aggression when they are around familiar dogs. When a pet has access to a valuable resource, such as a beloved chew toy or food bowl, defensive behavior may develop, leading to aggressive behavior.
Occasionally, dogs bite each other instinctively as prey, referred to as predatory drift.
Fear
Fear is at the root of most aggressive behavior in dogs. Something or someone might make dogs anxious when they get too close to them, or when they come into their space. Dogs protect or guard themselves against what they are afraid of when it gets too close to them.
Dogs may bite out of fear that something valuable will be taken away if they have a toy, food, or chew that they don't want to share. As part of resource guarding, biting can be used to protect valuable items.
In some breeds, some dogs are strongly guarded, and may resort to biting if they perceive their home is being invaded, or if they perceive that someone in their family is threatened (regardless of whether or not that threat is real).
Frustration
There are other situations in which dogs can bite, including when they become overwhelmed. A frustrated dog may bite if it feels trapped in an uncomfortable or unpleasant situation. Owners or leashes can also frustrate dogs by preventing them from reaching something they want.
It is possible for dogs to bite at things or people who are holding them back, sometimes called redirecting or redirected bites.
Overwhelmed dogs may bite if they grow to be "over the threshold." It's generally about establishing distance from whatever or whoever the dog feels threatened by that is causing them to bite out of fear.
Startled
In the event that a dog has been sleeping, it is especially likely that it will bite if it is startled. It is possible for startled dogs to become confused and disoriented about where they are and what is happening and bite in response. It is possible for people and dogs to be taken by surprise by these bites.
Dogs who are startled awake often become confused, particularly when they have decreased sight or hearing. Whenever you touch sleeping dogs, be careful not to wake them up or crawl into the bed.
Pain
Sick or injured dogs can experience great stress, fear, and anxiety. If dogs are injured or in pain, even the most tolerant will bite. You should be particularly cautious if you need to lift or move your injured dog.
They may bite when handled, so be especially careful if your dog becomes injured. Positive reinforcement trainers and your vet should be consulted if your dog's behavior suddenly changes.
Play
The act of mouthing — or biting — which often occurs in conjunction with play is a form of biting that is not always thought of. It is common for dogs to engage in light biting or mouthing during play to explore the world around them.
Although it isn't pleasant for us, dogs play with each other and interact with their toys in this way naturally. When dogs play together, it can be alarming to see them mouth each other.
Having a consultation with a trainer can help you understand if your dog's play style is appropriate or not if you're worried about how mouthy your dog is with you or other dogs.
How Many Bites Before a Dog Is Put Down?
Generally, dogs must bite two people or cause substantial physical injury after training to fight, attack or kill on two separate occasions in order to be euthanized. There is, however, no automatic euthanasia.
When Should a Dog Be Put Down for Aggression?
Your dog's behavior should also be assessed for predictability. You might be able to avoid situations that trigger your dog's aggression if you know exactly what triggers it.
In this way, you may be able to manage your dog's behavior. Your dog might be able to stay away from kids if it is only aggressive around children. On the other hand, you never know when a child might appear on your doorstep or on the street.
It's also possible that your dog has a more generalized trigger, such as other dogs or strangers. The difficulty in predicting possible incidents can result from that. It could be that your dog has a dangerous outburst every time you leave your house or the doorbell rings.
Triggers are harder to predict, so controlling them and preventing aggression can take time.
Frequently Asked Questions
How do I separate biting dogs?
If dogs are fighting each other and biting, avoid putting your hands close to their mouths to the best of your ability. Throw a jacket to cover the face, use an object to separate them, or use the wheelbarrow method if you're not alone.
How do you remove a dog biting you?
Above all, you want to avoid a dog tearing your skin by shaking its head while it's biting you. Instead of pulling away, push your limb deeper into the dog's mouth and wait until it lets go before pulling out.
What do you do if off-leash dogs approach?
If you're worried about off-leash or otherwise unfriendly dogs approaching you, try using clear and loud commands such as "sit," get an object between you, stay still and calm, and avoid eye contact as much as possible.
Conclusion for "My Dog Bit Another Dog and Wouldn't Let Go"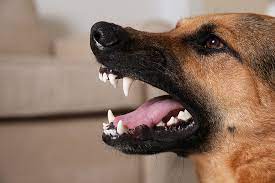 Dogs can bite if they feel threatened enough in a particular situation. Despite the fact that the dog was likely communicating his discomfort prior to the bite, the owner often describes the bite as happening "out of nowhere." This is why learning to identify fear and anxiety in dogs is crucial.
No matter the exact situation, it's important to learn your dog's individual cues (and canine cues in general) to stay ahead of any potential biting incidents. By knowing how it will act under certain circumstances and preempting it, you can stop the bite before it ever happens.
If you find this guide, "My Dog Bit Another Dog and Wouldn't Let Go: Why," helpful, check out:
Learn more by watching "What to Do If My DOG BITES Another DOG? 🐶⚡🐶" down below:
Garrett loves animals and is a huge advocate for all Doodle dog breeds. He owns his own Goldendoodle named Kona. In addition, he volunteers at the Humane Society of Silicon Valley, where he fosters dogs and helps animals. Garrett enjoys writing about Doodles and believes that dogs can teach humans more about how to live than humans can teach a dog.
Why Trust We Love Doodles?
At We Love Doodles, we're a team of writers, veterinarians, and puppy trainers that love dogs. Our team of qualified experts researches and provides reliable information on a wide range of dog topics. Our reviews are based on customer feedback, hands-on testing, and in-depth analysis. We are fully transparent and honest to our community of dog owners and future owners.