Shih Poos are an adorably fluffy mixed breed with a friendly and loyal personality. However, with their extra fuzzy coat, you may be asking yourself if Shih Poos shed.
Thankfully, Poodles and Shih Tzus are known to be low-shedding dogs. Although they don't shed much, Shih Poos may shed a bit depending on a few factors. Furthermore, grooming this crossbreed is a bit more challenging than many other dog breeds. Below, we'll discuss the Shih Poos coat more in-depth, including whether they're hypoallergenic and how much they shed.
Before scrolling down this guide "Do Shih Poos Shed," check out these other Shih Poo-related guides: Are Shih Poos Hypoallergenic? and Shih Poo Sizes: Toy, Teacup, Mini, and Standard.
Shih Poo Coat Overview
Sometimes referred to as Shoodles, Shih Poos are a loveable dog breed. They make excellent companions to couples, families, and seniors alike. As a Shih Tzu and toy Poodle crossbreed, there are no breed standards regarding coat type, temperament, or appearance.
Shih Poos may have a coat like a Shih Tzu, a coat like a Poodle, or somewhere in between. Their coat colors may be various colors and color combinations, depending on the genetics of the parent breeds.
Shih Tzu
Shih Tzus have a double coat, which occurs when a dog has an undercoat and a topcoat, both of which have different textures.
Usually, when you see shedding from a Shih Tzu, it is the short, ultra-soft undercoat hair rather than the longer, silky hair from the topcoat that sheds. However, the hair often gets stuck in the topcoat, so it seems like they shed less.
Poodles
Poodles, on the other hand, do not have a double coat. Instead, they only have one coat made of curly hair. Poodle hair is more similar to human hair than the fur that other dogs have.
When you think of a Poodle shedding, you can think of it the same way as your own hair coming off your head. It will seem like less shedding because the coat is dense, and those loose hairs get caught in the coat.
Considering this, you can expect your Shih Poos to have either one or both of these prominent coat characteristics. But remember, it all depends on the dog!
Does a Shih Poo Shed?
An individual dog's genetics play a significant role in how much it will shed. Fortunately, because both Poodles and Shih Tzus are low-shedding breeds, you can typically expect a Shih Poo to shed minimally.
All dogs have four stages of hair growth:
Active growth
Resting
Shedding
New follicles grow back
Short-haired dogs tend to shed more because their fur goes through the growth cycle more quickly.
When looking at the Shih Poo's parents, Shih Tzus are a tiny breed, only reaching up to around 15 pounds, so they don't have as much fur to shed. However, there is a small catch. Shih Tzus shed seasonally. They shed once in the summer and then again in the winter, also called "blowing its coat."
Shih Poo dogs with more dominant Shih Tzu genes have the potential to be double-coated, which could cause slightly more shedding.
The Shih Poo's other parent breed, the Poodle, rarely sheds because of its wiry coat. Not only do wiry coats tend to be low-shedding, but their thick curls trap any loose hair. Additionally, unlike Shih Tzus, Poodles are single-coated. So, Shih Poos with more dominant Poodle traits will shed less, and they won't shed seasonally.
The Shih-Poo Coat
A Shih Poo's coat isn't fur. Instead, it's technically hair, similar to the hair on a human head. So, although they shed some, it's prolonged and minimal rather than losing large clumps of fur like some other fluffy breeds.
As previously mentioned, Poodles rarely shed due to their single coats and tightly packed curls. On the other hand, Shih Tzus have thicker double coats that can be curly or have a long, wavy coat.
Additionally, Shih Poos have puppy coats until they're around one and a half years old. As they grow out of puppyhood, their fur may become more or less curly and even shift in color.
Although Shih Poo coats can vary, you can get a good idea about their coat type by talking to the breeder. The puppies will have similar genetic makeup to future offspring, so you can get a better idea of their shedding.
How Generation Can Affect Shedding
There are several generations of crossbreeds. First-generation Shih Poos are the direct offspring of a purebred Shih Tzu and a Poodle. When two first-generation Shih Poo parents have puppies, their offspring will be second-generation Shih Poos.
First-generation Shih Poos will have 50% of each parent, making it harder to determine what the coat will be like.
Second generations, however, may have 75% of the genetics of one parent. F1b generations, for example, are the result of mating a purebred Poodle or Shih Tzu and a Shih Poo. If this puppy has a Shih Poo mom and a Poodle dad, then they will likely shed less than if the purebred parent were a Shih Tzu.
Are Shih-Poos Hypoallergenic?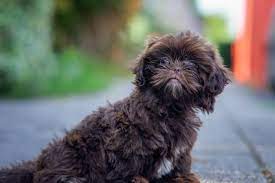 If Shih Poos are low-shedders, does this mean they're hypoallergenic? While no dog is entirely hypoallergenic, Shih Poos are an excellent option for those who experience pet-related allergies.
A pet allergy is an allergic reaction to the proteins in the animal's skin cells, urine, or saliva rather than the fur itself. When dogs or other animals shed, it releases dander into the air. Low-shedding dogs tend to release less allergy-causing dander.
If you experience an allergic reaction to a low-shedding dog, regular grooming can help lessen the likelihood of it affecting your allergies.
Grooming Your Shih-Poo
Even if you don't experience allergic reactions, grooming is a must for the Shih Poo. You'll need to brush your pup several times weekly and schedule grooming appointments every month or so.
Because both parent breeds have long hair, brushing is vital to prevent matting in your Shih Poo's coat. Hair matting is typically noticeable around Shih Poos's ears, rear end, and behind their legs. They can also experience matting on their chest and back.
Matting can be extremely painful for dogs and even injure their skin. Additionally, severe hair mats can reduce circulation and even cause strangulation wounds. Ensure you have enough time to give your pet proper grooming before choosing a dog with a coat like a Shih Poo.
If you adopt a Shih Poo, bring them to the groomer as a puppy to get your pet used to the process. Early introduction can reduce your pup's stress during grooming visits and lessens your dog's likelihood of being anxious or aggressive to future groomers.
Frequently Asked Questions
Why is my Shih Poo shedding?
Shih Poos may shed their coat when transitioning from a puppy coat to a mature coat. Their puppy coat typically sheds between 8-12 months of age. But, like all mammals, you can expect them to shed some hair the same way your own hair will naturally come off your head.
How do I stop my Shih Poo from shedding?
If you have a Shih Poo that is more Shih Tzu than Poodle, it may shed slightly more. Regular coat brushing will help control shedding while keeping your pet's coat healthy and soft. Consistent grooming appointments can also help reduce the amount of shedding.
Is a Shih Poo high-maintenance?
While Shih Poos aren't high-maintenance, they aren't necessarily low-maintenance either. This mixed breed will need a lot of brushing, ideally daily, to prevent hair tangles and mats. Additionally, this type of dog will need regular hair trimming appointments.
How often do Shih Poos need a bath?
You should bathe your Shih Poo every 4-6 weeks. Because Shih Poos have thicker coats, they'll require baths more often than many other dogs. Many long-haired dog owners take their pets to a professional groomer to handle baths and grooming needs like teeth cleaning, nail trims, and haircuts.
The Low-Shedding Shih Poo
Shih Poos are a designer crossbreed between the Poodle and Shih Tzu. They are adorable pets that look like tiny teddy bears come to life. While their fuzzy coats make them all the more desirable, it does come with extra care to keep their coat healthy and soft.
On the plus side, Shih Poos are a low-shedding breed. Shih Poos that have more Poodle genetics than Shih Tzu will shed less frequently. However, as your puppy ages, it may lose its coat and shed more than usual.
Regular grooming and brushing can help keep the excess dander at bay, helping to prevent allergic reactions.
If you find this guide, "Do Shih Poos Shed" helpful, check out our other dog guides:
You can learn more about the Shih Poo breed by watching "10 Things Only Shih Poo Dog Owners Understand | Poodle Mixes World" down below:
Garrett loves animals and is a huge advocate for all Doodle dog breeds. He owns his own Goldendoodle named Kona. In addition, he volunteers at the Humane Society of Silicon Valley, where he fosters dogs and helps animals. Garrett enjoys writing about Doodles and believes that dogs can teach humans more about how to live than humans can teach a dog.
Why Trust We Love Doodles?
At We Love Doodles, we're a team of writers, veterinarians, and puppy trainers that love dogs. Our team of qualified experts researches and provides reliable information on a wide range of dog topics. Our reviews are based on customer feedback, hands-on testing, and in-depth analysis. We are fully transparent and honest to our community of dog owners and future owners.