Looking to adopt or foster your very own Rottweiler? If so, the question, "Do Rottweilers shed a lot?" may have been rolling around in your mind. We aim to please here at We Love Doodles, so let's begin by getting right to its heart.
Yes, these lovable darlings shed. They do so moderately throughout most of the year, but in the Spring and Fall, all bets are off. That hair is falling.
Before scrolling down this article, "Do Rottweilers Shed a Lot," check out these related guides: Do Sheepadoodles Shed and Do Newfypoos Shed?
Why Do Rottweilers Shed?
Why on Earth do they shed in the first place? It's an inquiry much like "Why do stars twinkle?" but there are little-known facts about the reasoning behind the follicle mass exodus.
Most living creatures shed, including us, and it's essentially just cell turnover that creates the need. Otherwise, we'd all be made up of walking skin. Here is the natural hair growth cycle in a healthy dog:
Anagen: Active growth period
Catagen: Transitional phase from anagen to telogen
Telogen: Resting stage that lasts until shedding
Most healthy dogs shed and especially those with undercoats like the Rottie. These thicker coats are primarily there to protect them from cold and hot temperatures. The outer coat is medium-length and is straight, coarse, and dense. The undercoat is on the dog's neck and thighs.
Although seasonal shedding, also called "coat blow," is common to the breed, there are factors that influence just how much hair you'll need to pull off your clothes:
Nutrition
Allergies and other skin conditions
How they were bred
Environment
Body location
Age
Pregnancy/Lactation
Related: Small Dogs That Don't Shed and Best Dogs That Don't Bark or Shed.
Cause of Shedding in Rottweilers
Nutrition
Like humans with our skin, what a dog eats can be apparent by its coat's condition. Therefore, they need quality ingredients in their diets to give their fur the best chance to be complete and healthy.
Sufficient protein, fat, vitamins, and minerals in their food are the optimal diet for healthy fur and being nourishing to their skin. Having sufficient amounts of water is essential as well.
Allergies and Skin Condition
Many skin conditions can affect the dog's coat and make the appearance dull or patchy. They can also cause excessive shedding.
Possible side effects from:
Medication
Immune diseases/Cancer
Thyroid or adrenal issues
Fleas
Breeding
When it comes to the coat's health, where the dog comes from contributes to it. If a disease or other illness is present in the lineage, it can be present (but rare) in the litter.
Also, something that's often overlooked, stress and trauma that can be attributed to certain breeders' environments, can most certainly affect the amount of shedding a dog has. Be very particular about who and where you get a dog from.
Environment
Another contributor to "stress shedding" is the emotional temperature in the home where the dog eventually stays. They're susceptible to what's happening around them, which can present in their coat's condition. As receptive as they are to love, they feel stress like human beings do, too.
Also, depending on their location, if the physical temperature where they're kept (outside or inside) is exceptionally cold or hot, it can play a part in their fur's condition and cause excessive shedding. Pollen season and even insufficient humidity indoors can also contribute to the coat's health.
Body Location
Depending on what is affecting the dog's coat, the location of the irritant — paws, back, hind area, or other — affects shedding as well.
Age
Puppies, less than a year old and usually at only weeks old, naturally shed their fur as they grow. A senior or older dog can also lose their hair excessively all over or in patches as a symptom of aging. Activity levels and overall health are also important.
Related: Teacup Dogs That Don't Shed and Best Low Energy Hypoallergenic Dogs That Don't Shed.
How to Prevent Rottweilers From Shedding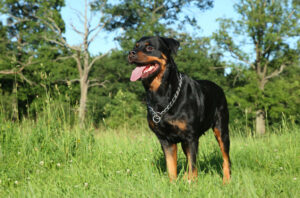 Brushing and bathing your dog should be a habit to combat hair, remove dirt, and distribute natural oils evenly. There are two ways to groom:
Taking trips to the groomer: Groomers know dogs, so they know how fur works and how to best combat it. So please put your trust in their hands for some of the best bathings and brushing possible.
Doing it yourself: You could buy a lint roller for weekly brushing, but you'd be blowing through them like money in even one grooming session. So get some help.
Here are a few of the top grooming, 5-star products on Amazon:
The FURminator: Not only is the name adorable (Any Arnold Schwarzenegger fans out there?), this little ditty works like a charm, so be prepared to be amazed. Known to create another dog from all the hair practically, it takes off. This is the only tool some customers will use for this important personal hygiene habit.
Chris Christensen Big G Dog Slicker Brush: Although it's not for the faint of heart when it comes to the price, this brush is everything you want it to be: Easy to use, thorough, and gets to the underlying coat. Noone could argue with a product that has five stars from 3,500 people. Their bold claim is that they're "the finest grooming products ever available in the dog show and pet care worlds." Impressive.
Bamboo Groom Palm-Held Brush for Pets: According to the company, this brush will "mimic a natural petting sensation." Hundreds of people who gave a review agree this is the best pet grooming tool. Easy on the wallet, too.
Bathing a dog can be a job, so use the proper tools and products to help both of you get through it. Dogs' skin is thicker than ours, and their pH (acidity) is different from humans. So a shampoo specifically for dogs is what's best for them.
Your vet is the best resource to find out how often you should bathe these gentle giants. There are so many variables that can affect the natural oils and health of a Rottie's coat. It's worth the investigation.
Proper Nutrition: "You are what you eat" is a saying for a reason. A dog must get what it needs in its food to help regulate shedding, among other reasons.
Regular Vet Visits: Taking a dog to the vet might be the most important thing you can do to prevent excessive shedding. It will be able to diagnose and identify anything that could contribute to a problem with their fur.
Related: Top Indoor Dogs That Don't Shed and Best Dog Food For Shedding.
Conclusion For "Do Rottweilers Shed a Lot"
Additionally, a vet will assess the animal to determine what type of foods will help them flourish and lose hair typically. Now that you're armed with the facts of how Rottweilers shed and what you can do to make sure you're not walking into a meeting looking like you're growing dog hair, you know you can do things to make it bearable. So here's to Rottweilers and adorable, shedding selves!
For more articles with mentions of the Rottweiler, you can check out:
Learn more about the Rottweiler by watching "How Much Do Rottweilers Shed" down below: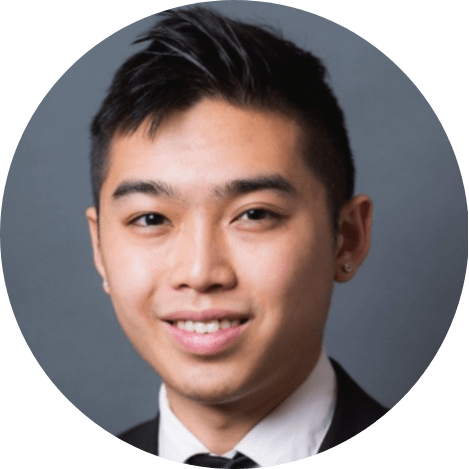 Andy is a full-time animal rescuer and owner of a toy doodle. When he's not saving dogs, Andy is one of our core writers and editors. He has been writing about dogs for over a decade. Andy joined our team because he believes that words are powerful tools that can change a dog's life for the better.
Why Trust We Love Doodles?
At We Love Doodles, we're a team of writers, veterinarians, and puppy trainers that love dogs. Our team of qualified experts researches and provides reliable information on a wide range of dog topics. Our reviews are based on customer feedback, hands-on testing, and in-depth analysis. We are fully transparent and honest to our community of dog owners and future owners.