Poodles originated in Germany, which is known for cold winters and a generally cooler climate than other parts of the world. So do Poodles get hot easily? And how do you keep them cozy all year long?
Because they're from an area known for its mild climate, you may be wondering whether it's easy for your Poodle to overheat. In this guide, we're going to take a look at the ideal temperature required to keep your pup happy, and what to do if your Poodles does, in fact, overheat.
Before reading this guide, "Do Poodles Get Hot Easily," check out: 6 Fun Games to Play With Your Poodle! (2023) and Pros and Cons of a Poodle with Long Hair! (2023).
Do Poodles Get Hot Easily?
As we mentioned, Poodles hail from Germany. The German word for the breed, "Pudel," was shortened from "Pudelhund." The translation of this word is, loosely, "puddle hound." Poodles like to play in the water, and your dog will love a day at the beach or the lake. Poodles are great swimmers!
Summer fun is easy with Poodles, but they can overheat. A dog's body temperature usually ranges from a normal reading of 101 to 102.5, but if it reaches 103 or higher, your Poodle may be in trouble.
Poodles have a unique risk: they don't shed. Their hair can be thick and fluffy, like wool, acting as warm insulation through the cold German winters. Unfortunately, this translates to a warmer body temperature in the summer, too, so you'll need to take steps to keep your dog's temperatures in a healthy range.
If you're wondering "Do Poodles get hot easily," the answer is no. They're actually quite well-equipped to handle hot weather, despite their origins, so long as those temperatures don't reach extremes.
How Does Hot Weather Affect Dogs?
Your Poodle can deal with hot temperatures relatively well. However, if she gets too hot, there are illnesses and ailments that can affect her. The most common of these are dehydration and heatstroke.
Let's take a look at these conditions and learn about what to do if you suspect your dog is unwell.
Dehydration in Dogs
If your dog stays in high temperatures for too long, she risks dehydration. According to the AKC, there are symptoms of dehydration to look for, including:
A loss of appetite
Vomiting
Lethargy
Dry nose and gums
Thick, "stringy" saliva
Excessive panting
A loss of skin elasticity
If you notice any of these symptoms, it's time to bring your dog inside to a cooler environment, then give her cool (not cold) water. Monitor her, and if her symptoms persist you'll need to bring her to the vet.
Heatstroke in Dogs
Heat stroke is also called hyperthermia, and it occurs when your dog's overall body temperature gets too high. This condition can cause permanent organ damage and even death, so immediate treatment is critical to your dog's well-being.
The symptoms of heatstroke are similar to dehydration, and may include:
Dry gums and nose
Gum bruising
Lethargy
Seizures
Excessive panting
At the first sign of heatstroke, bring your dog indoors. Cool her down with cool water — you can even pour water over her to lower her temperature and make her more comfortable.
Call the vet immediately, and prepare for a visit, as your doggy doctor may request that you bring your dog in for IV fluids and other treatments.
How to Keep a Poodle Cool in Summer
As you probably know, Poodles don't shed. Her hair will remain on her body and serve as an insulator. This is great in winter, but not ideal for summer.
Consider a summer cut or a kennel cut for your dog during warm temperatures. Not only are these hairdos easy to maintain and keep clean, but they're also perfect for keeping your dog cool. Be sure you apply a sunblock formulated for dogs.
Don't leave your dog in the car. Temperatures within a closed vehicle are typically 43 degrees Fahrenheit higher than outdoor temperatures. Imagine how your dog will suffer on a 90-degree day!
Do not leave your dog outside in hot temperatures for any prolonged period. Even if you have a dog house, the "shelter" may harm your dog more than help. Dog houses aren't insulated like our homes are, and airflow is obstructed. It's best to bring your dog inside when temperatures climb.
Finally, always ensure that your dog has plenty of water. Fill her bowl, take her swimming, and exercise in the mornings or evenings when it's cooler outdoors. Following these guidelines can help keep your dog protected from heatstroke and dehydration.
How Long Can My Poodle Stay Outside?
Poodles are agreeable dogs. They can get along fine outdoors in hot or cold temperatures. But how long is too long to keep your dog outside?
When temperatures drop below 40 degrees Fahrenheit or rise above 90, it's best to leave your dog outside for no longer than around 15 minutes at a time. She'll need to go out for a couple of walks, to use the bathroom, or just to get the zoomies out, but this should be done in moderation.
If you work outside the home, do not leave your dog outdoors for the duration of your shift. Temperatures can rise quickly, and it's not safe for your dog to be out that long. Even a quality dog house poses risks. Pests or vermin may take shelter in the house, or the air circulation may not be sufficient.
If you need to keep your dog outdoors for longer than around 15 minutes, monitor her closely. Look for the signs of distress we mentioned earlier, and if you notice any, bring her indoors and call the vet.
Frequently Asked Questions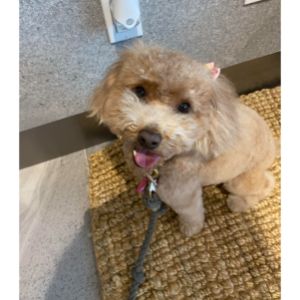 Do you have a Poodle that loves to play outside? You may still have questions about whether they get hot easily. Here are answers to some of the most common questions.
What temperature is too hot for a Poodle?
When temperatures reach around 90 degrees Fahrenheit (32 Celsius), your dog should not be outside for long periods of time. If you're spending time swimming, hiking, or playing, great! Monitor your dog and be sure she has plenty of water to drink.

Apply sunscreen to protect her skin, and watch for signs of hyperthermia and dehydration.
Do Poodles like hot or cold weather?
The simple answer to this frequently asked question is "both." Your Poodle was built for cold weather, but she'll be perfectly content romping outdoors in the summertime, too.

In extreme temperatures, it's important to keep a close eye on your pup and make sure she's not distressed. This goes for both hot and cold weather.

Should you notice that your dog is in trouble, bring her indoors and ensure that her body temperature is in a range between 101 and 102.5 degrees Fahrenheit. Call a vet if her temp drops below or exceeds these temperatures.
What is the best temperature for a Poodle?
The most comfortable temperature for a Poodle is in a range between 68 and 72 degrees Fahrenheit, whether indoors or outdoors.

Generally speaking, if you're comfortable, your dog is comfortable. When you begin to feel like it's a bit toasty outside, it's probably time to get your Poodle into some cooler temperatures and give her a break from the heat.

Don't forget that dogs can get sunburn. While cutting your pup's hair into a kennel cut or a summer cut, ask your groomer about sunblock that's formulated for dogs. The shorter her hair, the more susceptible to sunburn she will be.
Is the heat bad for Poodles?
Speaking in generalities, the heat won't harm your Poodle. They're perfectly capable of tolerating summer temperatures and should be just fine playing outside for moderate amounts of time.

Something to take into consideration is your dog's paws. When you and your pup walk outdoors, remember that that pavement gets hot. If you wouldn't be comfortable walking barefoot, your dog will probably experience discomfort, too.

Mitigate harm by walking your dog on grass or by seeing if your dog will tolerate "booties" which will protect her feet.
My dog has heatstroke — what should I do?
If you suspect your dog has heatstroke, please call the vet! This is a serious condition that can lead to organ failure and even death. Your vet can lead you through the steps you'll need to take to bring your dog's temp down to a safe range at a safe speed.

Meanwhile, give your dog cool water to drink, and feel free to immerse her in cool (but not too cold!) water. This will help make her more comfortable and will eventually decrease her core body temperature.

If the condition is severe, your veterinarian may recommend that you bring her in to receive intravenous fluids. These IVs will help your dog recover from dehydration and other side effects of extreme temperatures.
Conclusion for "Do Poodles Get Too Hot"
Poodles originated in Germany, which is known for bitter winters and warm summers. For this reason, they are physically equipped to handle both cold and hot temperatures.
Poodles love summer! Summer is a time to swim, play outside, and get zoomies in the yard. But if temperatures are extreme, you'll need to monitor your dog closely. If she appears to be in distress, please contact the vet and take steps to cool her down while you wait for your appointment.
If you find this guide, "Do Poodles Get Hot Easily" helpful, check out:
Learn more by watching "Poodle: The Pros & Cons of Owning One" down below:
Garrett loves animals and is a huge advocate for all Doodle dog breeds. He owns his own Goldendoodle named Kona. In addition, he volunteers at the Humane Society of Silicon Valley, where he fosters dogs and helps animals. Garrett enjoys writing about Doodles and believes that dogs can teach humans more about how to live than humans can teach a dog.
Why Trust We Love Doodles?
At We Love Doodles, we're a team of writers, veterinarians, and puppy trainers that love dogs. Our team of qualified experts researches and provides reliable information on a wide range of dog topics. Our reviews are based on customer feedback, hands-on testing, and in-depth analysis. We are fully transparent and honest to our community of dog owners and future owners.