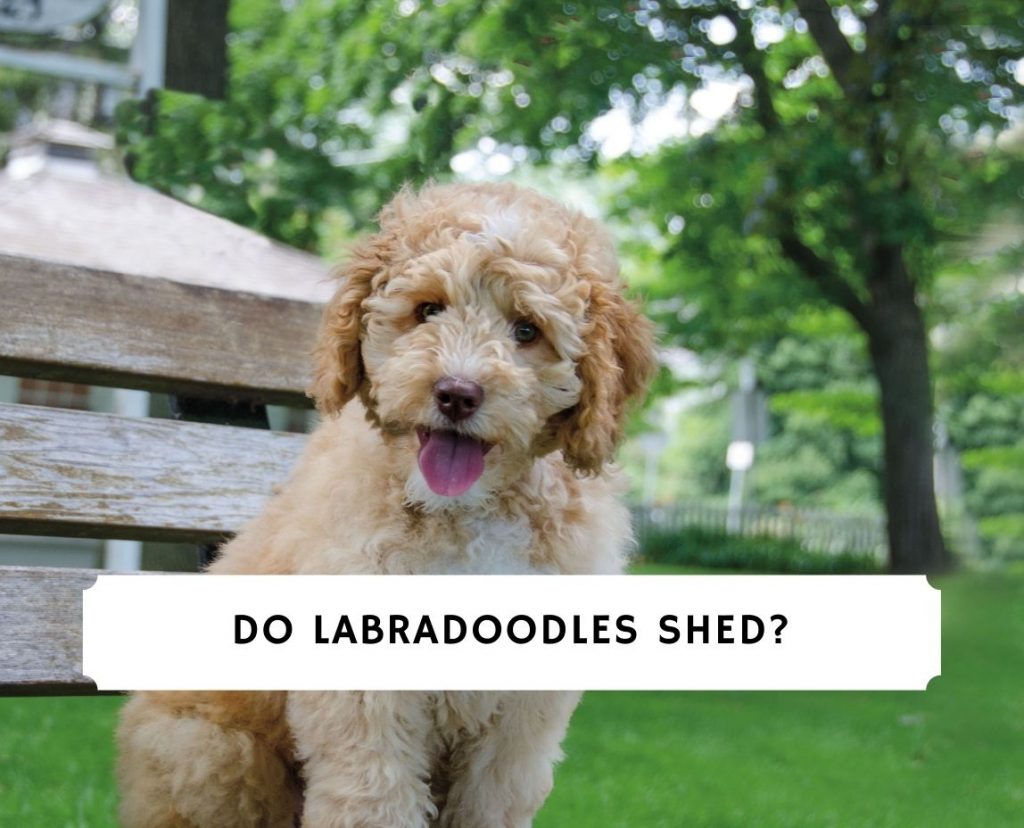 With the wavy and curly hair on this dog breed, you're probably asking: Do Labradoodles shed? Before we move forward, here's something you should know about this Labradoodle dog breed. Crossing a Labrador Retriever with a Poodle gave the world the Labradoodle—an intelligent, lovable dog. In terms of the nonshedding and hypoallergenic ranking amongst all Doodle crossbreeds, the Labradoodle stands second after the Goldendoodle. However, the amount your Labradoodle sheds is highly dependent on their genetic makeup.
As you probably know, Poodles are considered mostly nonshedding. On the other hand, Labrador Retrievers shed a ton of hair all year. The amount a Labradoodle will shed will depend on the genetic makeup of the Poodle and Labrador Retriever. This highly depends on the Labradoodle Generation. For instance, an F1 Labradoodle (50% Poodle, 50% Labrador Retriever) is much more likely to shed than an F1B Labradoodle (75% Poodle, 25% Labrador Retriever). If you're strictly looking for a nonshedding Labradoodle, you should research which generation is best for you. However, in general, Labradoodles shed at least a little bit of hair.
The Long-Standing Myth
Let's talk myths for a moment. All dogs shed, including Labradoodles, and the degree of shedding varies on breed and coat type. Breeds with straight hair will complement your interior decoration efforts with bits of fur. Breeds with curly hair, like the Poodle, also shed but significantly less. The difference with a Poodle is that the shedding hair gets tangled with the nonshedding hair and doesn't fall on your floor. This is why Poodles are considered low-shedding or nonshedding dogs.
Humans can develop allergies to dog hair. Canine proteins trigger allergies from their skin cells (dander), saliva, or body functions. No dog is entirely hypoallergenic or nonshedding. Even if your Labradoodle didn't shed hair, the dander stuck to dog fur is not the only source of protein. Your Labradoodle could lick you, drool all over the table, or have a bathroom accident, and any of these could have you reaching for tissues and medication.
It's essential to set the record straight here. You wouldn't want to bring a Labradoodle home expecting never to trigger an allergic reaction only to find yourself sneezing. Labradoodles were meant to result in a smart, friendly, low-shedding hybrid. This reduces the potential for an allergic reaction for people with pet allergies who need service dogs. However, Labradoodles do shed a little bit.
How Much Do Labradoodles Shed?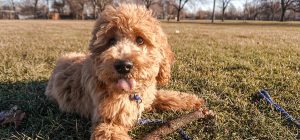 This depends entirely on the parent dogs. Labradoodles are a cross between the high-shedding Labrador and the low-shedding Poodle. Some Labradoodle puppies will go on to inherit their Labrador parent genes. In this case, you'll have a Labradoodle puppy throwing hair all over your sofa like confetti. Alternatively, you could have a puppy that has more Poodle genes and hence, sheds very little. It's all genes and a whole lot of luck unless your Labradoodle breeder is willing to genetic test the specific shedding genes. 
Which Labradoodle Coats Shed?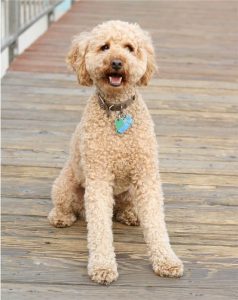 A Labradoodle's coat usually comes in three forms – wool, fleece, or straight.
Wool
Often called 'curly Labradoodles,' wool coated Labradoodles will look a lot more like their Poodle parent. Their curls differ from doodle to doodle with varying tightness. However, most wool Labradoodles have very 'tight' curls which means they don't shed as much as any hair that falls remains caught in the coat. In general, the more curly-coated a Labradoodle is, the less it will shed.
Labradoodles with wooly hair need lots of grooming and need brushing daily to remove any excess hair. If you don't groom your Labradoodle at least a few times per week, then their coat will get matted. Most people don't mind the increased grooming responsibilities, as it means they get to be pet parents and sneeze a whole lot less.
Fleece
If you aren't sure what a fleece-coated Labradoodle will look like, think 'shaggy.' The fleece-coat is low-shedding, but the dogs still do shed a little bit– there's no escaping the hair. However, fleece Labradoodles shed less than their Labrador Retriever parents. Thankfully, these fleece blanket Labradoodles need grooming or brushing only once a week.
Straight
This type of coat is the least common and takes after the Labrador Retrievers straight-haired genetic traits. If your Labradoodle has a Lab-like coat, then be ready for some shedding. This type of coat is more noticeable after about 12 weeks of age and later on after they shed their puppy coat. If you want some degree of certainty that you have a fleece or wool coat Labradoodle, then wait till the litter crosses the 12-week mark before making your selection.
Puppies from a first-generation (F1) Labrador-Poodle mix primarily inherit a Labrador-like coat. If you cross a Labradoodle with a Poodle, it becomes an F1b generation and goes further away from a Lab's characteristics. Irrespective of the hair and the shedding, they still make splendid family companions.
Related: Straight Hair Labradoodle Guide
Why Do Labradoodles Shed?
Labradoodles shed for the same reason our skin cells die and new cells grow. When old hair falls out, then new hair grows. Dogs experience the entire lifecycle of hair shedding which includes dead skin cells too. So when you brush your dog's fur, you're also brushing off the dander along with the excess hair.
Breeds like Labradors have two coats and seasonal changes determine how much they will shed. You may notice that your Labradoodle gets fluffier in the winters and less during the summers as the body makes provisions with the changing weather. This is another reason why they may shed.
Related: Why is my Labradoodle Shedding?
Managing the Shedding of a Labradoodle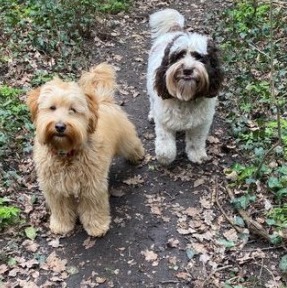 You can't stop your Labradoodle from shedding, but you can minimize the hair in your house. Regular grooming will result in a cleaner, healthier coat with fewer hairs floating around your house.
#1 Brushing
As I've mentioned before, the brushing amount depends on your Labradoodle's type of coat. If your Labradoodle has a woolly coat, then you should try to brush them every day. If your Labradoodle has a fleecy or wavy coat, then you can brush them once a week. While brushing your Labradoodle, brush close to the skin, and work the undercoat. Start from the feet before moving to the body. Address the tail next and the head last. Always brush in the hair's direction in which it grows and with small strokes. You can also brush using a slicker brush or comb. They cost the same as a regular brush and they help remove all the excess hair.
Related: Best Brush for a Labradoodle
#2 Clipping
A regular haircut makes grooming more manageable which results in less hair. While cutting, it's best to give them a neat trim. Since each part of the body requires specific hair lengths, it's best to study in detail how to clip your Labradoodle if at all you wish to do it at home. It's always better to learn from a professional groomer first. Feel like getting creative? Check out our blog post on Labradoodle haircuts that will match your pet's personality.
#3 Nutrition
Lack of adequate nutrition can weaken the coat of your Labradoodle. Make sure you provide them with balanced meals. Just like omega fatty acids help strengthen our hair, it makes your dog's coat healthier and shinier. If they still lack nutrition even after a balanced meal, consult your vet for additional vitamins and minerals.
#4 Bathing Your Labradoodle Puppy
Bathing your Labradoodle at least once a month will help remove all the dead fur that would otherwise fall out while shedding. Try using de-shedding shampoo to limit the volume of hair that clogs your drain. In summers, you can wash twice a month because your dog will shed more.
#5 Stress
Stress affects dogs the same way it does humans. If your dog experiences a lot of anxiety, you'll notice an increase in shedding. Make sure that you're alert about their changing behaviors. Some of the biggest factors that can stress your Labradoodle are a recent move to a new place or a loss of a loved one that your dog was close to.
Conclusion For "Do Labradoodles Shed"
Every Labradoodle is unique and some may shed a lot while some may hardly shed at all. Either way, they're loving, cuddle buddies. Don't worry about the hair so much, and enjoy your puppy for as long as you can. If you're really concerned about shedding, we highly suggest that you purchase a Labradoodle with more Poodle genetics.
To learn more about the Labradoodle, check out our other guides and informational content:
To learn more about the Labradoodle shedding, watch "How Much Does a Labradoodle Shed" from LEOLAND down below:
Garrett loves animals and is a huge advocate for all Doodle dog breeds. He owns his own Goldendoodle named Kona. In addition, he volunteers at the Humane Society of Silicon Valley, where he fosters dogs and helps animals. Garrett enjoys writing about Doodles and believes that dogs can teach humans more about how to live than humans can teach a dog.
Why Trust We Love Doodles?
At We Love Doodles, we're a team of writers, veterinarians, and puppy trainers that love dogs. Our team of qualified experts researches and provides reliable information on a wide range of dog topics. Our reviews are based on customer feedback, hands-on testing, and in-depth analysis. We are fully transparent and honest to our community of dog owners and future owners.