Do Labradoodles like to swim? Yes. Most Labradoodles like to swim, but it will take some training and encouragement to get your Labradoodle to swim. Labradoodles are bred from two water loving dog breeds (Labrador Retriever and Poodle) making them excellent swimmers. However, keep in mind that each Labradoodle has its own personality so your results may vary!
How to get your Labradoodle to like the water?
There are several important factors to get your Labradoodle to like the water and enjoy swimming. Our tips are below:
Get the appropriate gear. Dog life vests are extremely common and provide flotation for your Labradoodle if they get tired of swimming. It also helps contribute to a positive swimming experience since their head will always be above water.
Get your Labradoodle accustomed to water. Your dog should know how to enter and exit the water in order to know how to swim. Most labradoodles won't just jump into the water until they know how to get out of it.
Make sure your Labradoodle doesn't tire themselves out swimming. Make sure your dog has a really good experience swimming! This means that they shouldn't struggle swimming around and shouldn't get too tired.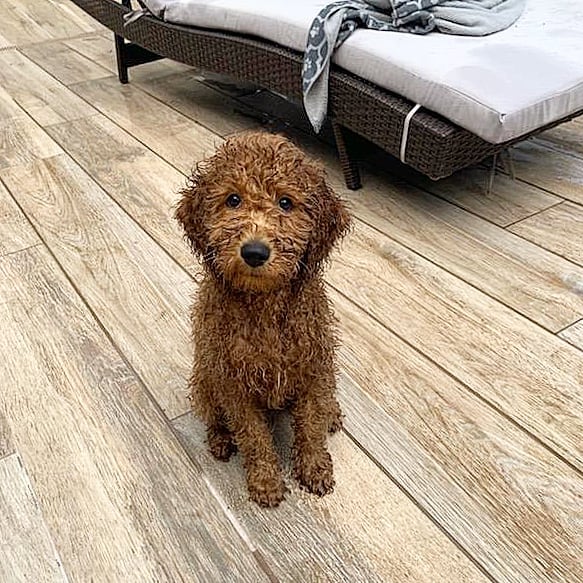 How do teach your Labradoodle to swim?
Most Labradoodles are extremely adventurous and will openly explore water and try frolicking through puddles. As long as your associate good experiences with water, your Labradoodle will love swimming. Here are some tips to teach your Labradoodle to swim:
Start with a small body of water. Introduce your Labradoodle to small bodies of water. A nice hard-plastic kiddie pool with a few floating toys inside of it will make a great first experience!
Start in the shallow end. The best way to get your dog to swim is stand in the shallow end of the water and encourage your dog to "come" to you. If that doesn't work, try to play a game a fetch in the shallow end using your Labradoodles favorite toy. Labradoodles love fetch!
Don't force your Labradoodle to swim. Throwing your dog into a pool is the worst way to teach your dog to swim. Let your Labradoodle get comfortable with the water and the environment. Bring treats to get them closer to the water.
Positive Reinforcement. Once your dog enters the body of water, quickly reinforcement the experience with treats and praise. Your Labradoodle's body will experience new sensations from the water, so you quickly want to make them feel comfortable. The feeling of being wet, the bouyant force of water, and feeling of currents will all be new experiences for your Labradoodle.
Labradoodles are extremely fast learners. With some slight encouragement, your dog should become a great swimmer! These types of dogs are literally born to swim.
Clean your Labradoodles ears after swimming!
Since Labradoodles have floppy ears, you must clean their ears after swimming or you risk developing ear infections. The floppy Labradoodles ears trap moisture after swimming which essentially allows bacteria and yeast to form in warmer weather.
It's recommended that you use a cotton ball to clean your Labradoodles ears post-swim. Make sure to swab the cotton ball in your dogs ears enough times to get most of the moisture out.
Alternatively, there are protective ear coverings that dogs can use while they swim to prevent water from entering their ears. There are also waterpoof silicon earplugs for pets to prevent water from going inside their ears. However, it may be difficult for a dog to listen to your commands if their ears are covered.
Safety Precautions for Labradoodles Swimming
Its not recommended that Labradoodles swim in moving bodies of water such as rivers or the ocean. This is because the tides and the rips currents change rapidly and pull a dog away into deeper waters where they can't swim back to shore. Swimming pools or lakes are the recommended bodies of water for dogs to swim in.
Beware of natural bodies of water containing Blue-Green algae as dogs have reportedly died after swimming in these types of waters. Blue-Green Algae is a group of bacteria that look like algae which clumps together in still bodies of water like lakes. The term Blue-Green Algae is a bacteria called cyanobacteria, which is often not visible by the naked eye, and appears as green or brown spots in a pond or lake. Do not let your dog swim or consume this type of water.
It is recommended that you know first aid and CPR for dogs by taking a course. You never know what might happen when your dog goes for a swim so it always best to be prepared. Your training could save your Labradoodles life, or another dog's life. You can call your local Red Cross to see if they are offering any local courses for first aid and CPR.
Conclusion for Labradoodles and Swimming
Labradoodles like to swim and can be great swimmers.  It's recommended that you start your dog swimming from a young age so they feel safer in the water as they grow up.  Make sure your Labradoodle has a good experience swimming and make sure to feed them lots of treats as positive reinforcement. 
Read more:
Garrett loves animals and is a huge advocate for all Doodle dog breeds. He owns his own Goldendoodle named Kona. In addition, he volunteers at the Humane Society of Silicon Valley, where he fosters dogs and helps animals. Garrett enjoys writing about Doodles and believes that dogs can teach humans more about how to live than humans can teach a dog.
Why Trust We Love Doodles?
At We Love Doodles, we're a team of writers, veterinarians, and puppy trainers that love dogs. Our team of qualified experts researches and provides reliable information on a wide range of dog topics. Our reviews are based on customer feedback, hands-on testing, and in-depth analysis. We are fully transparent and honest to our community of dog owners and future owners.