Before bringing home this Golden Retriever mix or a Poodle mix, people often wonder: "Do Goldendoodles smell?" Goldendoodles come in a variety of colors, coats, and sizes. This wonderful breed is known for its kind and loyal nature, gentle, unwavering temperament, and beautiful appearance. Goldendoodles can have straight, curly, or wavy coats. Many people wonder if this breed is right for them, and these thick coats mean that a Goldendoodle may smell.
Any breed, including the Goldendoodle, can smell unpleasant if not adequately cared for. The maintenance to care for a Goldendoodle is not difficult but does require a regular hygiene regimen to keep the dog's coat shiny, clean, and smelling fresh. The following information will help you decide if a Goldendoodle is the right breed for you. If you already have a Goldendoodle, keep reading to ensure that you properly care for your dog. We will examine the breed history and hygiene care to keep wonderful dogs clean and healthy.
Before scrolling down this article "Do Goldendoodles Smell Bad And Stinky," you might be interested in Poodle vs Goldendoodle and Bernedoodle vs Goldendoodle.
Goldendoode Dog Breed
A Goldendoodle is a hybrid breed of canine bred by crossing a Golden Retriever with a Poodle. Goldendoodle was initially bred in the early 1990s due to the successful breeding of the Labradoodle. A breed cross between a Labrador and a Poodle. Breeders discovered that the dog had the temperament of a lab and the coat qualities of the poodle. Dog lovers were thrilled with these qualities.
Breeders decided that the combination of the well-loved Golden Retriever and the Poodle may also be a success. The breed of the Goldendoodle was a success for Golden Retriever enthusiasts who suffered from allergies or did not enjoy the upkeep of a Golden Retriever's coat. By breeding the Golden Retriever with a Poodle, the result was an intelligent, loyal, gentle, and low shedding dog: the Goldendoodle.
Other Goldendoodle Dog Breed Guides: Chocolate Goldendoodle Guide and Teddy Bear Goldendoodle Guide.
Coats and Colors Available
Goldendoodles come in a variety of coats, colors, and even different sizes. The combination of the Golden Retriever and Poodle can produce coat colors, including:
Cream
Red
Apricot
Black
Brown
Gray/Silver
As you can imagine, the resulting offspring can be one or any combination of these colors. Several patterns can also result, including:
Brindle
Parti
Merle
Phantom
Be sure to find a reputable breeder, as some of these genetic qualities must be considered carefully in breeding to avoid health concerns, including blindness. A reputable breeder will have the genetic information available to examine. Keep reading for how to find a reputable breeder.
Goldendoodle-Related Article: Improper Coat Goldendoodle and Furnishings.
Goldendoodle Coat
Goldendoodles can also possess curly, wavy, or straight coats. The genetic information from the breeder will contain the information required to predict the puppy's fur.
Goldendoodle Coat-Related Articles: Types of Goldendoodle Coats and Types of Goldendoodle Colors.
Goldendoodle Size
Goldendoodles come in several sizes due to the variance in size between the Golden Retriever and the Poodle.
| | | |
| --- | --- | --- |
| Size | Height | Weight |
| Petite Mini | Less than 14 Inches | Less than 25 Pounds |
| Mini | 15- 17 Inches | 26-35 Pounds |
| Medium | 18-21 Inches | 36-50 Pounds |
| Standard | Greater than 22 Inches | Greater than 51 Pounds |
Goldendoodle Size-Related Articles: Which Goldendoodle Size (Mini, Medium, Standard) and When is a Goldendoodle Full Grown?
Goldendoodles Are The Ultimate Companion Dog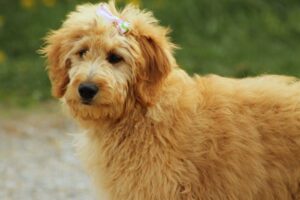 Goldendoodles have earned their reputation as the ultimate companion dog. This is due to their gentle temperament, cheerful demeanor, and high intellect, making it easy for owners to train. Goldendoodles make excellent companion dogs for the elderly, disabled, or in a professional therapy setting. They make excellent family pets due to the gentle nature derived from the Golden Retriever.
Goldendoodle-Related Article: Are Goldendoodles Good With Kids, Dogs, & Cats?
Keeping Your Goldendoodle Smelling Clean
Luckily the upkeep for a Goldendoodle is relatively easy and perfect for those who enjoy a low-maintenance dog. This bred does not shed much, making it hypoallergic and easy to care for. Follow the following advice to keep your Goldendoodles coat clean, shiny, and smelling fresh.
Brush and Detangle
Bathe
Trim Coat and Nails
Keep Teeth and Ears Clean
The process is simple but vital to keeping your Goldendoodle fresh and healthy.
Goldendoodle Helpful Advice: Tips For Grooming Your Doodle At Home and How To Trim a Goldendoodle's Face.
Advice for Goldendoodle General Upkeep
Just because the Goldendoodle is easy to groom does not mean that you should neglect to care for their coats. Remember to brush their undercoat and overcoat at least once per day.  Following a routine, such as a simple brushing, will prevent the fur from matting and tangling, which will lead to more issues later. Never hurt your Goldendoodle when brushing their coats. If it does become tangled, you will need to find a product, such as a conditioning shampoo or a coat spray that will gently detangle their coats.
Giving Your Goldendoodle a Haircut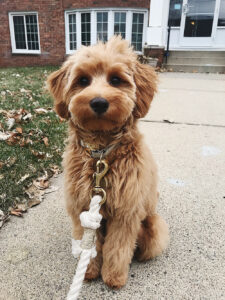 Coat lengths vary greatly amongst Goldendoodle, but most do need a haircut every 6-8 weeks. A haircut will not only keep them smelling and looking their best but will also prevent health issues caused by neglecting their hygiene, such as infections. You can take your Goldendoodle to a groomer, or you can opt to save time and money do it yourself. Be sure only to cut your Goldendoodles hair when it is scorched.
Remember to keep them infection-free and smelling their best you must trim the hair in the following, often forgotten, but vital areas:
Ears
Around the Eyes
Paws
Anal Area
Forgetting to trim these areas can lead to a sick and foul-smelling Goldendoodle.
Goldendoodle Product Recommendations: Best Shampoo For Goldendoodle and Best Dog Brush For a Goldendoodle.
Conclusion For "Do Goldendoodles Smell Bad And Stinky"
The Goldendoodle may be the perfect dog if you are looking for a gentle, intelligent, and loving companion dog. These dogs thrive in an environment that provides them with plenty of love and attention. They live to please their families and, if treated well, will be loyal companions for all of their years. Consider whether or not you have the time to commit before purchasing or adopting any breed of dog.
Goldendoodles need affection, patience, and a kind owner. If you cannot devote the time and give this breed the love that they need, you may want to reconsider. Goldendoodles are the perfect dog for families with children, companions for the disabled and the elderly, and anyone who loves a non-aggressive, intelligent, and attractive dog. Visit the Goldendoodle Association of North America (GANA) for more information about this great breed. This organization is fighting to build a breed standard through research, testing, and involvement in the Goldendoodle community.
For more guides and information about Goldendoodles from our team at WeLoveDoodles, check out:
You can learn more about the Goldendoodle dog breed by watching "Goldendoodle Dog Breed Guide" from Smart Dog Lover down below: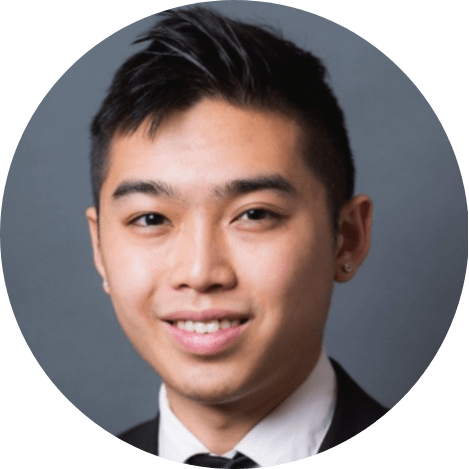 Andy is a full-time animal rescuer and owner of a toy doodle. When he's not saving dogs, Andy is one of our core writers and editors. He has been writing about dogs for over a decade. Andy joined our team because he believes that words are powerful tools that can change a dog's life for the better.
Why Trust We Love Doodles?
At We Love Doodles, we're a team of writers, veterinarians, and puppy trainers that love dogs. Our team of qualified experts researches and provides reliable information on a wide range of dog topics. Our reviews are based on customer feedback, hands-on testing, and in-depth analysis. We are fully transparent and honest to our community of dog owners and future owners.