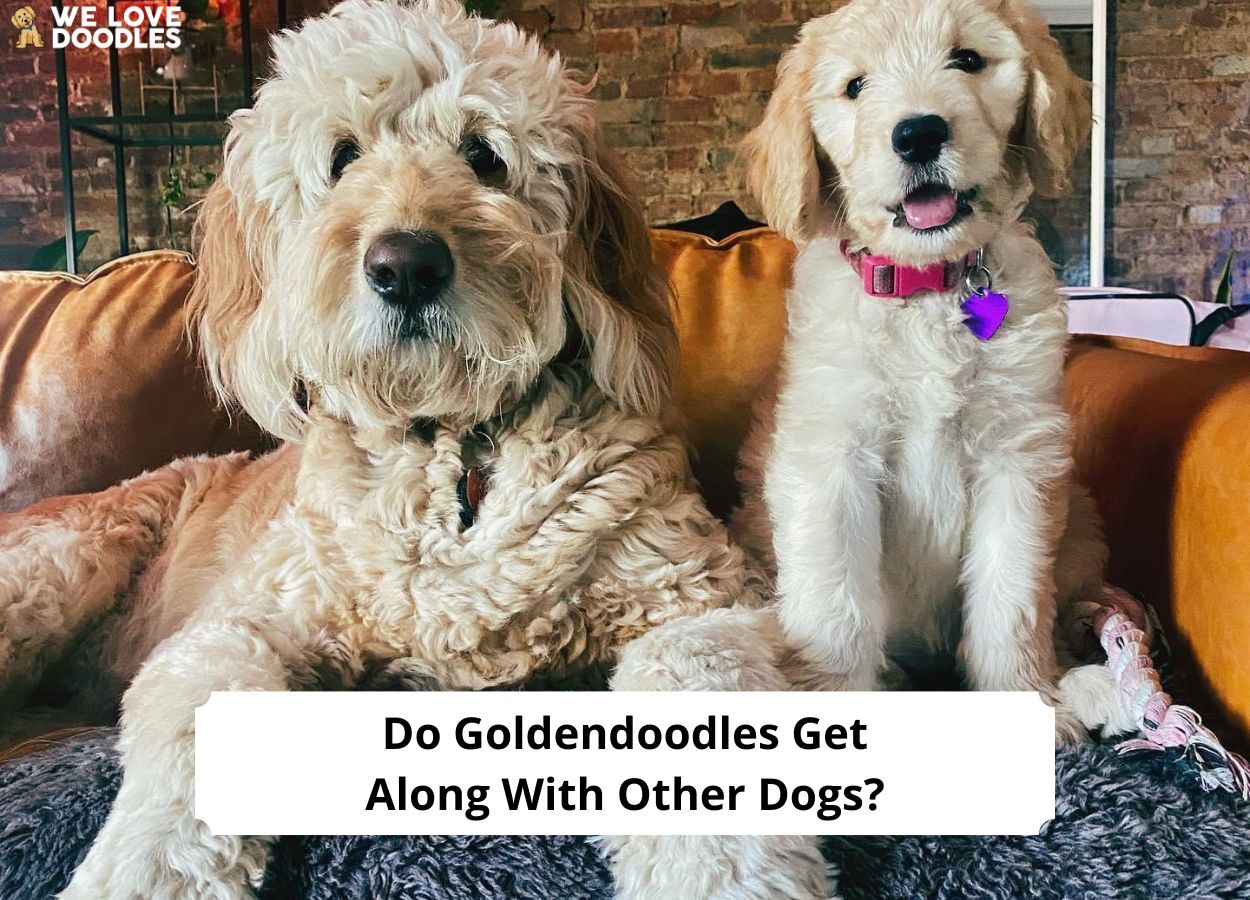 You've decided to adopt a Goldendoodle into your home. Congratulations! Goldendoodles are friendly, affectionate caregivers that will get along with almost anyone. But do Goldendoodles get along with other dogs?
Bringing a new family member into your home is a big decision, and you want to make sure everyone is in agreement — even your canine companions! Will your Goldendoodle be friends with the dogs in your home, or will he show aggression?
If you already have dogs in your home, you may be wondering if everyone will be friends! In this guide, we're going to look at the Goldendoodle's personality and more. Read on to find out if your Goldendoodle will fit into your family.
Before reading this guide, "Do Goldendoodles Get Along With Other Dogs," check out: When to Spay a Goldendoodle? (2023) and How to Train a Goldendoodle! (2023).
What Is a Goldendoodle?
The Goldendoodle, as you may know, is a designer dog created by crossing a Golden Retriever with a Poodle. There are mini, medium, and standard pups, so you and your breeder can discuss which is best for you.
Regardless of your dog's size, your Goldendoodle will carry some of the characteristics of both his Poodle parent and his Golden Retriever parent. The Poodle is highly intelligent, athletic, obedient, and agile. He was bred as a water retriever, so don't be surprised if your Goldendoodle loves to splash!
The Golden Retriever is, obviously, a retrieving dog, but he's also obedient, loyal, and oh-so-faithful. Golden Retrievers are used as much today for hunting as they are as service dogs due to their steadfast loyalty.
So what happens when you put these two dogs together? Well, you get the best of both worlds! Your Goldendoodle will be agile, friendly, loyal, empathetic, and extremely intelligent. These highly trainable dogs also have the benefit of being largely hypoallergenic due to their Poodle parent's hair.
Do Goldendoodles Get Along With Other Dogs?
If you are considering bringing a Goldendoodle into your home, you may already have dogs. You're likely wondering whether Goldendoodles get along with other dogs — after all, you want your pup to be happy but not at the expense of your other animals.
In short, yes! The Goldendoodle you bring home will most likely get along just fine with other dogs. They're jolly dogs, and if you adopt your Goldendoodle as a puppy, this will provide ample time for socialization.
Socialization at an early age can help prevent your dog from showing signs of fear or aggression, so plan to allow your puppy and your existing pets plenty of supervised playtime.
As your canine "kids" play, keep in mind that your puppy doesn't know how small he is, and your adult dogs may not know their own strength. Keep a close watch on all of your furry friends during the initial introductions so everyone is safe.
How to Introduce Your Goldendoodle to Older Dogs
Once you bring your Goldendoodle puppy home, you may be stumped. Just how, exactly, are you meant to introduce this cute little fluffball to the dogs already living in your home?
Well, you'll need to prepare a little bit. First, put your older dog's favorite things away — this will help prevent your older dog from becoming jealous or territorial. It's best to use separate food bowls, too.
Once you're ready, find a neutral area like the kitchen or a living room to slowly introduce the dogs to one another. Just a quick introduction is fine — let the dogs sniff each other and explore. Remain in the room (calmly) for the duration of the visit, and if either dog shows signs of distress, separate them.
Over the next few days and weeks, longer play times are perfectly fine. Stay vigilant for a while, though, to ensure that neither dog feels overstimulated or stressed. Before you know it, your pups will be getting along just fine.
Caring for Your Goldendoodle
We've mentioned that the Goldendoodle is a faithful, playful, and friendly companion. But what else do you need to know about the designer breed before bringing one home with you?
Let's look at a few aspects of caring for your Goldendoodle to consider before you adopt a new puppy.
Goldendoodle Grooming
Because your Goldendoodle has a Poodle parent, he or she will be highly unlikely to shed. Goldendoodles are considered hypoallergenic. That doesn't mean they won't leave a hair here or there, but it does mean that those with allergies will not be as likely to suffer from allergic reactions.
Grooming your Goldendoodle is pretty easy. Plan to bring him to the groomer every two months or so and have his hair trimmed, nails trimmed, ears cleaned, and teeth brushed. You can do this yourself if you prefer, and we've got instructional guides to help you with the process.
Goldendoodle Exercise
Goldendoodles require around two hours of exercise each day. To keep your dog healthy, take him on a walk, jog, hike, or swim each day and let him get the zoomies out.
Goldendoodles are smart dogs, so boredom and lack of activity can get them into trouble. By giving your pup plenty of time to romp, play, and explore you'll decrease the likelihood that your pup will look for mischief at home.
Goldendoodle Health Issues
The Goldendoodle is a healthy dog, and there aren't many health issues you'll need to worry about. Bring your dog to the vet on a regular basis. Your veterinarian can check your dog for early signs of:
Otherwise, your dog will likely be in good shape, and enjoy a lifespan of between 10 and 15 years.
Socializing Your Goldendoodle
You're curious as to whether your Goldendoodle will get along with other dogs in your family. As mentioned, the dogs are usually friendly and will make excellent playmates with your other fur babies. You'll want to socialize your puppy early on, though, to avoid conflict between "siblings."
For the first few months of your Goldendoodle's life, take trips to the dog park (after vaccinations), arrange playdates, and consider enrolling your puppy in obedience classes.
If you have questions about whether bringing a young puppy to social events is safe, speak to your vet. Most veterinarians recommend fully vaccinating a puppy before visiting public play areas.
Frequently Asked Questions
Are you still wondering "Do Goldendoodles get along with other dogs?" We've compiled a list of the most commonly asked questions.
Are Goldendoodles happier with another dog?
Usually, Goldendoodles are happier with a companion! But that seems to be the case for most breeds. In particular, if you're away from home during the day for work or other commitments it may be a good idea to adopt a "brother or sister" for your Doodle.

If two dogs aren't in the budget or schedule right now, consider bringing in a dog walker or pet nanny to play with your pup once or twice throughout the day. Your puppy will be less likely to cause mischief if he's played with and given attention during the day.
My older dog is jealous — what do I do?
It's natural for your older dog to be jealous of the attention everyone is giving to the new puppy. After all, that ball of fluff is irresistibly cuddly and will likely take up a lot of time. Even potty training is "attention" that your older dog may envy.

Be sure you spend one-on-one time with your existing dogs after the introduction of a puppy. Take him for walks or playtime on his own so that he will know he's still loved!
Why does my Goldendoodle growl at other dogs?
If your puppy or adult dog is growling at other dogs, he's trying to tell you something! Rather than scolding your dog, try to work out whether he's nervous, scared, or just trying to lay claim to his territory.

If growling at others persists, it may be time for your dog to learn his manners. Try an obedience training class, or ask for advice from the breeder or your vet.
What dog pairs well with a Goldendoodle?
If you already have a dog in your home, don't worry. Your new puppy will probably get along with your existing pals just fine, especially if you introduce them slowly and observe all dogs for signs of distress.

There's usually no one breed that "pairs" well with a Goldendoodle so long as you've trained your dogs to be non-aggressive. Dogs that are similar in size may make great playmates, but there's nothing saying a Mastiff and your Goldendoodle can't be besties!
What are Goldendoodles known for?
Goldendoodles are known for their intelligence and their energy, but also for their loyalty and even for their empathy. Your pup may also be less likely to cause allergic reactions if you're sensitive to pet dander.

Not surprisingly, your Goldendoodle will also be a good candidate if you need a service dog. If this is your goal, speak with the breeder prior to adoption. He or she may have training classes for your dog, and your puppy need to stay at the breeder's location for several extra weeks.
Conclusion for "Do Goldendoodles Get Along With Other Dogs?"
Do Goldendoodles get along with other dogs? In a word, yes! Your loyal little Goldendoodle will probably befriend just about any pet you already have in your home, and adopting two Goldendoodles is double the fun!
Whether you bring your puppy home from a breeder or shelter, training is important. Talk to your vet or to a professional trainer for assistance if you need help appropriately socializing your Goldendoodle.
If you find this guide, "Do Goldendoodles Get Along With Other Dogs" helpful, check out:
Learn more by watching "12 Things Only Goldendoodle Dog Owners Understand" down below:
Garrett loves animals and is a huge advocate for all Doodle dog breeds. He owns his own Goldendoodle named Kona. In addition, he volunteers at the Humane Society of Silicon Valley, where he fosters dogs and helps animals. Garrett enjoys writing about Doodles and believes that dogs can teach humans more about how to live than humans can teach a dog.
Why Trust We Love Doodles?
At We Love Doodles, we're a team of writers, veterinarians, and puppy trainers that love dogs. Our team of qualified experts researches and provides reliable information on a wide range of dog topics. Our reviews are based on customer feedback, hands-on testing, and in-depth analysis. We are fully transparent and honest to our community of dog owners and future owners.