Science experiment time, folks. In one corner, we have a regal, fiercely intelligent Poodle who has a coat that is show quality (well, with lots of attention and grooming that is) and an aversion to shedding its coat on every surface of your home. In the other corner, we have an affectionate, silky smooth Cocker Spaniel that may or might not leave pieces of itself in between every crevice you live in. The Cocker Spaniel and a Poodle can merge together into a Cockapoo.
A question that we get asked a lot is "Do Cockapoos Shed Hair and Dander?". The short answer is yes, all dogs shed hair and dander to some degree, including the Cockapoo. However, the Cockapoo sheds significantly less hair than most other dog breeds thanks to their Poodle parent. Many people consider the Cockapoo to be mostly nonshedding and hypoallergenic. In this article, we will tell you exactly why the Cockapoo is mostly nonshedding. We will also tell you how to choose a Cockapoo puppy that will shed less hair and dander. Not all Cockapoos will be considered hypoallergenic and nonshedding.
Other articles you would like: Cockapoo Pros and Cons and Do Cockapoos Bark Alot?
Cockapoo Dog Breed Info
If you're into science experiments, then let us weave a tale about the majestic merging of dog breeds. Like any good experiment, there are always variables that you have to take into account: size, coat type, mannerisms, temperaments, shedding, and all health aspects that come with each animal. Whenever you do combine two things, of course, there's a level of uncertainty that comes with it. Each dog breed has its own distinct personality and no formula can predict what a combined dog will have. Don't fret though, it's no less amazing when you do get that perfect combination.
There are always going to be pros and cons when it comes to these dogs who are a marriage of two different breeds. Of course, one con is one I stated earlier: there's no true way to determine what you're going to get. Even with careful planning and research on what dog is breeding with what, there's no "perfect" way to get the Cockapoo dog you want, including whether or not they will shed hair.
You very difficult to predict a Cockapoo's true size, mannerisms, health issues, or whether they not shed. This is because Cocker Spaniels tend to shed a lot of fur while Poodles tend to shed very little hair. In general though, if you want a Cockapoo that is considered mostly nonshedding and hypoallergenic, you will want one that has mostly Poodle genetics which means they will have a wavy or curly coat. You'll want to look for a back-crossed Cockapoo puppy that is either an F1B or F2B. Feel free to read more in our Cockapoo Generations Guide.
Related Articles: 150 Cockapoo Dog Names
Do Cockapoos Shed?
Generally, Poodles have a very compact coat which does require frequent and thorough grooming. People do believe that Poodles are good for those who have allergies because their tight curls prevent them from shedding a ton of dander. Cocker Spaniels have a similar case with their coats where they do need grooming frequently, but they tend to shed more. With a silky, shiny coat, Cocker Spaniels are hit-and-miss for those with dog allergies because they shed both hair and dander.
Factors that Determine Whether a Cockapoo will Shed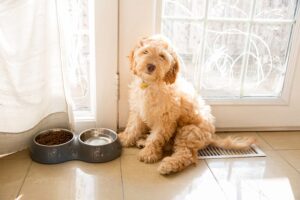 There are many factors that will contribute to whether or not your puppy sheds. We will go over some of the most common reasons whether or not your Cockapoo will shed.
Genetic Test: Genetic testing of the MCR5-gene will determine whether or not your Cockapoo sheds. This type of testing is usually done by reputable dog breeders. Another genetic test that is commonly done is with the RSPO2 gene. You will be able to tell if your Cockapoo will have a low, moderate, or high amount of shedding.
Poodle Genetics: As mentioned earlier, Poodles are more hypoallergenic and nonshedding than a Cocker Spaniel. Thus, you'll want to choose a puppy that has more Poodle genetics. This generally comes from an F1 Cockapoo that is backcrossed to a 100% Poodle. This creates an F1B Cockapoo that is 75% Poodle and 25% Cocker Spaniel. This increases the chance that they will shed less hair and dander.
Coat Type: Cockapoos with a wavy or curly coat will typically shed less than a Cockapoo with a flat or straight coat. While it's hard to predict exactly what a Cockapoos adult coat will look like, you can generally infer whether or not they will shed from the puppy coat. Try to choose a puppy with a curly or wavy coat if you don't want them to shed fur.
Conclusion For "Do Cockapoos Shed Hair and Dander"
The simple answer is that Cockapoos will shed hair and dander but to different degrees. Cockapoos shed very, very little due to the Poodle's shedding genes and the Cocker Spaniel's less than normal shedding. Some Cockapoos might not shed at all but others could have more shedding problems than you would like. In general, you can prevent your Cockapoo from shedding if you regularly brush and bathe them.
Other articles you will like: