Adopting a dog is a big decision. Not only do you have to determine how you'll care for your pup's veterinary, feeding, and other needs, but you'll also need to keep your family members' relationships in mind! So, what about Cavapoos — do they get along with other dogs? What about children?
Cavapoos are designer dogs produced by crossing a Cavalier King Charles and a Poodle. The breed is growing in popularity, so you'll likely see one or two in your neighborhood. If the dogs have caught your attention, you'll want to learn more about how your new dog will integrate into your family.
Before reading this guide, "Do Cavapoos Get Along With Other Dogs," check out: Do Cavapoos Bark a Lot? (2023) and Do Cavapoos Shed? Expert Advice! (2023).
What Is a Cavapoo?
The Cavapoo is a designer breed that was first deliberately bred in the 1950s. The goal was to produce a low-shedding, hypoallergenic dog that was both intelligent and mellow. The likely choices were the Poodle, a highly intelligent breed, and the Cavalier, a laid-back, friendly pup.
Like any dog, the Cavapoo requires training, exercise, and a proper diet to remain healthy and fit. In addition, your Cavapoo will need to be socialized from an early age with other animals and with humans. Children, in particular, should be introduced to the Cavapoo in the puppy stage.
Cavapoos come in a range of colors; you can find white, black, and trim-colored pups from breeders.
While the dog is considered hypoallergenic, be sure to contact your breeder about conducting an "allergy test" before you purchase a dog. This can help avoid heartbreak later should you determine that you are, in fact, allergic to your pup.
Do Cavapoos Get Along With Other Dogs?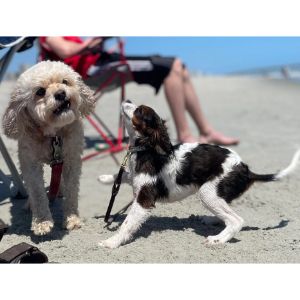 In a word, yes! Cavapoos are super friendly and they'll get along with kids, dogs, cats, and even your livestock! They love to be around people and enjoy snuggles and affection. They're not a naturally aggressive breed and, in fact, the dogs are quite the perfect little lap dogs.
It's extremely important to note, though, that if you want a friendly, non-aggressive puppy, you'll need to look for a reputable breeder who specializes in companion dogs.
He or she will take the time to ensure that your dog is socialized in the most important formative months so that you can enjoy the friendship of a sweet, loving companion. We'll talk more about how to choose a Cavapoo breeder later.
So, in short, Cavapoos get along with other dogs, given the right socialization and care from both the breeder and from your family. A healthy, playful Cavapoo is likely to fit right in with your family, including your other pets.
How Are Cavapoos Socialized?
You may be wondering what needs to happen during puppyhood to make sure a Cavapoo is friendly.
After all, you have a lot on your mind! You'll need to house-train your dog, teach her new basic commands like "stay" and "sit," and just help her get accustomed to the sights and sounds of household life. How can you make sure Cavapoos also get along with other dogs?
Well, socialization begins at a very early age and is something your Cavapoo breeder should be handling while the puppy is still in her care. Your puppy should be handled frequently when it's age-appropriate and there's no risk of illness.
Your breeder should take the time to exercise your dog; leash training can start very early. Puppies are smart, especially Cavapoos! They can pick up on basic commands, so simple training can begin when the dog is young, too.
Once it's time to bring your puppy home with you, talk to a vet. Get a timeline for your new dog's vaccinations, and once those inoculations have been administered you are free to take your dog to a doggy park or to doggy daycare. Note that some daycares require your dog to be spayed or neutered before you can enroll her.
Finally, be sure children are prepared for the arrival of your puppy. Teach them the proper way to handle the dog, and let them know that the little puppy will need some alone time, too. Let's talk a little more about how to prepare your children for your new dog.
How Do I Socialize a Cavapoo With Children?
Imagine you've purchased a Cavapoo as a family dog — thousands of pet parents do! You want to make sure your dog and kids get along well. After all, they'll be together for 10 to 14 years, as that's the average lifespan of a Cavapoo.
Start early! First, you'll want to make sure your breeder is on board with socializing dogs early on. The exposure your pup gets to humans and to other animals at the breeder's location will play a critical role in determining how friendly he or she is in later months and years.
Bring your children with you to meet the dog prior to Gotcha Day. Younger kids, in particular, can get a feel for how puppies behave. The little pets are active and playful when they're awake, but your kids should learn that there's also a time to give dogs their space for rest or to calm anxiety.
When it's time to bring your dog home, make the introduction slowly. Your kids will certainly want to play with the puppy every chance they get! Ensure that your children know that these little animals are fragile and show them how to properly pick up or pet the dog. In some cases, you may want to set a "no pickup" rule for young children.
Tiny tots will love the feel of a puppy crawling on their lap, and older kids will cherish the responsibility of being tasked with feeding the dog or letting him out to use the bathroom. Involve your children in the care of your dog, and make sure younger kids are supervised.
How Do I Introduce My Cavapoo to Other Dogs?
Do you already have pets in your home? Well, it's no wonder you want to know whether Cavapoos get along with other dogs! As we mentioned, yes they do. However, you'll want to make the introduction as smooth and calm as possible.
Before you bring your puppy home, make sure there is space in your home for each of your dogs to have some "alone time." This is critical. Dogs have a tendency to get overstimulated and may snap.
Find a common ground like a living room or a rarely used yard for the introduction. Both your puppy and your other dog should be on a leash at the first meeting — enlist the help of another adult if needed.
Let them sniff each other, but remember that your Cavapoo is likely to be playful. Monitor both dogs to ensure the playfulness doesn't cause stress for either.
Your older dog has given himself the title of "pack leader" in your home, so he's likely to try to protect that role when a new dog is introduced. As a result, and depending on the dog, you may find that your older dog acts aggressively. If this happens, separate the dogs immediately and try again later.
Follow your dogs' leads, and pay attention to their signals that they're either getting along or that they need to take it slow.
Perhaps most importantly, you'll want to understand that puppies get a lot of attention. They're cute and fluffy, and the attention they get may make your older dog jealous. Give your adult dog plenty of attention to counter the snuggles your Cavapoo will certainly receive.
How Do I Choose a Cavapoo Breeder?
The Cavapoo breeder you choose is just as important as the puppy, if not more so. It's critical to the long-term health of your dog that you choose a kennel that pays attention to the needs of puppies in their earliest, formative weeks.
Interview your breeder and ask how your Cavapoo will be socialized to get along with others. Some will put puppies through "school" while others will teach them to get along with others through direct contact. Some puppies will be exposed to kids and others will see other dogs and even livestock.
Check out the kennel in person. Does it smell clean? Does the kennel staff care for the needs of puppies, dams, and sires? Are all vet records available? And does the breeder have information regarding the parents' lineage and pedigree?
You'll also want to determine whether the breeder offers lifetime support. Should you have questions later on in your dog's life, you'll want a direct line of contact. Bonus points if your breeder can refer you to trainers, vets, groomers, boarding facilities, and other resources in your area.
Frequently Asked Questions
Do Cavapoos need companions?
Most Cavapoos love being with their owners and other dogs. If you have a lone Cavapoo, you may want to consider getting a companion or setting up playdates.
What is the downside of a Cavapoo?
One of the biggest concerns with owning a Cavapoo is making sure it isn't left alone for too long. Cavapoos crave companionship and are prone to separation anxiety.
What is the lifespan of a Cavapoo?
The life expectancy of a Cavapoo is anywhere from 10 to 14 years.
Conclusion for "Do Cavapoos Get Along With Other Dogs"
If you're considering adding a Cavapoo to your family, congratulations! These sweet, hypoallergenic little dogs have been deliberately bred since the middle of the 20th century, and they're popular designer dogs around the world.
You're wondering if Cavapoos get along with other dogs because you either have dogs of your own or you simply want to avoid neighborhood drama! The good news is that the Cavapoo is a friendly, laid-back, and playful pup that will get along with just about anyone he meets.
For more Cavapoo guides, check out:
Learn more by watching "5 REAL Reasons You Should Get a Cavapoo 🐶 | What You Need to Know" down below:
Garrett loves animals and is a huge advocate for all Doodle dog breeds. He owns his own Goldendoodle named Kona. In addition, he volunteers at the Humane Society of Silicon Valley, where he fosters dogs and helps animals. Garrett enjoys writing about Doodles and believes that dogs can teach humans more about how to live than humans can teach a dog.
Why Trust We Love Doodles?
At We Love Doodles, we're a team of writers, veterinarians, and puppy trainers that love dogs. Our team of qualified experts researches and provides reliable information on a wide range of dog topics. Our reviews are based on customer feedback, hands-on testing, and in-depth analysis. We are fully transparent and honest to our community of dog owners and future owners.