The adorable Corkie is a perfect mixture of the Cocker Spaniel and Yorkshire Terrier. Their small size makes them a favorite for many. If you're looking for a Corkie puppy for sale near you, we're happy to be able to help you!
Our experts have compiled a list of the 8 best Corkie breeders in the United States. Keep reading to learn where you can find your next furry family member.
Before you scroll further down this list of breeders with Corkie puppies for sale in the United States, you can check out these other dog-related recommendations from our team: Shichon Puppies for Sale and Pomchi Puppies For Sale.
About The Corkie
The Corkie is a cross between the Cocker Spaniel and the Yorkshire Terrier. This hybrid breed is small in size, typically weighing between 10 and 15 pounds. Corkies tend to have medium-length coats that can be either straight or wavy and come in a variety of colors, including black, brown, and white. They are also intelligent dogs that are easy to train.
Corkies are relatively low-maintenance when it comes to grooming. You'll only need to brush them once once or twice a week. They also make great companion animals and do well in both urban and rural environments.
They typically do well with children and other pets but may be wary of strangers. With proper socialization, Corkies can make a lovely addition to any family!
Top 8 Corkie Breeders in USA
1. Sunshine State Yorkies
Sunshine State Yorkies is a small, family-owned business that breeds and sells quality Yorkshire Terriers in Central Florida. They have been in operation for over 10 years and welcome customers from all over the state of Florida.
These breeders take pride in providing healthy, happy puppies that make lifelong companions. They breed their dogs from champion bloodlines and register them with the American Kennel Club (AKC).
Sunshine State offers Yorkshire Terriers in a wide variety of colors and sizes. They also provide a variety of services, including puppy training and transportation. The breeders at Sunshine State raise the puppies in their home. As they do, they take biweekly videos of your puppy that you can have as a keepsake to remember their very first days.
Sunshine State Yorkies performs health and DNA testing on all their dogs to ensure their wellbeing. All puppies come with complete vet papers, a health certificate, and full registry through the AKC (or another organization).
Whether you are looking for a new best friend or just need help taking care of your existing furry friend, Sunshine State Yorkies is here to help!
Sunshine State Yorkies Details:
2. Max Cockers
Max Cockers has been breeding champion black and brown Spaniels from New Jersey for over 25 years. In 2019, they one the accolade of the best Cocker Spaniel producer in America.
Some of their pups are American Kennel Club champions. A few have even been crowned grand champions. However, the majority of the dogs at Max Cockers are bred to provide affectionate companionship that lasts a lifetime.
Max Cockers focuses its breeding practices on producing Cocker Spaniels for showing. However, since they can't keep all the puppies, they often sell them as companions to families.
They sell Cocker Spaniels that are healthy, extroverted, and good at socializing. Each pup receives a limited registration from the AKC, which means new owners can't breed them. They sometimes have full-registered Cocker Spaniel pups for sale as well.
With the kennel's stunning credentials and great pride, their litters are commonly reserved before they're even born. So, if you want to get a puppy from Max Cockers, apply online on the website…and be prepared to wait!
Max Cockers Details:
3. Starlet Yorkies
Starlet Yorkies has over 15 years of experience breeding Yorkies and prides themselves on raising their puppies in a healthy environment. They raise their dogs their family home in Ocala, Florida, where each person plays an integral role in the breeding program.
The dogs at Starlet Yorkies have champion bloodlines originating from Venezuela, Spain, and Russia. They all come with an AKC registration and full vaccinations. The pups at Starlet also undergo extensive socialization with children and other dogs before going to their forever homes.
The puppies receive meticulous one-on-one care from their birth. The staff also ensures that the puppies go for regular checkups and vaccinations to guarantee good health before being adopted into new homes.
Starlet guarantees the health of your Yorkie for one year after purchase, and extensive coverage is included for all genetic conditions.
Starlet Yorkies Details:
4. Am-Erica's Cocker Spaniel
Am-Erica's opened in 1990 when their founder and breed preservationist got their first rescue Cocker Spaniel. They fell in love with the pup and eventually opened Am-Erica's Cocker Spaniel, a reputable breeder for Cocker Spaniel puppies.
Am-Erica's prioritizes the health and happiness of their Cocker Spaniels. Each puppy is well-groomed, socialized, and trained before being made available.
Not only does this breeder offer a health guarantee of two years, but they also provide essential genetic screenings, deworming, and vaccinations to protect the health of every dog.
The pups from Am-Erica's go to their forever homes when they're eight weeks old. They come with a certificate of health, limited registration from the AKC, a food bag, a toy with their sibling's scent, and required vaccinations.
Am-Erica's Cocker Spaniel Details:
5. Central Park Puppies
At Central Park Puppies, you can find the perfect Yorkie for you! With over five years in dog breeding, this New York breeder raises some of the healthiest and top-quality Yorkies available.
Not only does Central Park Puppies follow ethical practices and maintain high standards, they also offer resources to clients after they become dog owners. They provide useful tips on all dog breeds, including how to choose a puppy that's the perfect fit for your personality and lifestyle.
In addition to updated de-worming and vaccination, their puppies come with a microchip and registration. Furthermore, they offer a 1-year health guarantee against congenital diseases.
Central Park Puppies also provides extensive lifetime assistance. For example, they offer resources on training and pet health. They're detailed in their approach and will go to great lengths to make sure that every dog goes to the right home.
Central Park Puppies Details:
6. Sunhaven Cockers
Sunhaven Cockers is a top-tier Cocker Spaniel breeder in Northern Washington State. They have bred several champion and grand champion spaniels since first competing in the 1980s. Sunhaven's breeders are also members of the Washington State Cocker Spaniel Club and American Spaniel Club.
Sunhaven Cockers guarantees you will be more than happy with your new pup, as they only breed well-tempered and healthy Cocker Spaniels, amongst other breeds.
Not only do the breeders take high-quality dogs to shows, but they also transport their clients' dogs with care.
The waitlist for Sunhaven Cockers can be long, but their dogs are worth the wait. If you're set on getting a puppy from them, make sure to apply right away.
Sunhaven Cockers Details:
7. Wendy's Yorkies
Wendy's Yorkies is a breeder in Powderly, Texas. Their staff has a strong passion for matching each puppy with a perfect and loving home, all while giving clients the best experience along the way!
Wendy's Yorkies prioritizes quality service. They raise all their puppies in a home environment and each ones comes with updated vaccinations, deworming treatment, and an AKC registration, if applicable. This breeder also offers custom training to help you and your new puppy bond.
When you're ready to buy a puppy, you'll put down a deposit to hold your spot. You can pay through various methods, and the breeder will work with you on scheduling a time for delivery.
Your puppy can fly with a lap nanny or in cargo. If the puppy is too small to fly, you'll need to pick it up in person. You can also arrange a meeting point with the breeder according to the delivery schedule.
Wendy's Yorkies Details:
8. Acadia's Cockers
Acadia's Cockers have been breeding Cocker Spaniels in Louisiana for over two decades. The proprietors, Renee and Chris Guidry, loved dogs growing up and always had a Cocker as a pet.
This AKC Breeder of Merit recipient has now bred fifty Grand Champions, AKC Champions, and bronze level AKC Champions. They are also members of the American Spaniel Club.
The breeders at Acadia's carefully choose which dogs to breed and show based on a number of criteria. Health is always their top priority, so they make sure to do regular screenings for hereditary conditions before pairing dogs for breeding.
In addition to newborn Cocker Spaniel puppies, they occasionally offer retired champion adults that are already spayed and neutered.
Acadia's Cockers Details:
Frequently Asked Questions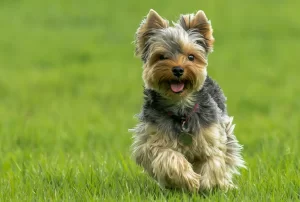 How much is a corkie dog?
The price of a Corkie dog depends largely on its parents. Expect to pay more if it's first generation and its parents come from champion bloodlines. You also need to consider availability. Corkies are not widely available, so you may pay a premium for this breed. In general, expect to pay anywhere from $500 to $3000 for a Corkie puppy.
How big will a corkie get?
Corkies are small dogs. They typically weigh between 10 and 15 pounds and measure around 10 inches tall.
What is a Corkie?
The Corkie is a hybrid dog breed of the Cocker Spaniel and Yorkshire Terrier. It is friendly, small, and has an even temperament.
Corkie Puppy for Sale From The Top Breeders in USA
Adding a puppy to your family is a big decision, and you want to make sure you're getting your new furry friend from a reputable source. We hope this list of the best Corkie breeders in the United States will help you find the perfect pup for your family!
For more guides similar to this list of Corkie breeders in the United States, you can check out:
Before you bring home a Corkie puppy from a breeder in the United States, you can learn more about dogs by watching "101 Facts About Dogs" down below:
Garrett loves animals and is a huge advocate for all Doodle dog breeds. He owns his own Goldendoodle named Kona. In addition, he volunteers at the Humane Society of Silicon Valley, where he fosters dogs and helps animals. Garrett enjoys writing about Doodles and believes that dogs can teach humans more about how to live than humans can teach a dog.
Why Trust We Love Doodles?
At We Love Doodles, we're a team of writers, veterinarians, and puppy trainers that love dogs. Our team of qualified experts researches and provides reliable information on a wide range of dog topics. Our reviews are based on customer feedback, hands-on testing, and in-depth analysis. We are fully transparent and honest to our community of dog owners and future owners.