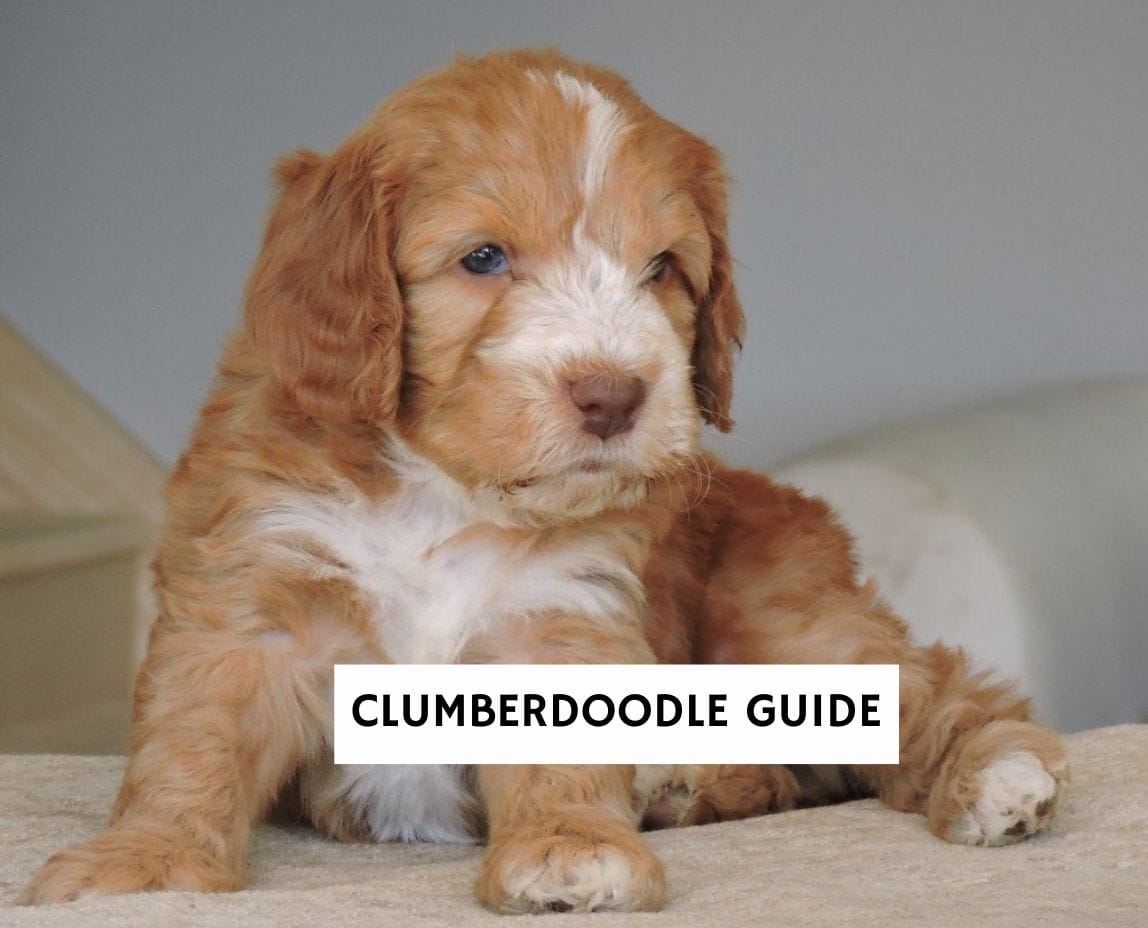 You've heard about Goldendoodles, Labradoodles, and Bernedoodles – but what about Clumberdoodles? When it comes to hybrid breeds, the possibilities can seem endless. Especially with Doodles, or hybrids that involve a Poodle in the breeding, there are various options for adorable, friendly, and low-shedding dogs great for all families. Perhaps you've heard of a lot of Doodle breeds. They include dogs such as a Goldendoodle or a Labradoodle. But those breeds are just the start. There are Maltipoos, Cockapoos, Cavapoos, and many more.
There are over 30 different kinds of breeds of Doodles. This diversity in size, coat, shape, and personality can be pretty exciting for families looking for their perfect match in a pet. Among this group of Doodles is a Clumberdoodle. While their name may be somewhat strange and unfamiliar, these dogs are instantly loveable due to their personality and snuggles. Perhaps from their name, you can already tell what breeds are involved in the breeding process to result in this hybrid breed.
Whether you're just learning of this breed or have been thinking about adding a Clumberdoodle to your family for years, they can be a great option when looking for a Doodle. To help you move forward in selecting the right breed of dog for you and your family, here we share what you should know about this entertaining and adorable breed. From their appearance to personality to ease of training, you'll discover more about whether or not this dog is a good fit for your lifestyle.
Before scrolling down this Clumberdoodle guide, check out similar breeds that you might want to learn about: Doodle Breeds and Best Giant Doodle Breeds.
What is a Clumberdoodle?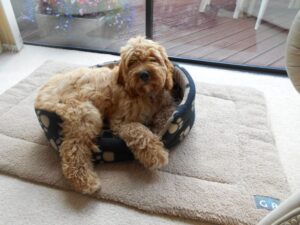 A Clumberdoodle is a hybrid breed that crosses a Clumber Spaniel and a Poodle. As with other mixed breeds with a Poodle as a parent, the Clumberdoodle's name ends with a "doodle." This Poodle breed can make these dogs so popular and loveable for families of all sizes and ages. Poodles come in different sizes, including Toy, Miniature, Medium, and Standard. Like in many other Doodles, it's the Poodle that brings in characteristics like high intelligence, curly coats, and low-shed. The Poodle is a beloved part of the Clumberdoodle's personality and appearance.
However, in a mixed breed, two different breeds are combined to result in a new breed. A Clumberdoodle also has characteristics and features from their Clumber Spaniel parent. These Spaniels are quite stock, standing at about 17 to 20 inches tall and between 55-85 pounds. This size makes them the largest type of Spaniel. They are generally quiet and not known for barking excessively.
With these two beautiful dogs and friendly personalities, the Clumberdoodle comes with some significant genes. Like other hybrid dogs, the Clumberdoodle is bred, emphasizing health and quality, bringing in the best characteristics from the two very healthy parents. As a result, hybrid dogs may be less likely to develop health concerns and genetic issues.
Helpful Dog Guide: Ways to Find Hypoallergenic Dog Rescues.
Appearance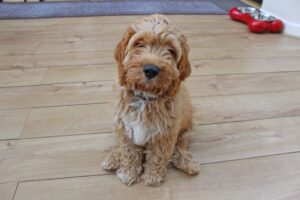 The Clumberdoodle is a medium-sized dog looking for larger living environments or where they are allowed space to run and roam. In terms of their size, they can be pretty large, stemming from their medium to significant parents. Clumberdoodles can reach a height between 15 and 20 inches tall when measured at the shoulders. Similarly, they can weigh between 45 and 85 pounds, depending on gender. Female Clumberdoodles will be smaller than male Clumberdoodles. It's also important to note that their size is heavily affected by the parents' size in the breeding process.
If the dogs used are larger, they will produce a larger puppy. It may also depend on how much of each breed of dog they result in. Dogs that have more Clumber Spaniel in them may be on the larger side, while a smaller Medium Poodle may bring the range closer to that 45 to 50-pound range. In determining the adult size of a Clumberdoodle, knowing their genetics is vitally important. Clumberdoodles have wavy or curly coats or coats that are more similar to their Spaniel parent in being soft and straight. They can be in many different colors, although tan is typically the most popular color for Clumberdoodles.
They have large ears that hang on their heads and a snout that is covered with hair. Depending on their haircut, they will most often have hair covering their body down to their paws. With their curly and wavy coats, it's important to keep in mind that you'll probably need to spend a bit of time keeping them groomed. Like other Doodles, their Poodle hair may end up being very curly and wavy, requiring intentional caretaking of their appearance. Typically, you will only want to bathe them when they get dirty.
However, it's essential to brush them regularly as it's easy for twigs, leaves, and other particles to get stuck in their curly coats. While the Poodle may not shed, the influence of the Clumber Spaniel may make the Clumberdoodle shed. This regular brushing time, whether daily or a few times throughout the week, can also be an excellent opportunity for your two to spend time together. Be gentle as you comb through tangles and create an enjoyable experience for both you and your dog.
Similar Dog Breeds: Best Cute Hypoallergenic Dogs.
Personality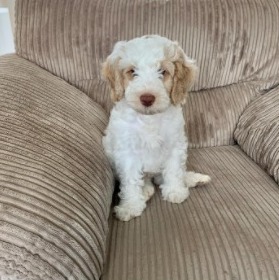 If you're looking for a dog who loves to play and spend time with you, a Clumberdoodle can be a great option. These dogs are very cuddly and enjoy those moments they get to spend with you curled up on the couch or playing a game of fetch outside in the backyard. They enjoy frequent activities, which also makes them easily bored if they are not entertaining enough for them. However, they are also quite playful and fun. They're always up for some activity in the backyard or going out for a walk.
Another characteristic these dogs may take after from the Clumber Spaniel is their transporting objects using their mouths. This is often an expression of hunting and retrieving, a characteristic typical among many types of Spaniel. While it will depend on your Clumberdoodle's genetic makeup, they may carry this trait from their Spaniel heritage.
A Clumberdoodle is known for seeking and giving a lot of attention. They may constantly seek affection from you when they're with you. This shows them that they are loved and helps them not to get bored. Be sure to support their emotional health and develop that bond between you and them through regularly giving them affection and petting them when desired. Even if it needs to be just short spurts of time throughout the day, the Clumberdoodle needs time with you. Play a quick game of fetch or let them snuggle up with you on the couch. These friendly and social animals need you in their life. Show them they are loved and cared for by showing affection.
These dogs are also very loyal and loving. They care about their family and want to be sure that you are well taken care of. While they can be independent, they genuinely appreciate and enjoy the time they get to spend with their people. They are also very gentle, making them an excellent fit for those who require their lifestyle. From kids to seniors and everyone in between, a Clumberdoodle can make a great companion for all. Because of their tolerant and loving personality, they also get along well with children and other dogs.
Training
While the Clumberdoodle may enjoy the activity, their Spaniel instincts are often stubborn, and they want to do things their way. As a result, they may think they want to do things differently from what you are asking them to do, making it more difficult in training. However, it's also important to recognize that Clumberdoodles also have some Poodles in them as well. This means that they have a high level of intelligence and can pick up new tricks and behaviors reasonably quickly and easily.
When they want to, they can learn and be trained relatively quickly. Typically, dogs like Clumberdoodles respond the best when treated with positive reinforcement and a lot of positivity in their interactions with you. While you'll need to establish dominance in the relationship, you also want to support them and so that they know you are the one in charge. This can help promote positive behaviors not just in training but beyond that as well.
Helpful Dog Guide: How To Get Your Dog to Respect You and How To Use an E-Collar to Train Your Dog.
Health Concerns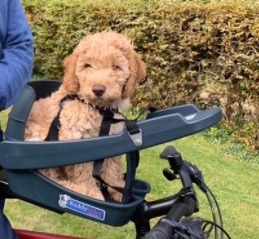 While hybrid breeds may be less likely to develop health concerns than other purebreds, that does not mean they are immune from them. The conditions they are more likely to develop stem from the states that most affect their parents. In the case of the Clumberdoodle, they can develop concerns such as hip dysplasia, skin allergies, and cataracts. To keep a Clumberdoodle happy and healthy, ensure that they are given access to time for regular exercise and activity. A daily walk and general movement can be great for their health.
In addition to activity, feeding them wholesome foods can also help them grow strong and healthy. Be sure not to provide them too much and limit their feeding times to just two or three times a day. Especially when they are a puppy, the type of food you give them is critical. Ensuring that they receive the proper nutrients and vitamins can help them grow strong and healthy. As your puppy grows up into an adult dog, its diet may need some adjustments. Tailor their food and meals to their size and age, depending on what they need to be healthy and well.
You'll also want to ensure that they are not overfed, which can lead to all sorts of different kinds of health issues that you and your dog do not want to deal with. Provide dog food made with whole ingredients rather than fillers. Customize their meals to align with the foods that they enjoy the most and get to support their health through their diet. A Clumberdoodle can live up to between 10 and 13 years old with the proper care and attention. This lifespan depends on their lifestyle, overall health, diet, genetics, and other inherited conditions that may come their way.
Dog Health Guides: Rare Dog Diseases Every Owner Should Know and Guide to Dog Periodontal Disease Stages.
Conclusion For "Clumberdoodle Information, Facts, Images"
With their adorable appearance and friendly personality, there's a lot to love about the Clumberdoodle. As it combines the best characteristics of the Poodle and the Clumber Spaniel, this hybrid dog is loyal, gentle and can be an excellent fit for a variety of families and lifestyles. Use this guide to help you determine whether the Clumberdoodle is the right fit for you and your family. Then, explore your options with local, quality breeders who have your and the puppy's best interest. With the proper research and consideration, you can be one step closer to welcoming home a lively and friendly Clumberdoodle in your home.
To learn about our top Doodle breeds, you can check out:
Learn more about the Clumberdoodle by watching "Clumberdoodle Archie's Characteristics and Personality" from Karen Freeman down below: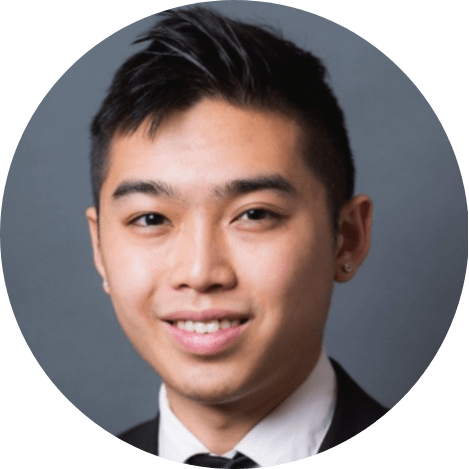 Andy is a full-time animal rescuer and owner of a toy doodle. When he's not saving dogs, Andy is one of our core writers and editors. He has been writing about dogs for over a decade. Andy joined our team because he believes that words are powerful tools that can change a dog's life for the better.
Why Trust We Love Doodles?
At We Love Doodles, we're a team of writers, veterinarians, and puppy trainers that love dogs. Our team of qualified experts researches and provides reliable information on a wide range of dog topics. Our reviews are based on customer feedback, hands-on testing, and in-depth analysis. We are fully transparent and honest to our community of dog owners and future owners.