Chihuahua have eyes that are slightly bulgy and can draw a lot of attention. If you are worried that your dog may have vision problems or any type of eye issue, you should have it checked out immediately. Here are common reasons why your Chihuahua could be squinting its eyes.
Before reading this article, "Why Is My Chihuahua Squinting," check out: Why is My Chihuahua Howling? 3 Reasons! (2023) and Why is My Chihuahua's Tongue Sticking Out? 10 Reasons! (2023).
Why Does My Chihuahua Keep Squinting?
Body language and facial expressions are two of the ways Chihuahuas communicate their mood and emotions. Dogs use squinting to express appeasement or submission, according to experts. An expression of "peaceful intentions" is non-confrontational when interacting with another dog or human.
Some dogs have been shown to squint when scolded by their owners. This might be due to guilt or apologies. There could also be a medical explanation.
What Does It Mean When a Dog's Eyes Are Squinting?
A dog could be squinting for many reasons. It's a good idea to know the reasons for the squinting, so you can get your dog the care it needs.
Discomfort
Dogs squint most commonly when they are uncomfortable. Because of the behavior that accompanies this type of squinting, it is easily distinguishable from other types.
Dogs will show the whites of their eyes when they squint because they feel uncomfortable. Besides tensing up its face, your dog will also tense up its body. You may see their teeth bared as a warning.
Whale eye commonly refers to a dog squinting this way. It is a sign that your dog is feeling threatened or anxious and can indicate that the dog is about to snap.
When a dog gives you "whale eye," it's usually because it's guarding food or a prized toy.
Eye Trauma
Trauma to the eye area can cause dogs to squint. Squinting to ease the pain is a sign that there is something lodged in their eye.
When your dog squints after being in a fight, check their face for scratches or wounds on their eye. It can become a bigger problem if left untreated. Infections and blindness can result from eye wounds.
A dog's eyes are still very important, despite their reliance on scent more than humans. There are many other symptoms that can accompany eye trauma. A dog that repeatedly paws at its face may still be carrying the foreign object in its eye. Further scratching may cause further damage.
It is also common for your dog to have a discharge from his eye if the trauma develops into an infection. A severe infection may even prevent your dog from opening its mouth. You should visit your veterinarian as soon as possible to stop this from worsening.
Glaucoma or Ulcers
Glaucoma can develop into a serious problem if left untreated. Your dog may become blind as a result of extreme pressure placed against the eye.
To prevent permanent vision problems in your dog, you should seek treatment for glaucoma as soon as possible. Urethritis is a very common and serious condition in dogs as well. Symptoms of ulcers can give you a clue as to how serious things are.
The presence of cloudiness in the eye is typically a sign of ulcers. As a result of ulcers, fluid may accumulate in your dog's eye, causing the membrane to burst.
Some form of eye trauma will most likely result in ulcers. You should take your dog to the vet if they rub their face or squint after an eye incident and have a cloudy eye afterward.
Corneal Ulcer
Another common cause for squinting could be a corneal ulcer. This transparent and shiny membrane forms the front of the eyeball's surface. It's like a clear window pane.
Three layers of skin cells with highly specialized functions reside in the cornea. An epithelium is an exceptionally thin layer of tissue that lies on top of the epidermis. The stroma lies beneath the epithelium and Descemet's membrane lies beneath the epithelium.
The cornea is clear, so when examined under a microscope, it is impossible to see these layers of tissue unless specific stains are used to highlight specific cells.
Corneal erosion or corneal abrasion is the erosion of the corneal epithelium. Uremic corneas result from eroding deeper into the stroma and epithelium. Tears are absorbed into the corneal stroma during ulceration, causing the eye to look cloudy.
A descemetocele occurs when the erosion reaches the Descemet's membrane through the epithelium and stroma. It is very dangerous to have a descemetocele. The rupture of the Descemet's membrane causes the eyeball to collapse, causing irreversible damage.
Dry Eyes
Although your dog's eye won't collapse like an ulcer, it can still be painful and irritating. A lack of tear production lies at the root of this problem.
The moisture in your dog's eyes is insufficient to maintain smooth, painless movement. Similar to other causes, this will require a veterinarian visit. In some cases, your veterinarian may prescribe eye drops to relieve your dog's dry eyes.
Do Chihuahuas Have Eye Issues?
Chihuahuas are prone to some eye issues. Since their eyes are large, it's easy for them to become injured or infected. Here are some common eye problems they can suffer from.
Conjunctivitis
An inflammation of the conjunctiva is conjunctivitis, in which the moist tissue covering the eye becomes inflamed. Foreign objects, fungi, or viruses can cause this condition. There may be a discharge and the eye may be red and swollen.
Your Chihuahua may blink excessively, water excessively, and stain the eye with tears. In addition to being itchy and painful, conjunctivitis is extremely uncomfortable.  Chihuahuas may become snappy and bite if they are exposed to this.
Foreign Object In Eye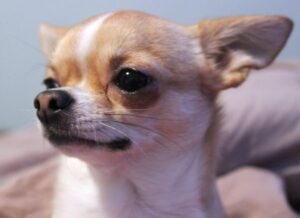 Inquisitive dogs that put their faces near the ground are susceptible to picking up foreign objects such as soil, grass seeds, and sand. Even though they may seem small and inconsequential, they can cause considerable pain, discomfort, and irritation.
Chihuahuas often suffer from dry eyes, especially older dogs, due to insufficient tears. A genetic defect or a viral infection can also cause it in Chihuahuas over the age of six. Medications and eye drops will help improve tear production.
You can use a warm, damp cloth to wipe your dog's eyes. A Chihuahua may suffer only temporary eye damage, however, if left untreated, it could develop permanent eye damage or blindness.
At What Age Do Dogs Lose Their Eyesight?
Blindness in dogs does not occur at a specific age. Some dogs may never lose it completely and others could lose it at an early age. There are many factors that determine if a dog loses its eyesight.
The best way to reduce your dog's chances of losing its eyesight prematurely is to have regular veterinary exams. If you notice your dog is having eye troubles, don't hesitate to make an appointment.
Frequently Asked Questions
Why is my dog suddenly squinting?
If your Chihuahua is suddenly squinting, you should consult your vet to make sure there isn't an ulcer or scratch on the cornea.
Is it normal for dogs to squint?
It is not normal for dogs to continuously squint. This can be a sign of a medical issue like glaucoma, an eye infection, trauma, or a lack of tear production.
Do dogs squint when they're stressed?
Squinting can be a sign of stress in dogs along with turning away or licking their nose.
Conclusion for "Why Is My Chihuahua Squinting"
You may not think it is a big deal if your Chihuahua is squinting. Your eyes may be tired or dusty due to the sun. Squinting, however, can indicate something more serious if it continues. The most common cause of squinting is a scratch on the cornea or an ulcer.
Frequently squinting or pawing at their eyes may be other signs of pain in dogs. There may also be a bloodshot appearance to their affected eyes if they are in pain.
If this guide, "Why Is My Chihuahua Squinting," helped, check out:
Learn more by watching "Dog Won't Open His Eyes Here's What This Means and What to Do" down below:
Garrett loves animals and is a huge advocate for all Doodle dog breeds. He owns his own Goldendoodle named Kona. In addition, he volunteers at the Humane Society of Silicon Valley, where he fosters dogs and helps animals. Garrett enjoys writing about Doodles and believes that dogs can teach humans more about how to live than humans can teach a dog.
Why Trust We Love Doodles?
At We Love Doodles, we're a team of writers, veterinarians, and puppy trainers that love dogs. Our team of qualified experts researches and provides reliable information on a wide range of dog topics. Our reviews are based on customer feedback, hands-on testing, and in-depth analysis. We are fully transparent and honest to our community of dog owners and future owners.