If you're looking to find adorable Cane Corso puppies in Virginia, you've come to the right place. Sometimes finding a specific breeder in your current location can be challenging. After reading through this guide, you'll be well-informed on Virginia's top Cane Corso breeders.
If you're looking for a loyal and protective friend, the Cane Corso puppy is definitely one you should consider. These dogs are excellent companions, but they might not be for everyone, and contacting one of these reputable breeders can lead you in the right direction.
Before you scroll down this list of breeders with Cane Corso puppies in Virginia, check out these other recommendations from our team at We Love Doodles: Pomeranian Breeders in Virginia and Cavachon Puppies in Virginia.
About Cane Corsos
Not only do Cane Corso puppies make great pets, but they're also historically significant—they were bred by Italian farmers to guard property and livestock, and now they're prized for their loyalty and affection in the American home!
The Cane Corso, also called an Italian Mastiff, is a large dog breed that originated in Italy. This muscular breed is part of the working group. Its name derives from the Latin "cohors," which means guardian or protector.
Physical Characteristics
Weight: 88-110 pounds (male), 70-90 pounds (female)
Height: 23-27 inches (male), 21-25 inches (female)
Color(s): fawn, black, red, gray, brindle, and light and dark shades of these colors; white markings are allowed on the feet, chest, muzzle, and under the chin
Coat: short and stiff
As far as personality goes, Cane Corso dogs are an excellent fit for any family in Virginia. They're generally very pleasant dogs with an even temperament and trainability. They get along with children, other dogs, and cats. In fact, they're great with kids, keeping them safe from harm when they play. They're also brave and loyal, which makes them excellent family pets.
The Cane Corso is intelligent and eager to work. It is a loyal companion that loves to be with its family. It will be affectionate and playful with the children it has been raised with. The Cane Corso may be wary of strangers and needs to be properly socialized at an early age so that it does not become aggressive or fearful around new people. This breed does best in a home with older children because of its size.
Cane Corso Puppies in Virginia: Top 5 Breeders
1. Foxy's Furry Angels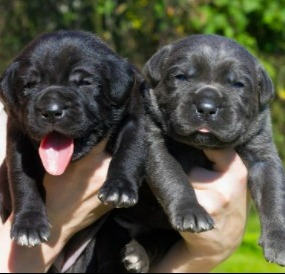 Foxy's Furry Angels have a very organized website that makes finding the breed of your interest as straightforward as possible. You simply input your postal code, click on the breed you're looking for, and click 'fetch.' The website will provide you with a wealth of resources on where you can find your dog.
In addition to Cane Corso puppies in Virginia, you'll find a number of other breeds available, depending on your location.
Foxy's Furry Angels Details:
2. Mystic Mountain Cane Corso
Mystic Cane Corso is a dog breeder in Virginia that only breeds Cane Corso dogs. For that reason, you can rest assured knowing you'll be getting exactly what you're looking for. The breeders at Mystic Cane Corso make sure that every dog they breed is in peak condition. Over the years, Mystic Mountain Cane Corso has developed a solid reputation as one of Virginia's top Cane Corso breeders.
The goal of Mystic Mountain Cane Corso is to continually produce better puppies in every consecutive litter they breed. They carefully research the pedigrees and go back generations to ensure each dog's health has been satisfactory throughout its lineage. Doing this also allows them to see if dogs in past generations have been used as working dogs or were strictly show dogs.
Mystic Mountain Cane Corso Details:
3. Silverbrook Kennels
Silverbrook Kennels is another reputable breeder. Many pet owners claim they won't get their dogs from anywhere else. Silverbrook Kennels has been in business since 1979. They also have a ten-acre farm where they run a daycare and perform obedience training. Their goal is to make dogs feel like they're at their second home.
Silverbrook Kennels puts a tremendous amount of work into ensuring their facility and grounds show how passionate they are about dogs.
Silverbrook Kennels Details:
4. De Elite Cane Corso
De Elite Cane Corso is a breeder in Virginia that has been in business since 2007, giving them 15+ years of progressive experience. They only breed Cane Corso puppies, so you can trust in their expert experience.
De Delite Cane Corso is an active breeder that regularly updates its website with new litters. Mario, the breeder that runs the business, is extremely dedicated to his dogs. Their hours are also very flexible; they're open seven days a week between 7am and 7pm.
De Elite Cane Corso Details:
Address/Location:

Chesterfield, VA 23832

Phone Number: 804-253-2368
Website: De Elite Cane Corso
5. Jefferson Mastiff, LLC
Jefferson Mastiff, LLC is a family-owned operation that aims to provide healthy Cane Corso puppies to every household that is ready for them. The puppies are raised directly by the family and consistently have a healthy emotional, physical, and mental state.
Jefferson Mastiff, LLC is open seven days a week between the hours of 9am and 6pm. Their informative website allows you to get a quote on your Cane Corse puppy right away.
Jefferson Mastiff, LLC Details:
Address/Location:

Surry, VA

Phone Number: 804-617-9350
Social Media: Facebook
How To Choose A Cane Corso Dog Breeder In Virginia
Picking a puppy is an exciting time in life. However, it can also be stressful if you're not sure how to go about picking the right breeder. When choosing a Cane Corso dog breeder in Virginia, knowing what to look for is important.
Here are some tips for finding the best breeder for your new pet:
Know What You Want
The first step in finding the right Cane Corso dog breeder in Virginia is knowing what you want in your new puppy. For example, do you want a show dog or a family companion?
If you're interested in showing your dog, make sure the breeder has puppies that have won awards in show competitions. If you're just interested in having a companion, make sure the breeder has dogs with good dispositions and calm temperaments.
Quality Of Breeder
The next thing to look at when evaluating a breeder is the quality of their stock. When evaluating a breeder in Virginia, it's essential to ensure they are licensed and insured.
You should also ask about their:
Experience with the breed
References from previous customers or other breeders around the country
Health checks on the dog
Warranties
DNA tests
OFA tests
Vaccine status of dogs
It's also worth looking into how long they've been breeding Cane Corsos, as well as their overall reputation among fellow breeders throughout Virginia (and beyond). For example, if complaints have been made against them or they have several negative reviews online, steer clear!
Experience
The third thing that you need to look for when selecting a breeder is their experience with the breed. You want to find a Cane Corso breeder with many years of experience raising and training these dogs. The more experience they have, the better your chance of finding a healthy puppy that will grow up to be a happy and well-adjusted adult dog.
A good rule of thumb is to choose a breeder that has been around for at least ten years. This shows they are committed to providing quality puppies with good health care.
Make sure the breeder you're considering also provides adequate socialization experiences such as playgroups or puppy kindergarten classes. Socialization helps your puppy feel comfortable around other animals and people. It also exposes them to different environments outside of their home.
Frequently Asked Questions
How much is a Cane Corso puppy worth?
The typical price of a Cane Corso puppy is between $1,00 and $3,000, with the average price sitting at about $1,500. Keep in mind that show-quality dogs can be almost double or triple the price.
Is Cane Corso a good family dog?
Cane Corsos that are trained well and properly socialized can grow to be excellent family dogs. They are loyal and protective but do best in homes with older children.
What is the lifespan of a Cane Corso?
The average Cane Corso lives to be nine years old, but some can live to be eleven or twelve.
Cane Corse Puppies in Virginia
The Cane Corso is a breed of dog that might be hard to find in certain locations. If you're considering getting one of these dogs, but are having difficulty finding them, consider reaching out to one of the top breeders on this list.
For more guides similar to this list of Cane Corso breeders in Virginia, you can check out:
Before you bring home a Cane Corso puppy from a breeder in Virginia, you can learn more about this dog breed by watching "10 Questions For a Cane Corso Owner" down below:
Garrett loves animals and is a huge advocate for all Doodle dog breeds. He owns his own Goldendoodle named Kona. In addition, he volunteers at the Humane Society of Silicon Valley, where he fosters dogs and helps animals. Garrett enjoys writing about Doodles and believes that dogs can teach humans more about how to live than humans can teach a dog.
Why Trust We Love Doodles?
At We Love Doodles, we're a team of writers, veterinarians, and puppy trainers that love dogs. Our team of qualified experts researches and provides reliable information on a wide range of dog topics. Our reviews are based on customer feedback, hands-on testing, and in-depth analysis. We are fully transparent and honest to our community of dog owners and future owners.