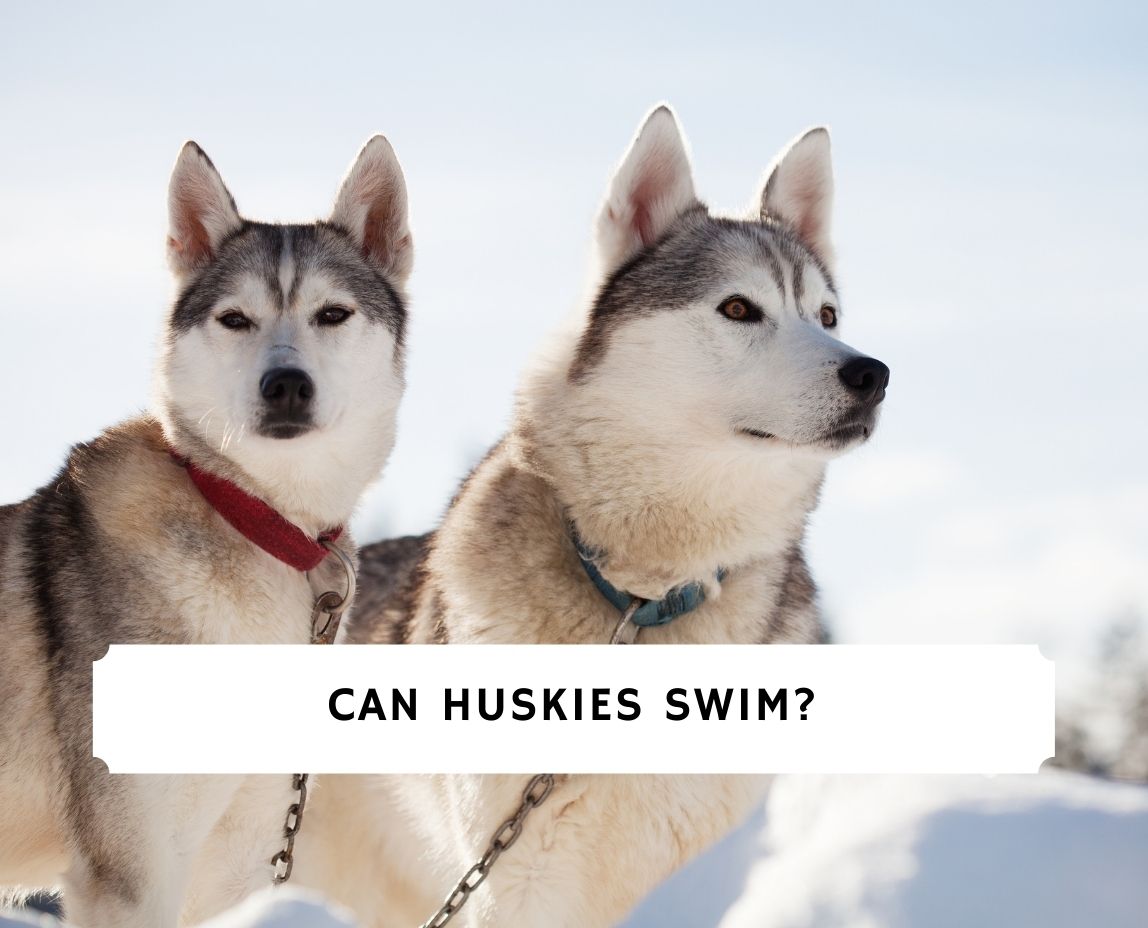 For people with hobbies such as swimming or favorite locations like the beach, one question they'll have for their companion is: "Can Huskies swim?" Some animals were born for the water. Dolphins, alligators, manatees, and otters can't get enough of that H2O. Some dog breeds even are known for their love of water. Breeds like the Labrador Retriever and the Irish Water Spaniel or the Portuguese Water Dog love getting their paws wet. These dogs have developed a love for water and swimming. Whether for work or for play, they look forward to getting into those ponds, lakes and pools for a good time.
They have coats that do not drag them down in the water and have long legs that can help them kick and paddle as they move across the water smoothly. However, not all dogs are as fascinated by water as others. Some dogs may much prefer staying on land rather than jumping into the water. This is often due to what they were bred for and how they have become accustomed to different parts of the world or types of activities. Like the Siberian Husky, Huskies are hard-working dogs that have their own set of activities that they enjoy. The husky has a thick, dense coat that keeps them warm in cold temperatures.
As huskies were bred to pull sleds and work in cold weather and snow, their coats kept them warm and safe in the harsh elements. When it comes to swimming in deep water, however, huskies may want another option. Whether you're thinking of getting a husky or already have one and are interested in taking them out on the water, it's important to know whether or not huskies can swim, and if they even enjoy the activity. To help you provide the best care for your dog, here we share what you need to know about huskies and their aquatic skills.
Before scrolling down this article "Can Huskies Swim," here are related questions that might interest you: How Long Do Huskies Live and Reasons For My Unwanted Husky Fat.
Is it Possible For Huskies To Swim?
If you think of a dog that can act as a swimming partner, a husky may not be your best option. Huskies can't swim, or at least not very well. Rather than the typical ease and excellence that some water dogs have, the Huskies may not be as graceful. Rather than swimming, Huskies fall more into the act of just splashing around in the water. However, just because they are not natural-born swimmers doesn't mean they can't be trained in the water.
More articles with mentions of the Husky dog breed: Border Collie Husky Mix Information and Chihuahua Husky Mix Information.
Why Can't Huskies Swim?
How can other dogs excel at swimming but not the Husky? Much of it comes to their body type and their historical breeding purposes. While characteristically, Huskies are not considered great swimmers, that does not mean that they still can't enjoy the water and be safe. With proper training, they can still enjoy this activity. However, there are certain features of the Husky that makes it a little more challenging for them to enjoy the water. For example, Huskies have thick coats that are intended to keep them very warm in cold weather.
This thick coat can make it more challenging for them to keep themselves up and move gracefully through the water. Huskies are also larger dogs, which gives them greater length in their legs to pump through the water, but it also gives them more weight to keep afloat. These physical characteristics may make it more challenging for Huskies to excel in swimming. In addition to physical traits, another reason why Huskies may not be the best swimmers is because of their breeding heritage.
Traditionally, Huskies were bred to thrive in cold weather as they pulled sleds and worked out in the snow. Their thick coats kept them warm as they dealt with freezing temperatures. Being raised in cold weather where beaches and waves were not part of their familiar experience, Huskies may be wary of getting in the water. They also know that when getting wet while in cold temperatures, it can cause their coat to freeze, which is another concern.
More articles with mentions of the Husky dog breed: Huskydoodle Guide and Best Shock Collar For a Husky.
Do Huskies Like the Water?
However, just because Huskies may not be the pro swimmers like other dogs does not mean that they still don't like to splash around a bit in the water. They may enjoy being around their family and participating in an activity that their family enjoys as well, even if it may not be their thing. They are hard-working, which means they'll certainly try something and attempt to do their very best at it.
Other dog breed and water: Do Goldendoodles Like Water?
Can Huskies Learn To Swim?
With their strong legs and dedication to working, Huskies can certainly learn how to swim. All they need is an intentional and focused trainer with a lot of patience. It takes some time and attention, but it certainly can be done. As a Husky is trained, it's important to start them off with a life jacket. This flotation device can help keep them afloat as they learn the kicking motion and paddle to keep them swimming. Keeping them in a life jacket can also help to ease the dog owner's mind as they don't have to worry about them getting in too deep of water and drowning. Especially as a Husky is just starting in the water, it's helpful to let them ease into the feel of the water.
Whether they approach swimming with excitement or timidity, it's up to the trainer to help them feel comfortable in the water. Don't try to force them into the water but instead make them feel comfortable and relaxed as they learn this new skill. Be encouraging and supportive as you show them the motions and using all of their limbs to swim. Remember that Huskies will still require careful monitoring even once they've mastered the swimming technique. As they are still not considered to be the best swimmers, they'll need a close eye as they continue to grow in comfort in the water and participate in this family fun activity.
Be sure always to encourage and care for dogs as they learn and continue developing their talent for swimming. Never leave them unsupervised as they are in the water, particularly where the water may have a current such as in a river. Be sure to watch their energy levels. As Huskies are very hard-working dogs, they will work and play to the point of exhaustion. In the water, that is not a good thing. Be sure to catch the signs showing that your dog may be very tired of swimming and pull them out of the water before getting too tired.
Other Dog Breeds Swimming: Do Labradoodles Like To Swim and Can Goldendoodles Swim?
Conclusion For "Can Huskies Swim"
Huskies are not known for being natural-born swimmers who excel in the water. With their breeding history of pulling sleds in cold temperatures, Huskies are more closely associated with the cold and with lots of snow. However, they may be able to learn how to swim and enjoy the activity with close supervision. If you choose to train your Husky to swim, remember to be consistently supportive and encouraging as they develop this new skill. As it may not come naturally for them, it's crucial to have patience and love for them as they learn. With the right approach and careful training, as well as a dog life jacket, your Husky can join in your fun family activity of swimming at the lake, ocean or pond.
For related dog swimming product recommendations, you can check out:
You can learn more by watching "Do Siberian Huskies Like Water" from Meeler Husky down below: