One of the questions often asked when it comes to the color of a Goldendoodle is: "Can Goldendoodles be black?" Here's what you need to know. The Goldendoodle is an adorable dog that's cross between a Golden Retriever and a Poodle. They're the ultimate combination of good looks, intelligent wits, and playfulness. Goldendoodles are great cuddle-buddies, but they also love to be outside and run around. They are pretty agile, so make sure you take them out on walks and let them have their playtime.
If you and your family are the 'outdoors' type, this puppy will fit right in. Goldendoodles are low shedders, so if you have mild allergies, you don't have to keep yourself from owning this adorable pet. They don't need to be brushed often, and you should trim them on a biweekly basis. These dogs are high in demand, so finding them can be quite a challenge, even more so if you're looking for a Black Goldendoodle. That's right, Goldendoodles aren't just Golden in color.
Before scrolling down this article "Can Goldendoodles Be Black," check out these other related guides: Chocolate Goldendoodle Guide and Black Goldendoodle Information and Facts.
Goldendoodle Color Changes
So despite its name being a Goldendoodle, that is a 'faux-ami,' as the French would say, or 'fake friend. In other words, despite their name depicting them as golden rays of sunshine running around the park, it turns out Goldendoodles come in various colors. Since Goldendoodles are part Poodle, the Poodle ancestry includes various colors such as apricot, black, chocolate, silver, and white, to name a few.
However, it's interesting to know that Goldendoodles can change color over time. The reason for this also has to do with the Poodle ancestry in them. Poodles tend to turn lighter with age, and so do Goldendoodles. Understanding the generation of your Goldendoodle can also help you determine what color it might be. The color they are as puppies isn't always their color once they're fully grown.
Goldendoodle-Related Guide: Goldendoodle Coat Changes Information and Facts.
Generations of the Goldendoodle
Let's have a quick breakdown of these generations. An F1 generation Goldendoodle is bred from a Standard Poodle and Golden Retriever dog. F1 generations are the most expensive kind of Goldendoodle you can get. The parents will play a strong determiner in the color of the offspring. The second generation of Goldendoodle is known as F2.
F2B Goldendoodles are 62% Poodle and only 37% Golden Retriever with one F1 parent and one F1B parent. If the parents are black Goldendoodles or at least one parent, this generation can have a litter with some black Goldendoodles. You can check out our guide below this section to learn more about the generations of a Goldendoodle.
Goldendoodle-Related Guides: Best Goldendoodle Generations and Best Mini Goldendoodle Generations.
Goldendoodle Puppy Coat Colors
Another thing that can occur is when you get yourself a Goldendoodle that is only eight weeks old, they still have puppy fur. That fur does shed when they are about 6 to 10 months old. This means that the puppy you brought home can be a completely different color when it's older. To get yourself a black Goldendoodle, it really will depend on the parents.
There is a better chance if the Poodle is black since it seems that Poodles carry quite strong genes, so you're more guaranteed the chance of having a black Goldendoodle. However, these dogs are pretty hard to come across, and the wide variety of colors can make it hard to find the Goldendoodle you want. As mentioned before, you may even buy Goldendoodle that is dark as a puppy but the color changes as it's getting older. You can check out our list of Goldendoodle breeders if you're ready to introduce a puppy into your home.
Goldendoodle-Related Guides: Types of Goldendoodle Coats.
Why is My Goldendoodle Black?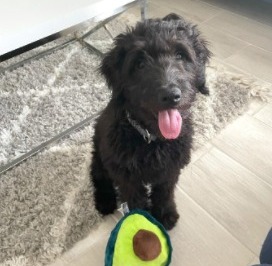 Your Goldendoodle has a black color because of the genes that were passed down from the parent breeds. Your Goldendoodle's parent breeds are the Golden Retriever and the Poodle. The reason for your Goldendoodle's black coat is because of its recessive gene. While some Goldendoodle colors appear different at a young age, they can change as they become older. You can learn more about your Goldendoodle's color by learning about the parent breeds' history.
More Goldendoodle Guides: Straight Hair Goldendoodle Guide and What Makes an Ugly Goldendoodle?
Are Black Goldendoodles Rare?
If you're wondering whether black Goldendoodles are rare or not – the answer is yes. Yes – black Goldendoodles are rare. If you want a black Goldendoodle, you can increase its chance of getting this color by breeding this dog in the third generation. You can obtain this coat color for a Goldendoodle by breeding the parent with a Poodle with a black coat. The brown-colored Goldendoodle is much easier to find compared to other colors of this breed. Black Goldendoodles happen to be much rarer.
Goldendoodle-Related Guides: Red Goldendoodle Information, Facts, Images and Improper Coat Goldendoodle and Furnishings.
Conclusion For "Can Goldendoodles Be Black"
Goldendoodles can be black. When we think of Goldendoodles or come across logos like WeLoveDoodles, many people think this type of Poodle mix is all brown. Goldendoodles come in various types of colors. Some Goldendoodle colors are much rarer than others. Some Goldendoodles will change coat colors over time as they age.
We hope you find the right Goldendoodle color for your home. Even if you don't find the right coat color, fall in love with your Goldendoodle's personality and not its coat. Brown isn't the only color for Goldendoodles. There are much more. However, finding a certain color can be much more challenging than finding a brown color Goldendoodle. Our team at WeLoveDoodles wishes you the best of luck.
For more guides on the Goldendoodle dog breed, check out these articles from our team at WeLoveDoodles:
To learn more about the black Goldendoodle, watch the video on "Goldendoodle Colors":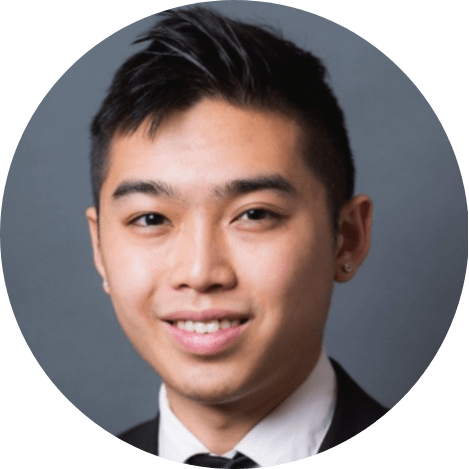 Andy is a full-time animal rescuer and owner of a toy doodle. When he's not saving dogs, Andy is one of our core writers and editors. He has been writing about dogs for over a decade. Andy joined our team because he believes that words are powerful tools that can change a dog's life for the better.
Why Trust We Love Doodles?
At We Love Doodles, we're a team of writers, veterinarians, and puppy trainers that love dogs. Our team of qualified experts researches and provides reliable information on a wide range of dog topics. Our reviews are based on customer feedback, hands-on testing, and in-depth analysis. We are fully transparent and honest to our community of dog owners and future owners.