Have you ever started peeling a clementine and noticed your dog giving you some serious puppy dog eyes? You know this fruit is good for you, but you may be wondering, are clementines good for dogs too? If you have ever wondered, "Can dogs eat clementines?" we got you covered.
Generally speaking, yes, most dogs can occasionally eat clementines. However, it would be best if you kept your dog's clementine consumption minimal as too much of the fruit can cause health issues. Below you will find everything you need to know about this citrus fruit and how it affects your dog.
Before scrolling down this list, check out these recommendations: Can Dogs Eat Crawfish? Is it safe?
Are Clementines Bad For Dogs?
You have probably seen people feeding their dog human food before. However, sometimes knowing what food is safe for dogs is challenging as much conflicting information is available.
It is known that citrus fruits, such as clementines, are high in citric acid. Studies are varied about the effects of citric acid on dogs. However, it is believed that large amounts of citric acid can negatively affect your dog's nervous system. That being said, small amounts, such as the ones found in clementines, should not harm your dog. However, some pre-existing health problems exist that may mean your dog should avoid clementines.
Some dogs may experience digestive upset when eating clementines. This is primarily due to the acidity of this fruit. If you know your dog has a sensitive stomach, it is essential to consult a vet before feeding it new foods such as clementines. This can avoid any issues that may arise from giving your dog this new treat. If you give your dog a clementine and it begins to display gastrointestinal distress, contact your vet for the best treatment options.
Additionally, dogs with diabetes, pancreatitis, and obesity should avoid eating clementines. These issues can be exacerbated by clementines because of their high sugar content and additional calories. If your dog has any of these problems, you should avoid feeding it extra treats in general as they can make these problems worse.
So, if your dog suffers from any of the issues listed above, it may be best to avoid feeding it clementines. However, if your dog is healthy, a few pieces of clementine once in a while is perfectly okay.
Just always remember to feed your dogs treats in moderation as too many can cause health problems to arise.
Nutrition Value of Clementines
According to Heathline, below are the nutritional benefits of eating one clementine as a daily value. You should always take these into consideration when feeding your dog. A significant amount of the calories from clementines come from natural sugars. You shouldn't be feeding your dog too much sugar.
Calories: 35
Vitamin C: 40%
Fat: 0 grams
Carbs: 9 grams
Protein: 1 gram
Fiber: 1 gram
Thiamine: 5%
Folate: 5%
Health Benefits of Clementines
Now that you know that clementines are safe for most dogs to eat, it is time to look at the specific health benefits of these fruits. Remember, these benefits are only applicable for dogs who do not already have the underlying health problems listed above. In the case of those dogs, try a less sugary treat such as peppers or carrots.
Vitamin C: As with most citrus fruits, clementines are full of vitamin C. This vitamin helps your dog maintain a robust immune system and high energy levels. Vitamin C also helps with aging and is especially helpful to dogs with arthritis because it reduces inflammation and aids in collagen production.
Potassium: Potassium is an essential mineral that can be found in clementines. This mineral is responsible for maintaining a healthy cardiac and nervous system. Additionally, potassium strengthens bones and teeth, making it a great addition to your dog's diet.
Antioxidants: Antioxidants combat harmful free radicals in your dog's body. Keeping your dog's diet rich with antioxidants helps prevent a long line of illnesses such as allergies, eye problems, respiratory disease, arthritis, heart disease, and cancer.
How to Prepare Clementines For Dogs
If you decide to feed your dog a few clementine slices as a treat, you must be sure to serve it properly. In the case of all citrus fruits, you should always be sure to remove the peel, pith, and seeds before feeding them to your dog. These parts of the clementine can be dangerous for your dog as they can be choking hazards and create gastrointestinal problems.
To prepare the clementine for your dog, start by removing the peel. If your dog eats the peel, it can experience vomiting, diarrhea, and dehydration. If your dog does ingest a clementine peel, contact a veterinarian if you notice any of these symptoms arising.
Luckily, clementines are naturally segmented. So, you can easily break the fruit into small, bite-sized sections for your dog. When doing this, try to remove as much of the pith as possible. This stringy bit can contain toxic chemicals and also poses a choking hazard. Therefore, remove as much as you can before feeding the slices to your dog.
Lastly, clementines are known for having very few seeds, if any. However, even though seeds are not super common among these fruits, it is still crucial to check each piece before giving it to your dog. If the part you inspect is seedless, then it is safe to give to your dog. If you find seeds, remove them, and if you cannot, just skip giving this piece to your dog altogether.
How Many Clementines Can Dogs Eat?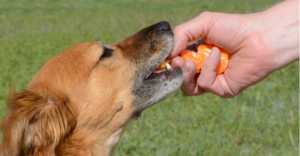 The first thing to keep in mind when giving your dog any treats is the 10% rule. Treats should never make up more than 10% of your dog's daily caloric intake. Following this rule helps avoid overfeeding your dog, which is vital in preventing obesity and other illnesses.
It is important to gradually introduce new foods to your dog's diet. Whether it is a new treat or a new type of dog food, small amounts are best at the beginning. This gradual introduction allows you to monitor your dog for any signs of complications such as allergies or digestive upset.
With this in mind, you should only give your dog one small section of clementine the first time. This allows you to see if your dog has any specific adverse reactions to the fruit. If your dog seems happy and healthy after receiving this initial slice, you can give it a little more the next time.
In general, dogs should only have about 1-2 slices of clementine a day. This can vary slightly based on the size of your dog. So, small dogs may want to stick with 1 slice a day, while larger dogs might be able to stomach 2 or even more. That being said, your dog must have a variety of treats to ensure they are getting all the proper nutrients. So, if you give your dog a clementine one day, maybe try giving it another treat the next day.
Can Dog's Eat Clementine Peels?
No, dogs should not eat clementine peels since their digestive system was not to meant to process the rough exterior of a fruit. Oftentimes, if your dog does digest a clementine peel they will get an upset stomach or vomit. Make sure to call your veterinarian if your dog does not pass the clementine peel within a few days. If your dog has digested a clementine peel, they should be fine and I wouldn't worry too much. Just make sure that you don't regularly feed them the peel.
Conclusion for Can Dogs Eat Clementines?
So, next time you are eating a clementine, consider sharing it with your dog. Yes, clementines are a safe snack for most dogs to enjoy on occasion. These fruits are high in vitamin C, potassium, and antioxidants making them a healthy treat. However, clementines are not the best choice if your dog has known gastrointestinal problems, pancreatitis, diabetes, or obesity.
As with any treat, visit a veterinarian if you are unsure if it is suitable for your dog. Your dog's vet can advise you on the best treats to give your dog, depending on its own personal needs. This will ensure your dog will be living its happiest and healthiest life.
You will also like:
Garrett loves animals and is a huge advocate for all Doodle dog breeds. He owns his own Goldendoodle named Kona. In addition, he volunteers at the Humane Society of Silicon Valley, where he fosters dogs and helps animals. Garrett enjoys writing about Doodles and believes that dogs can teach humans more about how to live than humans can teach a dog.
Why Trust We Love Doodles?
At We Love Doodles, we're a team of writers, veterinarians, and puppy trainers that love dogs. Our team of qualified experts researches and provides reliable information on a wide range of dog topics. Our reviews are based on customer feedback, hands-on testing, and in-depth analysis. We are fully transparent and honest to our community of dog owners and future owners.